My first competitive shooting match was in the fall of 2000. I was shooting a Kimber commander-size 1911 from a leather holster, belt and mag pouches. I still have that rig, actually a couple of them made by the late Lou Alessi that are tucked away for safekeeping. I replaced that holster with a prize table grab, a heavy-duty one-piece Kydex Blade-Tech holster. The belt loop was folded over and back into the holster body with the retention screws drilled through it. Nineteen years later, that holster is still a solid piece of gear that I have used shooting CDP in IDPA matches.
But somewhere over the next several years, the Kydex holsters became thinner as production capacity went up and injected-molded became the norm. The holsters were okay and they served the purpose; however, when it came to heavy use in competition and the guns in Production division getting heavier, there was a void in the market that needed to be filled.
Robert King had grown up shooting since the age of 10, beginning with NRA precision pistol, subsequently moving on to USPSA competitions. It was 2013 when he switched from Open division to Single-Stack and he found he was not happy with the holster selection on the market. Red Hill Training was already set up, but he decided to bring a better holster to market and started selling holsters on eBay and locally in the Maryland area.
What started in his kitchen began to grow, so he moved to the basement (I suspect that Mrs. King wanted her oven back). By early 2015, Red Hill Training had been replaced by Red Hill Tactical (RHT) and a new website was launched. At the same time, RHT developed the double-layer holster that launched the business to the next level. In addition, RHT became a dealer for big names like Double Alpha, Springer Precision and JP Enterprises.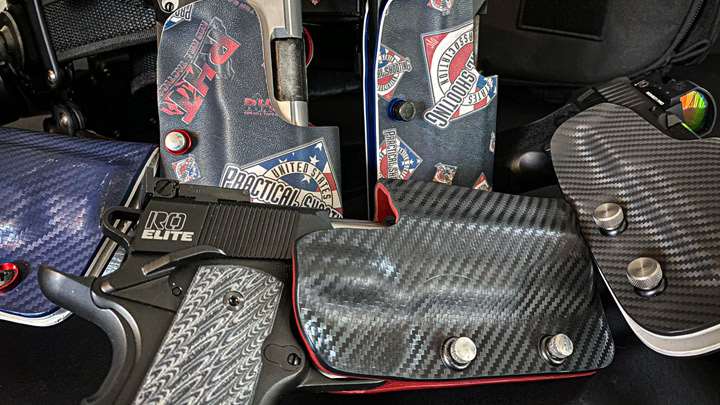 There wasn't time to sit around as the orders came pouring in. Competitors were looking for a thicker, heavier-duty holster, and it definitely helped that RHT continued to bring innovative designs and patterns as well as new products to market. For RHT, the next two years enjoyed record sales growth, and began to offer products like the Level 2 holsters for 3-gun, shotgun and PCC mag pouches, as well as additional merchandise sold via the website—including custom knives.
With the continued success, RHT jumped in with both feet and attended SHOT Show for the first time in 2018, then again with a full booth the past two years. Red Hill now fields a team of over 100 shooters and is sponsoring more matches—including USPSA Nationals. Last year RHT became a distributor on Amazon, moving out of the basement into an official Red Hill Tactical storefront. In addition, RHT became the Title Sponsor of the LOCAP Nationals as well as becoming the official online store for USPSA merchandise.
I bought my first two RHT double-layer holsters in 2017, matching for Limited and Single-Stack. That was followed up by a carbon blue with white interior for my Walther Q5. I have used and abused that holster for two years now and it is still growing strong. RHT sent me two new holsters last year for my Limited and Single-Stack guns with the USPSA logos on them. I get a lot of looks and queries about these—they are available on the RHT website.
A quick view of the RHT website showcases a rainbow of colors, patterns, options and even some cool Boondock Saints patterns. A few years ago RHT started buying models of handguns to ensure the correct fit of the holsters they are making. Along with great fit, they offer a full line of accessories and colors for retention screws, hangers, matching mag pouches—as well as a new line of belts.
Be sure to check out the Red Hill Tactical website, and don't forget that you can save 10 percent off new holster orders at checkout using the code USPSA.
Article from the March/April 2020 issue of USPSA's FrontSight magazine. Photos by Isabel Martens.
---
See more:
How To Avoid A Sweeping DQ