I do not shoot multi-gun very often or very well. To me, 3-gun has two guns too many—but that is because I spend hardly any time shooting rifles—and definitely not shotguns. However, I headed to Universal Shooting Academy for the USPSA Area 6 Multi-Gun Championship to try to finish a match in this discipline. My goal for this match (which I did manage to complete) was to not DQ.
Guns and the Crew
Preparation for this match was as I do most of them—last minute, no practice, zero preparation and trying of new guns. I was conned into upgrading my shotgun selection and "my friend" Jerry Beck set up a Rock Island VR80 for this endeavor. I was apparently going to shoot Open division now, so I decided to use the SIG X5 Legion with Romeo1 Pro red-dot sight for my handgun. Additionally, fellow shooter Michael Brooks was along for the ride and we used his borrowed AR that was properly set up for 3-gun.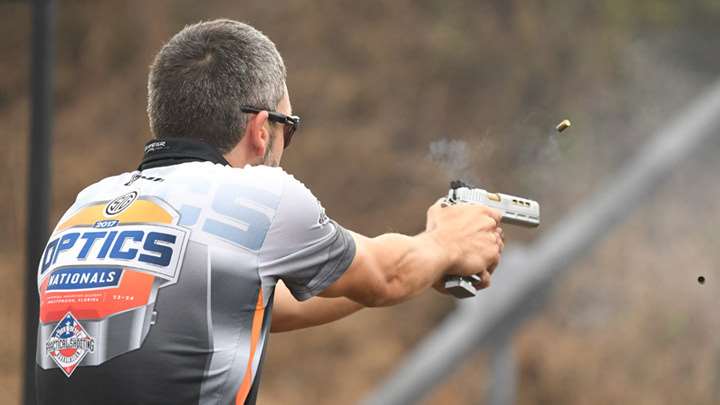 As for Shannon Smith, he doesn't just shoot pistols, he is also a very good 3-gunner and recruited several local Floridians that are die-hard 3-gunners. I was excited about shooting with guys like Joe Farewell, Tucker Schmidt, Jason Olson and Raleigh Hart because they are always willing to help and give advice. And it is really cool to watch these dynamic guys shoot a 3-gun match.
Stages
Once geared up, we headed to the first of eight stages. The Standards stage was a fun way to start the match and get used to shooting all three guns. You had two strings, starting with either the rifle or pistol; you shot three targets, performed a reload and engaged three more targets further downrange, ground the gun, ran to the next position and repeated with whatever gun you didn't start with. The second string was all shotgun with 14 clay, bird and steel targets that were arranged from one side of the bay to the other. Tucker Schmidt shooting Open edged out Tactical shooter Joe Farewell. Tucker didn't have to reload his Dissident Arms shotgun with 19 rounds in the magazine.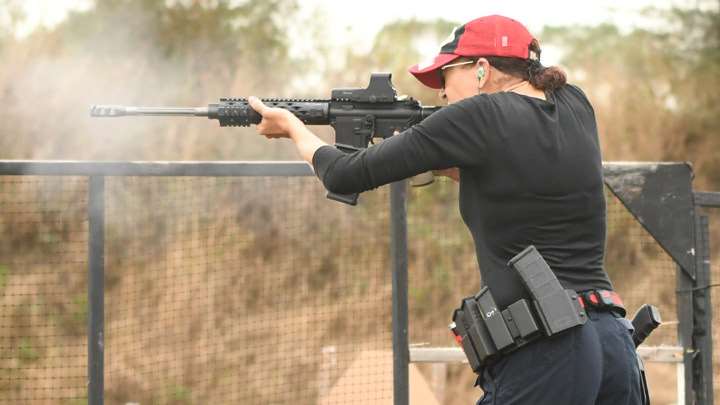 Stage 7 was appropriately named Teeter Totter, and you would be shooting all three guns on this stage designed by Joe Farewell and Shannon. You started from a teeter-totter that would lead you to a raised platform where you engaged distant steel targets, including a plate rack. After that, you had an array of rifle targets up close before dumping the rifle, then deciding either the pistol or shotgun route.
One thing Shannon and his crew do a great job on is allowing competitors the option of playing to their strengths with targets that can be engaged with different firearms. This stage had another distant steel that could be taken with a slug or a pistol round, but was only available from a certain position; how you shot it would determine how you worked through the next array of targets. You then had the option of taking the two Polish plate racks with shotgun or pistol; there was another plate rack that you had to shoot, mixed in with pistol targets, knock-down steel that could be shot with pistol or shotgun and clay birds mixed in—and there were two aerial clay birds thrown in just to add to the fun. Since I don't shoot this game very much,I really appreciate the amount of planning and how you are going to pick what guns to shoot and what targets. This was a great stage and I managed to finish 13th out of 28 in Open. Shannon Smith took the stage win, with Raleigh Hart only 0.11 second off his time of 72.16, but that was after a 10 second-penalty. He actually ran a 62.16.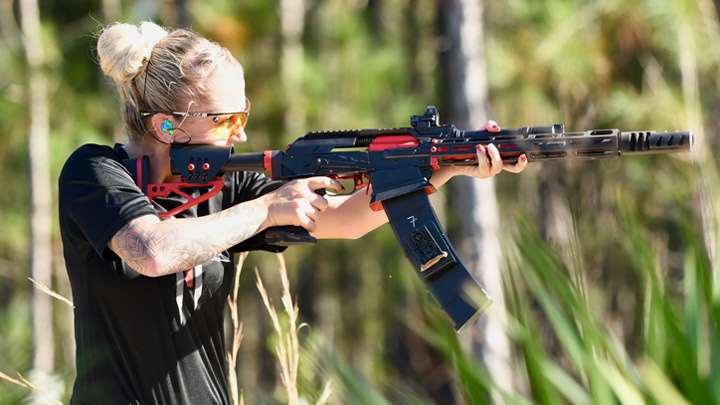 The next two stages were the long-range rifle stages. Stage 8 started with a self-thrown clay bird in the air. This is easier said than done when you are holding your shotgun and trying to toss this bird out to shoot. If you managed to do this, you followed the path down to the new rifle bay, engaging 17 that were on either side of the path with your scattergun along the way. Switching to rifle, you would engage five distant steel targets that ranged from 125 to 360 yards from two different positions. The first position was from behind a rifle barricade with a shooting box that forced you into a tight position. After hitting the five targets from there, you ran over to the other side of the bay to an anti-tank-style barricade to engage the same five targets.
The second long-range stage had three shooting positions that required you to shoot the five distant steel targets from each position. Positions were spaced out about 25 yards from each other, and from the furthest one back you were shooting steel at 150 to 460 yards. The start, however, was five up-close rifle targets to the right that you blazed through before coming to a set of 4x6 posts for the first position. There were three 4x6 posts that shooters could brace on, either sitting, kneeling or standing. The second position had similar posts to engage the same targets from, then a quick change up to another group of five more close rifle paper targets before running to position three. This was a giant wooden spool that was set up where you were using the center section of the spool to rest on. This was a very awkward position because the magazine and the curved part of the spool didn't get along. You were also in between the top and bottom sections of the spool with your rifle's comp and extracted brass interfering with things. Rifle round count, if you went one for one on the long shots and the paper, was 25. Lots of drum 60-rounder magazines were being used here or a reload between positions. Dump the rifle and get on the shotgun to head up through the "jungle" of the bay, engaging 12 clays and five steel targets, ending on top of the bank with two 75-yard gongs that needed to be shot with slug—or pistol if you wished to.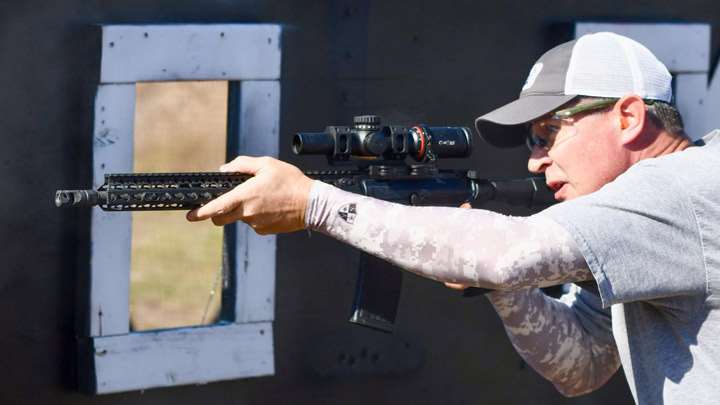 If you didn't meet your end on either of the long-range stages or a run-in with the local wildlife, you got to take on the house stage. As I walked up to the stage, there were a few comments about me making it through this stage; this is the bay where I DQed from MG Nationals by having some trouble getting my shotgun to stay in a dump bin. I made it through this time. This is another perfect example of building stages for competitors to choose many different options on how to shoot it and with what firearms. You could shoot this with all three guns, which would require you to do some back and forth in the house, or you could eliminate some of the back and forth if you mixed bird and slugs to shoot clays and slug some paper targets and then swap to rifle or pistol. Another way was use the shotgun for the whole 22 required rounds by slugging paper targets. This is what I did, since I had the magazine capacity in the open shotgun. It was a lot of shotgun, and the heat off the gun by the time I was done was blistering to the touch.
The next stage was a dual bay—pistol in one bay, then you would dump that and run over to the up-close targets on the rifle bay, requiring fast transitions from side to side. The other dual bay used rifle and pistol together with a good mix of targets including max traps, dropouts and a swinger. The other bay was a long shotgun course mixed with clays and falling steel. The falling steel also activated aerial clays on the stage. There was also a self-launched aerial clay target; when you arrived at the stage the electronic thrower was activated by pressing the button to launch the bird.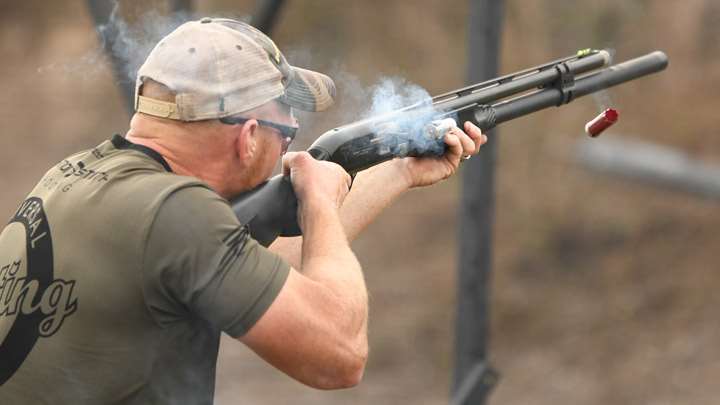 Local shooter Bruce Rosenthal designed a stage with enough wood, hinges, cables, latches, screws, bolts, nails and assorted other hardware that could easily fill several aisles at Home Depot. When they see Bruce come rolling into the store they, must figure that this guy is building a recreational apparatus for the Spanish Inquisition in his backyard. If they only knew. With drop-down ports that would later close depending on what you shot and when, this stage was torture to shoot, let alone watch others who got the order of targets wrong. There was a lot going on.
I really enjoyed shooting this match—maybe it was the squad or being in Florida in December, I'm not sure. The match was a lot of fun, the stages were great, and talking to all the dedicated 3-gunners, they agreed. The mix of challenges, the options on stages and the ability to maximum your strengths really sets the matches Shannon puts on. The 2020 USPSA SIG Multi-Gun National Championship returns to Universal on April 1, so if you want to shoot a challenging match that will test your skills with all three firearms, get signed up.
Area 6 Multi-Gun Championship Leaderboard
Tactical
High Overall—Joe Farewell
Second Place—Shannon Smith
Third Place—Jason Olson
Open
High Overall—Tucker Schmidt
Second Place—Keith Dilworth
Third Place—Michael Pan
Limited
High Overall—Michael Garro
Second Place—Alex Barrow
Third Place—Donald Obier

Article from the March/April 2020 issue of USPSA's FrontSight magazine. Photos by Jake Martens.
---
See more:
NRA World Shooting Championship: A Firsthand Look