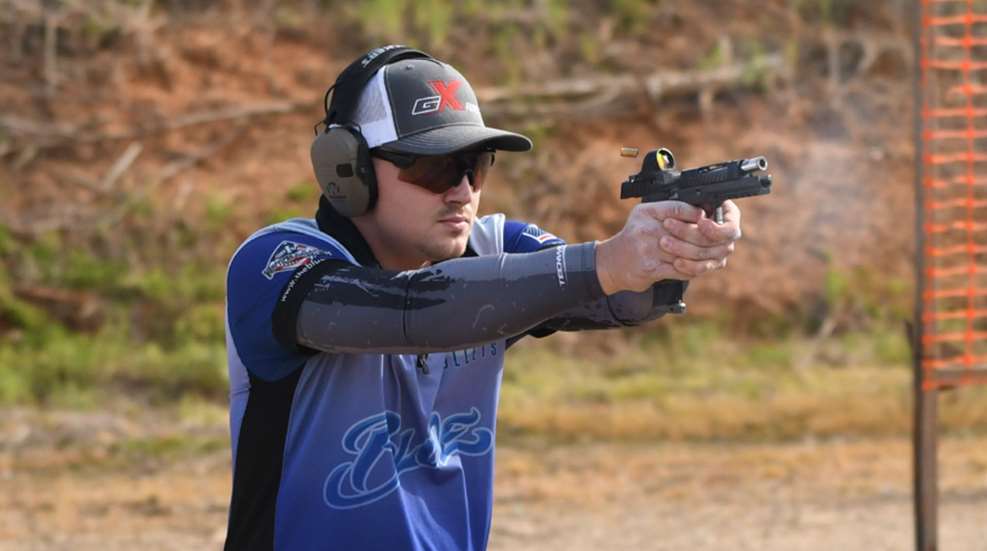 For competitive shooters, when spring arrives it is time to go out and get shooting. Especially after the 2020 season with cancellations, reschedules and shut downs, it was time to burn some powder.
The USPSA Area 6 Championship has historically been the first Area match of the year and it kicked off the Area Matches again this year. The host range was new for 2021, Rowan County Wildlife Association in Salisbury, N.C. The match ran April 8- 11 with 380 competitors. The Rowan County Wildlife Association is a large range with great facilities onsite. It is a large club with 100- and 200-yard rifle ranges, archery field, skeet, trap and 5-stand shotgun fields along with 12 large bays and 12 smaller pistol bays. All of the bays have covered areas, with plenty of safe areas around the range.
The match was held on 10 of the provided bays with two of the larger bays having doubled up stages for a total of 12 stages. Donna Webb served as the Match Director with Bruce Wells, the Area 6 Director, assisting. While everyone was ready to get back to the shooting action at the range, there was consideration taken with the current ammunition shortages when it came to stage design. The match would only require 272 rounds, but that didn't take away from the stages. Stages were designed by several different folks that all had a different flavor to them, which kept the match interesting. Short courses were mixed with longer field courses, but there was only one 32 rounder in this match.
Starting on the front part of the range was Stage 1 "Convoy" designed by Gerrit Heinrich. This was a 24-round stage with a start in the middle of the back fault line. I saw this stage run five or six different ways on my squad, and I am sure that there were a few more versions shot by other squads. When you look at it on paper it looks pretty straightforward—go left first, move forward to the two positions in the center and end at the forward right position. That was one way, but others started in the center, went right and then cut across the center of the bay to end up on the far left side. Some did the opposite, running through the bay to far right side. It was interesting to see how what appeared to be a simple stage had so many options. Tyler Meisenheimer ran this in Production in 12.90 seconds for a stage win, compared to Chris Tilley's 11.15 run for an Open division stage win.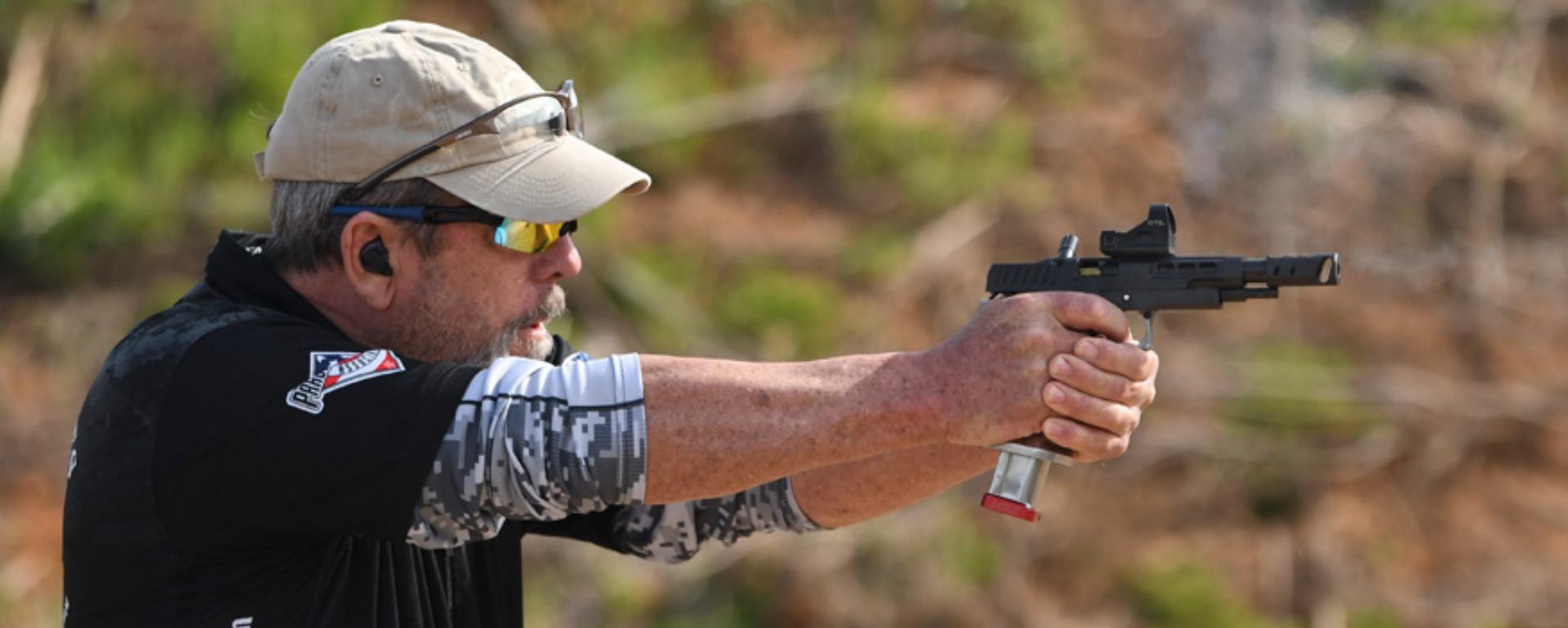 The next bay held stages 2 and 3, "Wagon Wheel" and "Chariots of Fire." "Wagon Wheel" was a 12-round stage with an IPSC feel to it. These short courses are fun to shoot and leave little room for error. This one required at least two positions to engage all the targets. The Carry Optics division stage win went to Brantley Merriam who shot 58 of the 60 points in 6.39 seconds. Stage 3 was designed by Bruce Wells and required three rounds on each target for a total of 18 rounds. The "V" pattern vision barrier would make you use the entire 3x3 shooting area to engage the six cardboard IPSC targets. Those small turtle shells can suck you into hosing too fast, especially on a three-shots-per- target stage like this. All it took was 4.98 seconds for Gorka Ibanez to take a stage win in Limited.
Kyle Stephens designed the 22-round Stage 4 "Chevy Van." This was another IPSC-style stage with the way the targets were laid out to be engaged from the L-shaped shooting area. Todd Jarrett snagged a Single Stack division stage win
One of the bigger bays at the range had the 23-round Stage 6 "Yellow Submarine" designed by Bryce Dupuy. The large shooting area was spread out, and most competitors took off to the right to engage targets here first. There were a few tight shots, with some targets further downrange plus a mini popper. From there it was a quick move to the far left, then moving forward to finish with targets to the left and back to the far right. Open shooter Brennan Conaway ran this in 14.48 seconds for the stage win.
Stage 6 "Crazy Train," designed by Robert Walker, had double swingers activated by a pressure pad and required 25 rounds. This was also a large field course that took advantage of another large bay at the range. Carry Optics shooter Greg Smith started this stage by taking the first long shots at the single downrange target from the start position before moving to the far right to engage targets while working forward and then all the way back to the right.
Stages 7 and 8 were in a shared bay. Stage 7 "Jet Airliner" was another Gerrit Heinrich stage and only required 12 rounds. Including two poppers with one activating a swinger, this was a straightforward stage. Nils Jonasson grabbed the stage win in Production with a 6.04-second time. "Magic Carpet Ride" was a 20-round stage that would make you use all four corners of the shooting area. This was a stage win for Jacob Heatherington in Production, shooting 92 of the 100 points in 8.20 seconds.
Stage 9 was designed by Match Director Donna Webb and was laid out in a large square shape for the shooting area. There were targets up front that competitors had to engage in the center section and then on either side before working towards the downrange shooting area. There was a long line of targets across the back of the bay but you still had to hit the forward corners to get everything. Brian Harrington wasn't faster than Max Leograndis, but took the PCC stage win shooting 150 of the 160 available points in 12.15 seconds and didn't have the miss that Leograndis did.
David Burton's stage design "Walk This Way" was in one of the smaller bays at the range and ended being a fast hoser stage. The shooting area was an inverted L-shape and the small bay made for a quick stage that Shane Coley blew through in 11.61 seconds for the Limited stage win.
Stage 11 "Come Sail Away" was a 29-round unloaded start stage designed by Bruce Wells. This was another fast stage in a small bay that was tough for the low-capacity shooters to avoid a standing reload. Randy Arrowood finshed ahead of the Single Stack pack, shooting 141 of the 145 points.
Manny Bragg designed Stage 12 "Locomotion" and, as per usual for the Area 6 matches, it was an interesting one that required only one hit per target. With 23 cardboard targets that had two swingers activated by the two poppers, competitors had to work through the side to side shooting area twice. The far right and far left poppers activated the opposite side swingers and caused you to work back and forth. Kevin Gorospe took an Open division stage win with the fastest time of 13.40 seconds.
Keeping the round count down didn't mean keeping the challenges out of the match. The stages were both fun and had some difficulty to them. The match had full- or half-day shooting options for competitors to choose from. The Rowan County Wildlife Association club and their setup crew did a great job with getting their first Area match on the ground—so much so that the 2022 Area 6 Championship will be heading back to their range.
Article from the May/June 2021 issue of USPSA's  magazine. Photos by Jake Martens.
---
Read more:
National Junior Olympic Rifle Champions Crowned At Hillsdale College