The 3-Gun discipline is not new to USPSA; the first 3-Gun National Championship was 32 years ago and held in Illinois. The gear and the match certainly have changed since 1990. Back then it was technically three matches—a rifle match, pistol match and shotgun match. Scores were combined to determine the winners. That match was also run with Hit Factor scoring, instead of Time Plus.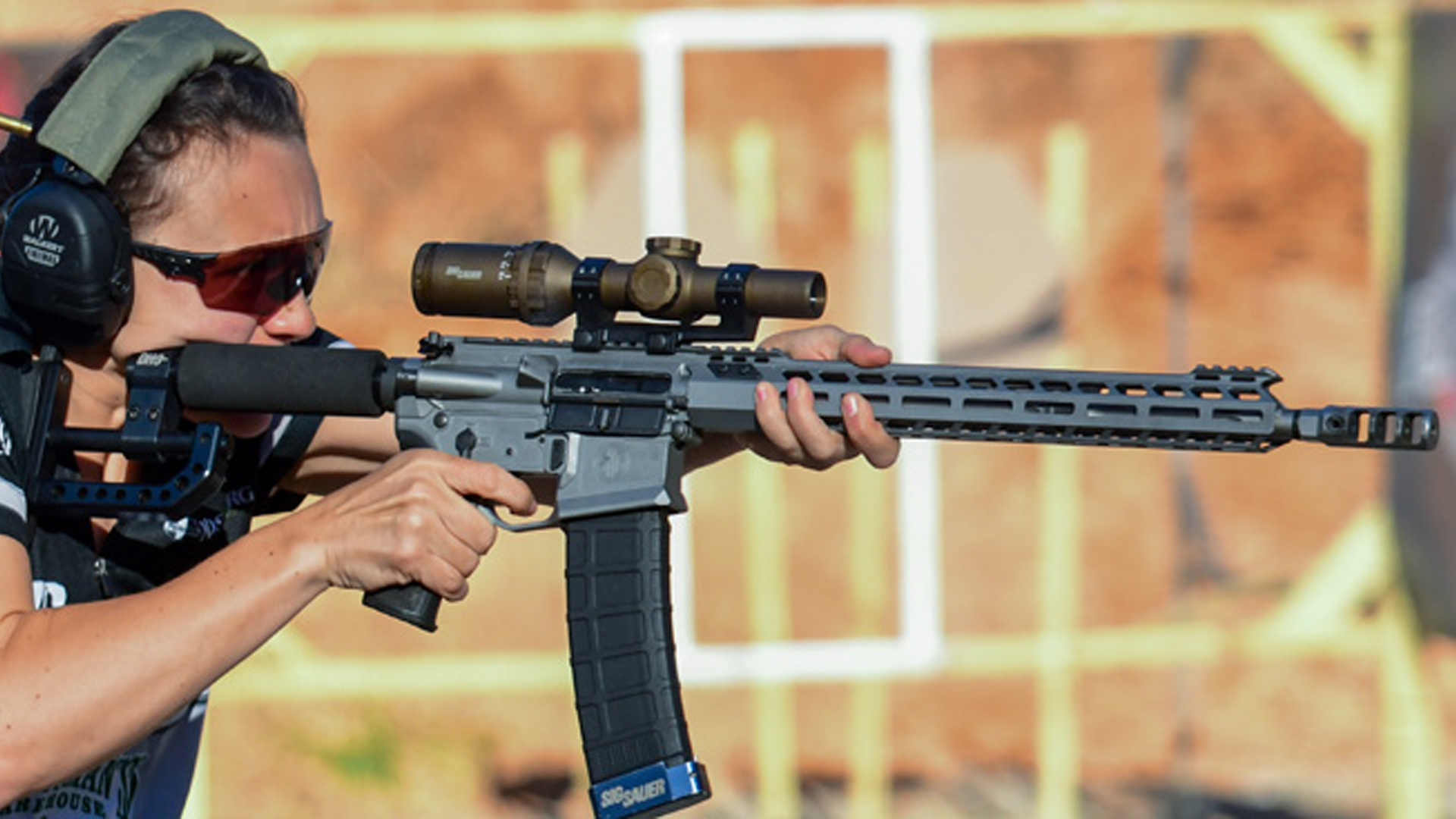 Along the way, USPSA dropped the individual matches for each firearm and adopted the Multigun rule set, allowing for all firearms to be shot on the stages. Multigun competition has definitely had its peaks and valleys when it comes to popularity with USPSA shooters. There are few other matches run under the USPSA Multigun rules outside of the Nationals. For multiple reasons, in 2021 there wasn't a traditional Multigun Nationals held, but we were not finished with the rules. In July of last year, we started looking for a host range and addressing some of the gun handling rules. With a venue chosen and updated rules, the stage was set for USPSA to bring Multigun back.
Over the last two years, the Clinton House Plantation in Clinton, South Carolina, built bays and a pavilion, worked on parking areas, along with other things needed to host matches. In addition to the new bays and structures, the venue has office space, golf carts, housing and banquet facilities.
Shannon Smith returned to take the role of Match Director, also overseeing the stage design and setup. The match was planned out for 12 courses of fire to be shot over three days in the bays and natural terrain of South Carolina from April 1-3.
Attendance was light with only 139 competitors and staff competing this year. The schedule was designed around 15-person squads shooting in zones over the three days. Attendance allowed for 12-person squads with two "ghost" squads in the rotation, so the shooting was ahead of the original schedule each day.
Stages were a mix of bays and natural terrain that tested many of the best 3-gunners in the country, with the Open division field stacked with big names such as Froelich, Greene, Turner and Farewell. Plus, Tactical division included such greats as Horner, Hetherington and Staskiewicz. While the attendance may have been down, the big names in multigun were there to chase the national title.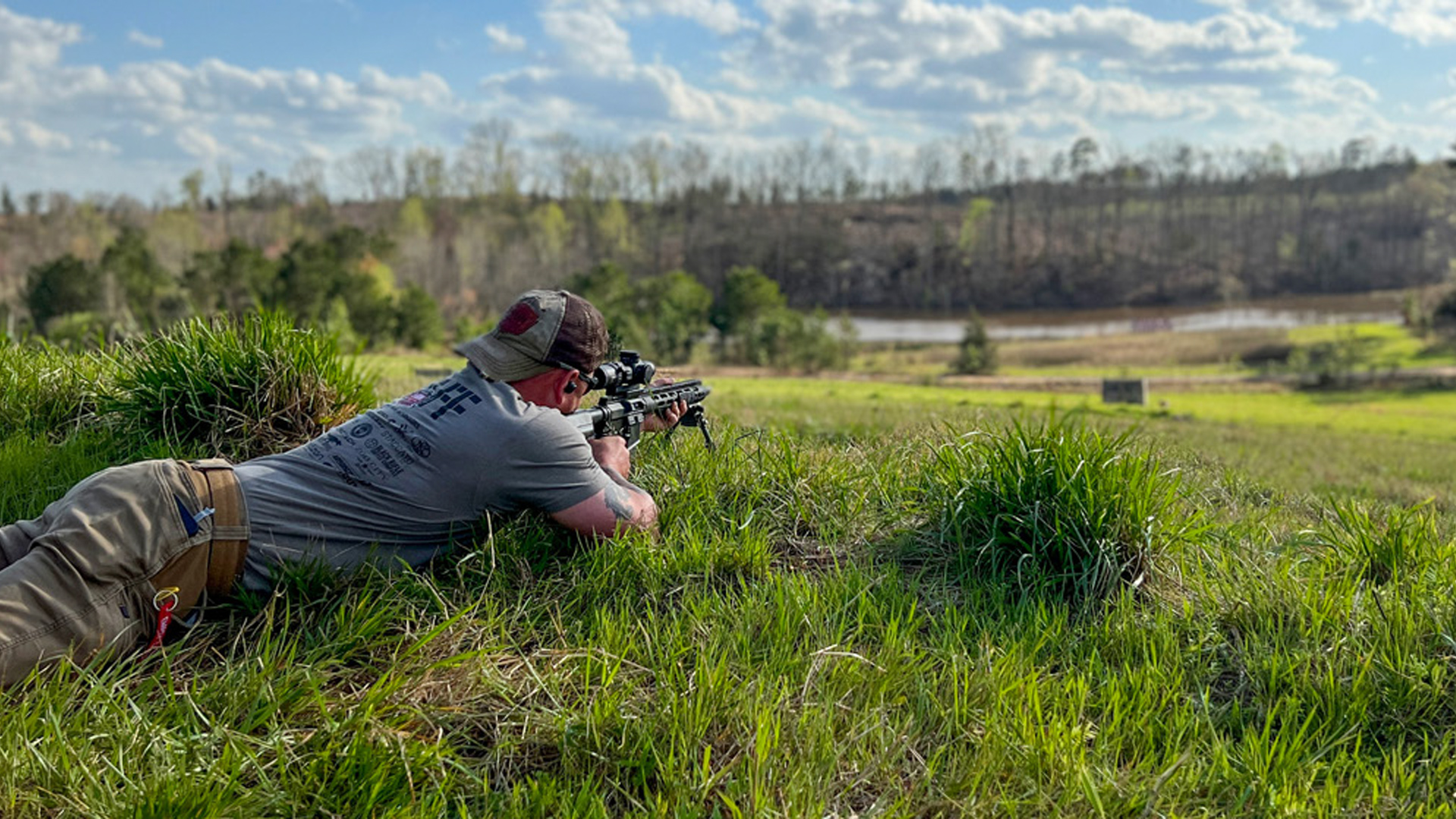 Many stages had several options for engaging targets. Some stages were straight-up shooting, and there was definitely a physical challenge element present as well. Rifle shots were out to 350 yards from various positions; shotgun fans had several stages to look forward to, including a 36-round jungle run to really put the boomstick to use.
Stage 1 began with nine clay bird targets spread out in the woods next to the bay. Some tucked back behind the trees required at least two positions to get them all before dumping the shotgun and running up and into the bay to grab your rifle. Rifle shots were at 75 yards on small 10x10-inch and 8x8-inch square and round plates, plus several IPSC targets mixed in. After dumping the rifle and grabbing the staged handgun, competitors worked their way forward, shooting USPSA targets before ending 30 yards downrange at a port with six poppers to finish out the stage.
Time Plus stages are scored on the total amount of time it takes to complete the stage, plus penalties. There is no major or minor scoring in Time Plus. For example, a cardboard target requires one alpha hit or two anywhere on it to be considered neutralized. If you have one C hit on there, it is scored as a FTN (Failure to Neutralize), which adds a five-second penalty to your score. Stages are worth a total of 100 points, so the fastest time wins the total stage points and everyone else's time is figured as a percentage of the points.
The Stage 1 victory went to U.S. Army Marksmanship Unit shooter Jon Wiedell in Open division in a total time of 47.75 seconds. Open competitors are allowed to use multiple optics on their rifle, like a variable scope and an offset red dot for close targets. The use of bipods or tripods is also allowed in Open. The shotgun can be a magazine-type (box fed) autoloader with an optic, and there isn't a maximum of rounds allowed in the gun. The handgun meets the traditional Open division handgun ruleset with allowed use of optics, 170 mm magazines and compensators.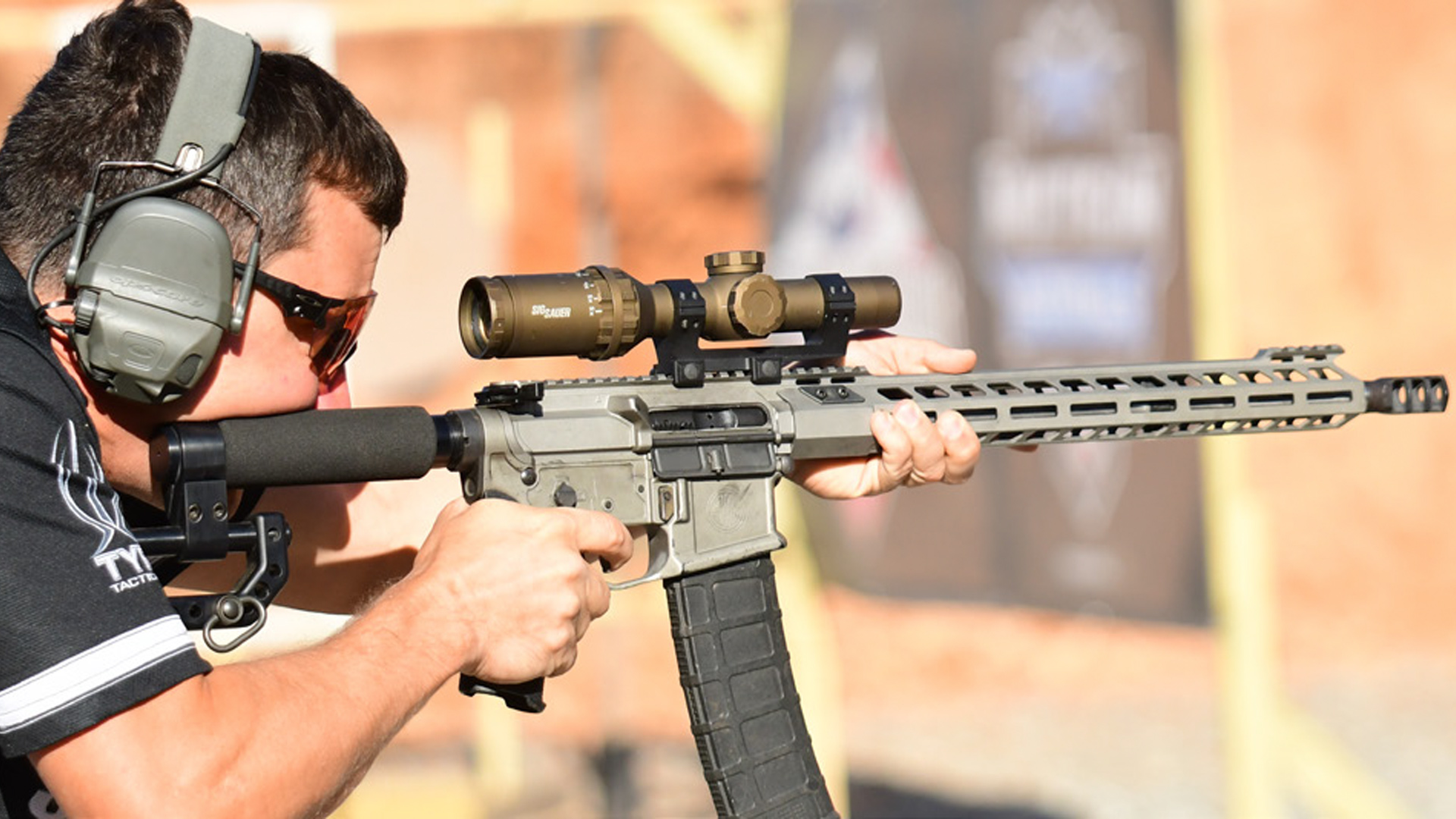 Daniel Horner won Stage 1 in Tactical with a total time of 52 seconds flat. Tactical division doesn't allow for multiple optics, so there are no offset red dots, bipods or tripods. The shotgun has to be a tube-feed autoloader with a maximum of nine rounds allowed at the start. There are no optics allowed on the shotgun in Tactical. The handgun must meet the requirements of the USPSA Limited division rules, iron sights only with 140 mm magazines.
The other divisions are Limited, which is the same as Tactical; however, you cannot use a variable powered optic on the rifle. There was a total of 10 competitors in Limited division. Houston Russell won Stage 1 with a total time of 65.09.
There are also two Heavy Metal divisions—Tactical and Limited. As far as optics go it is the same on the rifle—Tactical allows variable power, Limited doesn't. Heavy requires .308 caliber, minimum of .40 S&W for the handgun. There were only four total competitors who had enough disposable income to shoot .308 in these two divisions this year.
Stage 2 results probably still have people scratching their heads when they look at the total times it was shot. Open division had Jason Carillo winning the stage in 10.28 seconds and Staskiewicz doing it in 8.17 seconds in Tactical. For a regular USPSA handgun match that doesn't sound crazy, but considering this stage required both a rifle and a pistol—which means transitioning between the two firearms—these times are unusual. In the USPSA Multigun rules a disappearing target, in this case two swingers that were not visible at rest, is considered a bonus target, which if neutralized results in a 10-second deduction in your time. This stage had two of them, so competitors who got both of the targets could receive a 20-second deduction in time. The stage had a side-to-side movement with both rifle and pistol targets, so both firearms were required. Many started on the far right and worked back to the left with their pistol. They would holster the pistol, which is allowed in multigun, transition to the rifle that was staged in a barrel and start working back to the right. The timing, if you were quick, allowed you to get both of the swingers.
Stage 3 required all three firearms, starting with rifle and one-third-size USPSA steel targets staggered at 80 to 280 yards, plus a mini popper at 100 yards. Competitors had to be in contact with a large fallen tree while engaging these targets. The mini popper activated a swinger at 100 yards for the rifle. At 15 yards, you ran forward, dumping the rifle and transitioning to the shotgun to knock-down steel on both sides while working forward to the end position for a required slug shot. The 70-yard slug shot had to be taken before dumping the shotgun and running another 20 yards forward to finish up with 12 USPSA pistol targets.
Wiedell picked up his second stage win here in Open, just edging out Mike Whiteside from Dissident Arms., 63.04 to 65.03. In comparison, witha a 86.54-second time, Houston Russell added another stage win in Limited using a non-variable optic on his rifle and no optic on his shotgun.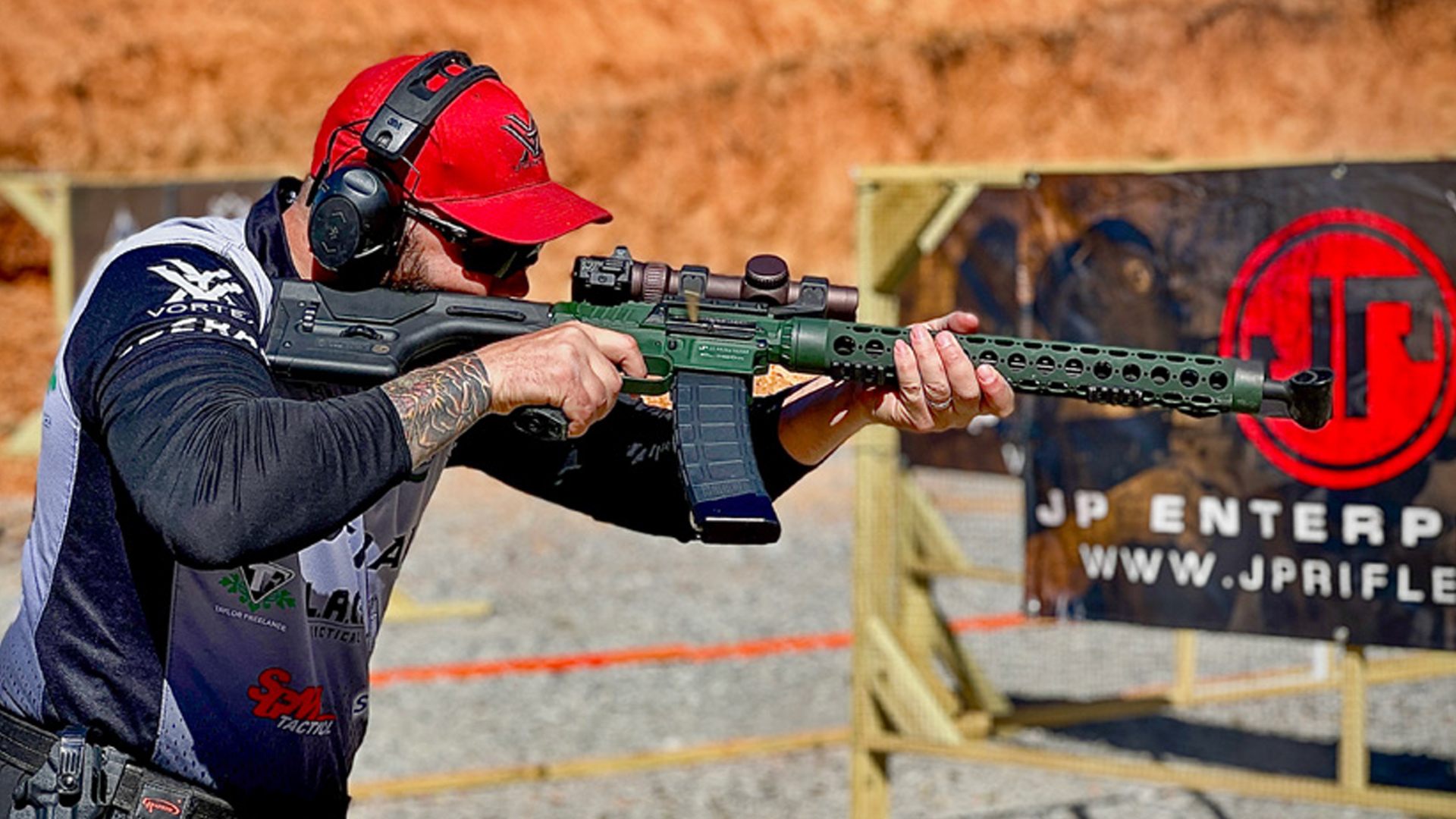 Finishing out Zone 1 was the "House" stage. Clinton House Plantation has a shoot house in this bay with front and rear entry, along with exit points and windows on either side. This stage had options on it, where competitors could choose to use just rifle and shotgun. If you went this route in your stage planning, you were going to have to use slugs on the USPSA targets. Multigun rules state that a USPSA target can be shot with just pistol or it can be neutralized with one slug hit. The stage had IPSC rifle cardboard targets on either side of the bay, so competitors would have to work back and forth before moving forward and dumping the rifle. There were small knock-down steel and USPSA cardboard targets at the front entry point of the house. Moving forward into the house, there were additional USPSA cardboard through windows on both left and right sides before moving to the final position at the rear entry. There were several small knock-down steel and poppers as well as one USPSA cardboard target that also had to be taken.
Going all rifle and shotgun eliminated the transition to a handgun, but you would have to candy cane (a term describing how you load your shotgun between bird and slug ammunition) to ensure you had the right ammo, at the right time, for the right target. It is a disqualification to slug a small knock-down steel plate. If you happen to mess up and put bird shot on a cardboard target, it is counted as a Failure to Neutralize, since you shot it with the wrong ammo. The other option here was to dump the rifle and switch to pistol for the first part of the shoot house, but that meant you were shooting small knock-down plates with handgun, which is a little harder than with birdshot. You would go pistol through the house, holster the handgun and switch to the shotgun with the first round loaded being a slug for the single USPSA target in the position. The rest of the targets would be birdshot. Nils Jonasson took a stage win here in Tactical with a 43.56-second run.
Zone 2 was also all bay-style stages, starting with Stage 5, a rifle and pistol stage. Competitors began uprange with the handgun, working back downrange and engaging targets left and right with several poppers and a swinger. There was a required pistol dump before competitors ran across the road about 30 yards to the rifle shooting area. Once across the road, you would get into the back door of a Suburban, where you would engage targets from 100 to 300 yards with your staged rifle. The shooting position for the rifle was out of the back window of the tailgate, and the targets were spread across the entire bay, requiring you to move your position on the tailgate. The run, and getting into the Suburban back door, would definitely have your heart rate up to take these shots. Joel Turner ran this in almost seven seconds, faster than anyone else in Open, with 51.81 seconds for the stage win.
He would follow this up with a second place finish on Stage 6 behind AMU teammate Wiedell who took another stage win. Stage 6 was a fast all-rifle stage with IPSC cardboard targets spread out across the bay, some through tight ports with double stacked and no-shoot targets mixed in. The Magpul D60s were definitely an advantage on this 40-round rifle stage.
Stage 7 would also start out requiring rifle shots before dumping the firearm and running to the next bay. The run between the two bays was the shortest of the match. The rifle side was set up to be three somewhat awkward positions, shooting small steel at 60 yards. Left side, right side and center position were needed to get all the steel, but you had to do some tougher leans on the sides in order to see the targets. The other bay was all clays and knock-down steel for the shotgun to handle. Staskiewicz grabbed another stage win here in Limited with a 42.09-second run.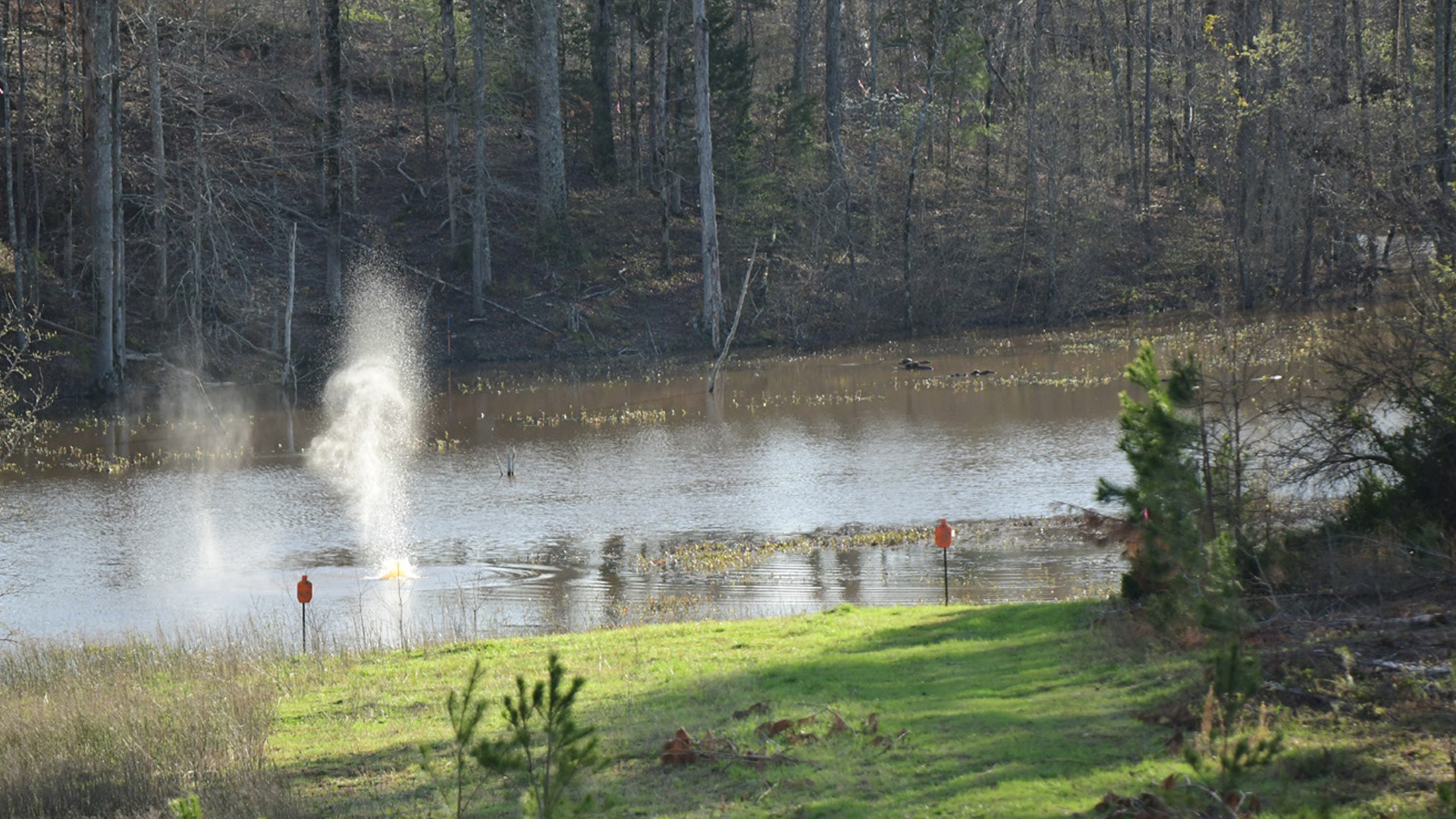 The final stage in Zone 2, Stage 8, was another that gave competitors the option of handgun and shotgun, or just shotgun if they decided to slug the USPSA targets. The fastest way to shoot this stage was taking the slug option. This required special attention to how you loaded your shotgun; even with a box-fed shotgun you would have to stagger slugs and birds for the right engagement, to make sure that you didn't put bird on a paper target or slug a piece of steel resulting in a DQ. This was a fast stage, even for the guys reloading tube-fed shotguns. Daniel Horner won the stage in Tactical with a 22.47-second run.
The last four stages of Nationals would take advantage of the 2,800 acres that Clinton House sits on (the ability to have natural terrain stages is popular in 3-Gun). This zone was divided into two sections. Stages 9 and 10 were at an open field area of the range.
Stage 9 was with all three firearms, starting standing outside of a deer blind. A rifle was needed first for several shots on steel plates that were at 80 yards; the smallest was a two-inch Hex on a MGM Know Your Limits Target setup. From there, it was a downhill run to grab your shot, taking knockdown steel and clay birds before dumping it and finishing with pistol. The pistol targets were around and through a vehicle, ending on an inline knockdown plate rack. Daniel Horner finished this in 41.81 seconds, just ahead of Jonasson.
Stage 10 had a Shannon Smith signature start position, one you either hate or just kind of hate. Competitors started with a clay bird in their strong hand that had to be tossed on the start signal. If you missed, that would be a 10-second penalty. From there, spread out on either side of a trailer, were shotgun clay targets that would take competitors moving forward to a popper that once knocked would toss another clay into the air. Transitioning to the rifle that was staged through the back passenger side window of another abandoned vehicle, competitors would engage steel targets from 125 out to 350 yards. The competitors had to stay in contact with the vehicle while engaging the steel. Two of the targets at 180 yards were in front of a small lake, so the missed shots were pretty impressive for onlookers, and pretty distracting for the folks on triggers seeing it through their optics. Jacob Hetherington took the Tactical stage win with a 45.44-second run.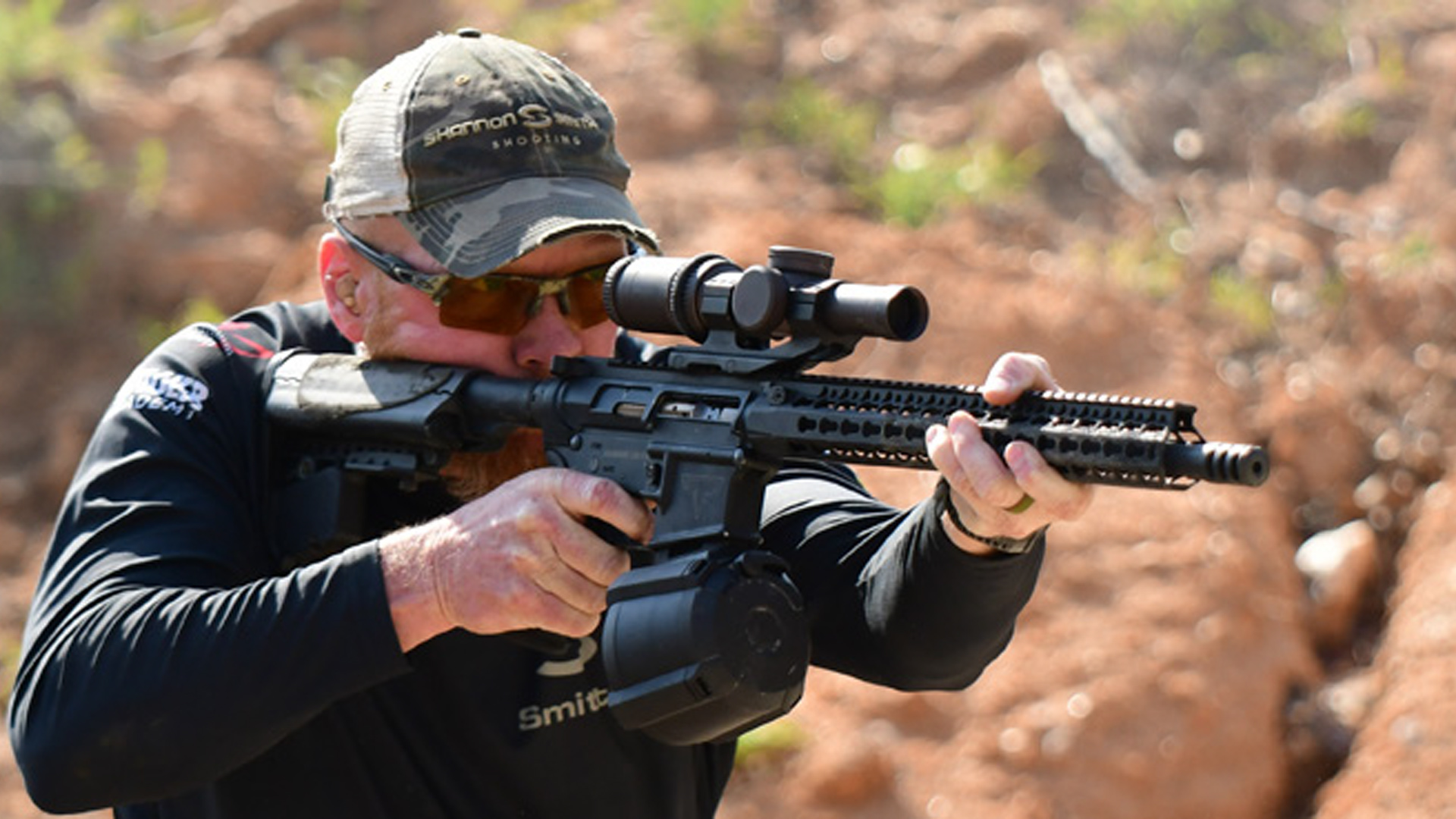 The last two stages of this zone were mixed in on a section of the Clinton House range where they have their trap fields. Stage 11 required all three firearms, starting with a short run up and taking clay birds with your shotgun. Dump and transition to the rifle, where you had to engage a plate rack at 80 yards and steel from 130 to 250 yards. There was a steel beam that you could rest on, or go prone. Once you cleared the steel, with a quick dump of the rifle you transitioned to your handgun for another plate rack at 40 yards with an additional two steel plates to finish up this stage. Joel Turner finished just ahead of Reuben Aleckson from Vortex with a 41.47-second time, compared to 42.66 seconds.
The last stage of the match was a shotgun jungle run. The stage was through a wooded section of the range with clay birds and knockdown steel scattered throughout that spanned about 60 yards of shooting—but before you took your "Run Through the Jungle," you had two clay birds that were tossed from machines that you self-activated. Josh Froelich did a "Hulk Smash" on this stage with a 39.71-second run for the Open division win.
While attendance was down, the race for National Championship titles was fierce. Tactical division was separated by 0.4264 second and 0.0385 of a point for Nate Staskiewicz to claim the title over Daniel Horner. Open was separated by 1.8413 points between Jon Wiedell and Josh Froelich, with Wiedell, the AMU team member, claiming his first national title. Houston Russell was the Limited division national champion. Lanny Barnes finished 15th overall in Open, also claiming the Ladies national title, and Lena Miculek was the Tactical Ladies champion. She also finished seventh overall in Tactical—the highest place for a female ever in USPSA Multigun.
The 3-Gun stages were well received this year and challenging for competitors. USPSA continues to learn and work on adapting the Multigun rules to better align with the expectations of 3-gunners. After the match, the USPSA Board of Directors formed a committee to work on the direction of the sport. More information will be coming soon.
Article from the May/June 2022 issue of USPSA's magazine.