The first 3-Gun match I ever went to, I shot a borrowed Remington 11-87 and was loading ammunition from a dump pouch and a bandolier. It wasn't fun. I have tried different shotguns over the years along with upgrading to better shotshell caddies instead of bandoliers—but let's face it, learning to load a tube shotgun can be extremely frustrating. Perhaps a magazine-fed option is the way to go?
There have been several mag-fed shotguns on the market for years. I tried one a few years ago, only to have it shot apart on a stage. I had given up on the idea until meeting with Mike Whiteside and Lan Nguyen of Dissident Arms.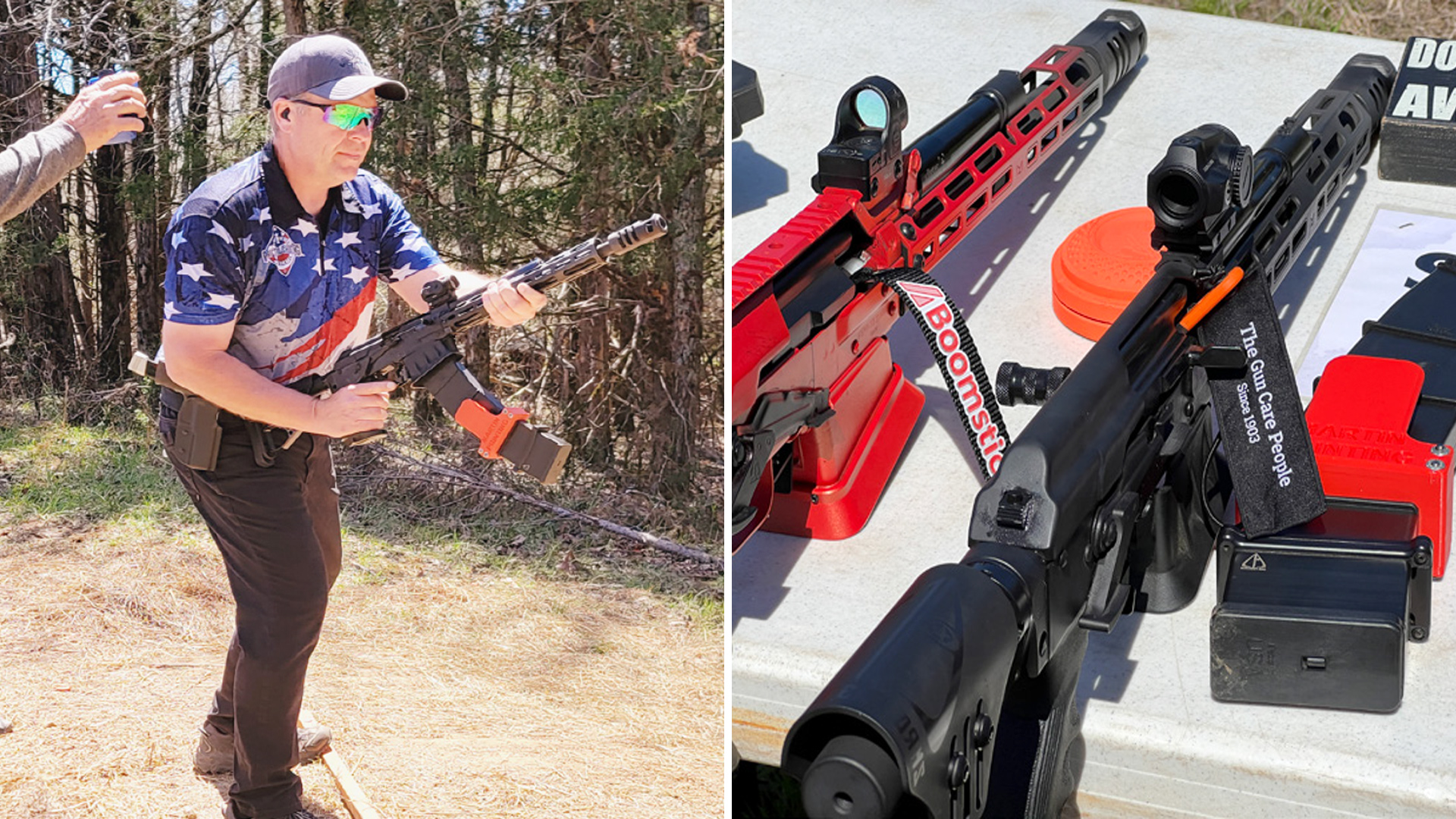 I was on the same squad with Mike and Lan at the 2021 2-Gun Nationals, where we talked about Dissident Arms products. We discussed my limited experience in multigun, and my love-hate relationship with shotguns. I have been of the opinion that all shotguns should only go boom twice and then you drop it as you reach for your six-shooter. Okay, maybe that is just my childhood idea of being a cowboy. I have shotguns, several actually, that are basically all home defense except for the two tube-fed auto loaders I have for 3-gun.
We had talked about a review on a Dissident Arms shotgun during that match. So as we neared this year's USPSA Multigun Nationals, and the lack of desire to spend three days picking up all the shells I would drop trying to load a shotgun during the match, I thought it would be a perfect time to run one of the Dissident KS-12 models. A shotgun was sent to the Clinton House as a loaner model for use during the match.
I had spoken with Lan before they arrived, and got the lowdown on the model that they had shipped. This was a shop model loaner that had been broken in and was set up to run birdshot that was 1,200 f.p.s. and over. There were some extra magazines that were sent with this one as well. I got a chance before the match to take it down to one of the bays to sight it in with the optic I was using and slugs.
The model that was sent was a KS-12E. These are built off the new Kalashnikov USA KS-12 firearm and feature an 18.25-inch barrel that has an external threading. Dissident Arms has an industry partnership with Briley, with both Texas-based companies focused on driving innovation in the competitive and tactical shotgun worlds. Many of the advancements that Dissident incorporates in their builds come from the strategic partnership with Briley. Some of these components are the DABriley Internal Choke System and Long Forcing Cone. This model also includes the DA-Briley IC Choke that comes with the DA Speed Choke wrench.
These KS-12s are gone through by Dissident Arms for competition tuning. The entire shotgun is set up for speed and reliability. The ALG trigger is set at two pounds with a short reset. The recoil assembly is a Dissident Arms setup that is tuned to ensure reliability. There is an oversized and extended left-side charging handle, and these models use a 16-inch MOD2 M-LOK handguard on them. Dissident Arms equips these competition shotguns with their Extended Ambi Mag Releases. These are easy to get to and dump a mag for a quick change during the stage. It is also great for dumping a mag, especially an extended magazine, before you go to dump the firearm in a barrel or drop box to ensure it stays where you put it, and that it doesn't get hung up or not make it into the intended dump area.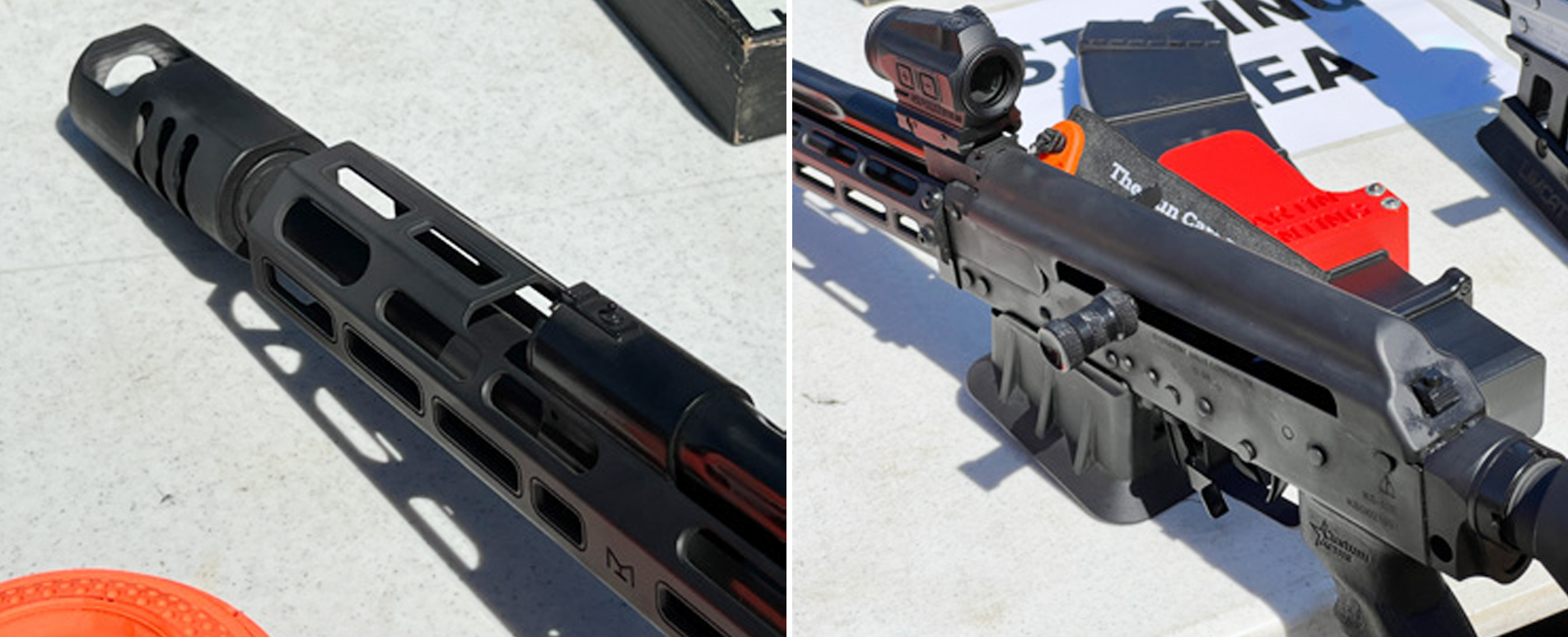 The safeties on these are the company's extended IPSC-style ones that ride just right for engaging and disengaging. They come equipped with a large magwell for ease of magazine changes, and the Phoenix Compensator. There is definitely some compensation going on with the size of the Phoenix Compensator, but it works great; after three days of shooting my shoulder didn't feel beat up at all. The KS-12 also has a High Bore Axis Stock Conversion, which is nice to have when finding the red dot.
I set up the KS-12 with a Vortex SPARC SOLAR red-dot optic and used the low mount that it comes on. This is a two-MOA dot and is parallax-free. I sighted it in, left it on and ran it for the three days on the KS-12, using Federal Gold Medal Grand 7.5 shot 1,235 f.p.s. birdshot and Federal TruBall 1,300 f.p.s. slugs. I ran through just over 200 rounds of birdshot, including some test rounds before the match, and about 20 slugs with zero issues. In fact, my shotgun shooting at this year's Nationals was some of my best. That isn't necessarily saying too much, considering I did DQ one year trying to throw my shotgun in the trash during a stage.
I wasn't familiar with these before taking it down to the practice bay three days before the start of the match and sighting it and running a box or two of ammo through it. I was a little leery of using the shotgun during the match, not that it wouldn't work, but just that I wasn't used to the function of it and the controls. Don Bryson helped run me through it after setup one day, and showed me some key features like how to manipulate the safeties.
With some dumb luck, being the Co- Match Director and with squad changes, I was able to shoot on the Open Division Super Squad. I was there with my buddy Jason Spradling from Federal. Not really the "B" Super Squad kind of talent here, so we nicknamed ourselves Team Delta. We thought it to be a bit more impressive than "Those Guys." Shooting with the Open squad, where everyone was running a box-fed Dissident Arms shotgun and getting advice, made it a lot of fun and much more enjoyable than trying to load a tube in Tac division. I also didn't drop any shells trying to reload.
Open division in 3-gun used to be folks running long tubes on their autoloaders and loading with speedloaders. I have seen this phenomenon take place, and luckily, I know my limitations as well as my ability to screw things up, so I have never gone down this path. Now that Dissident Arms is making reliable magazine-fed shotguns that can hold up to the abuse that 3-gunners dish out, Open division is seeing a lot of action. These guns have 12-, 15- and 20-round magazines. You can get magazine holders and belt clips allowing you to hang your mags from your belt for quick changes during a stage. To dump and reload into a 15-round mag on a stage is so much faster than trying to load by hand. The Nationals had a total of 139 competitors and Open had 56 in it for that match.
Dissident Arms doesn't just make competition magazine-fed shotguns, they also have a line of customized Benelli M2 shotguns and the DAm4 Tactical shotgun built off the Benelli M4. In the box-fed models there is the KS- 12 KOMP12 that has a starting price of $1,699. There are several models of the KL-12 including California- and UK-compliant models available. The KF-12 Models are Tactical versions, sporting shorter barrels and braces.
Dissident Arms also has PCC variants with the KOMP9 and KR-9 models with various features that are set up and ready for competition. The Dissident Arms website carries many accessories as well as other brands of firearms. If you see Mike and Lan out at a match, ask them to try out their shotguns and PCCs.
If you are thinking about taking the plunge and getting into Open division for 3-gun, the guys at Dissident Arms can get you set up and ready to race. Find out more at dissidentarms.com.
Article from the May/June 2022 issue of USPSA's magazine.