For iron sight service rifle competition, shooters have the choice of round, square or wedge-shape front sight posts in several widths, configured for ½- or ¼-MOA adjustments. Time constraints are modest in this discipline and so, with the help of shooting jackets, gloves and slings, a precise sight picture is attainable.

By comparison, "go-fast" pistol sports such as NRA Action Pistol (Bianchi Cup), 3-Gun, IPSC and USPSA require rapid visual acquisition and for this, fiber optics top the list of front sight options. The same rationale holds true for personal protection handguns.

For precision shooting, however, I find that the bright, sun-lit fiber blurs the classic sight picture, making it hard for me to achieve symmetric amounts of "white" on both sides of the post and alignment across the tops. For iron sight precision out to 50 yards, adjustable rear sights and selective front post dimensions are important options: Enter Dawson Precision.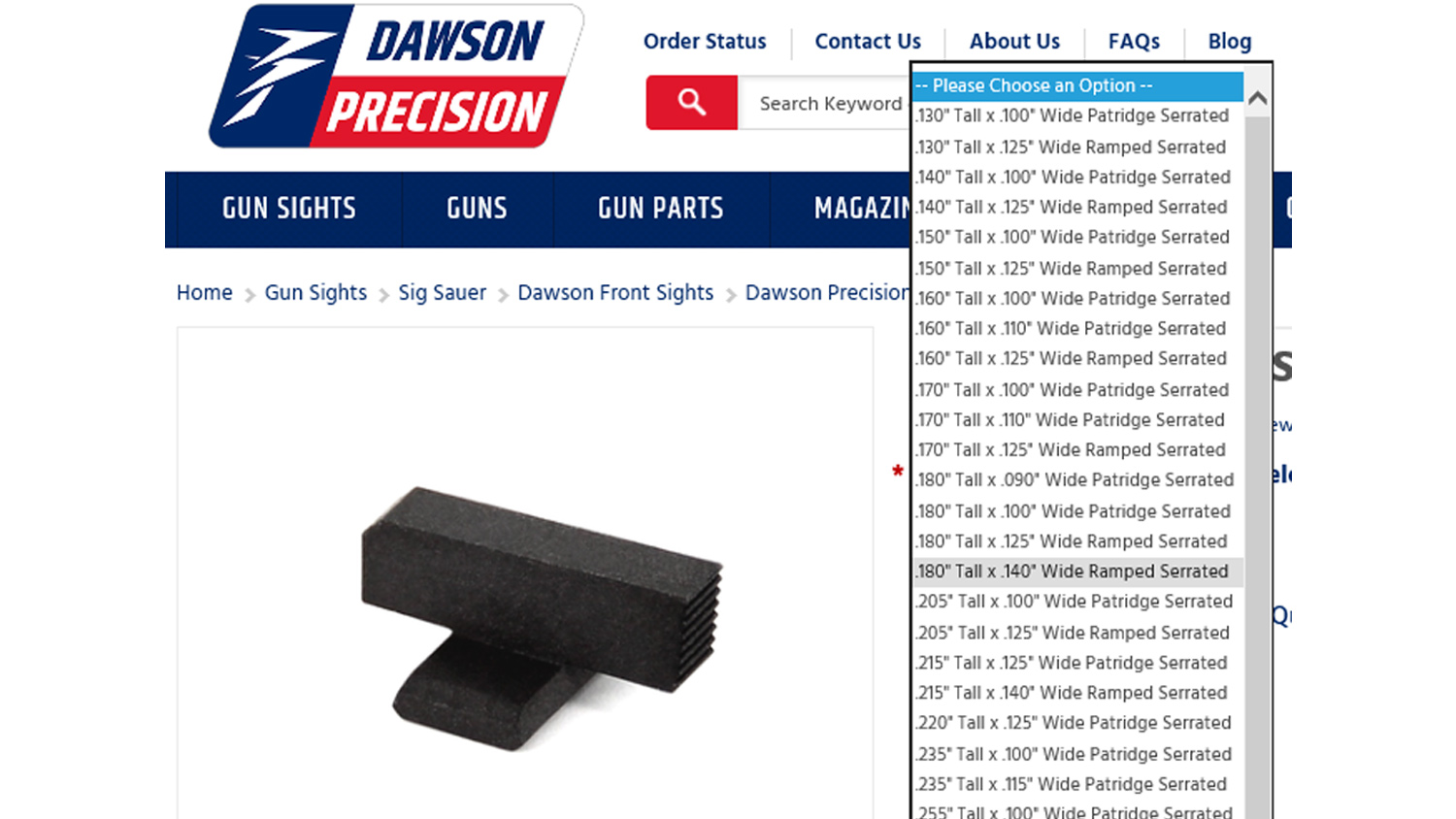 Twenty-five years ago, Dave Dawson teamed-up with gunsmith and machinist Virgil Tripp as the chief designer and head of pistol manufacturing for another well-known Texas company—STI International. As one of the first to earn a USPSA Grand Master classification, Dawson saw fellow shooters spending large sums of money and waiting for a year or more for quality pistols that were often obsolete before delivery to the customer. Not one to stand on the sidelines, Dawson began building his own parts and guns, and winning matches. With an early interest in customer support, Dawson began making parts for fellow shooters. As his career progressed, Dave and his team at STI were the first to deliver orders to shooters for state-of the-art competition pistols before the technology became obsolete. When Dave eventually left STI to start his own company, he became STI's number one distributor. Dawson Precision has sold more STI products than any other dealer.

In 2009, Dawson opened his facility on a 60-acre ranch in Florence, TX, with test-fire ranges that allow pre-delivery proof-testing of customer guns. In addition to the sheer volume of product, Dawson Precision offers a unique approach to customer service with their "Perfect Impact Promise" guarantee. Basically, the published policy promises to provide a free replacement front sight if the customer's Dawson sight set fails to live-up to the calculated zero, even if it requires manufacturing a custom sight post.

Visit dawsonprecision.com for a complete inventory of sight options, competition rules, exploded views, a video library and the online sight calculator.

How Wide?
In preparation for the 2019 NRA Bianchi Cup, my iron-sight picture in the Practical Event would have to be more precise to consistently group inside the 10-ring from 25 and 50 yards. My gun's standard front sight picture allowed too much white on either side of the post for the precision I wanted. Deviation of the front sight on a 5-inch barrel by just the width of a credit card calculates to more than a foot of movement on a 50-yard target. So my latest excuse for not winning the Bianchi Cup became: I need a wider front sight blade to shrink the white space margin-of-error.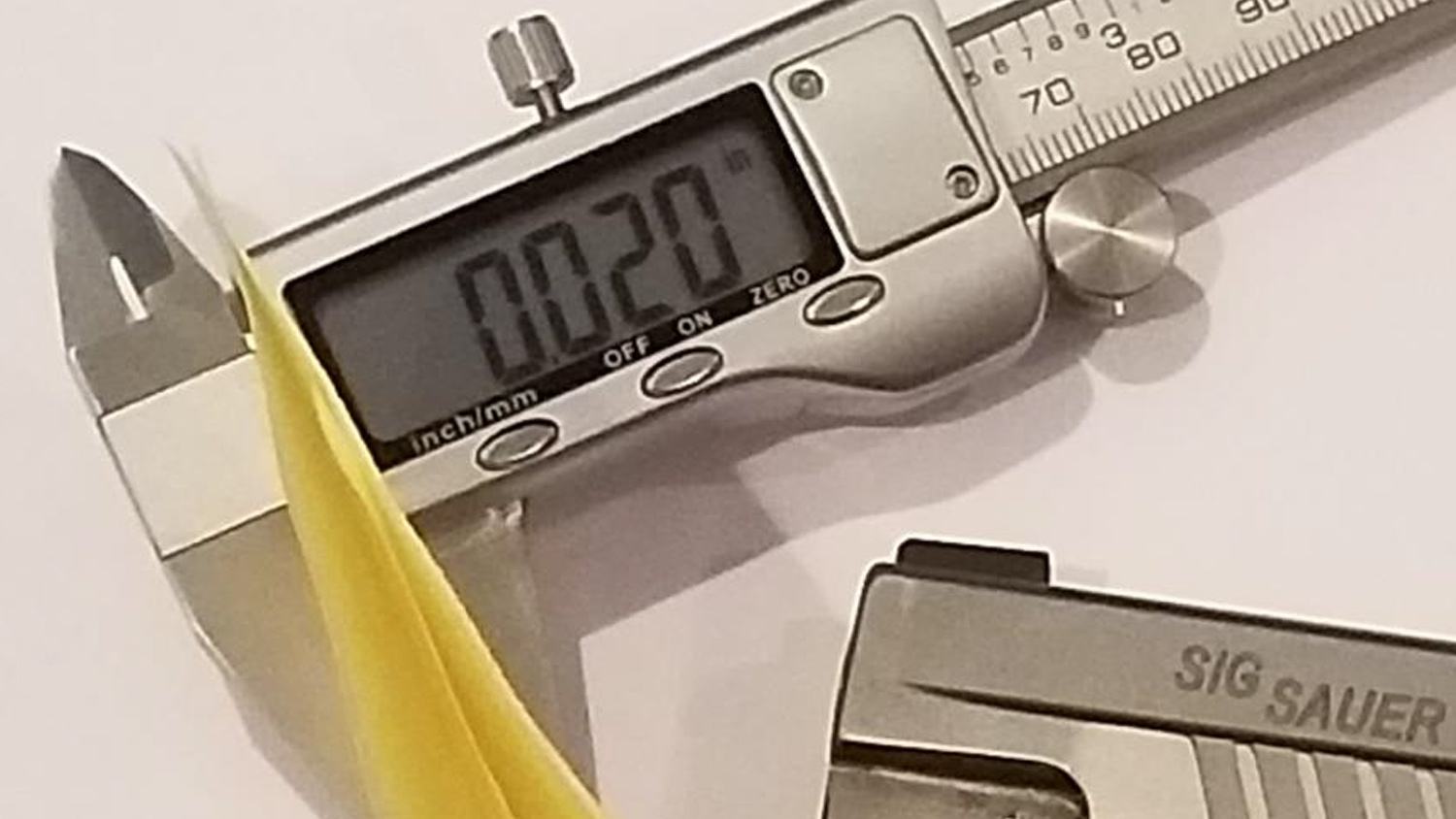 A check with SIG and other sources confirmed that .145 inches was the widest post generally offered. When I learned that Dawson Precision would make a custom-width sight, I knew I'd be asked—"How wide do you want it?"

For an answer, I resorted to experimenting with Post-Its. It turns out that each sheet from a Post-It pad is .004 inch thick and the glue doesn't deface the gun. With various combinations of stick-on sheets, I was able to approximate a desired sight picture for my SIG X-Five Allround with three sheets (.012 inches), blackened with a marker. Allowing for limited light on overcast days and input from the Dawson staff, I made the informed choice of a .150-inch wide front sight; .005-inch wider than the widest model offered. I kept the stock .180-inch height, serrated/ramp style.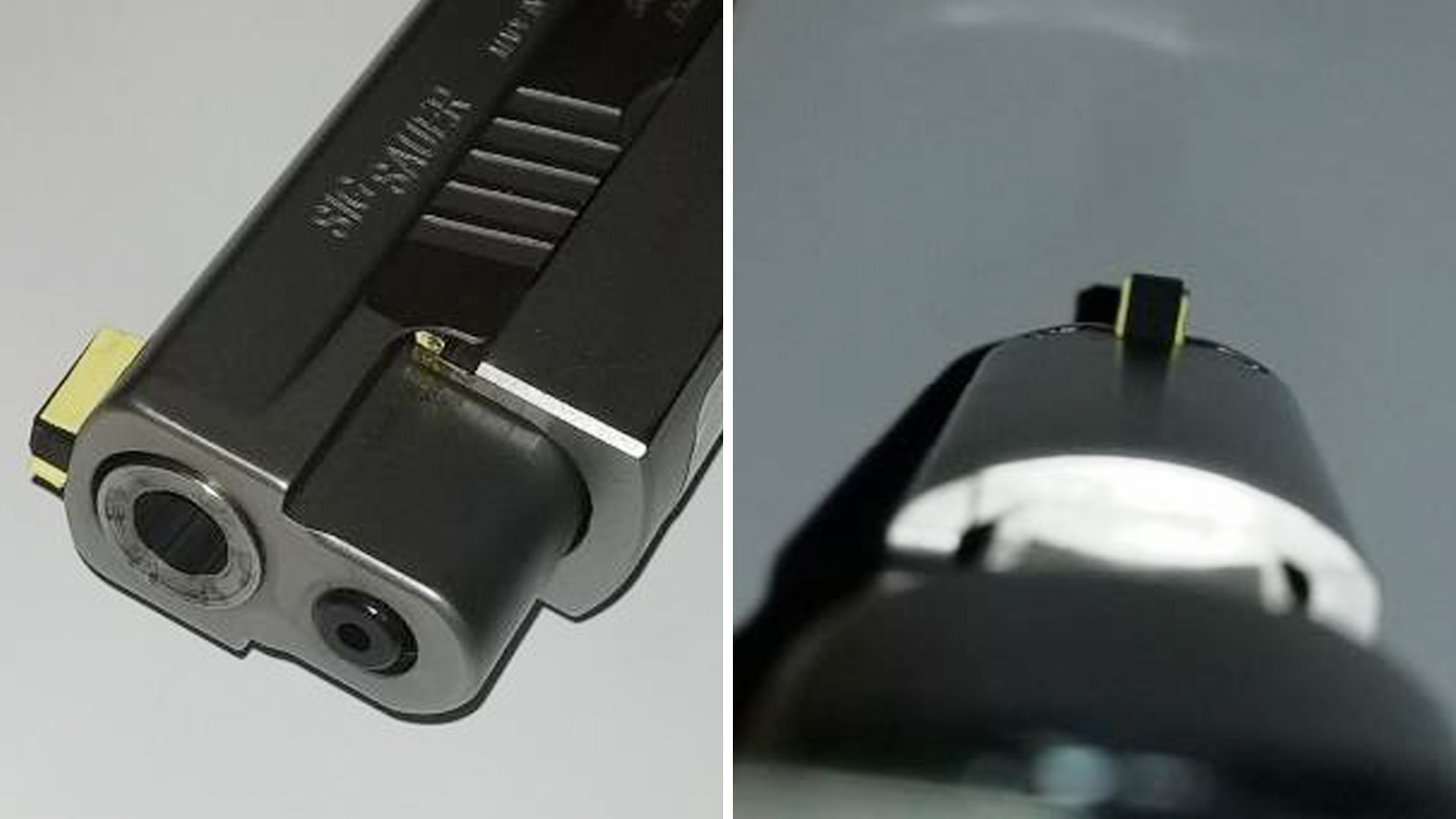 Admittedly this is a less than scientific approach, but the Post-Its saved me the time and expense of experimenting with several front sights that would have gone to the landfill. As for my scores, I'll let you know. I still have a couple more excuses up my sleeve.