by
posted on March 31, 2022
Support NRA Shooting Sports USA
DONATE
Online registration for the 2022 NRA National Matches at Camp Atterbury is open now at the NRA Competitive Shooting Web Portal. Consisting of the National Championships for Precision Pistol, Smallbore Rifle and High Power Rifle, the 2022 NRA National Matches at Camp Atterbury are set to begin July 10 and conclude August 7.
You can see the most up-to-date calendar below. (Current as of March 31, 2022.)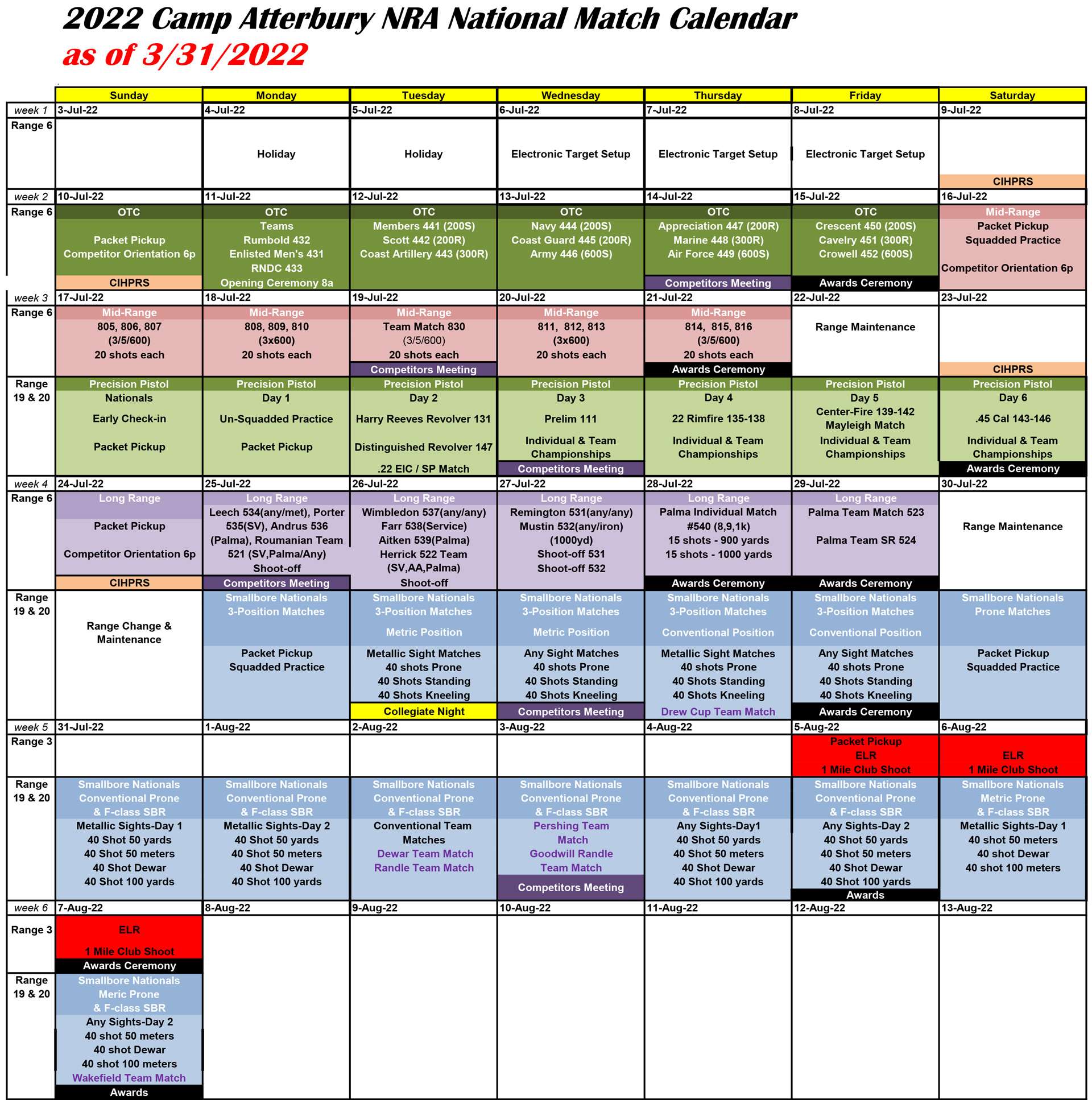 There have been some updates to the 2022 calendar to allow for the use of electronic targets, including the High Power Rifle Excellence-in-Competition (EIC) match, which was removed from the Across the Course phase. Speaking of Across the Course, this phase will begin on July 10 with packet pick-up and a mandatory orientation meeting. In addition, the High Power Long-Range Championship start date has been moved to July 24 for packet pick-up and orientation.
More information about the electronic targets at Camp Atterbury from NRA Competitive Shooting Deputy Director Aaron Farmer. "We will have up to 40 targets using Silver Mountain target systems. Competitors will be squadded on a target and then continue to shoot on the same target all week. The only thing that will change is the starting relay for the day. We will be running three relays. No pit duty!"
With the electronic targets, scorers are only necessary for teams now. Paper scorecards will still be used on the line but will have the new system as a backup. Additionally, it's vital for competitors to have a tablet or other device with WiFi capability, along with enough battery power to last the day. Another important tip is to bring sonic ammo. Says Farmer: "If it is not sub-sonic at the target then it will not read and they will not be able to shoot. The biggest issues with this will be during the long-range competition."
Another highlight this year at Camp Atterbury will be during the Smallbore Rifle National Championships. The Pershing Match, an international rifle competition which was scrubbed in 2021 due to pandemic-related international travel restrictions, is back on for 2022. British competitors are planning to travel to the United States this summer for this historic match, which occurs every eight years.
To view the program for the 2022 NRA National Matches at Camp Atterbury and to register, go to competitions.nra.org/competitions/nra-national-matches.