This year's USPSA Roadrunner Shootout sold out quickly, with shooters from around the country descending on Fresno Rifle and Pistol Club in California this past March to experience this solid Level 2 match.
Shooting schedules varied from an all-day Thursday shoot, all-day Friday shoot, or a Saturday and Sunday mornings shoot. The folks at Central California Pistol League worked tirelessly to get the match ready.
Bryan Jones took the overall 2022 Roadrunner Shootout Champion title with a final time of 160.41. In second place was Pistol Caliber Carbine shooter Zack Smith with 165.54, and in third was Open division shooter Nilo Nunez with 173.51.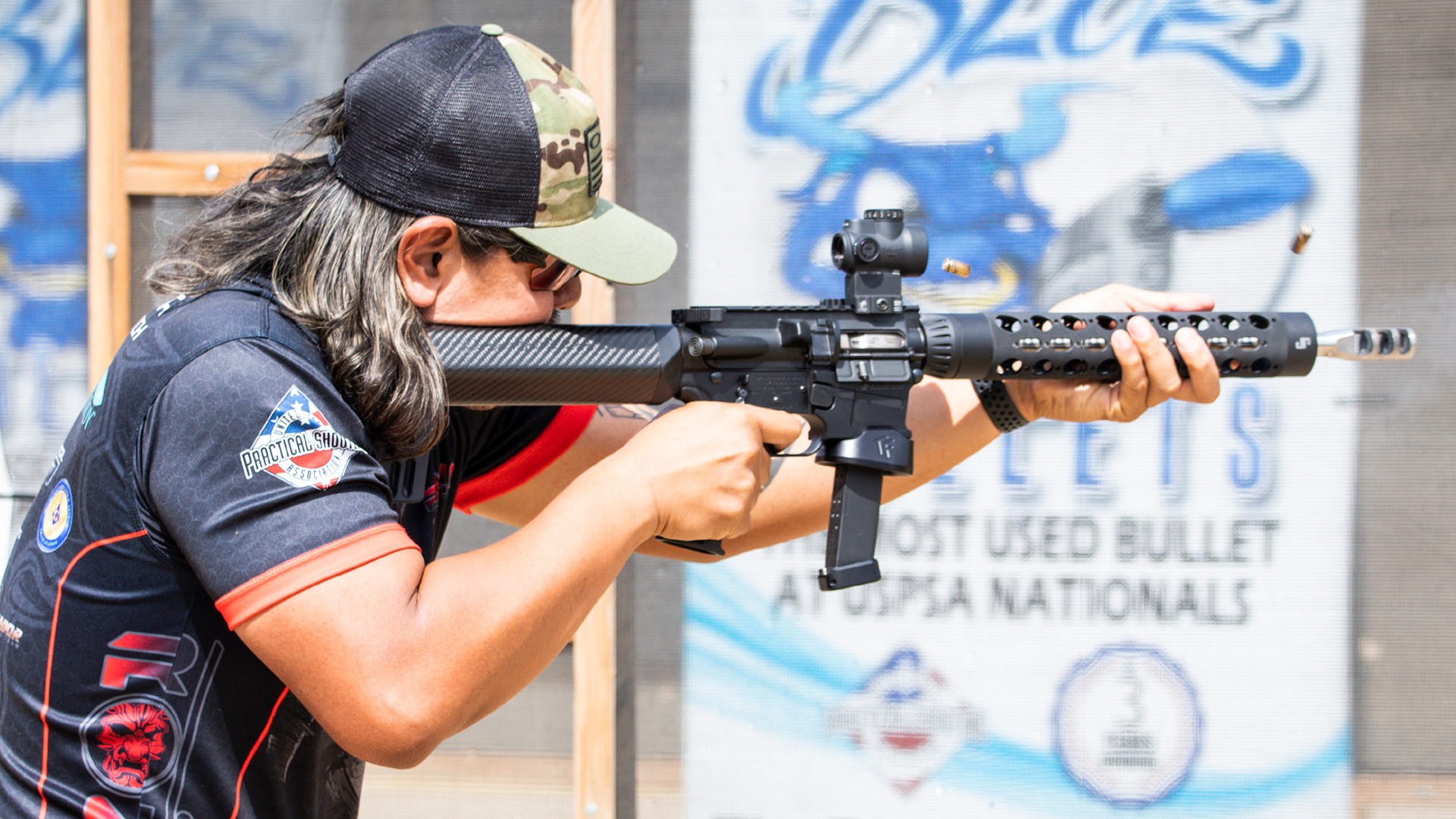 As in previous years, the Roadrunner Shootout was split between the competition bays of CCPL, and the "old western" town belonging to the local Single Action Shooting Society club, Kings River Regulators. Competitors look forward to this variety. Everyone has associated the Roadrunner with the cool western town stages; each year the CCPL crew has been given such positive feedback that the old western stages are a must.
The stages featured a wide range of shooting throughout the match. From technical stages to speed shoots, stages provided multiple options for shooters to complete the course. Many that made their way through the 11-stage match seemed to enjoy the experience. The atmosphere was best summed up by one competitor, "Competition, friends and fun [are] what I look forward to every year. Roadrunner is a must."
This is an efficient match, thanks to Match Director Greg Vaughn, who takes many aspects into consideration to make everything run smoothly. One example is the paperless scoring. Upon hitting the "approve" button, scores are directly emailed to the shooter. This year, all technology was up and running with the help of CCPL Statistics guru Steve Murray. Great staff is key to keep a match like this running without a hitch. The Roadrunner Shootout is fortunate to have solid staff members returning each year. Every stage at the Roadrunner prides itself on having a certified Chief Range Officer and other talented Range Officers working it.
USPSA Area 2 Director Leighton Oosthuisen had this to say about the 2022 Roadrunner Shootout: "If you are looking for a match that combines challenging stages, great match management and a super friendly Range Officer staff, then the Roadrunner Shootout is your place. Match Director Greg and his team really set the bar with how a Level 2 should be run. Stages were well thought out, with options everywhere. I especially liked the mix of partials and distance targets. The swingers and movers were well within the reach of shooters. The lunches each day were a welcome bonus, and the awards ceremony was a blast."
Making the match memorable for each shooter is important. Once again, every competitor walked away with a Roadrunner Shootout jersey from TechwearUSA. Prizes were at an all-time high. A total of $62,000 in prizes were handed out, including items from Blue Bullets, 22 Dillon 750 presses, three guns from Turner's Outdoorsman, a rifle from Taran Tactical Innovations, six airsoft guns from Echo One, Smoke Composite components and Vortex optics.
Article from the July/August 2022 issue of USPSA's magazine.