The Desert Classic match has, for as long as I can remember, been seen as the end-of-the-year finale of the major USPSA matches. Whether it was the Desert Classic or the Area 2 Championship match, it has been touted as one of the must-attend matches for USPSA competitors.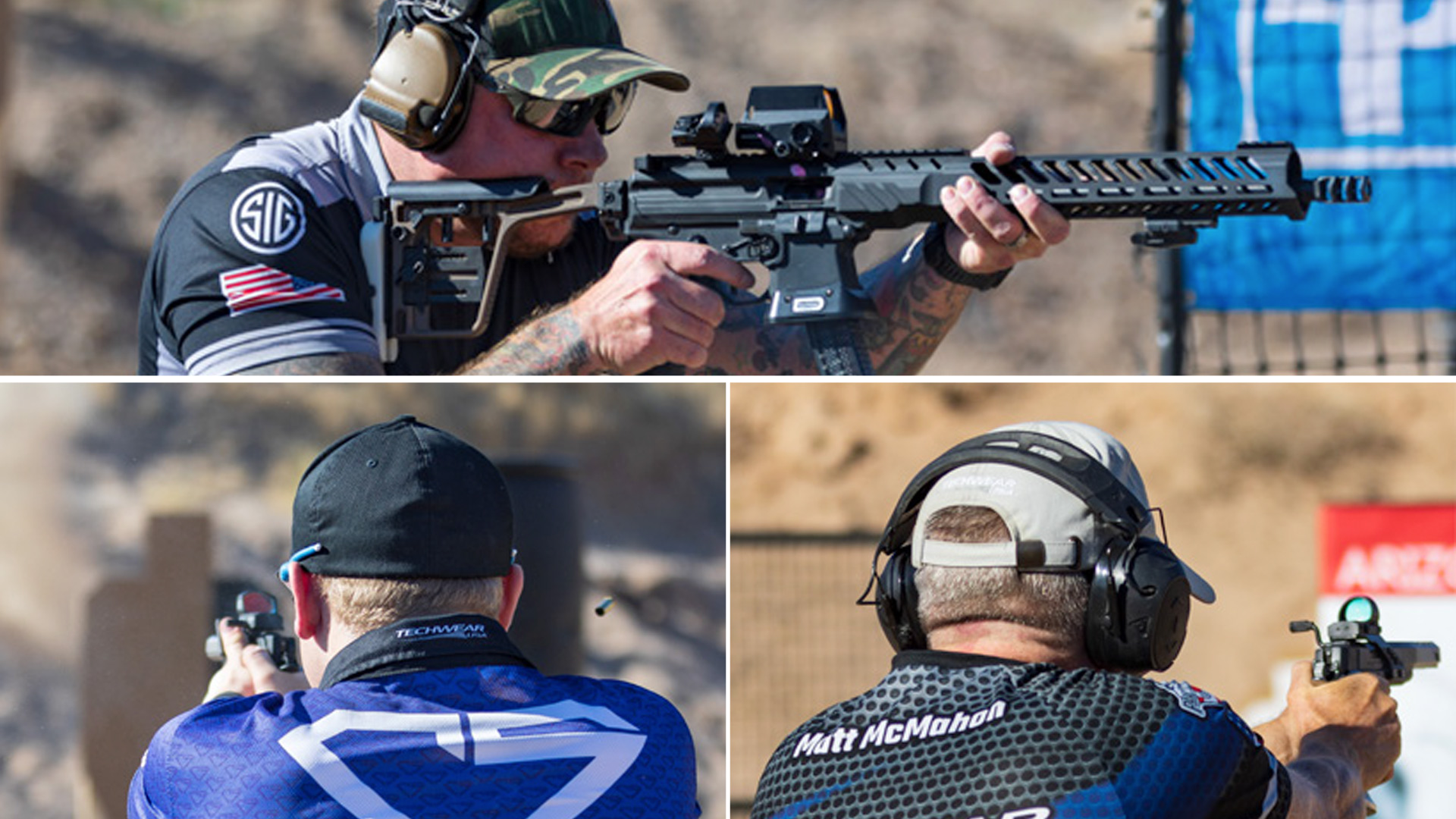 The match has traditionally taken place during the second weekend in November at the Rio Salado Sportsman's Club in Mesa, Arizona. There have been a few changes, and due to Covid restrictions the match was held at a different range in 2020. However, it was back on track for 2021 in its usual location and time of the year. Also, back for 2021 was Paul Caudill as the Match Director; he has been the guy running the match now for many years, along with a dedicated staff at Rio Salado to get this match running smoothly.
The 443 competitors headed to the warm weather of Arizona to take on the 15 stages the Area 2 design team had whipped up for this year. Known for challenging stages shot over three days of competition, the Desert Classic is spread out—taking up all the available bays at the range and divided up into three zones. The Rio Salado club is large and it's easy to get turned around when going from some of the zones.
A minimum of 325 rounds were going to be needed to get you through the courses of fire this time. The stages were straight-up shooting challenges with no gimmicks or unusual props to manipulate—it was just you, your stage plan and shooting that was necesarry.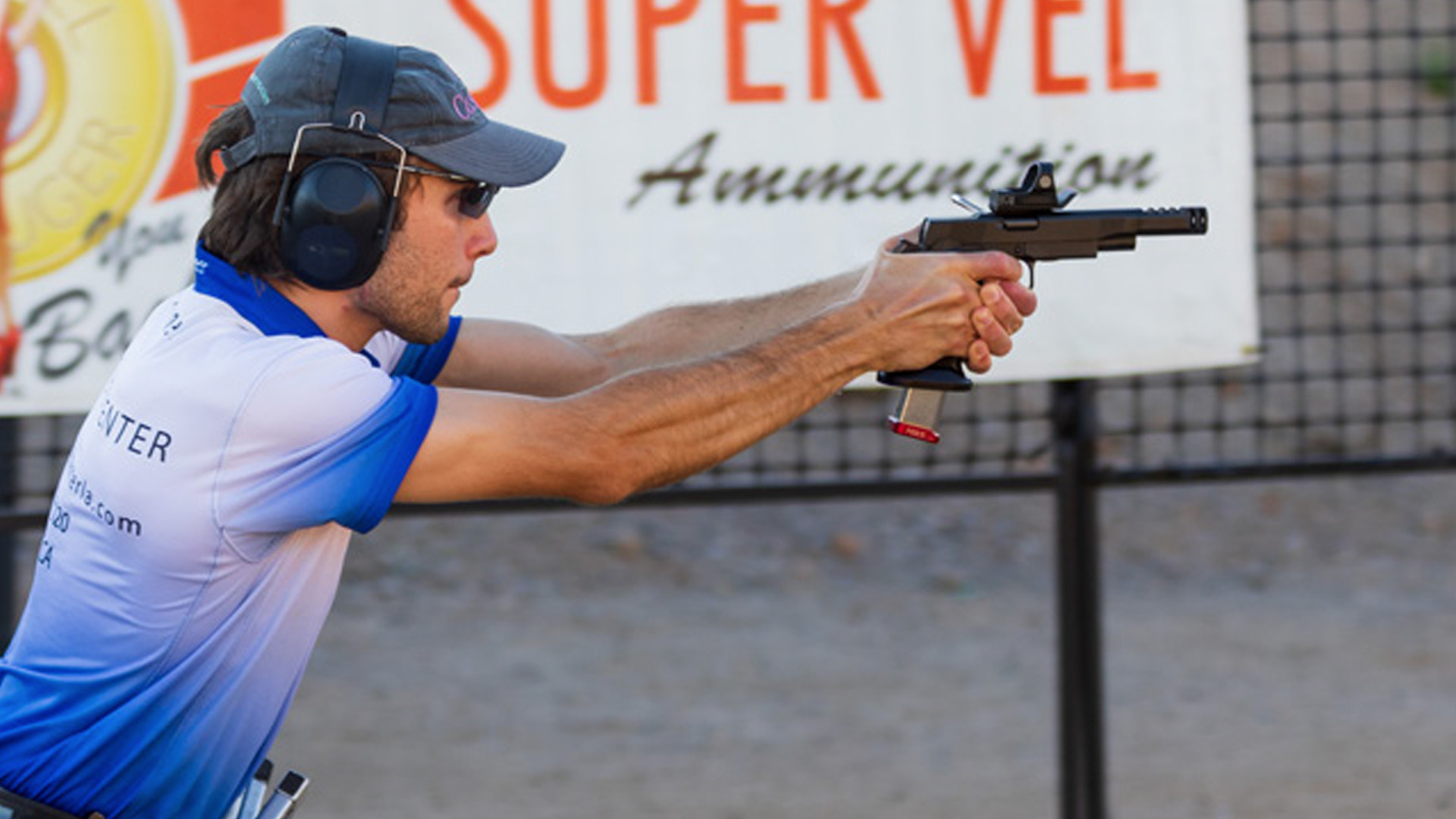 Stage 1, sponsored by Glock, was a 29-round, 145-point stage with 11 USPSA targets and seven mini-poppers, four of which were only available from the uprange start and were at 20 yards. Downrange, there were two different ports where you would have to engage the arrays of cardboard and steel. Christian Sailer, fresh off his third consecutive Open Nationals win, won this stage, only dropping four points. Glenn Shelby and Charlie Perez both had a 6.25 hit factor in Limited for a tie on the stage.
Stage 2, sponsored by Berry's Manufacturing, had a fast moving swinger as part of the 11 IPSC targets and four poppers. There were several ways to run this stage, but no matter what, that swinger through the port on the left side of bay was a tough shot. Rio has several prop and target holders that allow for the targets to be presented at different angles, which was the case for this swinger. It was no problem for Team Glock's Ashley Rheuark, winning the stage in Carry Optics with a 17.17-second run. PCC shooter Brian Harrington ran this in 15.10 for a stage win.
Stage 3, sponsored by Voodoo Tactical, had a stomp pad activating a max trap at the start, with a target that remained visible. There were also nine poppers on this long "S" shaped shooting area stage worth 135 points. Lots of reloading was needed in Production and Single-Stack divisions at Stage 3. Roman Vrublevskiy secured the stage win in Production, with Tim Herron getting a win in here as well in Single Stack.
There were plenty of tight shots and hard angles at Stage 4, sponsored by House of Hearing. With 25 rounds for the 10 IPSC targets and five poppers taken from the "Y" shaped shooting area, competitors were going to have to hit both of the far left and right positions downrange in order to see all the targets, but had options on how they attacked the center section of the stage. Gianni Giordano made it out to the match and took a stage win here in Limited, running this in 15.59 seconds.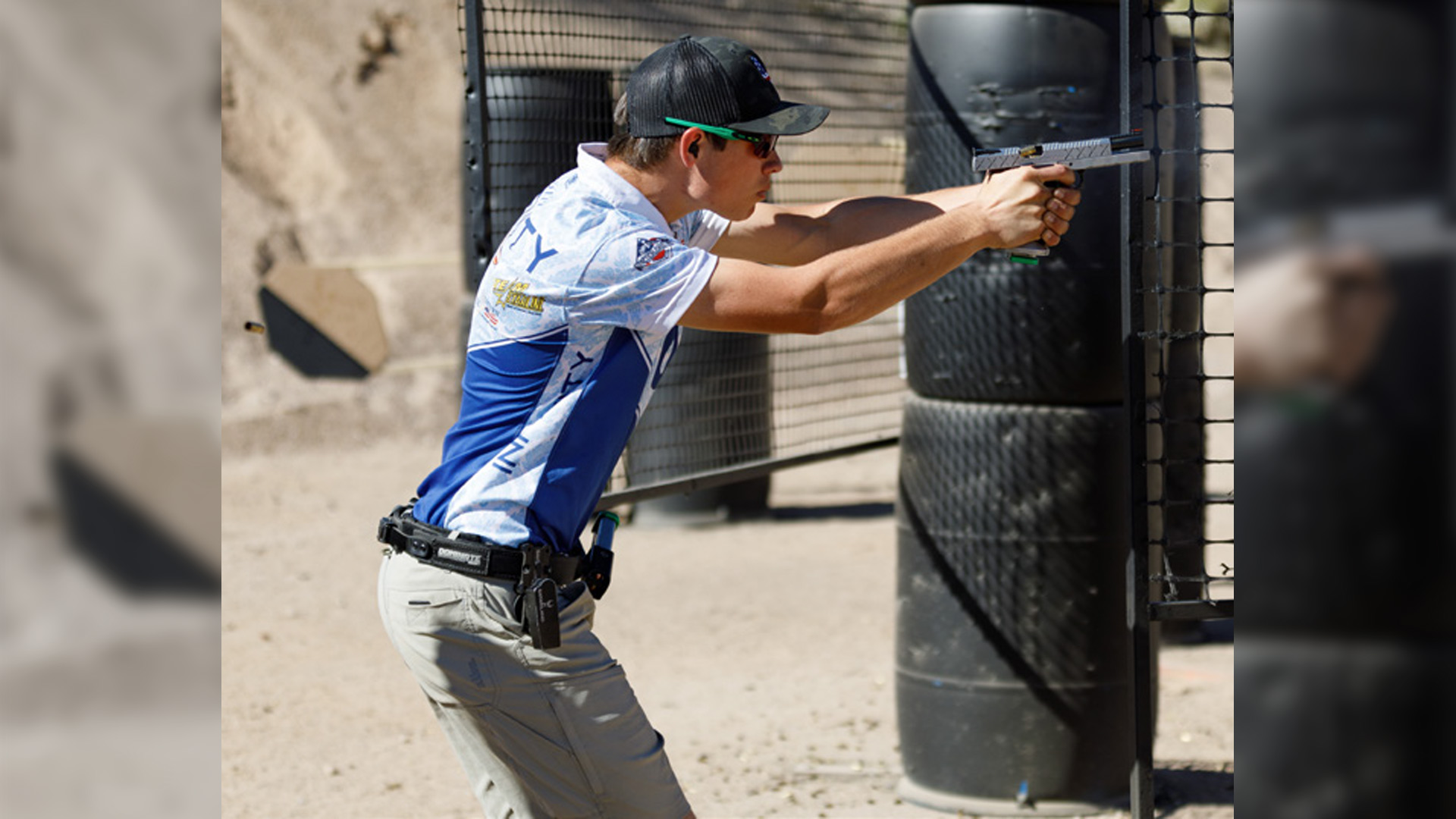 Stage 5, sponsored by TechWear USA, was a Comstock medium course with only six IPSC targets and four poppers, one that activated another one of the fast swingers that seemed to be everywhere. The downrange start had you working back up-range towards the right side of the "L" shaped shooting area to finish. Kenny Platt grabbed a stage win shooting Production and, at his home range, Nils Jonasson shooting Carry Optics won this stage.
Stage 6, sponsored by Super Vel. required 23 rounds and was worth 115 points with nine IPSC targets and five poppers, one again activating another swinger. Starting outside the shooting area in a box, you had targets left and right once you entered the fault lines. A port to the left had four poppers stacked up and another array of targets to the right. Competitors had the option of staying back and taking the longer shots on the popper that activated the swinger and the other target downrange, or moving forward. Bryan Jones's 12.85 time edged out K.C. Eusebio for an Open stage win.
Stage 7, sponsored by Dillon Precision, was a seated start with a loaded firearm on a table centered in the shooting area. Eight IPSC and four poppers, and—you guessed it—more swingers were facing competitors on this stage. With 15.13 seconds in Carry Optics, Joon Kim won the stage, shooting 90 of the 100 points. Charlie Perez took the Limited stage win with his 16.05-second run.
Stage 8, sponsored by Carver Custom, was tucked away in the small berm at the end of the long rifle bays at Rio. The stage layout was unique to this bay, which allowed you to shoot at what was more of a 180-degree angle. The start was heels-on marks with targets through a port to your direct left and another array of targets ahead to your right. The RO would trail behind you to the left and had an RO-only pass-through as the shooters moved forward and to the left. This was 120 points, 24 rounds for the 12 IPSC targets, with tight angles and wide transitions. Brett Berg took the stage win in Single Stack over Tim Herron.
The medium course of fire with a low port that many went prone on in the last position awaited competitors on Stage 9, sponsored by TrueShot. Six USPSA targets, one a max trap that was visible at rest and activated by one of the two poppers, made up this 70-point stage. The firearm was loaded on a table in the center of the shooting area, and there was plenty of hardcover and no-shoots to keep you on your toes. Duncan Cline shot all As on this one in PCC for the stage win.
Stage 10, sponsored by Echo 1, was won by Bob Krogh in Limited. A downrange start facing three poppers with two USPSA targets to either side was going to make shooters move to either side of the front fault line before charging back to finish on the next stage. Tight no-shoots on the back far targets required several "white pasters" calls during the match.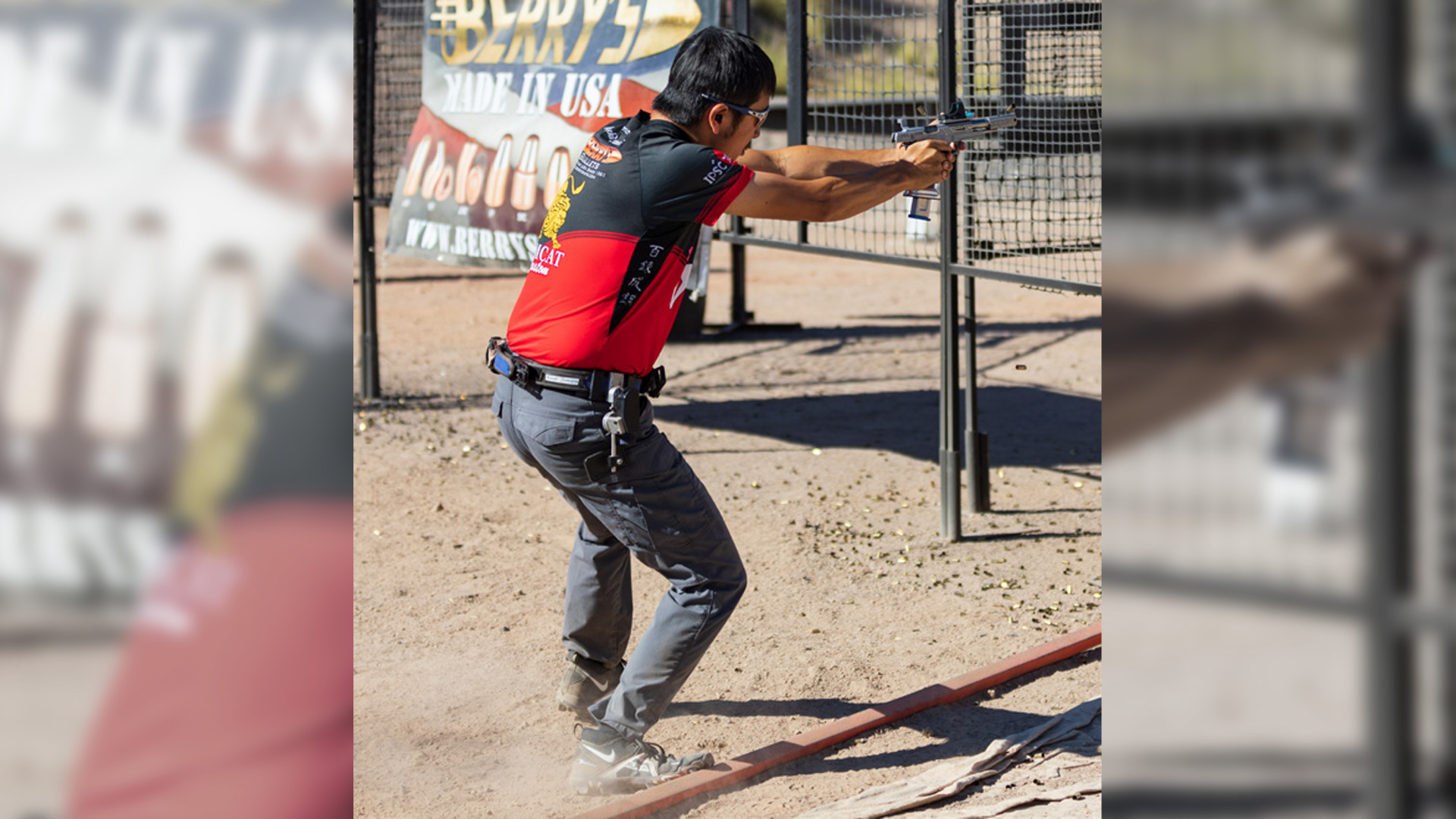 The target arrays and vision barriers set up on Stage 11, sponsored by Henning Group, ensured that you had to dial your stage plan in for this one. With targets tucked back and only available from certain positions, the chance of skipping over one was pretty good. Travis Mccamish won the stage in Carry Optics and another home club local Nick Saiti took a PCC stage win here.
Stage 12 was the classifier Golden Bullet Standards, sponsored by Vortex. The two string Virginia-count stage was going to get your weak hand and strong hand shooting taken care of for the match.
Stage 13, sponsored by Accuracy Speaks Inc., finished out the stages in this zone. This was another one that had many options to it, and required hitting the spots to pick up the targets in the downrange center section through a port. This 26-round stage with 13 USPSA targets was run many different ways, but the way Dan Mcnutt attacked it secured him a stage win in Production with a 20.81-second time, only dropping eight points.
Stage 14, sponsored by C-More, unfortunately had to be removed from the match due to inconsistent presentation with the max traps over the course of the competition. USPSA hates to see a stage get tossed from a match, but occasionally it does happen.
Stage 15, sponsored by Range Tech, was a fast 12-rounder with three USPSA targets and a row of six poppers. You guessed it—one of the poppers activated the last swinger of the match. K.C. Eusebio doesn't fear fast swingers and ran this in 7.05 seconds for a stage win in Open.
2021 USPSA Area 2 Desert Classic Leaderboard
Winner, Carry Optics—Nils Jonasson
Winner, Open—Christian Sailer
Winner, Limited—Gianni Giordano
Winner, Production—Dan Mcnutt
Winner, Single Stack—Tim Herron
Winner, PCC—Brian Harrington

The Area 2 Desert Classic Championship continues to live up to its reputation as a must-attend match. The range, the weather, the staff, the challenges and the competitors are what make the Desert Classic a match that sells out quickly. Add it to your 2022 calendar if you want to attend the "Battle of the Best." It is scheduled for November 10-14 again at Rio Salado.
Article from the January/February 2022 issue of USPSA's magazine.