Support NRA Shooting Sports USA
DONATE
Holster choice is a highly personal thing. They come in a whole assortment of sizes, colors and carrying styles, with some companies even selling bedazzled options.
Blackhawk is a name that nearly everyone in the shooting sports arena is familiar with. The company makes everything from plate carriers and rucksacks to buttstocks and slings. Blackhawk gear is known for reliability, durability and all-around tough, quality construction.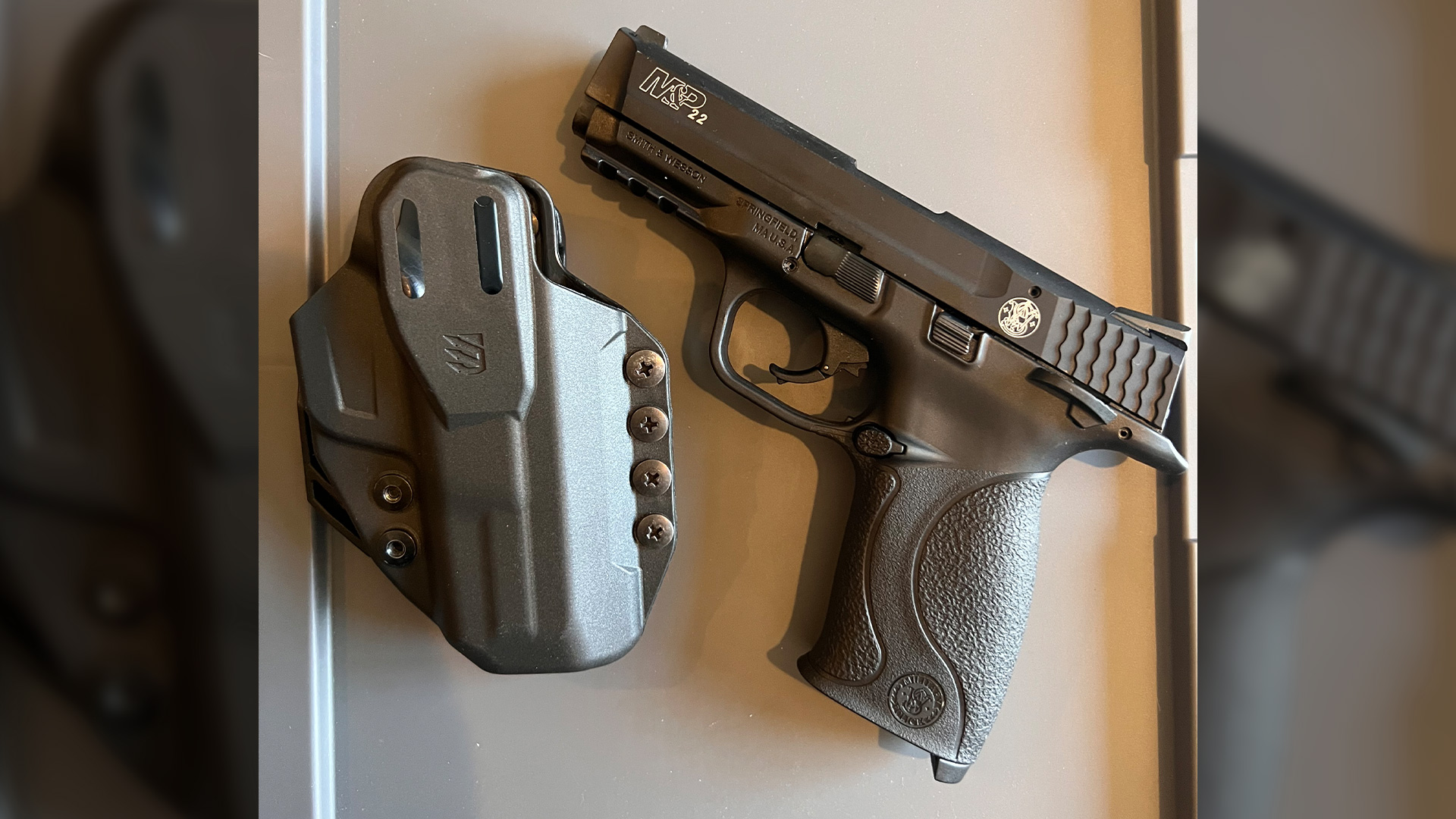 That brings us to the Blackhawk Stache (pronounced ST-A-SH) inside-the-waistband holster. Just like a nice mustache (think Wyatt Earp), this holster will keep you confident and smiling, all day long when worn right (or left, I am a southpaw).
Like millions of other Americans, you might have a permit to carry concealed in your state (or you live in a state that does not require one) or you are thinking about/preparing to get your permit. The days of tucking your old six-shooter in your belt ended a long time ago, and thank goodness it did, because that was—and still is—a terrible way to carry a pistol.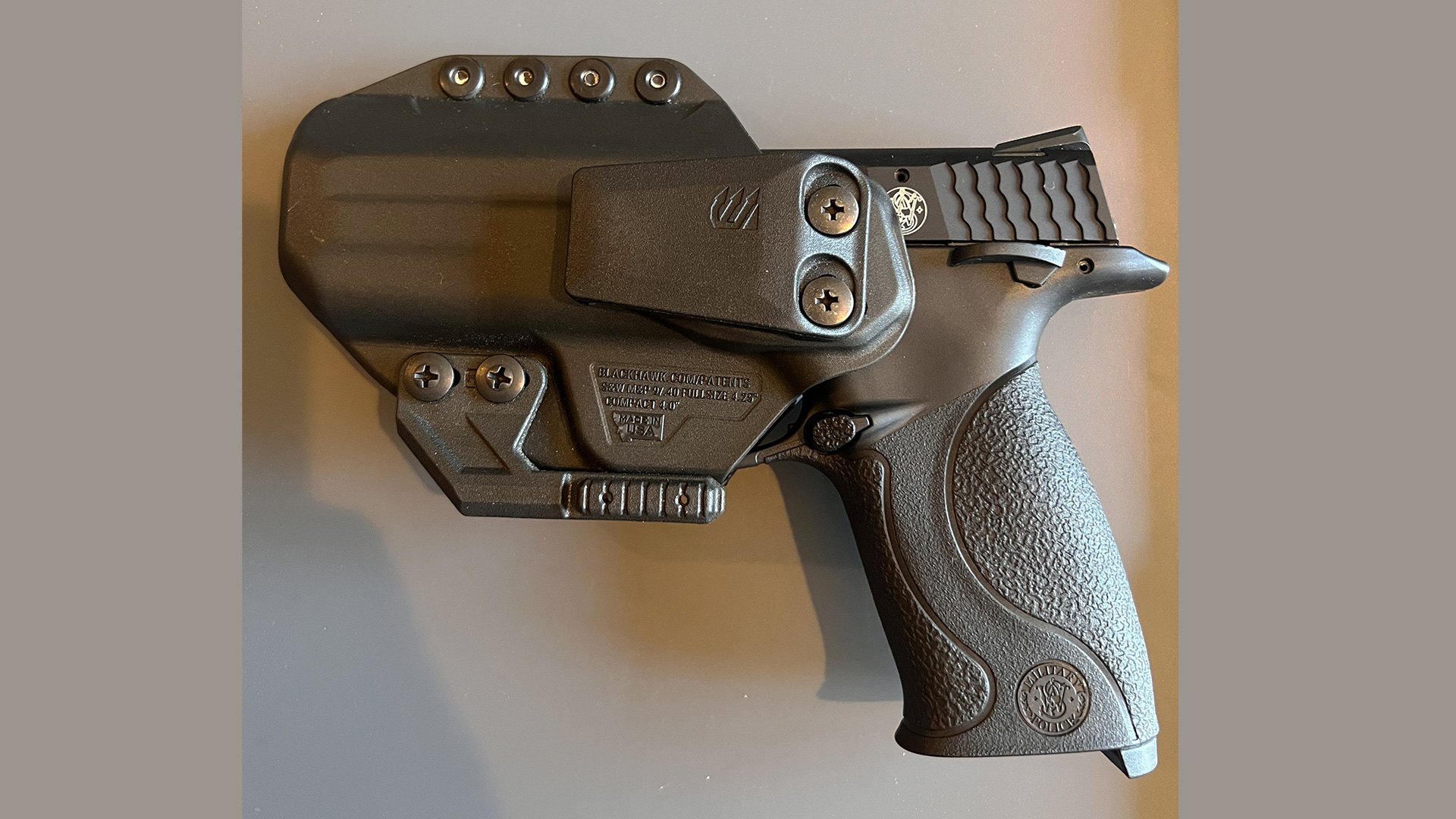 With a simple design and sleek mold lines, this injection-molded polymer holster sits comfortably. No pokey or pointy spots or pelvic dig in the AIWB (Appendix Inside the Waistband) carry position, the belt clip is sturdy; firm enough to keep the holster tight in place with no lateral movement on your belt. Additionally, I like the wide belt clip, which helps in keeping the holster flat on the abdomen, and also shows no printing due to its thin, yet very strong design. I purchased the premium kit for the Smith & Wesson M&P 9/40 four- and 4¼-inch sizes. The premium kit includes the attachable single magazine carrier, which can be worn individually elsewhere on your belt/body.
Blackhawk Stache options for pistol makes and models are abundant, so finding a holster for your specific pistol and magazines shouldn't be an issue. The magazine carrier when attached to the holster is adjustable for cant and ride height. Both are nice options to have when adjusting for concealability and comfort.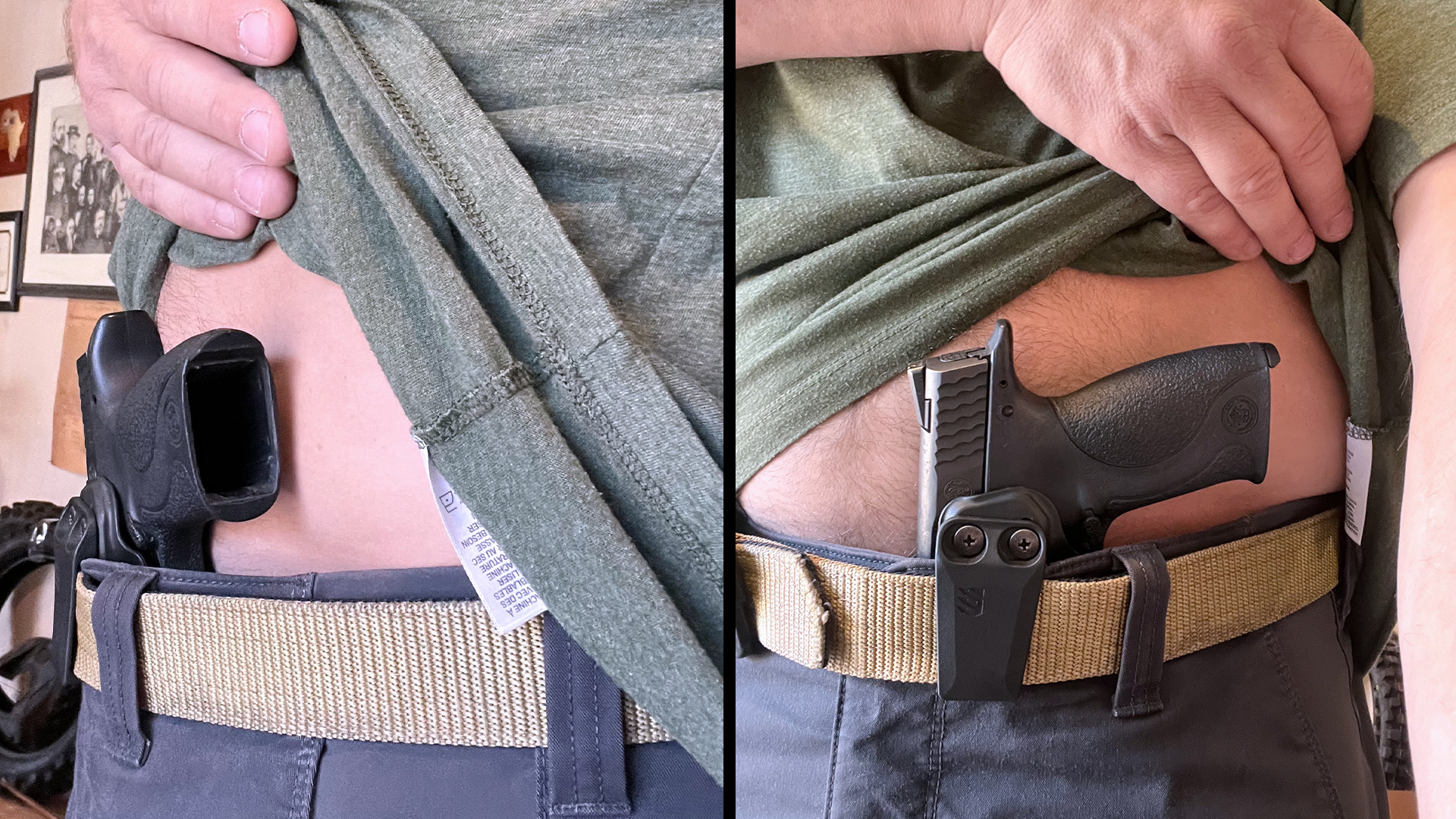 Gun retention on the Blackhawk Stache is fantastic for a zero-retention holster due to its impact-reinforced, friction adjustable passive retention. My M&P 9 sits snug as a bug in a rug in the Blackhawk Stache, with no concern of losing it while running, defending myself from an attacker, or having fun doing some competitive shooting in action pistol. Wearing it on the hip is just as comfortable and just as concealable. The ergonomics of this holster really do keep it tight to the body. Drawing from both IWB and hip draw are excellent. Smooth, clean exit draw with no snags or hangups. Re-holstering is also admirable, with a wide enough opening to make catching the holster lip edge when putting your pistol back in the holster unlikely, but not too narrow so that you have to "hunt" for it.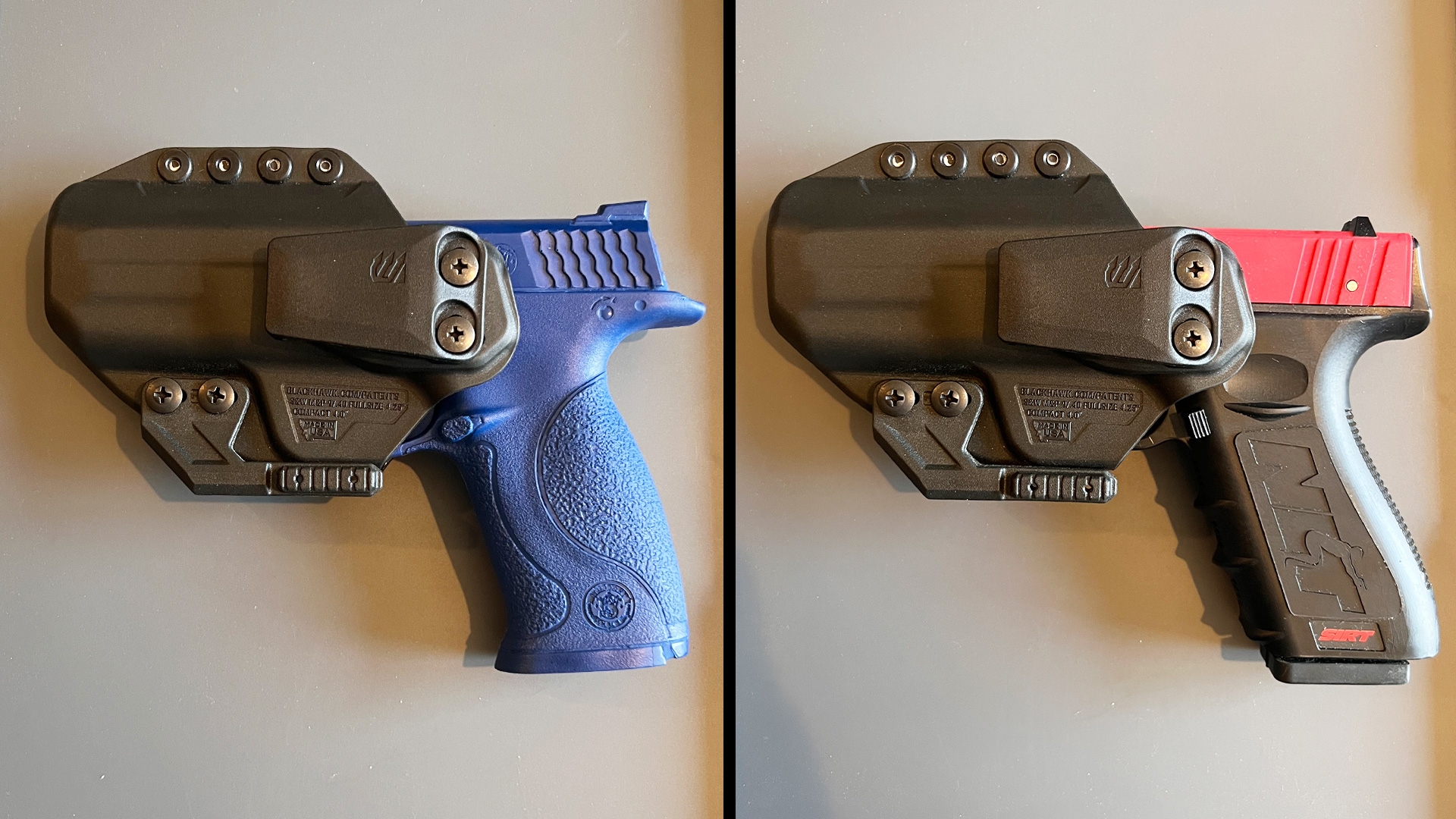 Another solid use I have found for this holster is its use in training my students, both in the classroom and on the range. I have the Smith & Wesson M&P pistol in both .22 caliber for beginner students, and 9 mm for all of the rest. Both fit this holster, and it is also important to mention that this holster is ambidextrous, and can be changed from left-hand carry to right-hand carry configuration in minutes with a Phillips head screwdriver. Similar to the magazine carrier, you can also adjust ride height and cant on the interchangeable belt clip. In addition, SIRT 110 training pistols will fit the M&P 9 4¼-inch Stache holster that I purchased.
Finally, the Blackhawk Stache IWB holster is designed to accept most popular handguns with RDA-mounted optics. With the explosion of carry optics in popularity, this is an eye-catching option.
For the fair price of $54.95 before taxes for the premium holster kit, the Blackhawk Stache IWB holster offers many if not all of the same high-level desired features and ergonomics of custom holsters that are more expensive, and with build time of weeks or even months.
The Blackhawk Stache IWB holster can be found at your local gun store, Cabela's or Bass Pro Shops. Go to blackhawk.com.
My thoughts about finding a holster
The number of companies making holsters now is comparable to the number of soap manufacturers on the market. There are so many you could never remember them all, let alone even the 10 most popular. Then you look at each of those holster companies individually and they each make anywhere from three to 100 different holsters that are produced through their facilities and marketed on their websites. It's not a stretch to say that you can either find a holster already made, or have one custom made in less than six months—for almost any pistol in the world if you really wanted to. You would certainly pay a premium, but it can be done. My point is—there are a few choices out there, and it can be overwhelming. Do your research.
---
ABOUT THE AUTHOR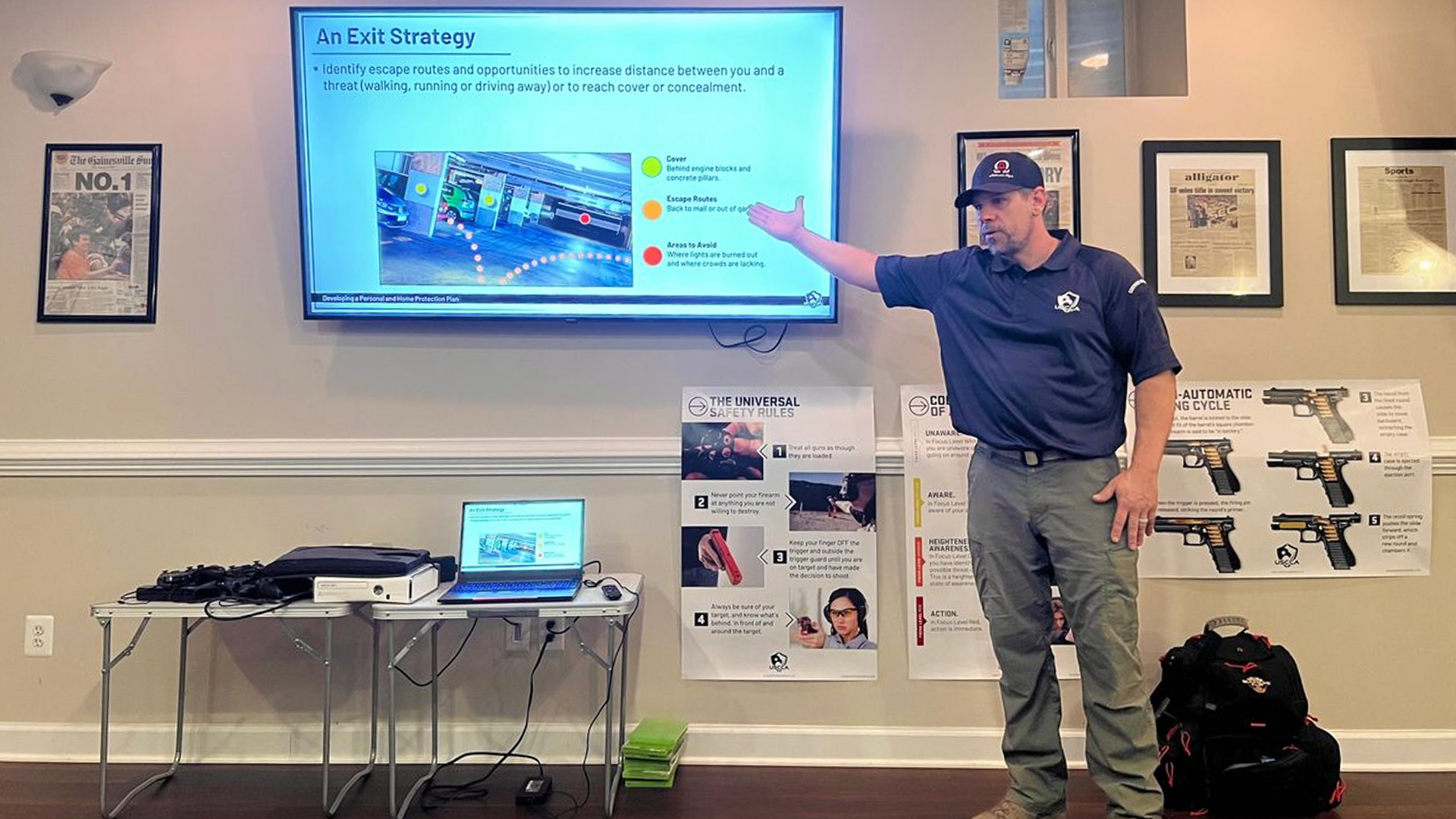 Damien Orsinger is the former NRA Competitive Shooting Division Pistol Program Coordinator and founder and CEO of Adroit Operations, a company specializing in firearms education, CCW, marksmanship and competition. He also spent two years (from 2007 to 2009) running the ranges at Silver Eagle Group in Ashburn, Virginia. Says Orsinger: "Through the thousands of hours I have spent competing, training, teaching, learning and having fun on both indoor and outdoor, military and law enforcement and civilian ranges, I have gained valuable knowledge and experience that I am eager to share with others. For me, owning firearms isn't just about personal protection, though I believe it to be paramount; owning firearms—learning personal responsibility, gaining confidence and competing—is about cherishing our Second Amendment Right to Bear Arms. It's also about sharing fun times with people—those you know, those you don't yet know, and, of course, family and friends."