Support NRA Shooting Sports USA
DONATE
When I first entered shooting sports and started shopping for a home- and self-defense pistol, I had limited knowledge about firearm manufacturers and the models of guns they made. The only guns I knew were the guns growing up that my father owned. After shooting for a few years and working in the industry, I have much more knowledge—now I know many more firearm manufacturers that I probably wouldn't have learned about otherwise. It's unfortunate from the inside looking out that so many gun owners are only aware of Glock, Smith & Wesson, Beretta, Ruger and a few other manufacturers that are well-known because of the historical firearms they make, media coverage and Hollywood exposure in movies. These brands are certainly important and incredible companies, but there is another world of firearms that are generally unknown to the public.
One such firearms manufacturer is Canik. I wasn't aware of Canik until I started shooting 3-Gun competitions and was introduced to one of their shooters, Todd Louis. Canik firearms are imported by Century International Arms, a U.S.-based importer and manufacturer of firearms founded in 1961 in St. Albans, Vermont. You may have heard of Century Arms because of their AKs, but they are also the exclusive importer of Canik handguns. Canik handguns are high-quality polymer pistols that are used by Turkish law enforcement.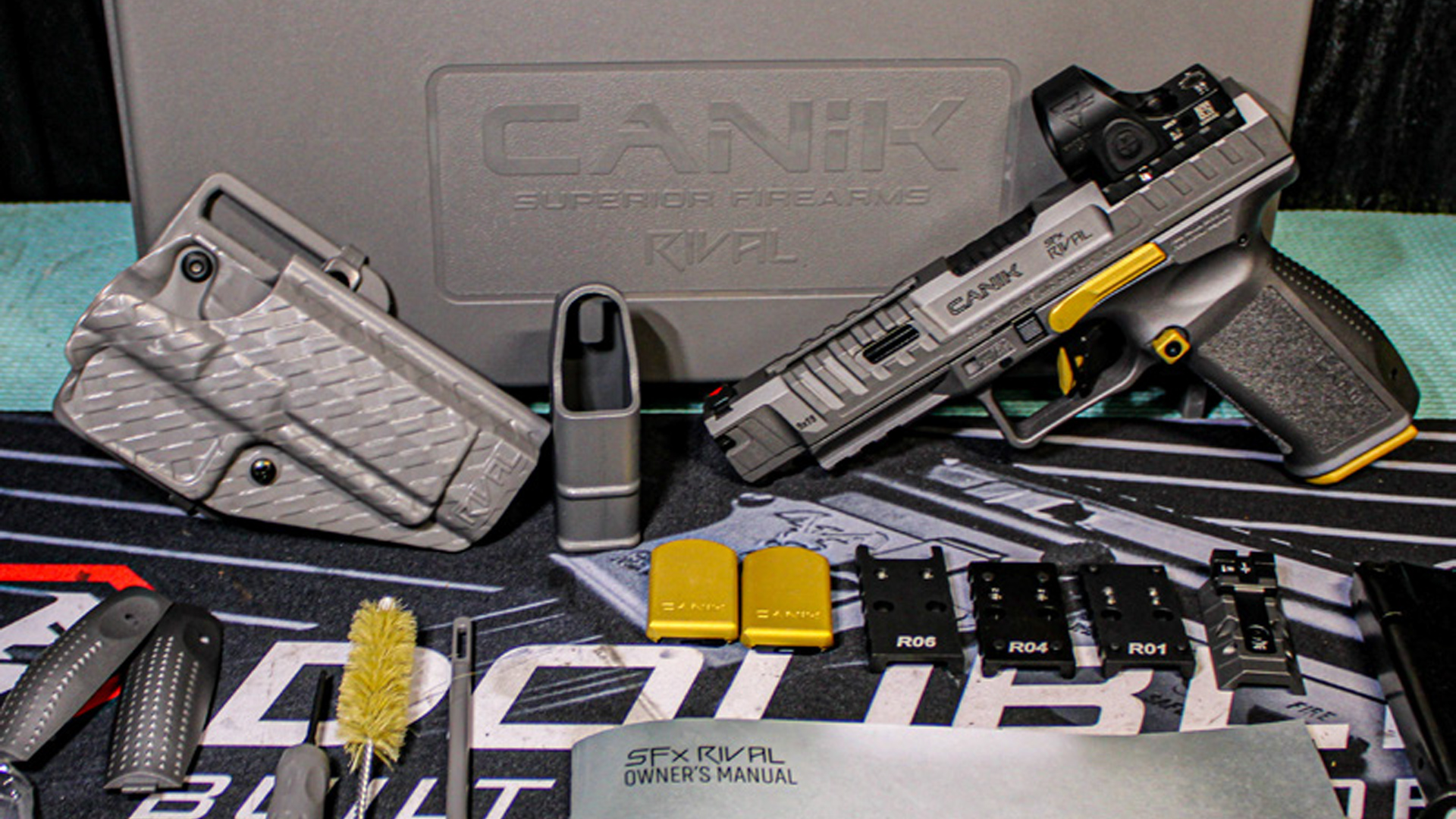 I have had the pleasure of shooting the Canik TP9SF, TP9SFx, Mete SFT, and now the SFx Rival. I am also the proud owner of two SFx models, one set up with iron sights to shoot Limited or Production, and the other with a red dot to shoot Carry Optics division. The Canik line of pistols are by far the best value for a polymer pistol out of the box, and ready for competition, concealed carry or for the average range enthusiast. I own a polymer pistol made by nearly every major firearm manufacturer and, while I enjoy shooting them all, the Canik SFx Rival is my favorite polymer pistol. In this review, I share the features of the SFx Rival, the pros and cons of the gun and a range test.
Read Frank Melloni's review of the Canik SFx Rival—Ed.
The Canik SFx Rival is a feature-rich pistol that comes with everything you could need right out of the box. It's the first gun I've owned that I haven't upgraded with any aftermarket parts. I'm guilty of even modifying my original SFx pistols with aftermarket triggers, but there is no need to change a thing with the SFx Rival, which was designed to level the playing field for competitive shooters without breaking the bank. Nils Jonasson, a National and World Champion in USPSA, Steel Challenge and more, spent years working with Canik to design this pistol.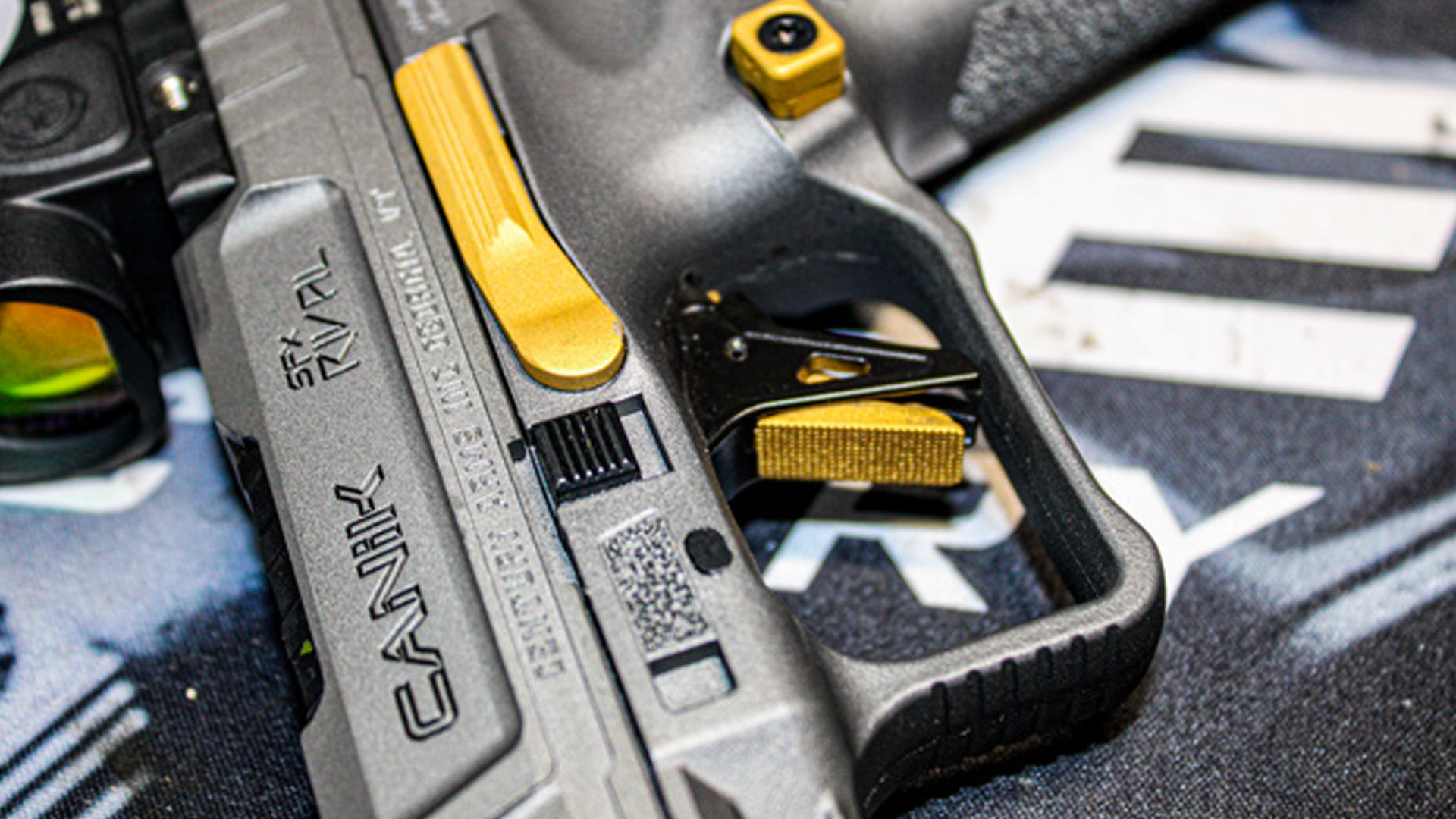 The most important change Canik made from their original SFx model pistols to the Rival is the change in trigger design. As mentioned earlier, I did swap the stock triggers out for aftermarket flat race triggers in my Canik SFx guns. A trigger is the first upgrade I make in any gun—whether it is a rifle or a pistol. Since I am used to flat triggers, my goal is to have all my guns set up with a similar trigger (if not the same). The SFx Rival includes a diamond-cut aluminum flat trigger that is lightened. Canik is one of a handful of companies in the firearms industry who are listening to feedback and quickly giving gun owners what they want. This trigger alone is what sold me on wanting to shoot this pistol, and there are many more features packed into this mighty gun.
Canik has done a tremendous job in making its firearms as ambidextrous as possible. While I'm a regular right-handed shooter, I have met more left-handed people in the shooting sports than I have in my entire life outside of shooting. The Canik SFx Rival, similar to the SFx and Mete, has an ambidextrous slide release, along with a reversible magazine release with a variety of different sized buttons. Instead of making left-hand versions of guns, Canik has made it easy to have its guns fit nearly anyone.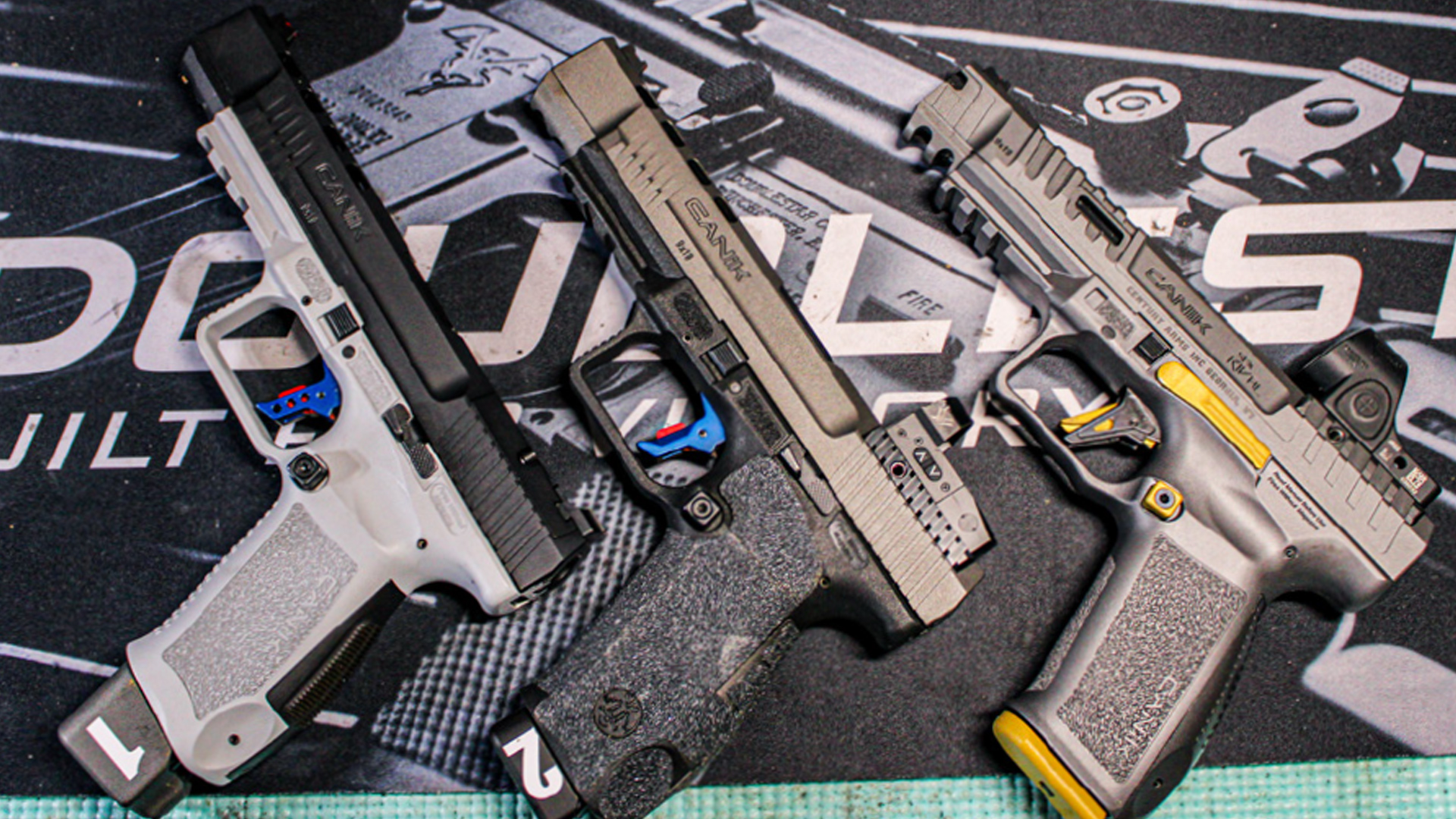 PROS
Accessories Included
Competitive shooters occasionally invest more into aftermarket parts, accessories and gear than we do in the firearm. This includes purchasing magazines, base pads, mag well, holster, a different magazine release button, spare fiber optic, optic plate, getting the slide cut for an optic and more. The upgrades you can make to a pistol are endless. The Canik SFx Rival comes with everything, and I mean everything, you need to be competitive and shoot a competition the same day of purchasing the gun. I can't name another gun manufacturer that includes as many items as Canik does, and no one near the price point that they offer it at.
Two 18-round magazines
Two aluminum magazine base plates
Magazine loader
External mag well
Custom holster
Canik punch and tool kit
Cleaning kit
Four Rival optic plates
Five Rival Dark Side optic plates
Additional fiber optic
Three grip back straps
Three magazine release extensions
Gun lock and manual
IDPA-, IPSC- and USPSA-Legal
Most competitive shooters are average joes who enjoy shooting competitions as their weekend hobby. Investing in three different guns and gear, just to shoot three different disciplines, is not affordable for any competitive shooters. The Canik SFx Rival has a total length of 8.1 inches, a height of 5.7 inches, a 1.41-inch width, a five-inch barrel and an overall weight of 29.5 ounces. These specifications make this one gun legal in all three shooting disciplines, which is a huge positive about owning it.
Affordable Price
The MSRP for the Canik SFx Rival is $679.99. While this may sound high compared to other stock polymer pistols on the market today, think about all the upgrades, aftermarket parts, gear and accessories you purchase in addition to the stock firearm. The budget for another stock gun with all the aftermarket additions is easily much higher than the Canik SFx Rival, which has everything you need (maybe not everything you want) to shoot competitively. There are other polymer pistols that are around this same price point, but they lack any of the items the SFx Rival includes with it.
One Magazine To Rule Them All
If you understand the reference I'm making here, hello fellow nerds. Canik Arms made life so easy for anyone who owns one of their pistols by making one magazine, the TP9 series magazine, compatible with all Canik pistols. So if you're like me and own several, the mags are interchangeable from one gun to the next.
It's Modular
It's important to customize a gun to your needs, whether it's for competition or concealed carry. The Canik SFx Rival comes with different back strap sizes, different magazine release sizes, adjustable fiber-optic sights and includes optic plates to mount just about any red dot you want. You can configure the gun to you, swap out red fiber for green, and change over from iron sights to a red-dot optic in only a few minutes.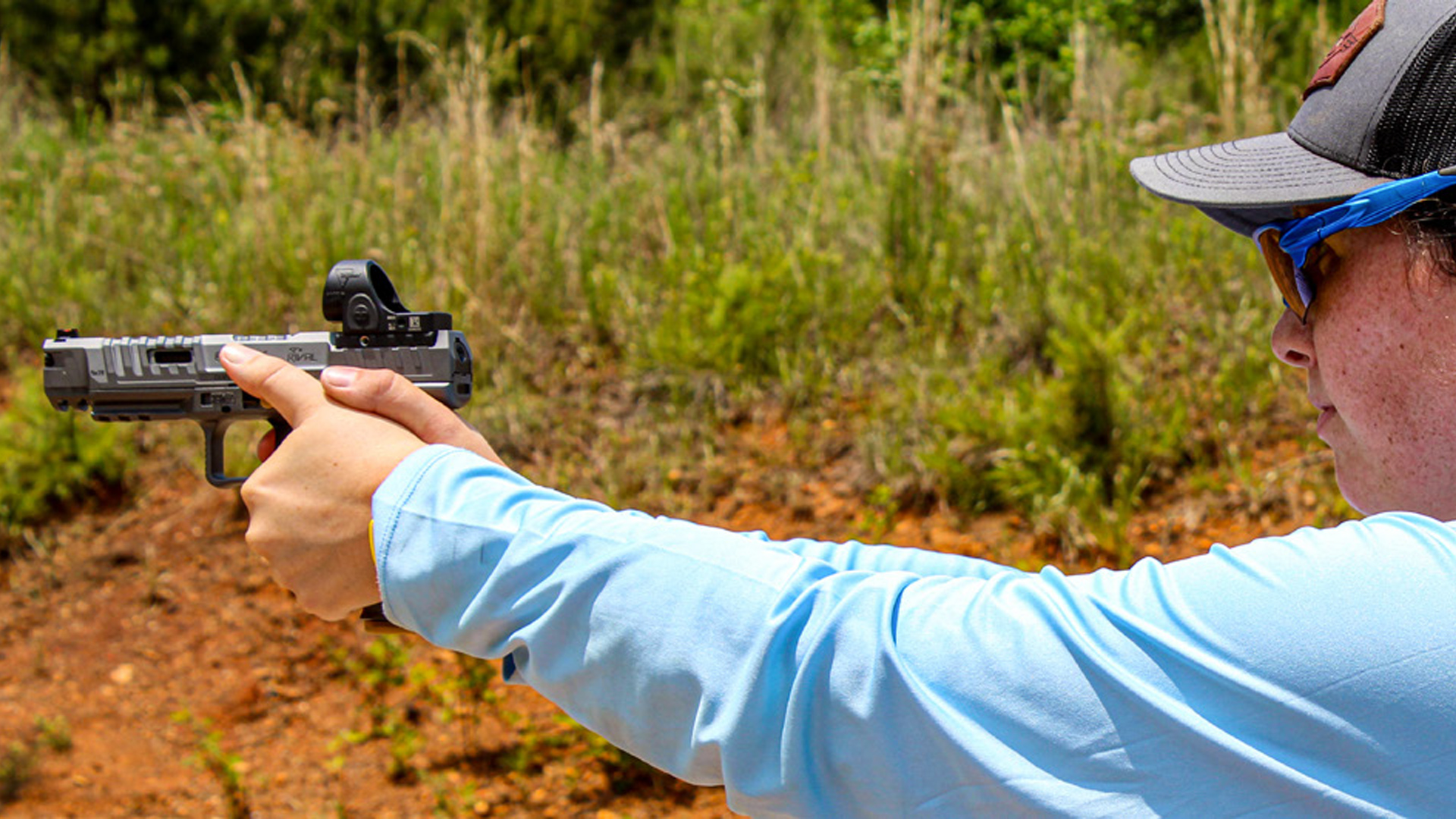 CONS
Limited Aftermarket Support
Only one con—as with any new gun release, there is little aftermarket support for new gun models. That is, until it becomes adopted by gun owners searching for aftermarket parts or accessories. The Canik SFx Rival does have some aftermarket support, but it was challenging for me to find a competition holster custom fitted to it. While there aren't any aftermarket triggers that fit the SFx Rival (that I've seen at least), ask yourself—why would you change it when it comes with a race-ready trigger?
RANGE TEST
I took the Canik SFx Rival to the range and test-fired different weight 9 mm ammunition from different manufacturers. I didn't oil or clean the gun between range trips. I shot it with both iron sights and mounted a Trijicon SRO on it. I also brought the gun to my Gals Day at the Range event where shooters with different levels of experience, from beginners to newer competitive shooters, all got to try it. Not once did the gun fail in performance, reliability or accuracy.
When it comes to bullet weight, different weight bullets will cycle faster, slower or softer through different guns. For example, the perceived recoil can feel different with 115-grain bullets, as opposed to 147-grain bullets. There are other variables factoring into these effects, such as powder charge, ported barrels and compensators, but variables aside, it's all about running ammo your gun likes, what you feel is best for felt recoil and shoots accurately (plus, makes power factor). The Canik SFx Rival ran the dirtiest ammunition that I could find, coated and jacketed bullets, flat-nose and round-nose bullets, along with 115-, 124- and 147-grain bullets just fine. I also test-fired a few Super Vel Ammunition defensive hollow-point rounds to see how they fed and cycled through the gun, with no problems at all.
The reliability of a gun is the most important factor to me in competition and for home- and self-defense—but also for enjoyment on the range. Nothing is more irritating than having to fix something at the range, replace a part after a stage, or zero a stage due to a pistol malfunction, or having a gun not run in a self-defense scenario that could cost you your life. I have come to trust Canik above all the pistols I own to run reliably when I need it to, and the Canik SFx Rival is by far the best that I've shot yet.
FINAL THOUGHTS
I recommend that everyone who wants to buy a gun to shoot it before purchase to make sure it fits their hand, that they can manage the recoil and it is enjoyable to shoot. Many ranges have guns for rent that you can try before you buy. Manufacturers will host demo days at events where you can come out and shoot the different model firearms they offer. Friends and family members who own guns are a great resource to ask if you could shoot theirs first to see if you like them. Additionally, the competitive shooting community is so friendly that if you show up to watch a shooting sport of any kind, ask questions, and ask to shoot their competition gun afterwards, they'd be more than happy to let you try it out.
The Canik SFx Rival is one of the best polymer pistols I've ever handled or shot. It's a fun gun to shoot and the recoil is easy to handle. The pistol is extremely accurate, will run any 9 mm ammunition you feed it and is customizable to you. If you're in the market for a new pistol, I would recommend checking the SFx Rival out above any other. Learn more at canikusa.com.
Article from the July/August 2022 issue of USPSA's magazine.