by
Chris Christian, Field Editor
posted on July 21, 2020
Support NRA Shooting Sports USA
DONATE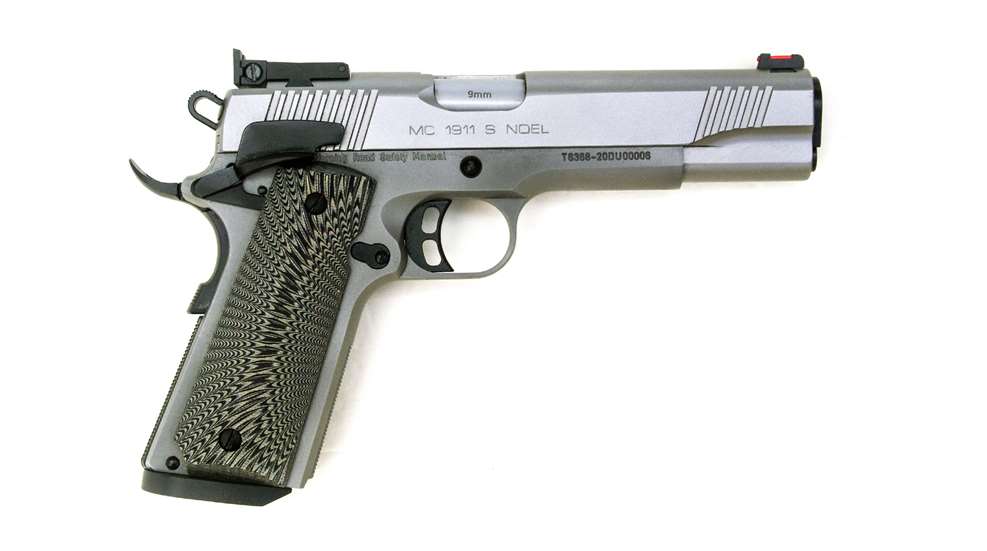 Since its introduction over 100 years ago, John Browning's iconic 1911 pistol has been associated with the .45 ACP, and to a lesser extent the .38 Super. Recent years, however, have seen a pronounced shift among action-pistol competitors toward the 9mm. The Girsan MC1911 Noel, imported by European American Armory (EAA) is one of the latest such models available.
The Turkish-made Girsan MC1911 Noel (MSRP: $901, eaacorp.com) is a full-sized 1911 with a five-inch barrel. It uses the traditional front barrel bushing, recoil spring guide and recoil spring. The slide and frame are constructed from stainless steel, with an overall length of 8.75 inches, a height of 5.9 inches, 1.22-inch maximum width and an empty weight slightly over 40 ounces.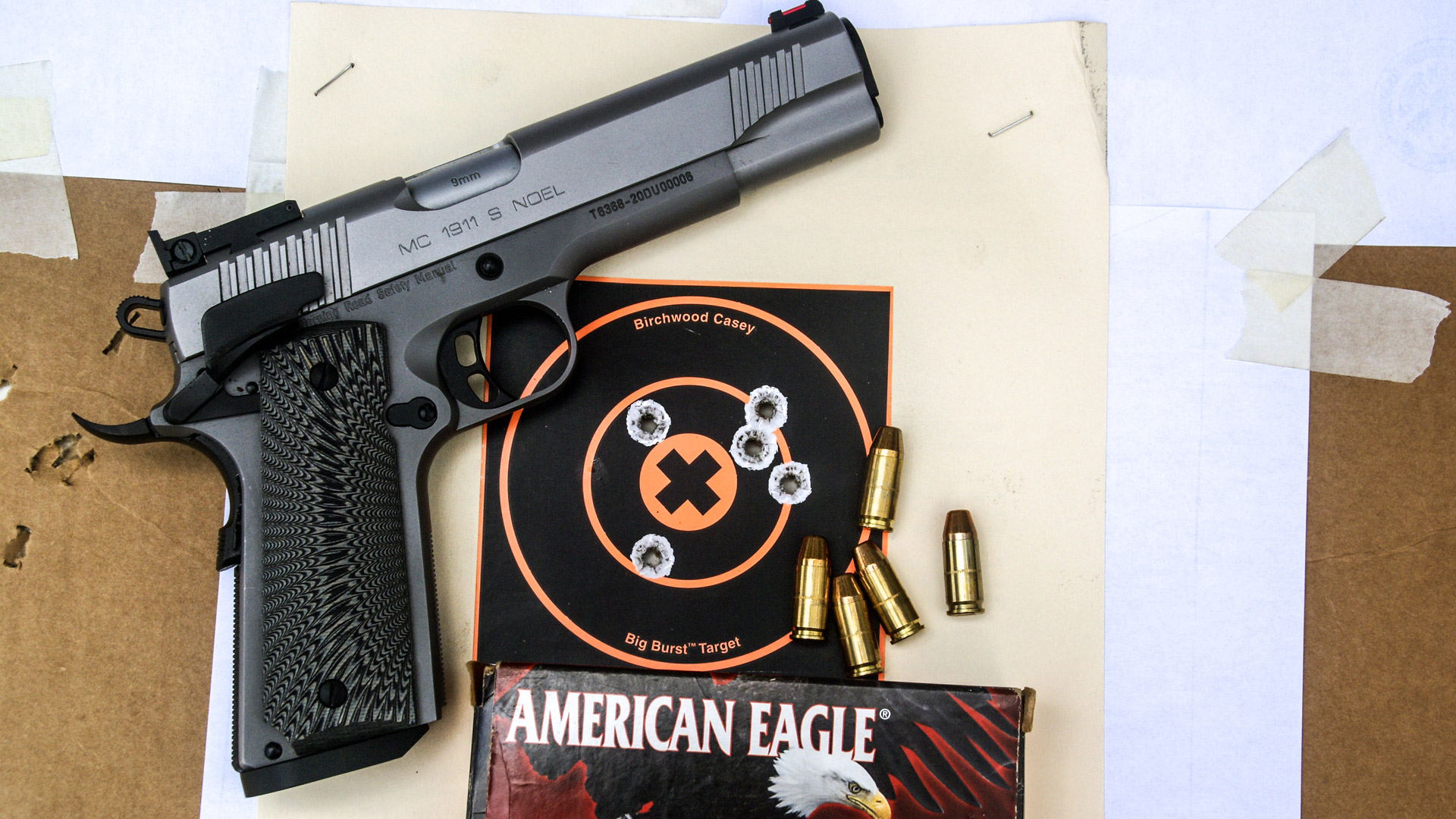 The slide finish is a soft, brushed satin and has front and rear cocking serrations. The receiver is a matte gray and includes a modest checkered panel on the frontstrap. A nicely designed set of G10 grips are in a darker gray. The five-inch barrel has a well-shaped feed ramp, although the barrel twist rate is not listed.
An up-swept beavertail safety features a generous "speed bump," and the mainspring housing is checkered. The extended ambidextrous safeties are large and feature thumb shields. The magazine release and slide release are over-sized. All controls are finished in flat black.
The rear sight is a Bomar-style with a plain, black serrated blade. The front sight is a standard dovetail with a replaceable fiber-optic insert that appears to be 0.040 inch. Red was installed and no additional FO rods were provided, but replacement FO rods are readily available from companies like Brownells.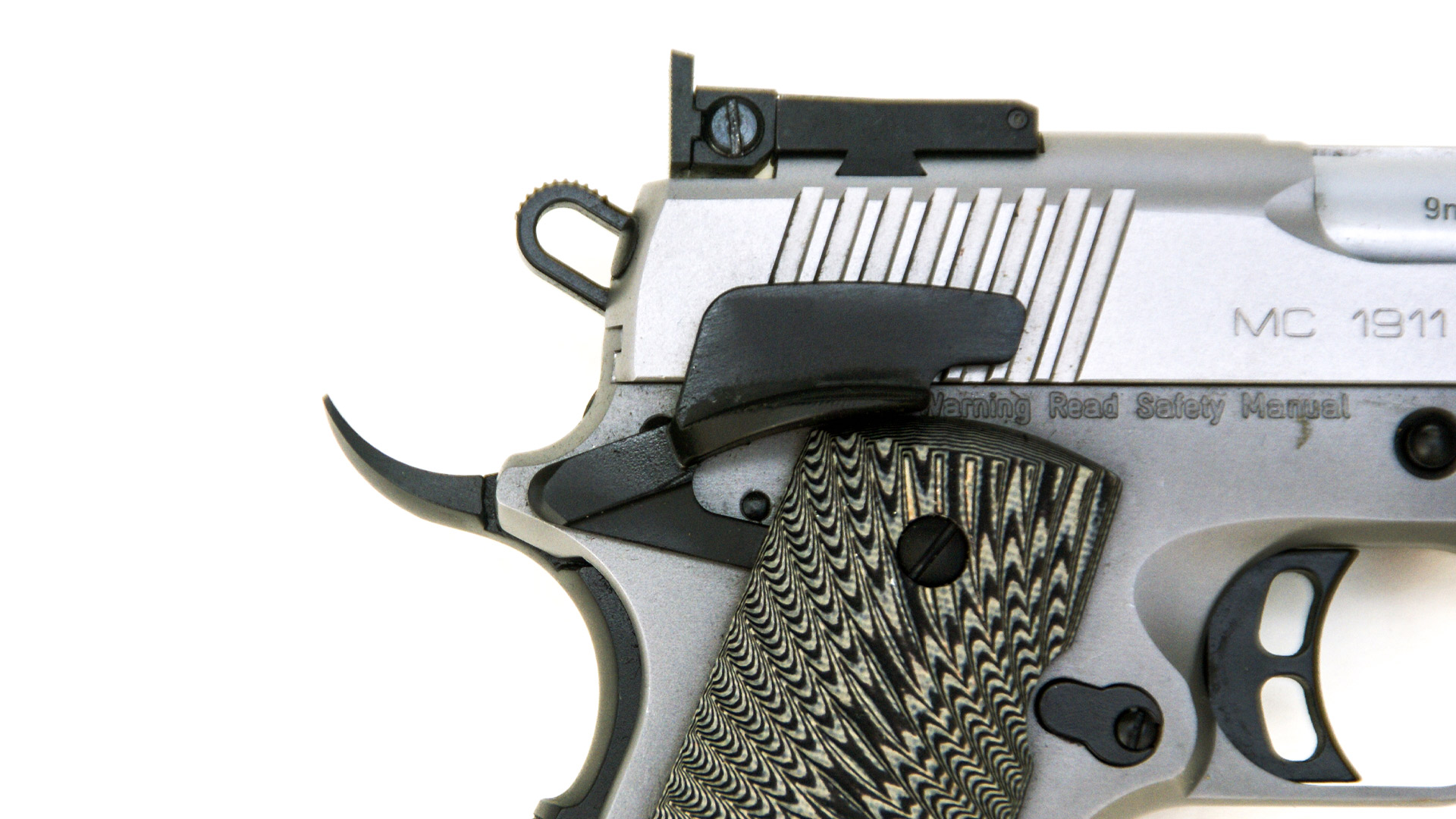 The trigger features a serrated flat-face, with a skeletonized body that appears to be polymer, without an overtravel adjustment. The pull weight measured 5.5 pounds on my Lyman Digital gauge. There was a hint of take-up, then a small amount of creep and a clean break and reset.
A nicely shaped mag well is installed on the gun. But the two supplied Mec-Gar magazines lacked the required "bumper" base plate. That's not really a concern because any Single-Stack shooter is going to wind up with at least a half-dozen aftermarket magazines from companies like Dawson Precision, Chip McCormick, Tripp and others, and bumper plates are available from them. If a shooter prefers flat-base magazines the mag well is easily removable via a single Torx screw, leaving the standard 1911 mag well bevel.
The gun ships in a foam-lined fitted plastic case with the instructions, a cable lock, two magazines and a short chamber brush.

On The Range
Out-of-the-box the action was a bit rough, and the recoil spring felt heavier than other 1911 9mm guns I recently tested. I was told by EAA it would require some break-in, which is standard with any tightly fitted semi-automatic. After a full field strip, cleaning and proper lubrication, I grabbed 80 rounds of older, mixed factory ammunition and reloads from my "practice bucket" and headed out to my backyard range. I just wanted to get rounds through the gun to get it broken in. I set up an NRA 25-yard Timed & Rapid replacement center at 15 yards and loaded the magazines.
Although the two supplied Mec-Gar magazines were stated to be 10-round capacity, I was only able to get nine rounds into each. The rear sight was bottomed out from the factory and there were no adjustment markings on the sights, nor in the instructions. A quick bit of experimentation with a screwdriver showed me that counterclockwise was up on elevation and left on windage. I zeroed the sight off-hand and it took only a few rounds to get me into the 10-ring. After that I just pounded the rest of the rounds downrange and chewed out the center of the target. As could be expected there were some "break-in malfunctions"—a half-dozen Failures To Eject and several failures to go into battery. Given that I was shooting mismatched "junk" practice loads, I wasn't concerned.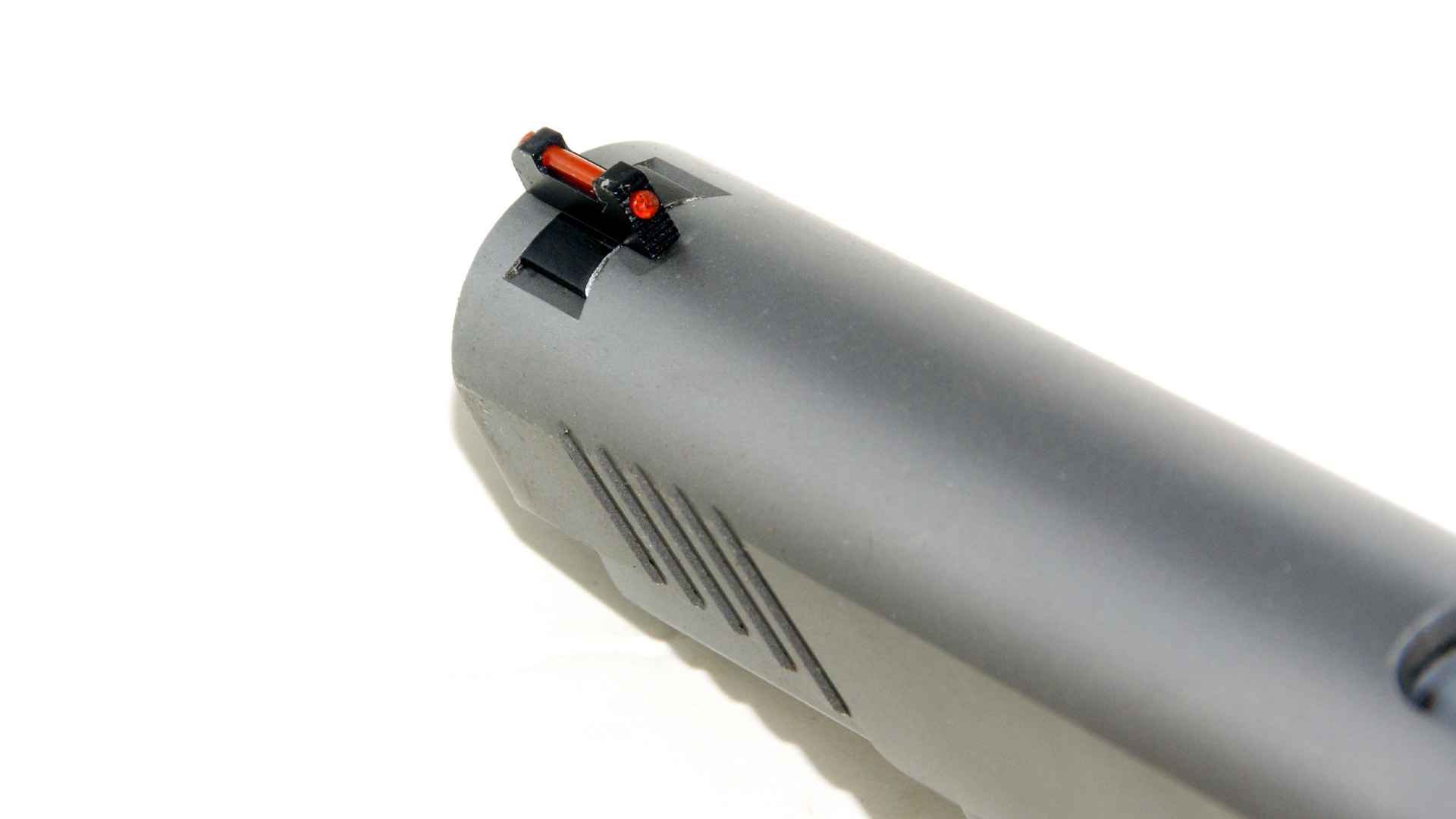 With the basic break-in finished I stripped, cleaned and lubed the gun again, and assembled my test loads. They included Federal's American Eagle 147-grain FP, a common load among shooters who prefer the softer push of a heavier bullet. The 124-grain weight is popular and I included two: the 124-grain SIG V-Crown and Hornady's 124 XTP Custom. I added CCI's 115 Blazer Brass as an economical match load that makes the 125 PF. Since Steel Challenge has no PF requirement and many shooters prefer the lightest recoiling load possible, I added the Atlanta Arms Select 100-grain Steel Challenge load.
Covid-19 put a halt to matches in my area, but with just two mags a match wasn't doable anyway. Unfortunately, it also shut down my club's Steel Challenge practice days, so I was left with my backyard range. I set up three widely spaced targets and began running drills that included the Double Tap, Transition and Bill Drills while running three magazines from each of the test loads through the gun.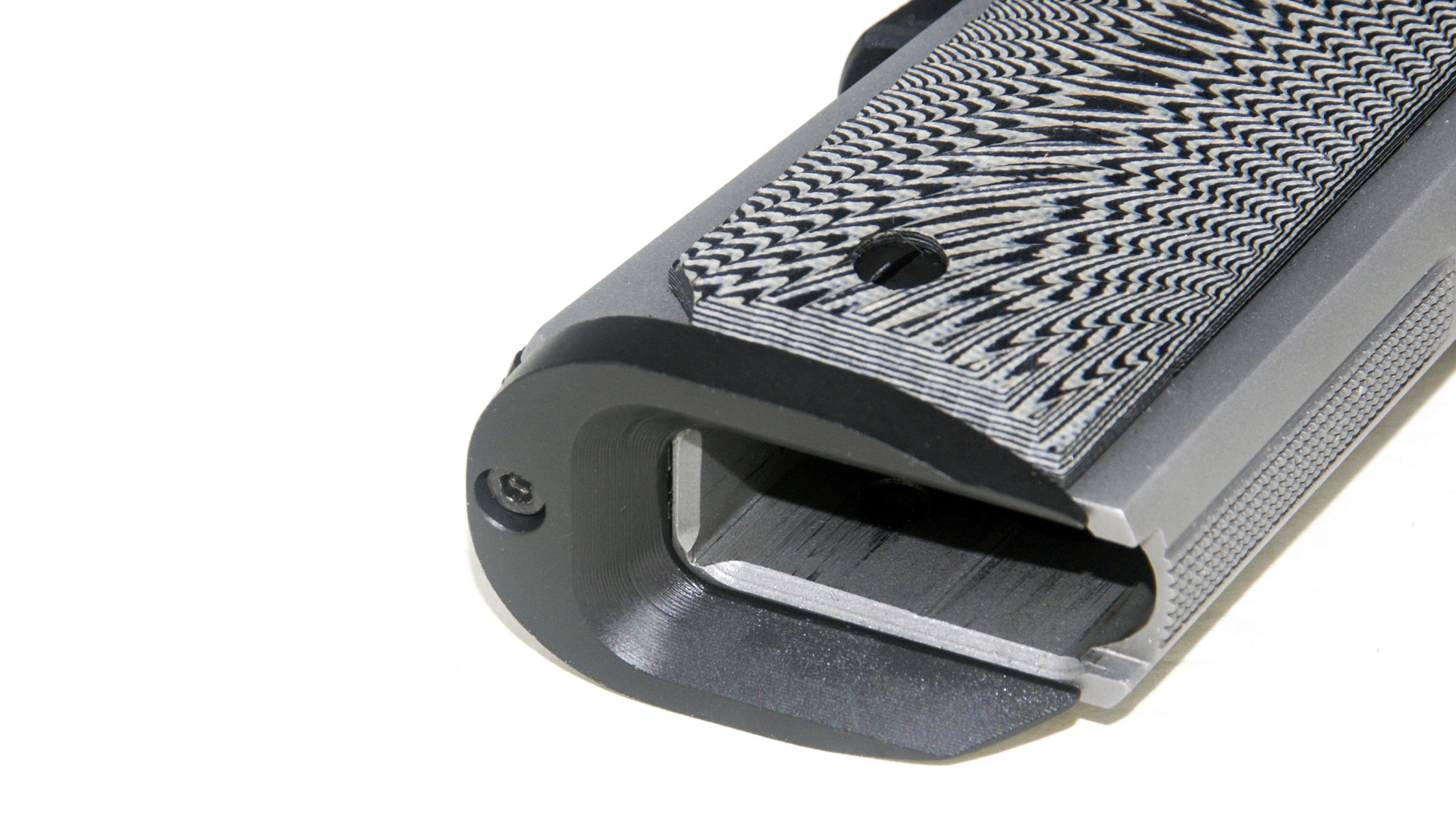 My break-in period proved effective and there were no malfunctions during that 135-round session. The G10 grips were very comfortable, the sights presented a sharp picture, and even with the heavy trigger the gun handled well. Ejection, however, was weak and erratic.
The standard pressure 124-grain loads kicked out about 4 feet, which was not as vigorous as I would have anticipated. The 147-, 115- and 100-grain loads barely trickled out of the gun. Some of them actually bounced off my gun-hand forearm. I would have expected that with the 100-grain Steel Challenge load since it often requires a lighter recoil spring, but not with the other two loads which were standard pressure. My initial impression of the gun was that the recoil spring was heavier than normal, and it's possible it was specced to NATO 9mm, which is a +P load. However, most Single-Stack shooters will change out recoil springs to suit their various loads. Companies like Wolff Springs offer recoil-spring kits to do that.
By this time the gun had over 200 rounds through it and was purring along, even with the ejection issue. Accuracy testing from my 25-yard benchrest was next. As the accompanying chart shows, the groups were quite good.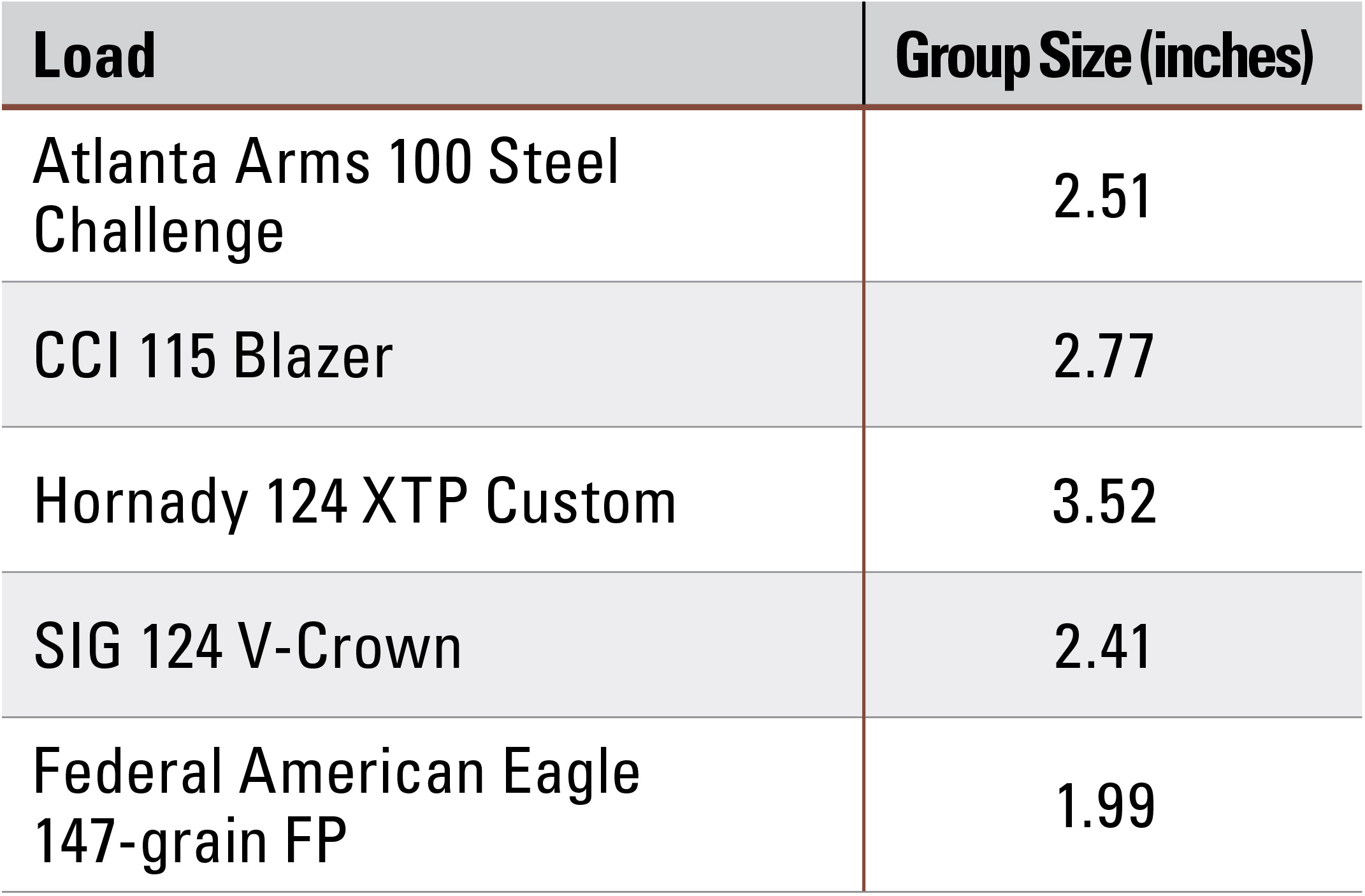 That's more than enough accuracy for any action-pistol event. Serious shooters, however, would definitely want to address the trigger and recoil-spring issues, but given the modest MSRP (and likely lower street price) they would still have an effective gun in their holster at a very economical price. With a bit of tweaking, the MC1911 Noel 9mm can produce good match performance.
---
See more: 
9mm Major Loads For Action Shooting