Taurus congratulates Grand Master and Taurus Team Captain Jessie Duff on her recent first place finish in Ladies Single Stack at the USPSA Single Stack Nationals in Barry, IL.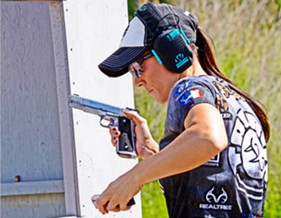 The Single Stack Nationals was held at PASA Park. The match attracted over 350 competitors of various skill levels. With 14 stages set to challenge the finest 1911 shooters in the sport, the 2016 Single Stack National was thrown another twist as rain and high winds were added to the course of fire on Saturday afternoon. Duff was focused on clinching her fourth consecutive Single Stack National Championship while squad members and other competitors challenged her at every stage. Duff competed with her Taurus PT1911 re-chambered in .38 Super Comp Minor for this match.

"The competition at the match was very strong this year with some of the nation's best lady shooters competing. I had a plan on how I wanted to approach this match and did that to the best of my ability," states Duff. "The ladies I compete against push me to train harder, because I know they are training just as hard. It is truly an honor to compete with them."

Duff's next appearance will be at the 2016 NRA Annual Meeting May 19-22, 2016 in Louisville, KY.