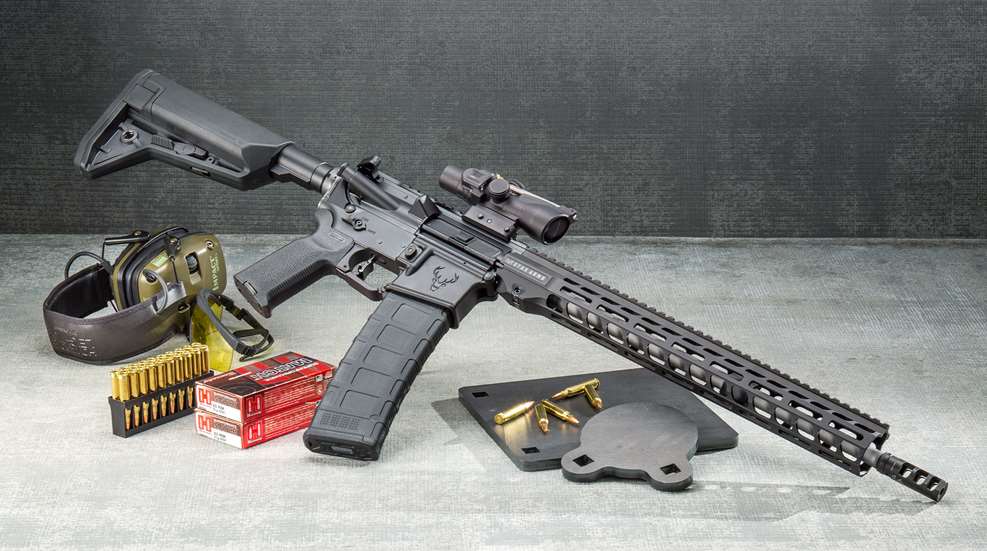 Stag Arms arrived on the scene two decades ago with a singular focus on producing left-handed AR-15s, but recent years have seen the brand revitalized, complete with a modern logo and now a new entry-level rifle for prospective multi-gun competitors. Chambered in .223 Wylde and sporting some serious upgrades, the new Stag Arms Stag 15 3-Gun rifle is light, nimble and flat-shooting.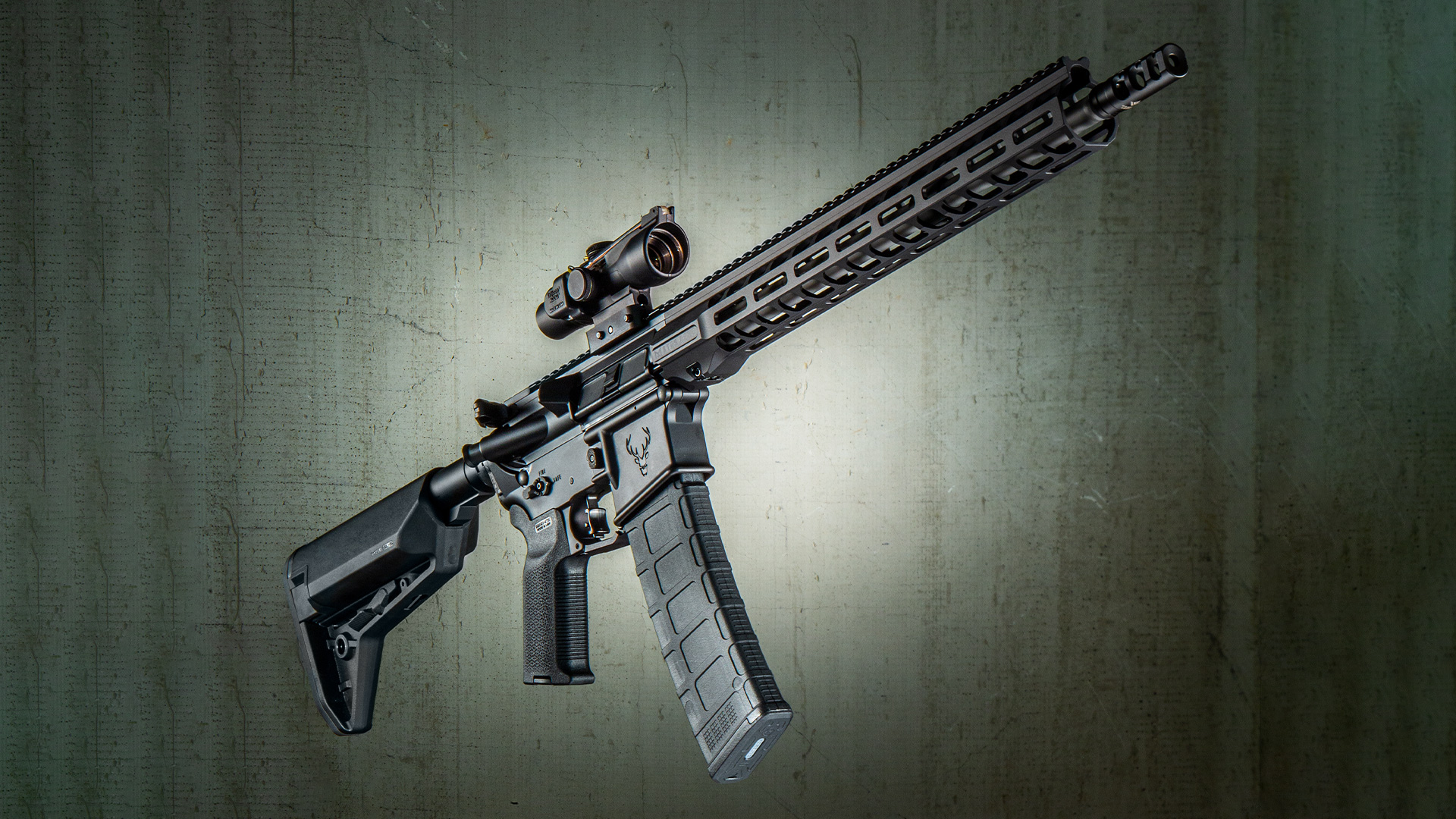 Well-balanced, the Stag 15 3-Gun (MSRP: $1,499, stagarms.com) weighs in at just over six pounds. With overall length at 36½ inches (stock fully extended), it's a solid choice for bay matches or for shooting in other tight spaces. And since it's chambered in .223 Wylde, you can shoot either 5.56 mm NATO or .223 Rem. without worry. Optimized for speed and accuracy, two key upgrades for the Stag 15 3-Gun that make it stand out from the pack are the lightweight 16-inch barrel and Hiperfire Competition trigger.
Made from stainless steel, the Hanson profile barrel from Ballistic Advantage is a real beauty. Measuring 16 inches long, it has a 1:8-inch twist and is also threaded (½x28 RH). The barrel is equipped with a VG6 Gamma slim muzzle brake that has three large ports on both sides to keep the rifle nice and flat during fast shooting. It's removable if you want to add a suppressor or other muzzle device. Smaller holes are also present on top of the muzzle brake. Both the lightweight barrel and the muzzle brake help keep the gun on target—even heavier bullets proved to be accurate when fired from the Stag 15 3-Gun rifle. Additionally, the stainless barrel is bead blasted, giving this gun a clean look in conjunction with the 15-inch-long black Stag Arms free-floating handguard, the latter also sporting M-LOK for mounting accessories.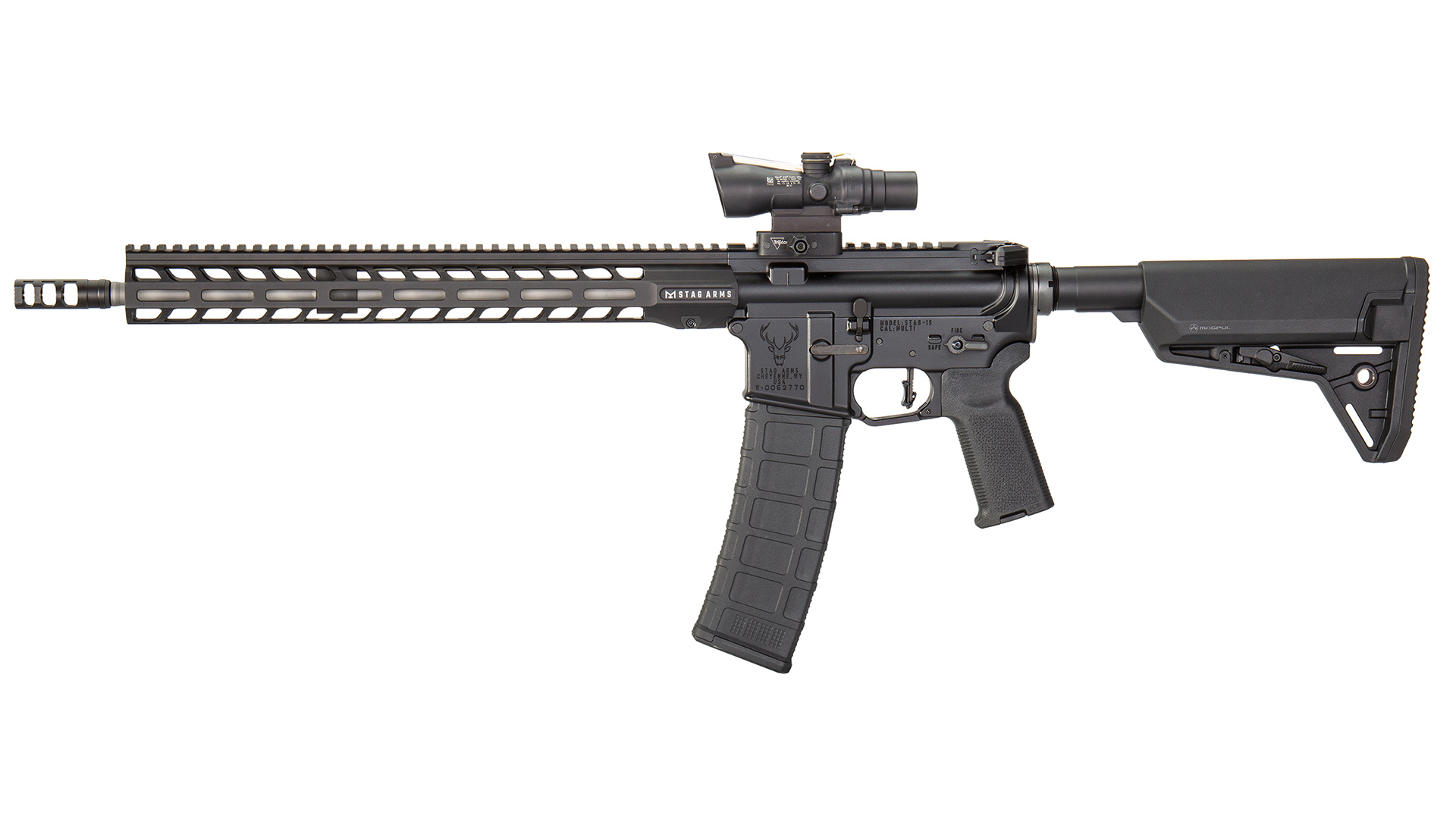 Stag Arms wisely chose to use the excellent Hiperfire Hipertouch Competition flat trigger in the Stag 15 3-Gun, which is about as close to perfection as you can get in a semi-automatic, single-stage AR trigger. The inclusion of the Hiperfire trigger alone makes this rifle a best buy. Clean and crisp breaking with negligible overtravel, there was barely a hint of creep. The Hipertouch Competition trigger also includes the Hipershoe adjustable finger pad, which simplifies the process of making fine refinements to the trigger pull. Adjustable between 2½ and 3½ pounds, my factory gun's trigger was set near the latter, and I didn't change it.
Another welcome upgrade on the Stag 15 3-Gun rifle is the charging handle, an Aero Precision Breach model that is ambidextrous. The receiver is manufactured from aluminum. As for the bolt carrier group, the bolt itself is made from 9310 nickel-chrome-molybdenum case-hardening alloy steel, and the carrier is 8620 low-carbon nickel alloy steel. In addition, the bolt carrier group is nitride-finished.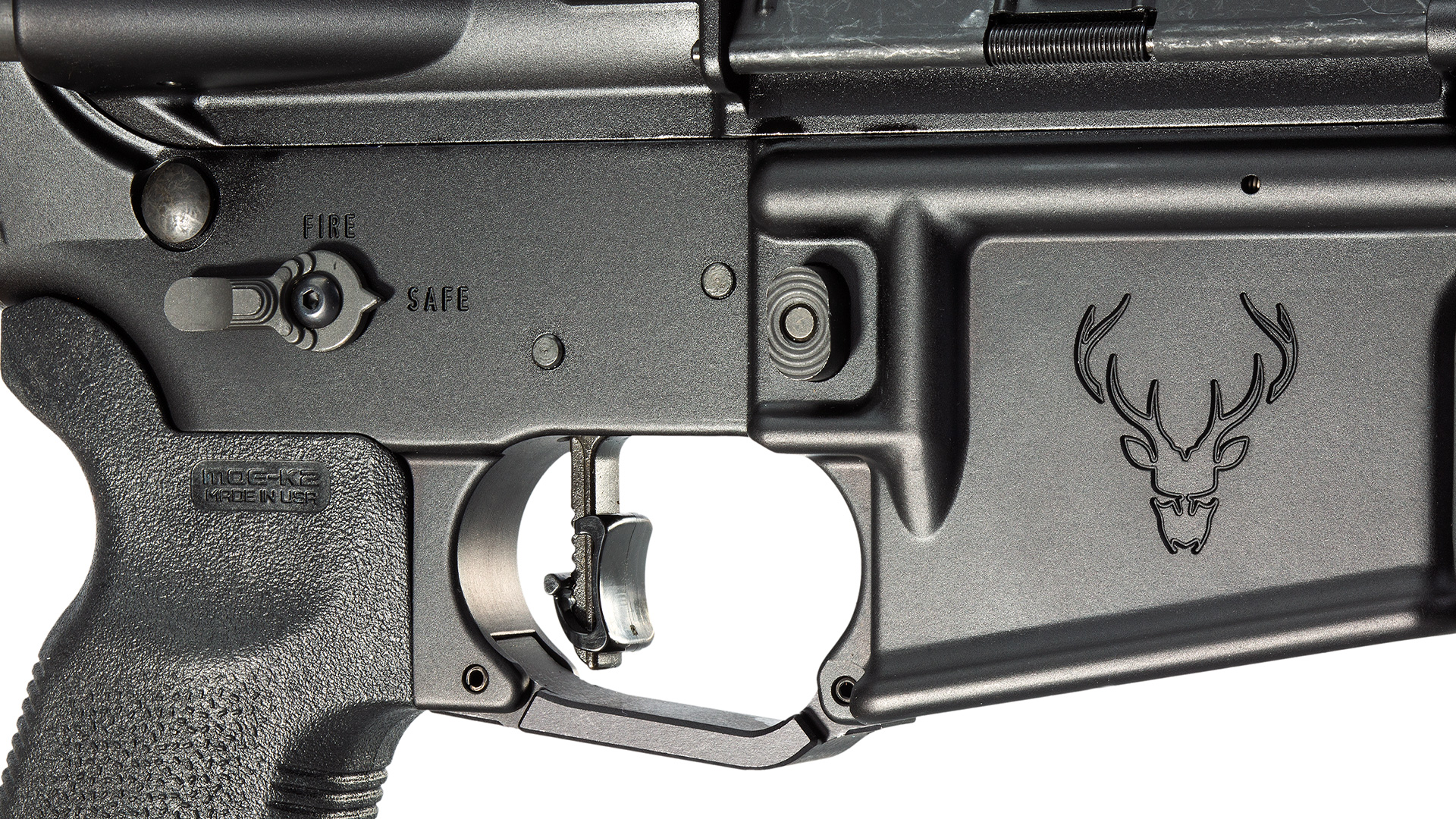 While the ambidextrous safety is adjustable and can be changed to different angle, I opted to retain the standard 90-degree configuration. The safety has a cut on one side perfectly shaped to accept your thumb, and this cut makes flicking the safety all the more enjoyable when shooting the Stag 15 3-Gun rifle. It's smaller details such as this which reflect Stag Arms's commitment to building a solid competition rifle. Another feature on this rifle that I really liked is the oversized trigger guard.
Looking to really seal the deal for multi-gun shooters, Stag Arms provides Magpul's 40-round PMAG GenM3 magazine in the box. Moving up to a 40 rounder from the usual 30-round magazine definitely increases the appeal of the Stag 15 3-Gun rifle for competitive shooters.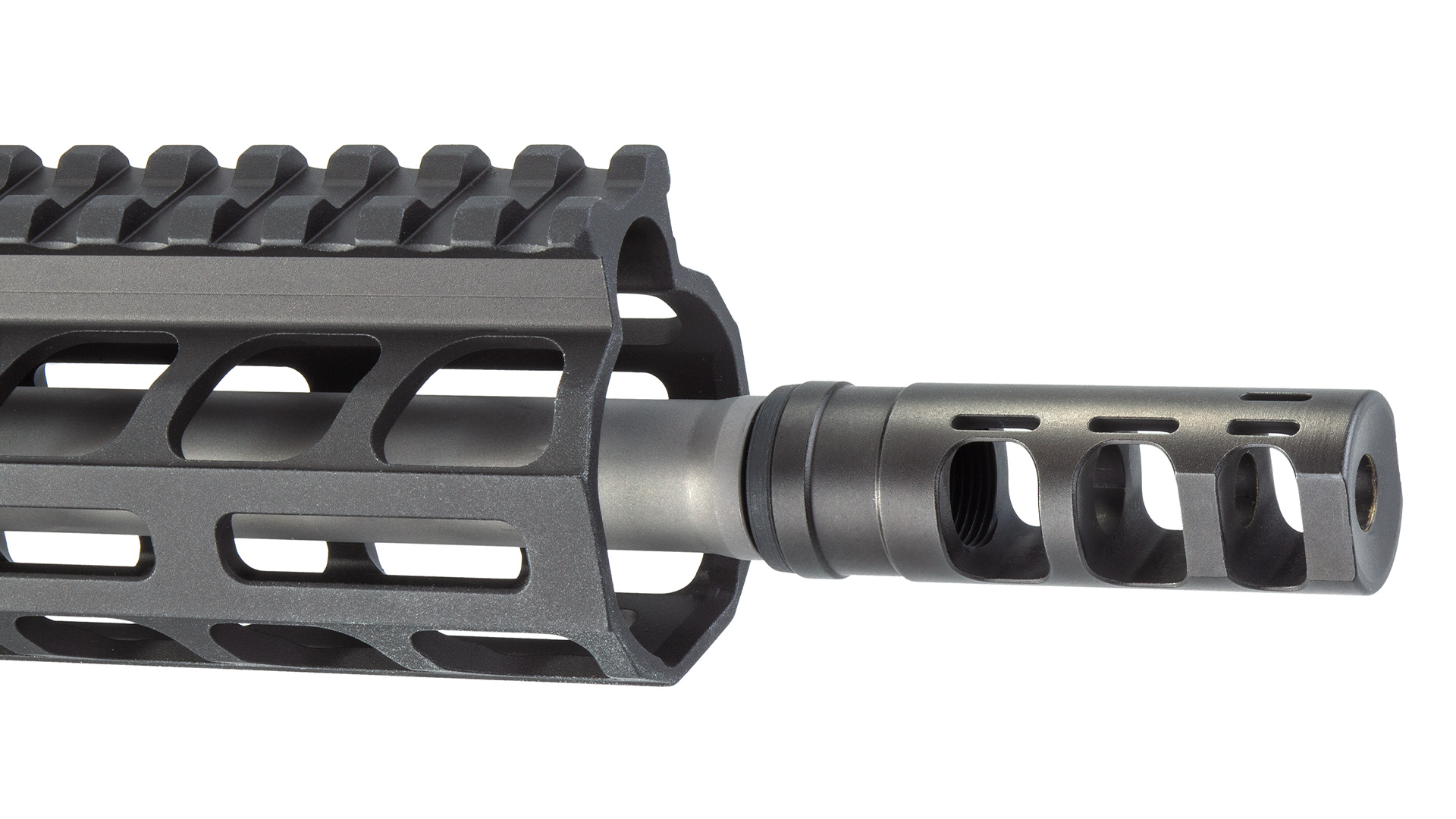 For obtaining a proper cheek weld, Stag Arms added the Magpul MOE SL-S adjustable stock with a rubber buttpad and dual side release latches. This stock has added functionality as well, with water-resistant battery storage tubes located on either side. Additionally, for a pistol grip the company again went with a Magpul offering, using the MOE K2 model that has a more vertical angle in the grip and a beavertail backstrap. The MOE K2 grip also has storage inside. Opting for Magpul gear is always a wise decision.
For an optic, I added the Trijicon Compact ACOG 2x20 scope, although there is plenty of real estate on the Stag 15 3-Gun's full-length top Picatinny rail for mounting other optics. (Read the sidebar for more about the Compact ACOG.)
AT THE RANGE
For my first outing with the Stag 15 3-Gun .223 Wylde, I shot indoors using six factory loads from American Eagle, Federal, Hornady, Norma and Winchester, with bullet weights ranging from 55 to 75 grains. My first impressions, which I recorded while at the range into my iPhone's notes app: Shoots really flat. And a smooth shooter.
Befitting a model with the 3-Gun name, where this gun really excels is in competition, and especially anything that requires quick movements and smooth transitions between multiple targets, i.e., 2-gun, 3-gun, multi-gun, etc. At an outdoor range, I tackled an array of USPSA-style cardboard targets and steel plates at distances ranging from 10 to 100 yards. The setup included one mock stage set in a bay about 40 yards wide, with tight port windows on walls at multiple heights, and unforgiving targets up to 30 yards away. The best way to describe shooting this gun is just fast. It can move as fast as you want it to, and it will shoot fast and remain on target with little to no muzzle rise. This rifle also maneuvers well, as the Stag Arms team did a bang-up job maintaining proper balance while employing a light barrel in this gun.
Shooting on paper ST-4 targets from a bench rest indoors at 50 yards, Federal's Gold Medal Berger 73-grain open-tip match load produced a 0.578-inch average group size (four consecutive five-round groups). During testing, there were no failures to feed, fire, extract or eject.
ACCURACY TABLE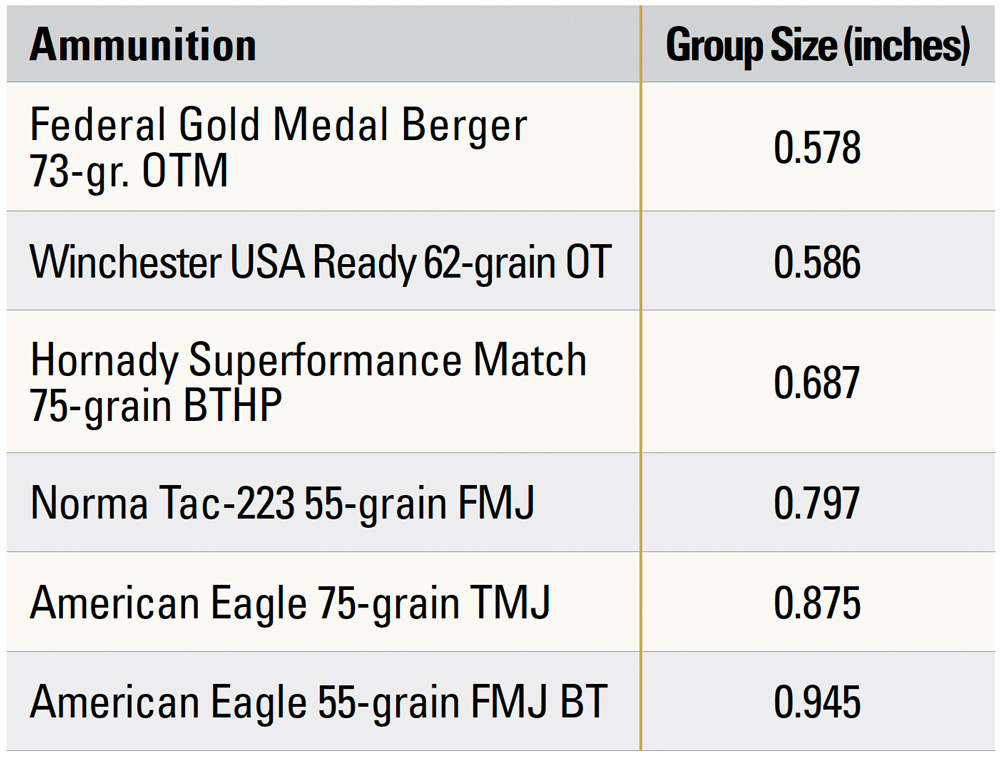 BOTTOM LINE
If you need a gun that you can use in competition (or just for fun), buying this one is a no-brainer. The Stag 15 3-Gun rifle incorporates upgrades that you would likely add to a factory gun for multi-gun competition at the reasonable price of $1,499, about $450 less than the uprated 3-Gun Elite model in the Stag Arm lineup. There are only three really critical components in a match rifle—the barrel, the trigger and an optic—and the Stag 15 3-Gun already has two of them (plus much more). "You have everything you need at an awesome price point in an out-of-the-box gun," Stag Arms General Manager Ryan Donahue said. After shooting the Stag 15 3-Gun rifle, I agree with him. Just choose an optic and you are ready to go.
Stag Arms has a fixed 10-round magazine version of the Stag 15 3-Gun rifle that costs $50 more than the standard model. Also worth mentioning—all Stag Arms firearms come with a lifetime transferable warranty and infinite shot barrel guarantee. Go to stagarms.com.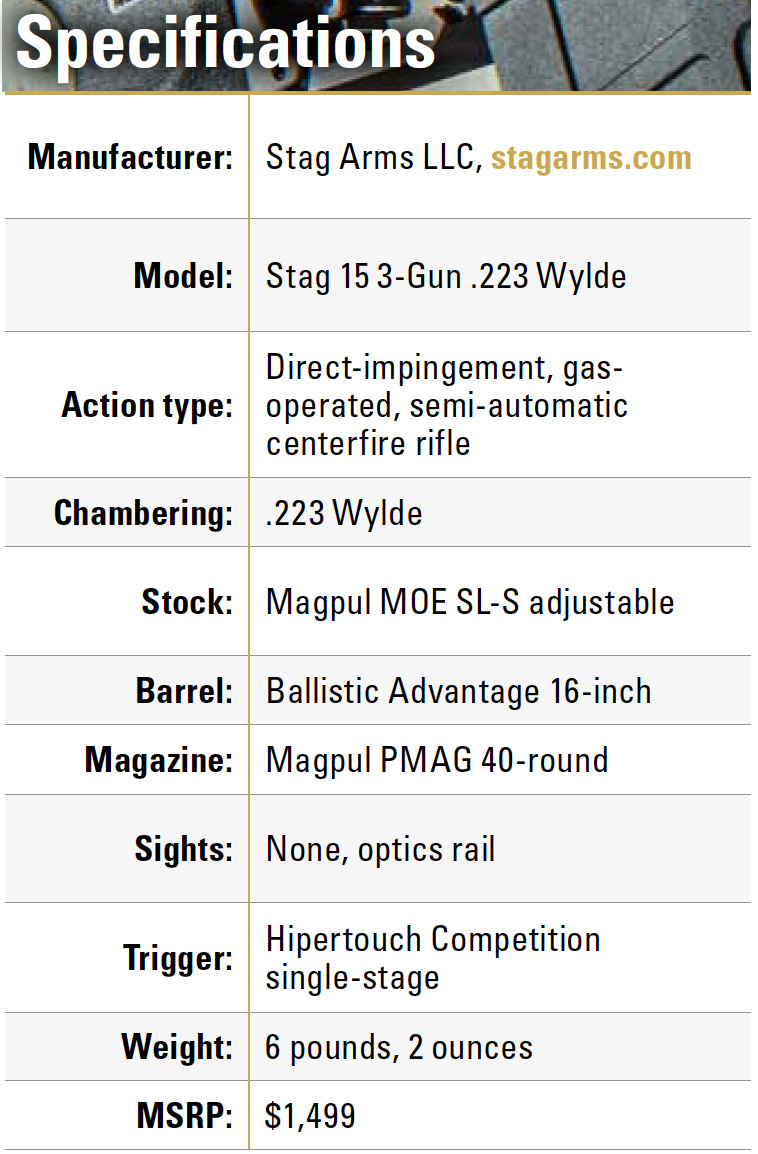 TRIJICON COMPACT ACOG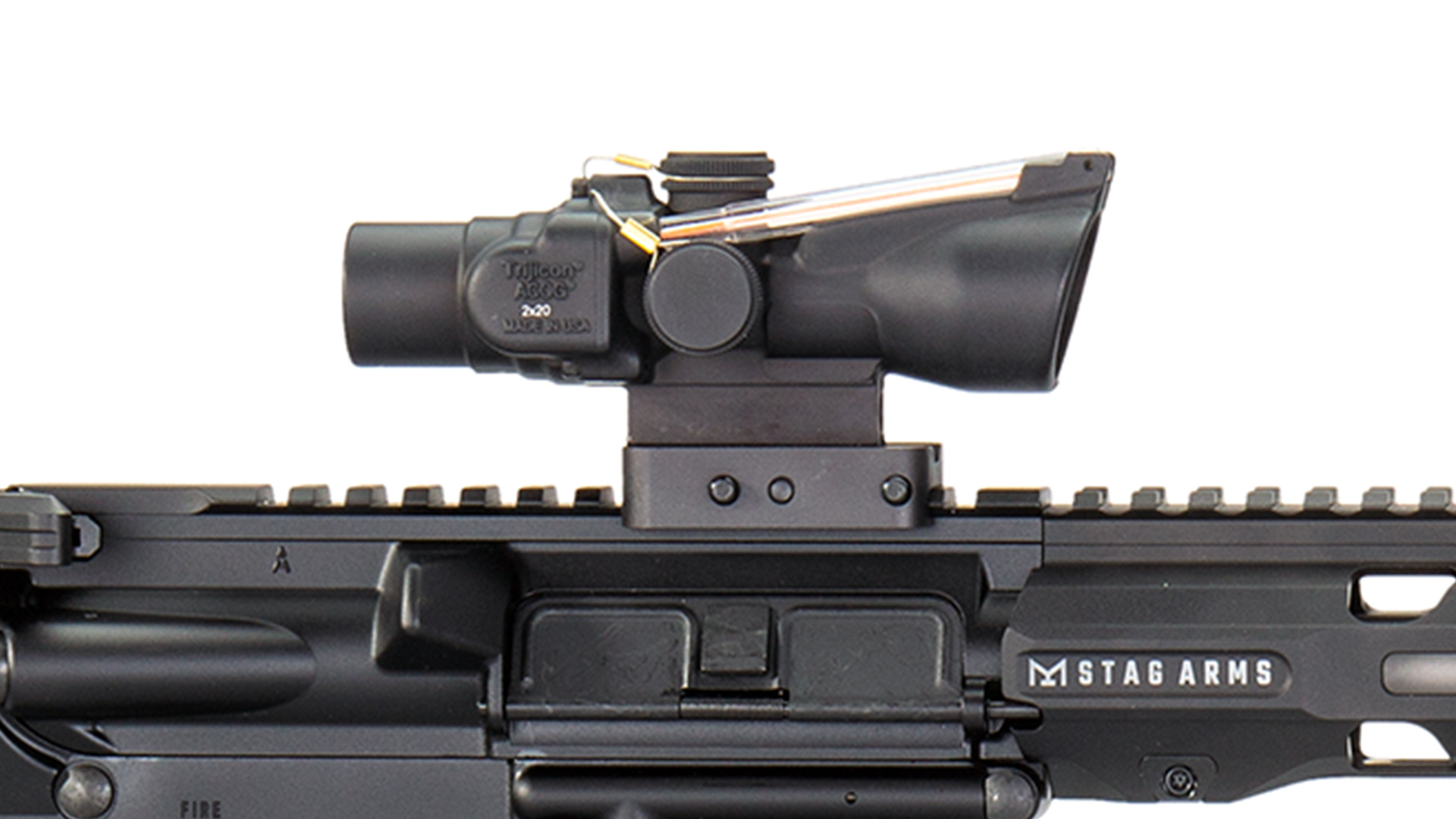 With its generous top rail providing ample room, the sky is the limit for mounting optics to the Stag 15 3-Gun rifle. For my evaluation, I opted to keep overall weight down by using Trijicon's new 2x20 Compact ACOG scope ($1,430), which weighs in at only 8½ ounces, including the mount. A fixed magnification optic, my Trijicon 2x20 Compact ACOG had the dual illuminated, bullet drop compensating and target-ranging RTR .223 reticle. Since it's in the Trijicon ACOG family of scopes, the 2x20 Compact ACOG is rugged enough to handle all of the gravel and sand often thrown around while 3-gunning. Plus, there's the additional bonus of no battery changes. Go to trijicon.com.
All photos by Peter Fountain.