by
posted on February 22, 2018
Support NRA Shooting Sports USA
DONATE
In 1983, Martin (Babe) Magnan stoked the imagination of Camp Perry pistol competitors and observers by turning up on the firing line with a gun box full of revolvers.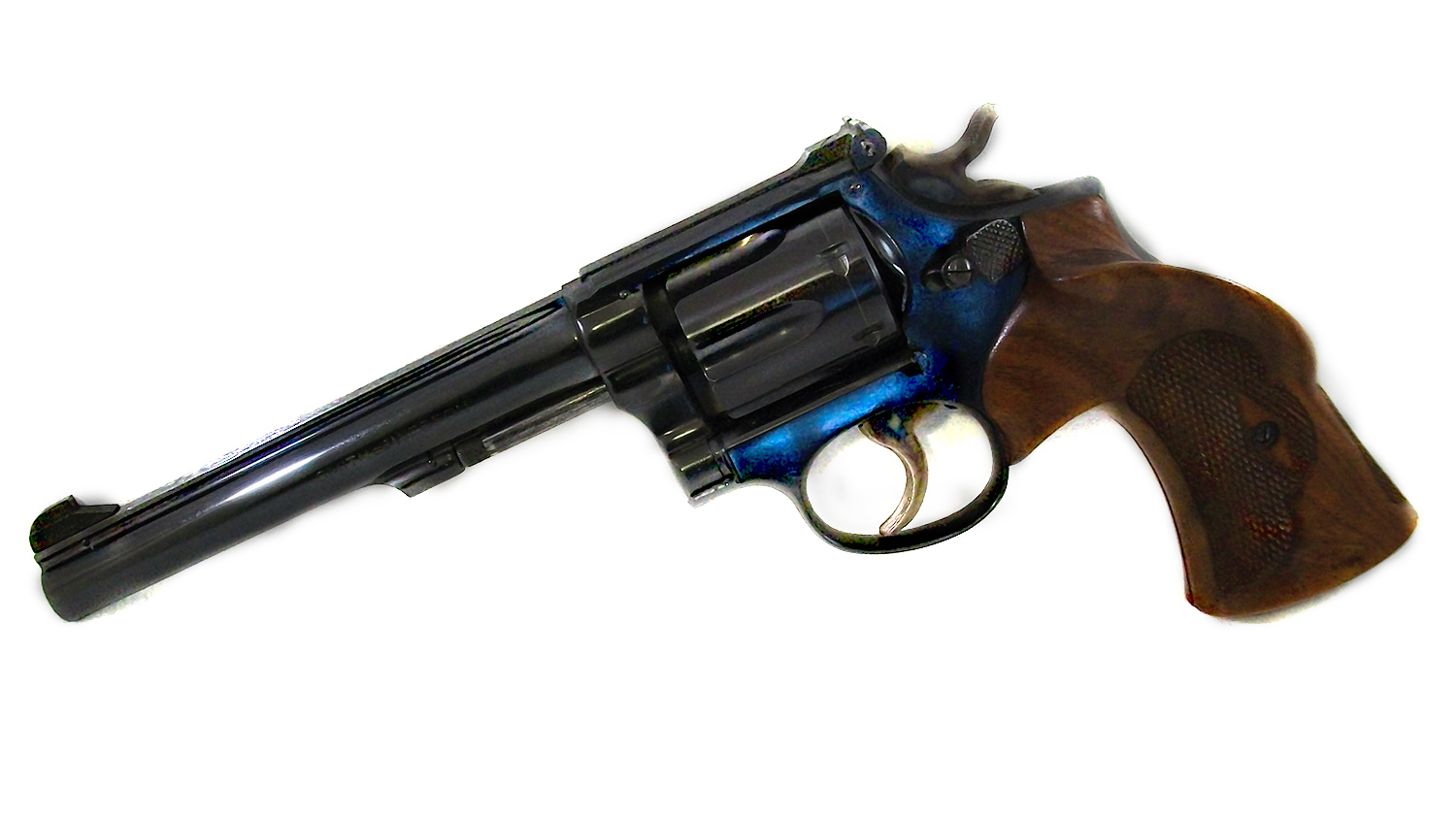 Displaying deft thumb-cocking techniques in the rapid fire stages, he raised eyebrows with skillful shooting that landed him in the upper reaches of the civilian Masters. The exhibition was nostalgic stuff. At one time (as late as the 1950s) champion pistol shooters relied on revolvers in the centerfire events. Use of the Colt Officers Model and the Smith & Wesson K series (K-32 and K-38) was the rule for just about everyone. These fine guns were very usable "out of the box" though most were eventually worked over by expert pistolsmiths specializing in match guns if for no other reason than to compensate for the extra wear the serious competitors put on their guns.

As a demonstration of just how popular and just how good these pistols were, the great Swedish marksman, Torsten Ullman, won the 1954 World Centerfire Championship with a production model S&W K-38 that was delivered to him at a layover during his trip to the World Championships in Caracas, Venezuela. But revolvers are rare birds in modern conventional pistol contests, shunned as non-competitive with the favored autoloaders.

Perhaps that need be reconsidered. In 1983, on his fourth Perry pilgrimage, Magnan broke the 2600 benchmark shooting revolvers across the course. This was the first time the feat had been accomplished in the history of the National Pistol Championships. And for Magnan, a 36-year-old shooter from Leonminster, MA, his 2607-107X count was only one more step towards the top.

"I'm kinda disappointed with my score, now, because I went in expecting to shoot 2625," Magnan said years later. "At the time I was satisfied because I was so nervous … My first year I could hardly walk to the line."

"But I've broken 2600 at least a dozen times and hit my high score, 2629, in three or four matches," he added. "In practice I go into the 2630s."

A serious competitor of just five years when he accomplished his feat, Magnan employed a tandem of Smith & Wessons in his quest for revolver respectability. For the .22 matches, he used a Model 17 with a 6-inch Hart barrel, then switched to a Model 25, 55 Target for the centerfire and .45 events. The larger gun carried a 5-inch Douglas barrel and a custom trigger set at 2¾ lbs. Both guns were topped with Burris 1x scopes.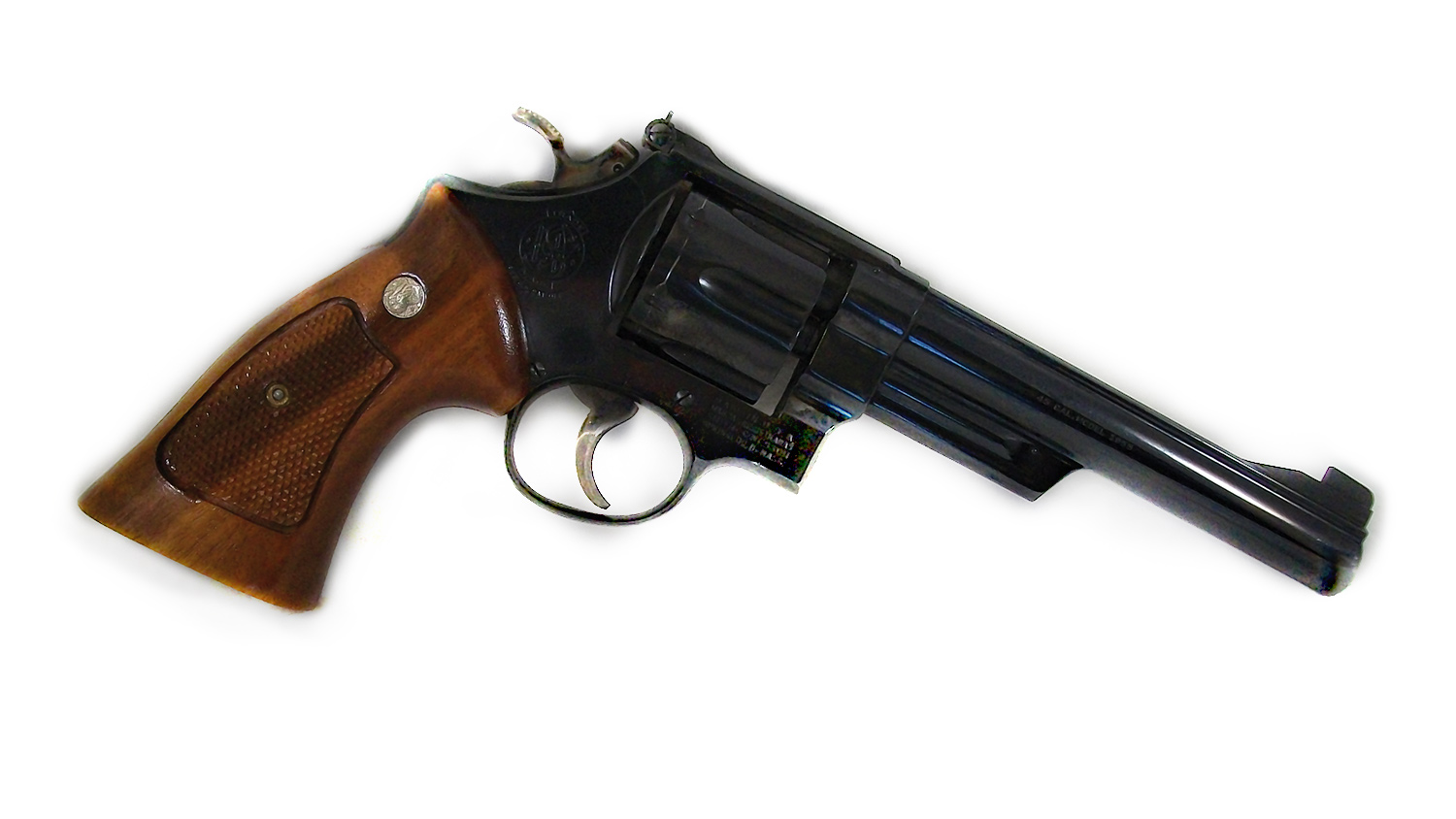 Magnan insists that discovering the correct centerfire load was the single most important factor in putting him over the accuracy hump. He is an inexhaustible handloader who devoted more than three years to testing countless combinations before finding his successful formula. It consists of W-W 231 powder (5 grains for 50-yard bulls and 3.9 grains at 25 yards) packed in Remington brass with Federal primers, propelling the most crucial element of his discovery, a 0.454-inch diameter bullet.

"When I first got my .45, it would shoot 7-inch groups with factory ammo at 50 yards from a Ransom Rest. I sent it back to the factory for rebarreling and rechambering but it didn't help much. So I went to work experimenting with handloads," Magnan said.

"It took a long time and the support of Rene Goguen, owner of the Ashby (Massachusetts) Gun Shop, who encouraged me and supplied the rest. Eventually I went to cast bullets. I tried 13 different molds and had actually given up when a buddy gave me another one to try. It was the Hensley & Gibbs 78 that produces a 0.454-inch bullet."

"That," he relates confidently, was the answer. "I went out and shot 2¾-inch groups with it. The larger bullet keeps it from tipping as it goes through the chamber. I still get occasional fliers, but for now, I'll stick with that load and my revolvers."

But, why revolvers, Babe Magnan?

"I've never had an alibi or experienced a misfire, and I like the way they feel and handle. I believe revolvers are more effective in the slow fire stages."

Magnan proved himself especially adept on 50-yard slow fire targets in 1983 by winning the President's Pistol Match. The victory over 883 competitors was fired with the required .45 service sidearm and DCM-issued ammunition rather than his preferred revolver/handload combo.

"I started with a Colt Gold Cup," says Magnan, "but could never shoot well with it. Later I found out that the gun wasn't a particular good one. I didn't have much money to put into another pistol, but a friend had an old S&W Model 15 .38. We put a Douglas barrel on it and it shot like a son-of-a-gun. Pretty soon I was shooting in the 870s."

"My first match after Camp Perry that year, I borrowed an auto from a friend to see how I'd do. I really tried, but only shot 2590. I gave it back," he concluded.

Can we expect to see more revolvers in precision (bullseye) pistol matches?

"I don't know," admits the first revolver shooter to break 2600 at the National Matches. "Not too long ago I talked to some guys who'd heard about my shooting and said they were going to buy revolvers. I told them about the importance of finding the right load and about the work I'd done. Besides the time I spent finding my handloads, I've had to practice an awful lot. One outdoor season I competed in 14 2700s and in four or five days per week on the range, fired over 6000 practice rounds."

Wheel gun enthusiasts should rightfully be encouraged by Magnan's National Matches achievement in 1983. But his story clearly points out that only through determination and diligent practice can the revolver become a factor in precision pistol competition.

Learn more about the 2018 NRA National Pistol Championships, Camp Perry, OH, at this link: competitions.nra.org/championship-tournament/national-matches-at-camp-perry-ohio.aspx