It was time for a stand-alone USPSA PCC Nationals and the schedule for all the national championships for this year was set early in 2019. As they say, "the best laid plans..." You can plan for weather, you can plan for hotel cancellations, road closures, and other inconveniences that might happen—but it's kind of hard to plan for the world to shut down. With the original start date three weeks away, we were on the phone with the host Universal Shooting Academy and Shannon Smith, our partners at Visit Central Florida, hotels, key staff members, sponsors and vendors, all with a calendar in front of us deciding when we could try to pull this off. No one wanted to cancel it, just reschedule—and that is what we were able to do.
June in central Florida can be hot and humid, and everyone at the match was able to experience it. It can also bring unwanted rainstorms. I am not sure who or what was sacrificed, but we managed to dodge the rain. The staff tackled the 12 courses of fire that were on the ground before the start of the Multigun Nationals, with several of them being reconfigured from that match on the Thursday and Friday before the rest of the competitors took them on June 20-21. The stages were shot in A.M. and P.M. flights with six per day for the squads, which in the oppressive heat and humidity was much welcomed.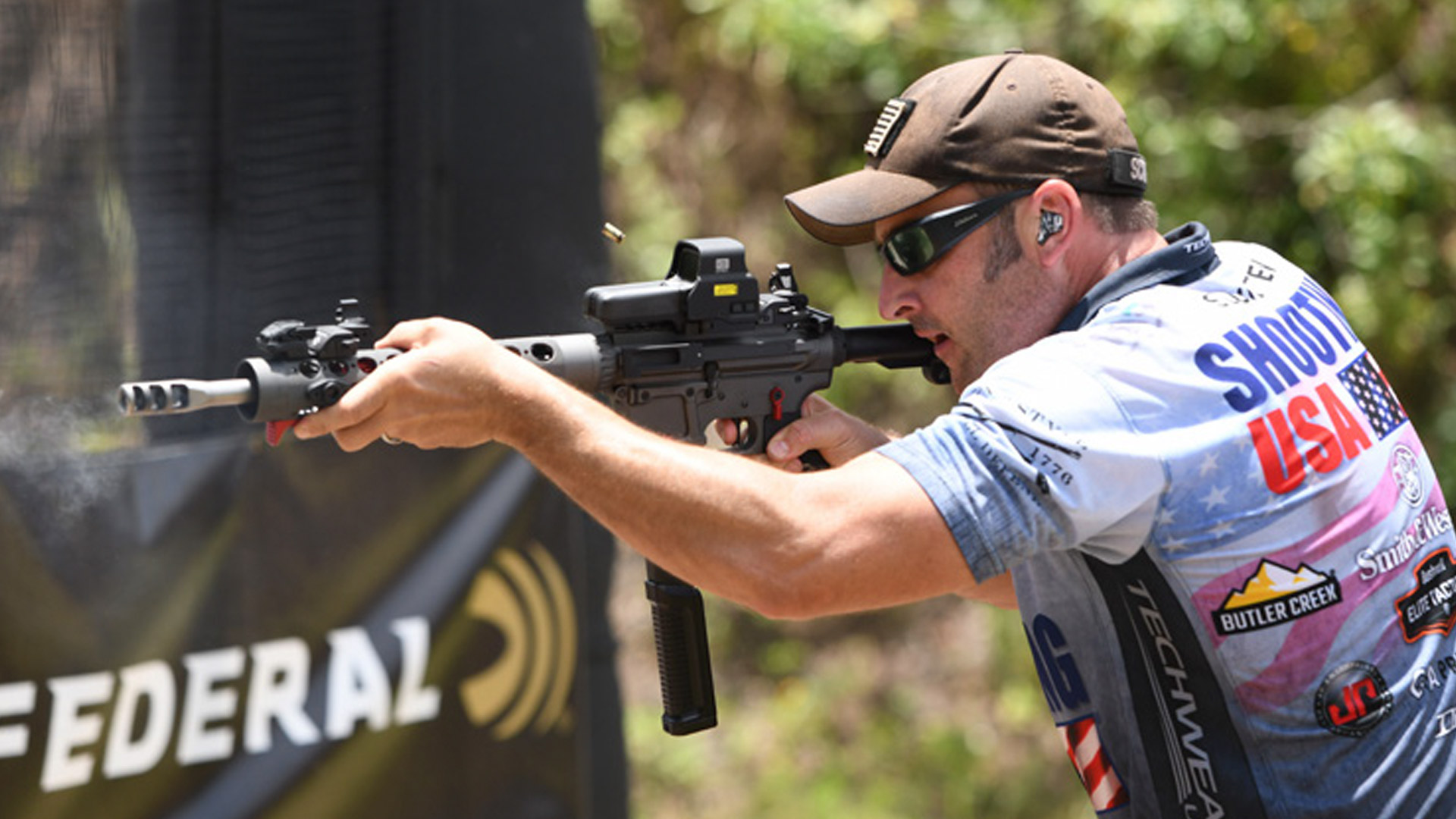 Having been the Match Director and stage designer at two previous PCC stand-alone matches, the Area 5 and Midwest Championships in 2018 and 2019, I was acutely aware of the misconceptions of the competitor's comments about "this looks easy." Everyone knew the 60- yard swinger was going to be a tough target, and that some of the low ports that Smith had built into the match were going to be more of a difficult position to shoot from as well. There is something about doing a stage walk-through trying to simulate holding a pistol caliber carbine that just isn't the same as when the timer goes off and you have that firearm shouldered. It just doesn't bend the same way it did when you were air gunning three minutes earlier. That tight shot around the barrel or through that port seemed so much easier with that imaginary shoot stick you were holding.
Stage Breakdown
The "You Down Wit PCC" (if you haven't noticed, the first letter of all the stage names spells that) Nationals kicked off with a run around the shoot house on Stage 1, Yank Town, sponsored by Lead Star Arms. With a start position of touching the forward fault lines on either side, competitors would need to work their way back uprange, engaging the five targets outside of the house while searching for the other eleven targets that made up this 32-round course of fire. Backing up and shooting through small ports at tight angles made for a very choppy stage for most competitors. There were a few brave souls who tried for a leap of faith from the fault line into the house area, attempting to engage a single target midair to avoid a setup through a port on the right side of the house. While many made it, their time and hits didn't outperform those who made the shots from the port. There were a few foot faults racked up for those who discovered their true vertical was not as impressive as they had hoped for. Josh Froelich shot it going around the outside, not in the fastest time of 21.86, but all alphas gave him his first stage win of the match. (See Froelich pictured at the top of this article.)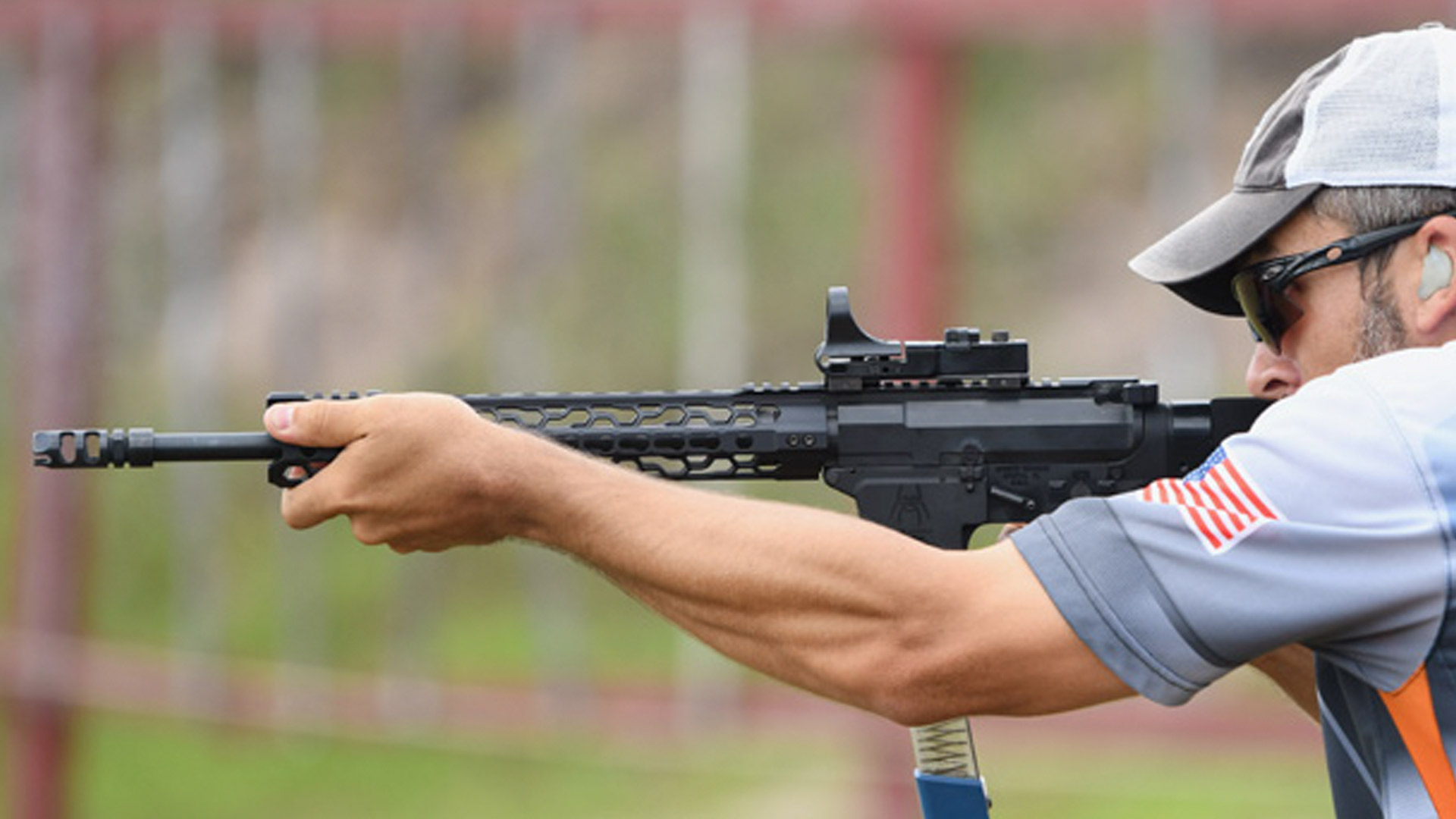 Stage 2, O is for Other, sponsored by Federal, was another 32-round stage with two swingers and four poppers. This was one of several "start anywhere in the shooting area" stages that would give it a whole bunch of different ways to shoot it. A squad will sometimes work on a stage plan and everyone pretty much does it the same way, but not here. I saw several squads that had seven or eight different ways they took on this stage. Was there a right way, or a better way? Probably not. The top 10 were less than two seconds apart but had a spread of almost 25 points. This was more of what you were comfortable with moving with the carbine, as it was a side-to-side stage with a required forward position that would have a very hard lean to a target that was tucked back, protected by a no-shoot and hard cover. Zack Smith grabbed a stage win here with 150 points shot in 18.29 seconds, ahead of Keith Garcia's 154 points in 19.37 seconds.
Stage 3, UN-Limited, sponsored by Berry's Bullets, was a stage that was part of the Multi-Gun Match, but was reset by removing several paper targets and adding in steel poppers. The poppers were at 25 yards and caused some trouble for folks who didn't give them the respect they deserved. There were several targets that were at the 25- to 30-yard mark at angles that would disappear on you if you didn't hit the right spots. Max Leograndis would take his first stage win here in 15.44 seconds with 149 points.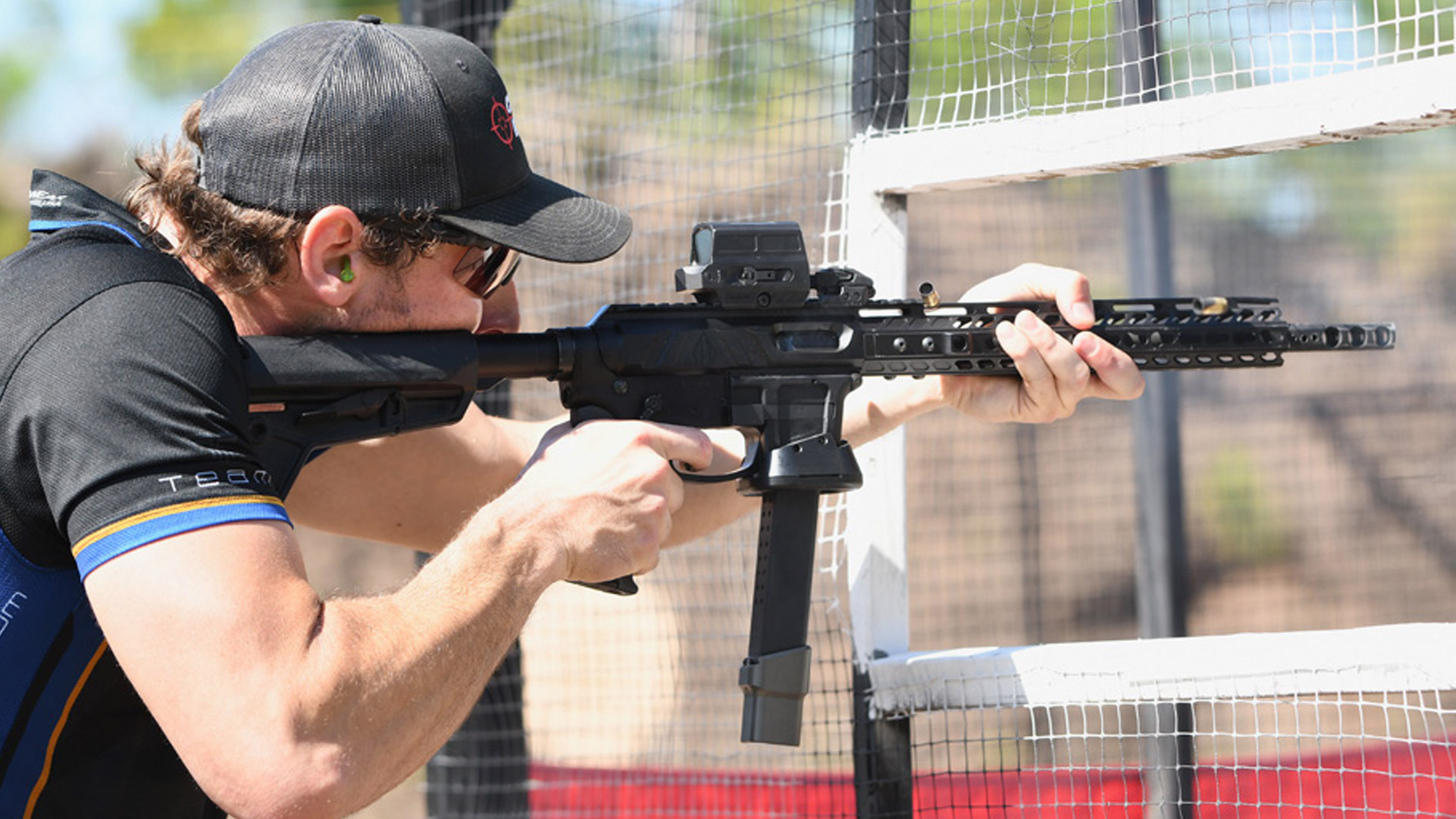 Stage 4, Damage Control, sponsored by Ruger, was a 150-point stage with 30 IPSC targets. This stage also had a "start anywhere," but everyone started at the back-left position. There were also four ports, one of them a very difficult low port at the end position. This stage was pretty much shot the same way by everyone, with a few exceptions taking some open targets on the move instead stationary through the ports. There were 15 wide open targets, no hard cover, no no-shoots, no swingers and no steel, just some fault lines, walls and ports. There were a lot of misses on this stage, some shot ports and a lot of crash landings into the final low port. Leograndis took another stage win here, blistering the stage in 14.51 seconds with 130 of the available points.
Stage 5, Overwhelmed, sponsored by KKM, was designed to be a fast shoot-on-the-move 32-round hoser. The far double-stack IPSC targets protected by a steel hardcover wall and the four poppers would prove to be a little more difficult than many competitors anticipated. The far double wasn't a hard lean for right handers, but required some additional effort on the sights and trigger to avoid having your bullets sucked into that steel wall. The same could be said for the poppers that were spaced out just enough that it was easy to swing past them when smashing the trigger. This stage win went to Leograndis, second went to Justine Williams, who would end up finishing ninth overall in the match with several more impressive stage finishes.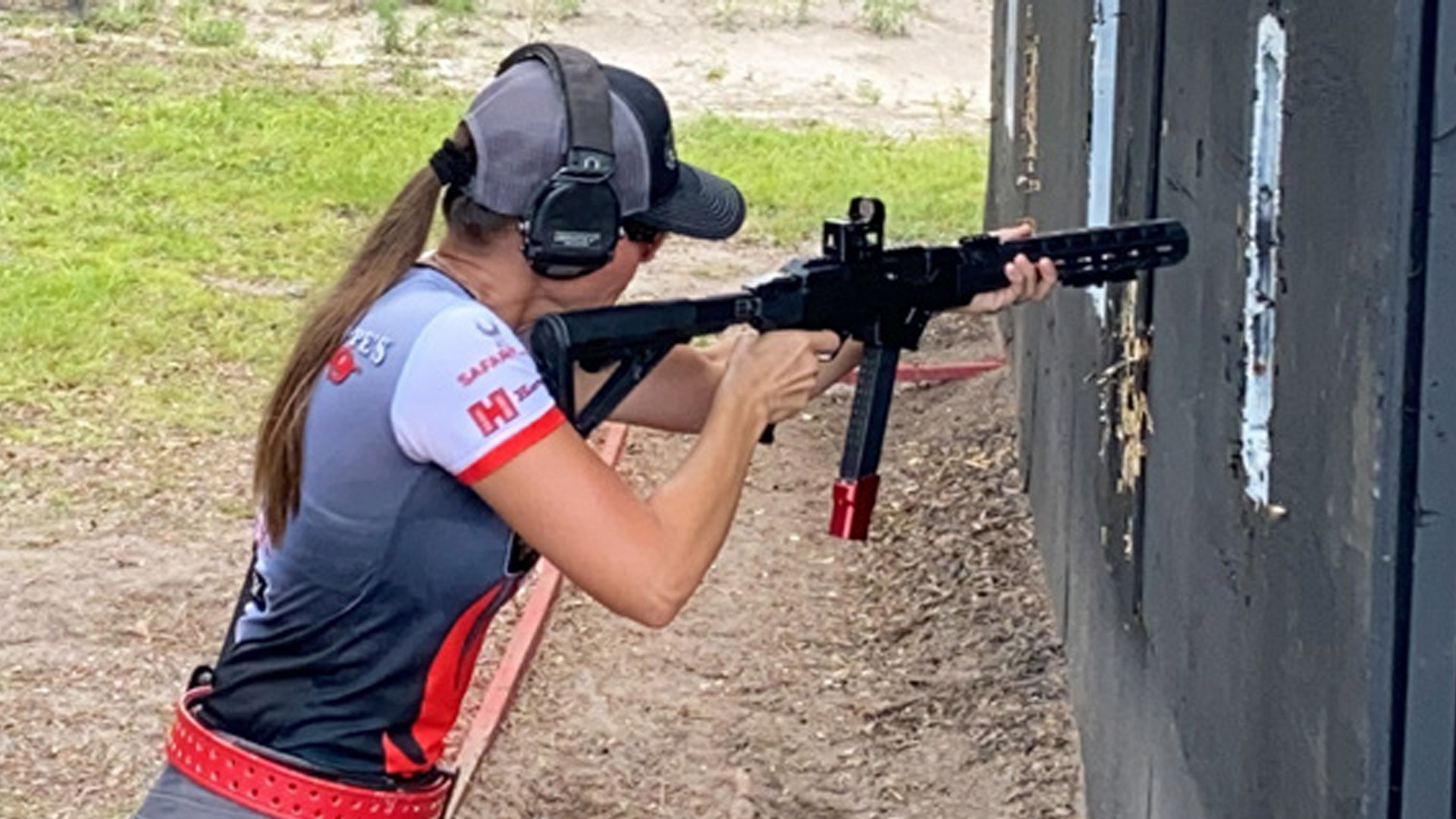 Stage 6, With Beams, sponsored by Safariland, was a 30-rounder with some bobber targets mixed in after the activating steel poppers went down. This was another stage that, when competitors did the walkthrough with their imaginary bendable carbine, the far downrange targets from the left side of the stage seemed much easier than they really were. The poor barrel stack that was obscuring some other targets made this position much harder, and paid the ultimate price as it soaked up several well-intended alphas that never found the cardboard targets they were meant for. Brand new to the PCC game, Hwansik Kim walked away from this stage with a win, shooting 146 points in 16.66 time.
Stage 7, Naughty by Nature, sponsored by Weber Tactical, was a 26-round stage with a start position downrange touching the front fault line. Here was another stage that had several options on how to shoot it; there were some positions that you had to hit in order to get some targets, but there were other positions that allowed competitors to run back and post up in the middle, shooting everything they could see before heading back uprange to finish on the right and left sides. There were some other plans that left that middle position out, requiring some longer shots but one less stop and transition when engaging and allowed some more shooting on the move. Scott Greene snagged a stage win here with a 14.10 time and hit factor of 9.6454.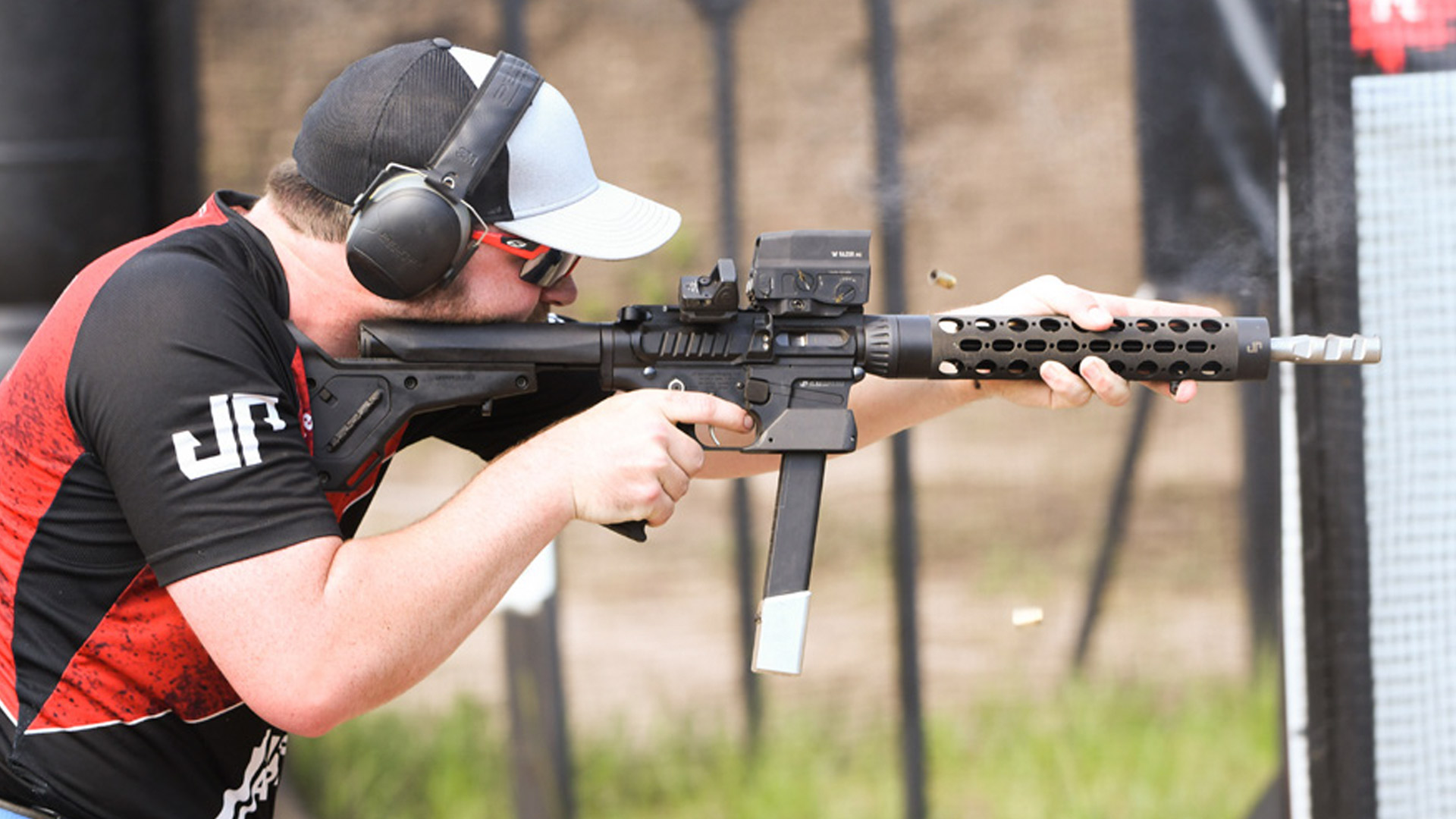 Stage 8, Wounded Pride, sponsored by Hunters HD Gold, should have been called Wounded Port instead. There was wood flying from the ports on this stage as competitors yanked on their triggers while their red dots danced across the targets, forgetting about the offset. The wood was replaced several times over the weekend. Not only did competitors have to work their way through the stage, engaging targets through different sizes and angles of ports in several different positions, but targets were also hidden behind steel no-shoots and a steel wall with a steel barrier behind them. It was very easy to think you were hitting the paper target and the steel behind it, but actually be racking up misses by hitting the steel vision barriers in front of the targets. Leograndis edged out Scott Greene here for another stage win.
Stage 9, I Can't Believe This Division, sponsored by Gallant Bullets, was a 30-round stage with steel and a fast swinger in it. This was another "start anywhere" that required competitors to go to at least four different shooting positions, whether they went left to right or vice versa. This was a stage that saw the usual top players further down the list with some misses; the stage win went to Duncan Kline, with Hwansik Kim taking a number two spot here.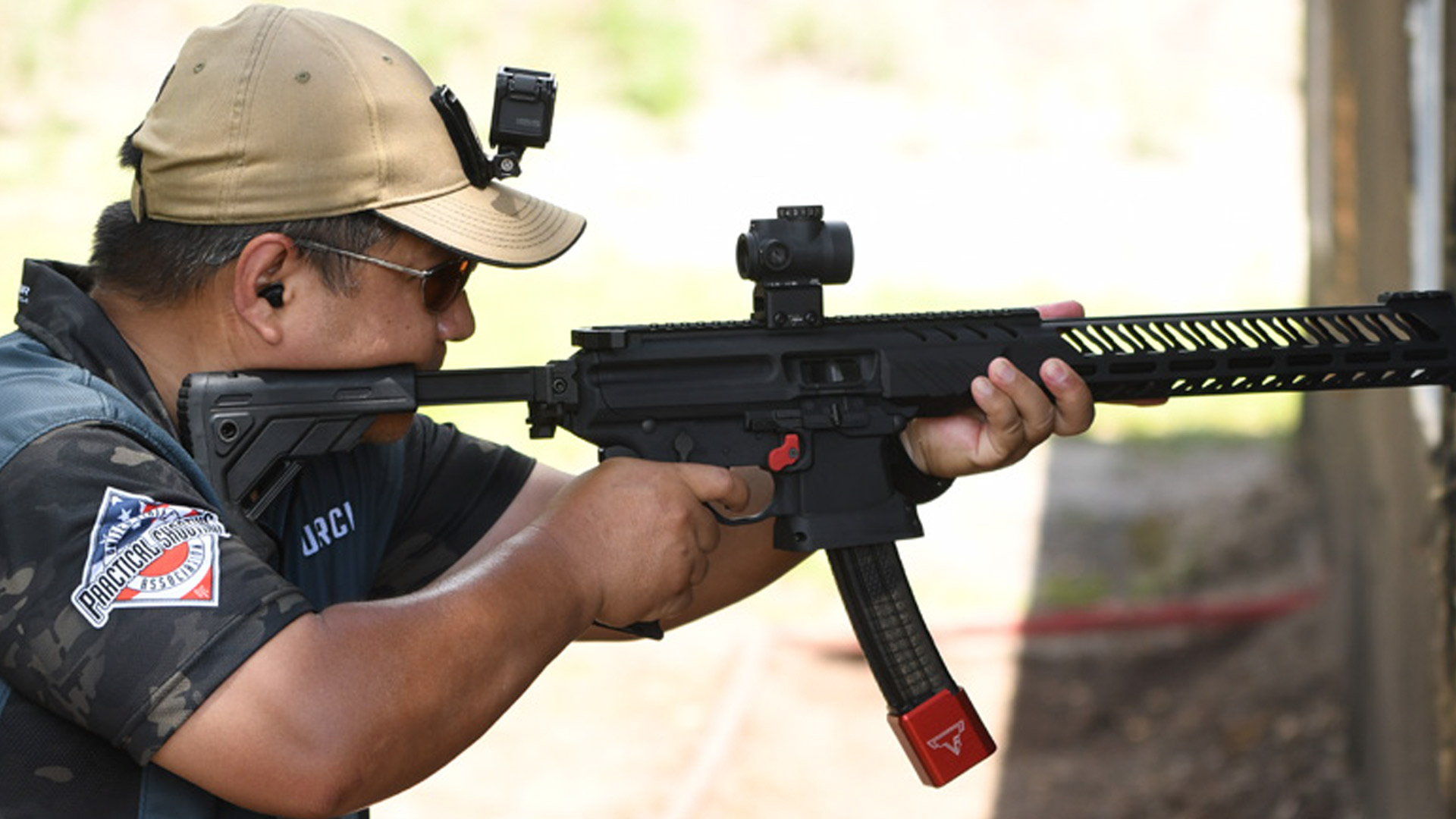 Stage 10, Tango Charlie Foxtrot, sponsored by the Glock Store, had low ports and four pieces of steel to make up this 32-round stage. There were some longer shots here, but also four targets, two each in the low ports that made this a more difficult stage than simply going left to right. The left side low port required you to move up closer to engage the right-side target from it; however, the right side low port could be taken from the far back right of the stage if you wanted to go low or take a knee. This is what most competitors ended up doing. Leograndis edged out Grant Kunkle for one more stage win with a 17.19 time and 8.4933 hit factor.
Stage 11, P is for People, sponsored by Vortex, was a 16-round stage that required a reload and weak side shooting. To be clear, this was not a classifier, this was not a standards course—it was a speed shoot per rule 1.2.2.3. This stage could have been called "P is for People Can't Read," but that would have been too obvious. It was eight poppers and four paper targets, engage either array, perform a reload and engage the other array weak side. That is another thing to point out, it was clarified that weak hand, weak shoulder, weak side in PCC means that the firearm has to be shot from the weak side of your body and with your weak hand as well, so no, you can't mount the gun on the weak side and pull the trigger with your strong hand. Well, you can, but you probably won't like the results. You shoot it your way, we'll score it our way. With 9.72 seconds and 78 points, Aaron Ehalt took the stage win here.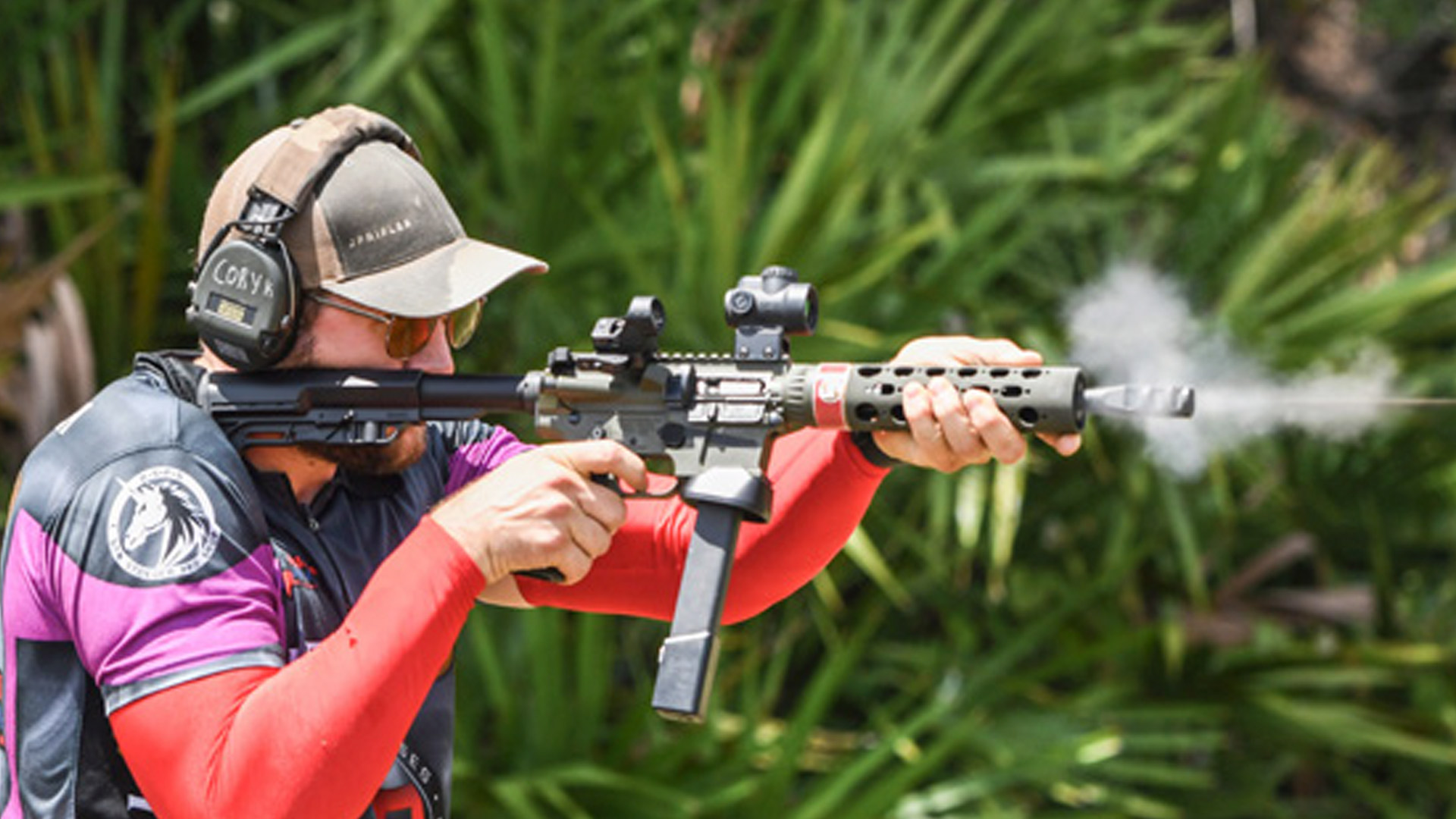 Stage 12, Carbine? Prove it, was sponsored by Davinci and was probably the most talked-about stage of the match. You stick some targets at 60 yards, make one of them a swinger, and it will get people's attention. There have been long shots in Nationals matches every year at the Classic; there were 50-yard visual start turning targets and we have shot 50-yard head shots at Universal in recent years as well. To be surprised that there were some long shots at the PCC Nationals and not know your hold at that distance should result in some finger-pointing at the person in the mirror. We also said before the match, this is a PCC stand-alone match to test this platform in an event without handguns. It shouldn't take a Mensa member to read between those lines. This was 32 rounds with four poppers and one that activated a swinger that was at 50ish yards. Grant Kunkle took the stage win here with 140 points shot in 28.67 seconds.
Results and Final Thoughts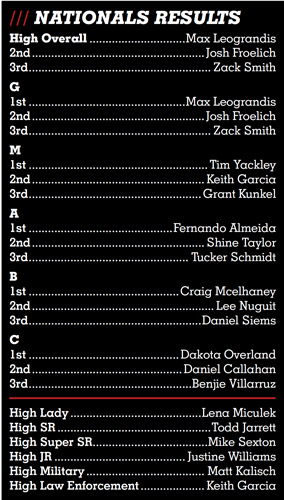 There were 248 scored competitors who took part in this USPSA National Championship which, despite the reschedule and the many people in areas of the country who were still in some type of restriction or unable to travel to the match, was a better turnout than we had anticipated. Congratulations to all the winners, and to Max Leograndis who has dominated this division now for his fourth title. Finally, a big thank you goes out to the host Universal Shooting Academy, Match Director Shannon Smith and last but certainly not least—to all the hard-working volunteers who made this event such a success.
Article from the July/August 2020 issue of USPSA's FrontSight magazine. Photos by Jake Martens. 
---
See more:
Stage Breakdown: 2020 USPSA Multi-Gun Nationals