by
at
USA Shooting
posted on October 25, 2023
Support NRA Shooting Sports USA
DONATE
Henry Leverett secured a bronze medal in the Men's Rapid Fire Pistol event and captured the United States an Olympic quota for Paris 2024 at the 2023 Pan American Games in Santiago, Chile, on Sunday, October 22.
"It feels great [to medal]," Leverett, a Bainbridge, Georgia, native said. "It is kind of unreal for me because I went into the final a little shaky knowing that a quota place was on the line. I warmed up a little bit, shot a couple of series and got used to the stress and the environment. Then I started to calm down and focus. That's when I started shooting the five- and four-hit series."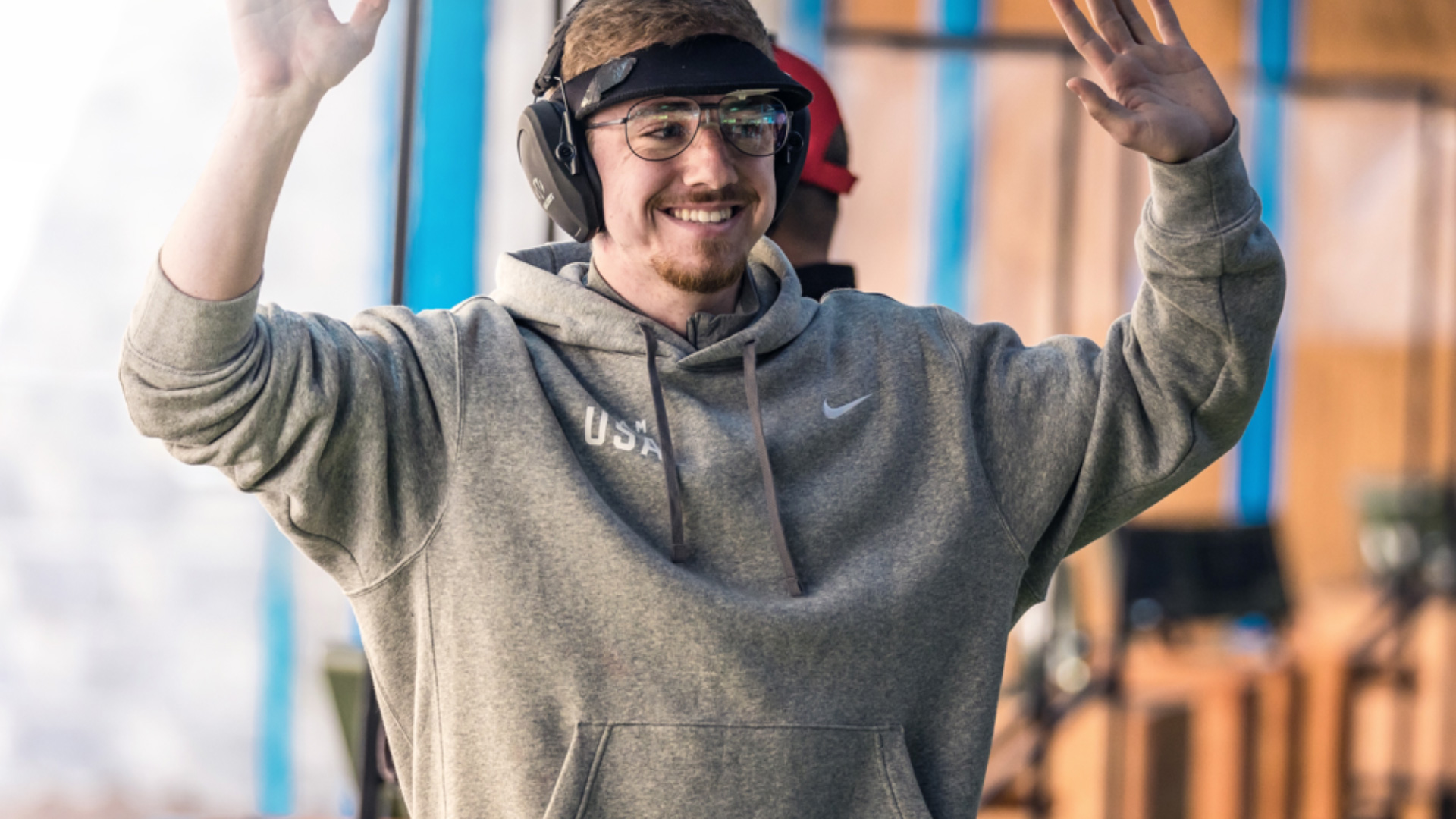 Once there were only three competitors left in the finals, Leverett was tied for second place with a score of 23 with Douglas Gómez of Venezuela. Leverett lost the shoot-off, earning bronze. In addition, he bested Marko Carrillo of Peru who finished fourth.
Leverett, who is a pistol athlete at Ohio State, previously landed the United States a Men's Rapid Fire Pistol quota for the Tokyo 2020 Olympic Games. He earned the team's ticket to Tokyo at the 2019 World Cup in Beijing by finishing fifth overall.
"It is incredibly special getting to do it for the second time," Leverett, a World Championship junior gold medalist said. "Winning my first quota place in 2019 and now doing it again for this cycle is pretty special. It is exciting to represent USA Shooting, Ohio State and the U.S. [on the podium]."
After the U.S. Olympic Trials Part One, Leverett is currently sitting in the number two overall spot, one spot below Keith Sanderson. Leverett mentioned that he is ready for the second installment of the trials, scheduled for this December.
"I feel great especially coming off of this," Leverett said. "I am a little bit more relaxed now that the United States has a quota for Rapid Fire. I am looking forward to training more and adding in things I learned from this competition."
USA Shooting athletes have topped the podium 10 times as of Tuesday, October 24. USA Shooting's partners and sponsors, including the NRA Foundation, Safari Club International, the International Order of T. Roosevelt, Hillsdale College, the MidwayUSA Foundation, Spandau, Eley, White Flyer, Ruger and USCCA, among others have been a huge support for this successful 2023 Pan American Games Team.
Below is a current medal breakdown.
Vincent Hancock: Gold, Men's Skeet
Sagen Maddalena: Gold, Women's 10m Air Rifle
Mary Tucker: Bronze, Women's 10m Air Rifle
Rylan Kissell: Silver, Men's 10m Air Rifle
Henry Leverett: Bronze, Men's Rapid Fire Pistol (secured the United States an Olympic quota for the Paris 2024 Games)
Rylan Kissell and Mary Tucker: Gold, Mixed 10m Air Rifle Team
Sagen Maddalena and Gavin Barnick: Bronze, Mixed 10m Air Rifle Team
Vincent Hancock and Dania Vizzi: Gold, Mixed Skeet Team
Dustan Taylor and Austen Smith: Bronze, Mixed Skeet Team
Alexis Lagan: Bronze, Women's 25m Sport Pistol
USA Shooting athletes will be competing in rifle, pistol and shotgun events through Friday, October 27. You can view live scores from the 2023 Pan American Games at this link.
Learn more about USA Shooting at usashooting.org.