by
at
USA Shooting
posted on April 19, 2023
Support NRA Shooting Sports USA
DONATE
Victoria Leppert, of Fairfax Station, Virginia, earned the title of 2023 Junior Olympic Champion in Women's Air Rifle and Braden Peiser, of San Angelo, Texas, earned the title of 2023 Junior Olympic Champion in Men's Air Rifle on April 15 at the U.S. Olympic and Paralympic Training Center in Colorado Springs, Colorado.
Leppert earned her gold medal in the finals after defeating Camryn Camp, of Hillsboro, Texas, who placed second, and Rachael Charles, of Urbandale, Iowa, who finished in third place.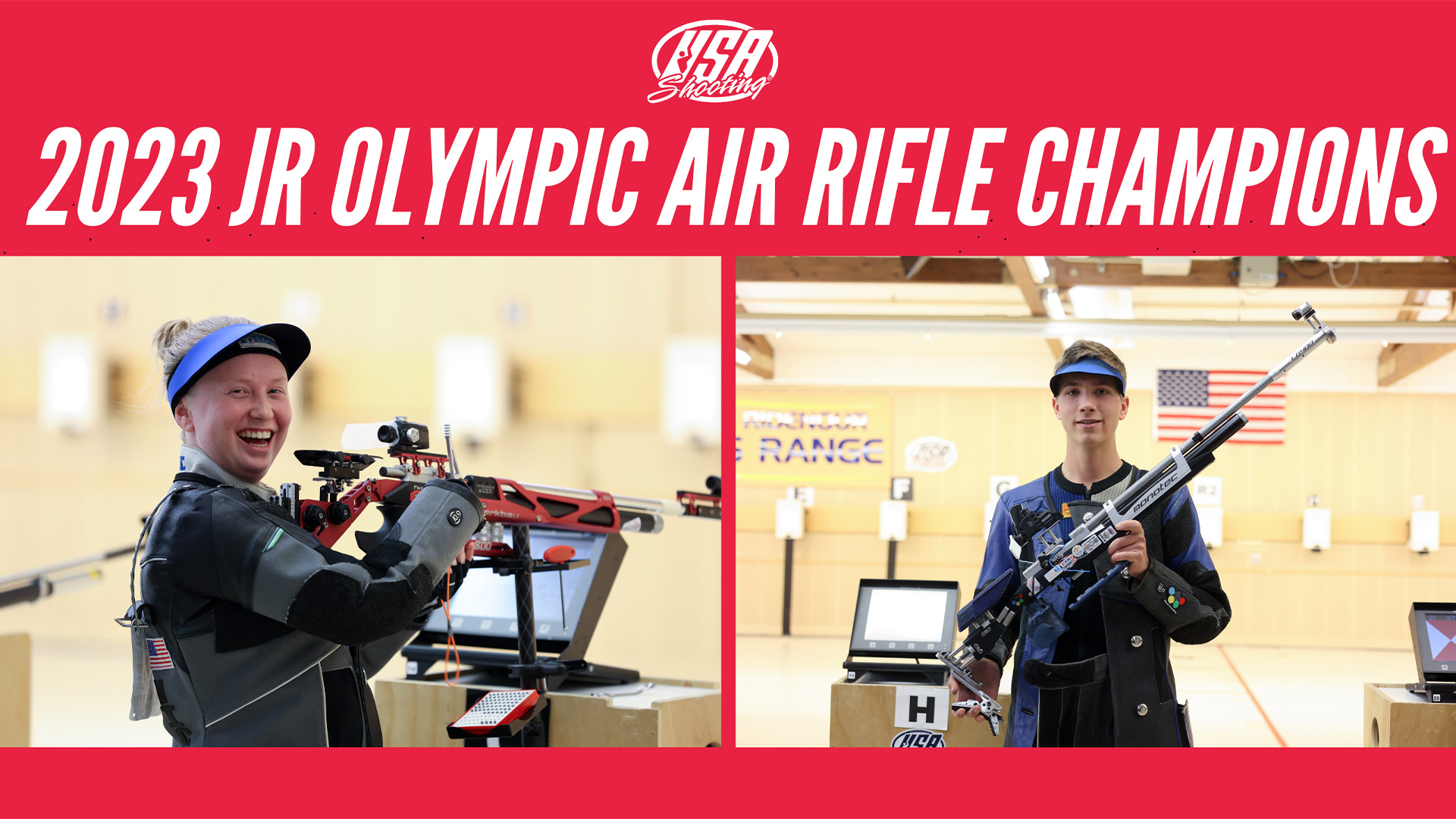 "I was really excited when I realized I had won. My face said it all," Leppert said. "I didn't realize I had won until I heard my teammates cheering for me."
This was Leppert's first time competing in a final at a national level match.
"I am good at going head-to-head with athletes, so I knew as long as I had fun with it and I wasn't too serious about it I would do fine," Leppert said. She is an athlete for the U.S. Air Force Academy's rifle team.
As for Peiser, he placed first over the runner-up, Tyler Wee, of Wake Forest, North Carolina, along with Parker Haydin, a resident of Joshua, Texas, who walked away from the competition in third place.
"It felt really good to win especially because I went into the match knowing I was capable of it," Peiser, the Men's Air Rifle Champion, said.
This was Peiser's first time making the finals at a Junior Olympic Championships.
"While I was shooting I just tried to not thing about the final itself," Peiser said. "I focused on the individual shots. If your mind is wrapped around that, you can't think about the fact you are in a final."
Air Rifle medals were also awarded for in the following categories:
Women's Under 18
Elizabeth Probst, gold
Mackenzie Kring, silver
Gracie Dinh, bronze
Women's Under 15
Hypatia Shen, gold
Natalie Welter, silver
Ella Lee, bronze
Men's Under 18
Griffin Lake, gold
Teagan Perkowski, silver
Dylan Gregory, bronze
Men's Under 15
Logan Sanchez, gold
Nikhil Surya, silver
Cohen Ahner, bronze
The competition also decided the Men's and Women's Air Rifle team for the 2023 ISSF Junior World Championships in Changwon, Korea, July 14-18. The following athletes qualified:
Braden Peiser
Tyler Wee
Parker Haydin
Gavin Barnick
Matthew Sanchez
Rachael Charles
Katie Zaun
Camryn Camp
Natalie Perrin
Peninah D'Souza
Men's Smallbore Rifle is the next event for the 2023 National Junior Olympic Championships.
Learn more about USA Shooting at usashooting.org.