by
at
USA Shooting
posted on October 13, 2022
Support NRA Shooting Sports USA
DONATE
USA Shooting Skeet athletes closed out the 2022 ISSF Shotgun World Championships in Osijek, Croatia, with four additional titles, along with three Olympic quotas for the Paris 2024 Games.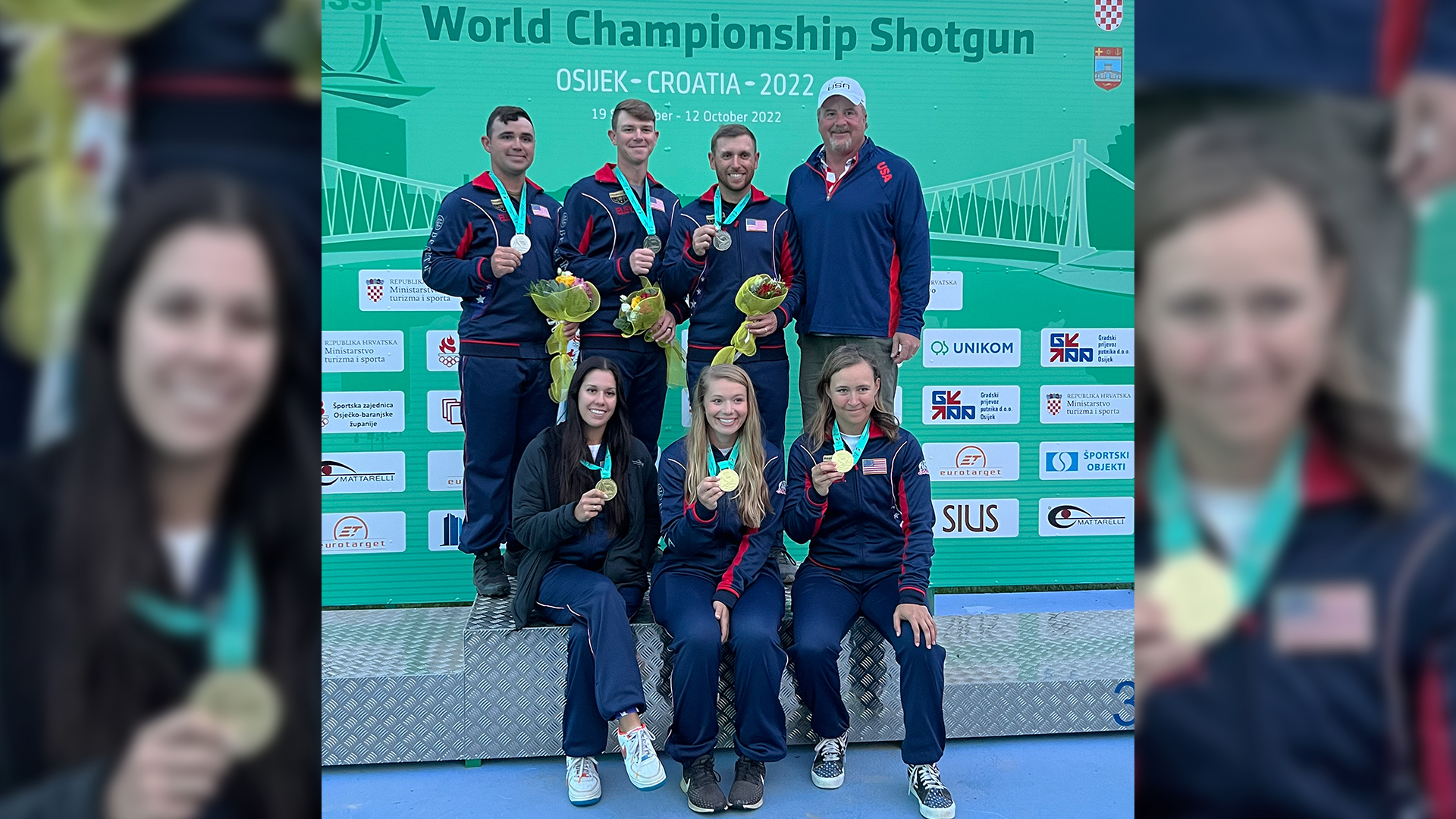 Vincent Hancock, a three-time Olympic gold medalist and four-time World Champion, brought home a silver medal in Men's Individual Skeet, missing only one target in the final to be bested by Azmy Mehelba of Egypt, 40-35. Hancock's performance garnered the U.S. an Olympic quota for the Paris 2024 Games.
Hancock would return to the podium, this time with Dustan Taylor and Christian Elliot, both soldiers in the U.S. Army Marksmanship Unit, after the trio captured a silver medal in the Men's Skeet Team event. Team USA lost to Italy by one bird in the Men's Skeet Team gold medal shoot-off.
Sam Simonton, also a solider with the U.S. Army Marksmanship Unit, earned third place in Women's Individual Skeet after defeating Vanesa Hockova of Slovakia in the bronze medal match, 24-15. In addition, Simonton earned the United States a quota for the Paris 2024 Olympics.
Simonton went on to help Austen Smith, from Texas, and Dania Vizzi, of Florida, claim the Women's Skeet Team World Championship title. The trio won the gold after shutting out Italy in the final face-off, 6-0.
Smith, Vizzi and Simonton are no strangers to the podium. The trio were medalists together at a national shotgun competition four years ago.
A 2020 Olympian, Smith placed sixth overall in Women's Individual Skeet, while Elliot, the 2019 ISSF World Championship silver medalist, took fifth place in the Men's Individual Skeet event.
The U.S. Junior and Open Shotgun Teams earned nine total medals and three Olympic quotas for the Paris 2024 Games while competing against some of the world's best shotgunners in Croatia.
Up next for Team USA's shotgun team is the Championships of the Americas in Lima, Peru, November 4-14. Prior to that, the U.S. Pistol and Rifle teams will begin competition at the 2022 ISSF World Championships in Cairo, Egypt, October 13-27.
See the full results of the match at the International Shooting Sport Federation website. Learn more about USA Shooting at usashooting.org.