I really hated James McCoy. Back in the day Jim was the guy in town all the girls loved and all the guys didn't. You see ol' Jimbo had a secret weapon; something the rest of us didn't have that kept the girls all mesmerized. McCoy had a car. Not just any car mind you, McCoy had a
1968 Chevy Camaro
, a convertible on top of that. Of course it was fire engine red; it was in fact the
reddest
car I have ever seen. This thing was fast, I mean it just looked fast, whether it was cruising down the interstate or sitting on the parking lot of the Piggly Wiggly store.
It has been a while (2010) since Tim Flanigan set multiple shotgun shooting speed records with the
Winchester
SX3, but most shotgun aficionados agree the SX3 is still the fastest shotgun around. Among other records set, Flanigan was able to fire 12 rounds of Winchester AA's in 1.42 seconds, and that my friends is
fast
.

No doubt Flanigan has shotgun skills most of us will never achieve, but much of the credit for that 1.42 has to go to the action of the Winchester SX3. The basic Active Valve gas system on the SX3 has been around since 1993 and is considered by many as the best semi-auto gas system on the market, if not the fastest.
In a nutshell, Winchester took the Active Valve system of the SX3, the engine if you will, and put it into a race car. And in my view that is what the SX3 Composite Sporting model is, a fast, sexy, race car of a shotgun. If you are a clay shooter here are some reasons why I think you want this little number in your arsenal.
Speed Kills.
In this case it kills birds, clay birds. Do we really need to be able to shoot as fast as Tim Flanigan? Maybe not, but to have that capability is a good thing. The Active Valve gas system on these shotguns is the most modern of the systems currently used in gas operated semi-automatic shotguns. A big reason this gun operates so fast and efficiently is that it works with one simple valve, no springs, metal rings on the magazine, rubber O rings, or other parts to break and have problems with. This system also helps a lot with felt recoil, more than once I heard shooters who were taking the SX3 Sporting for a spin remark that it was a soft shooter. Residue from repeated firing forms on the magazine tube where it is easily wiped off. This is a big plus if you hate to clean a shotgun as much as I do.
Long before the SX3 Composite Sporting model came onto the showroom floor, its predecessor, the
SX3 Field
model, was out there in the trenches making a name as a waterfowl gun. Nobody, and I mean nobody, can dish out abuse to a shotgun like a duck hunter. Not only did the SX3 become known for working under fowl (sorry) conditions it also showed it would take about any type of ammo you wanted to stuff into it and blaze away. The SX3 action continued to fire after hundreds of rounds—duck hunters aren't known for over doing it on cleaning a shotgun (Winchester fired the SX3 5,000 times without a malfunction).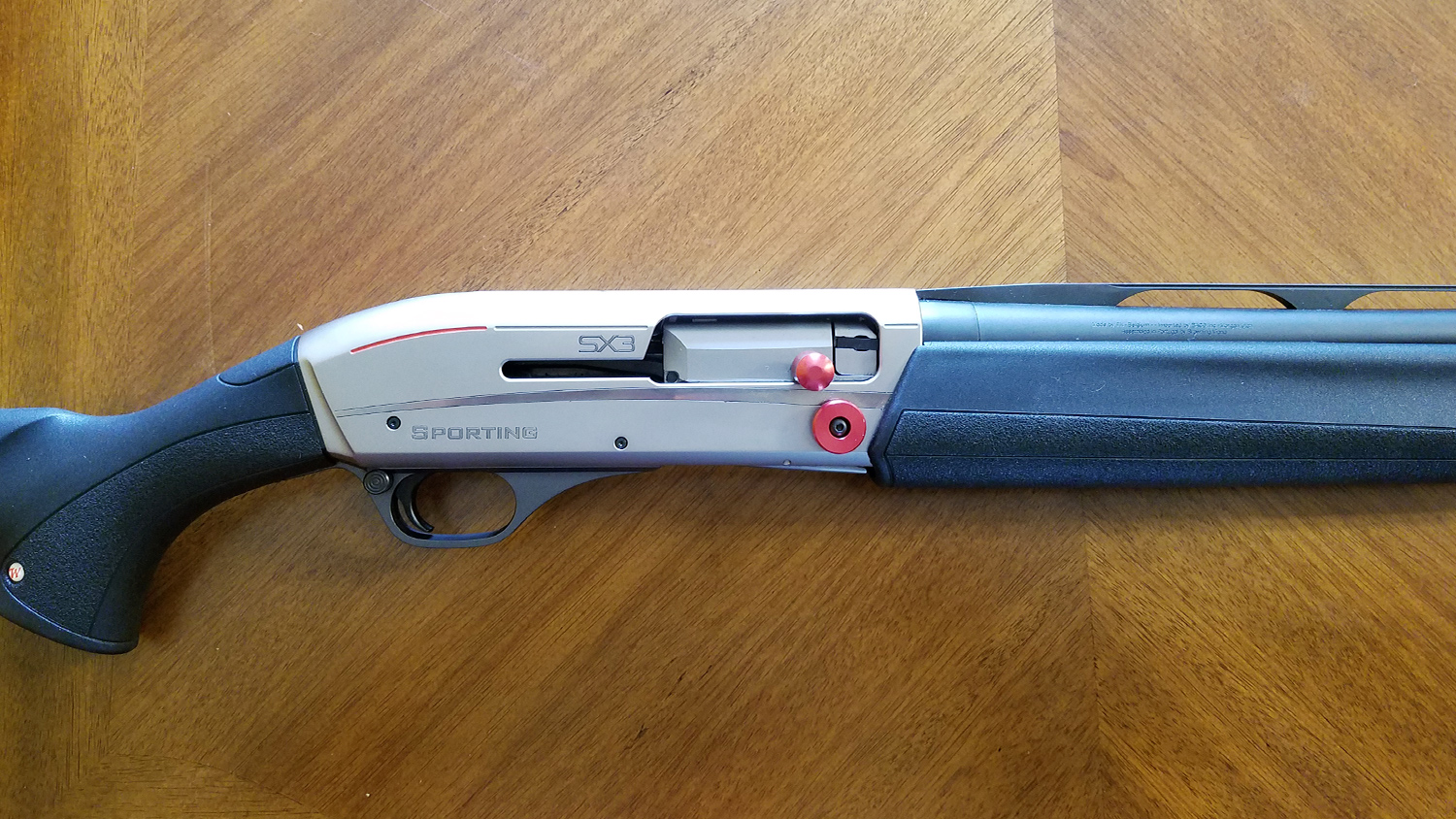 Lots of Bells and Whistles.
Every race car should have a lot of goodies on it and the SX3 Composite Sporting is no exception.
The chamber and bore on this shotgun are hard chrome plated making it resistant to wear and corrosion, important in a gun that may see hundreds of thousands of rounds shot through it.
A set of cast and drop shims is supplied to allow the shooter to tailor the gun to fit your specifications.
Signature Invector-Plus choke tubes are provided in five flavors, light full, improved modified, modified, improved cylinder, and skeet.
A handy ambidextrous cross bolt safety is easy to change for the left handed shooter.
Winchesters Inflex Technology recoil pad is built to direct recoil down and away from the shooters cheek.
The trigger assembly drops out and allows for easy cleaning.
The SX3 is back-bored at the factory, back-boring equals better patterns on the range.
Signature red Briley bolt handle, bolt release button, and magazine cap. Although this looks great and adds to the SX3's sports car look, there is more here than just appearances. The oversize bolt handle and release button are very functional and were admired by most every shooter I handed the gun to. These amenities are similar to those on a shotgun used by 3-Gun shooters, and if you know anything about those boys and girls, they are all about function.
The Perma Cote Barrel is ported to help with recoil; the vent rib includes a Tru-Glo fiber optic sight and a white mid-bead.
I like the weighted magazine cap system, this allows you to add or take away weight on the front of the gun, whichever you think is beneficial to your swing.
On the range.
When testing a shotgun, I enjoy simply walking up to a shooter on the trap, skeet, or sporting clays range, hand them the gun and say "What do you think?" I want to hear what they say, good or bad. Remarks on the SX3 Composite Sporting were very good. A few blinked at the 30-inch barrel on the gun I tested (this model also comes in a 28- and 32-inch barrel); personally I believe the 30-inch barrel is beneficial for swing on targets, but that is just me.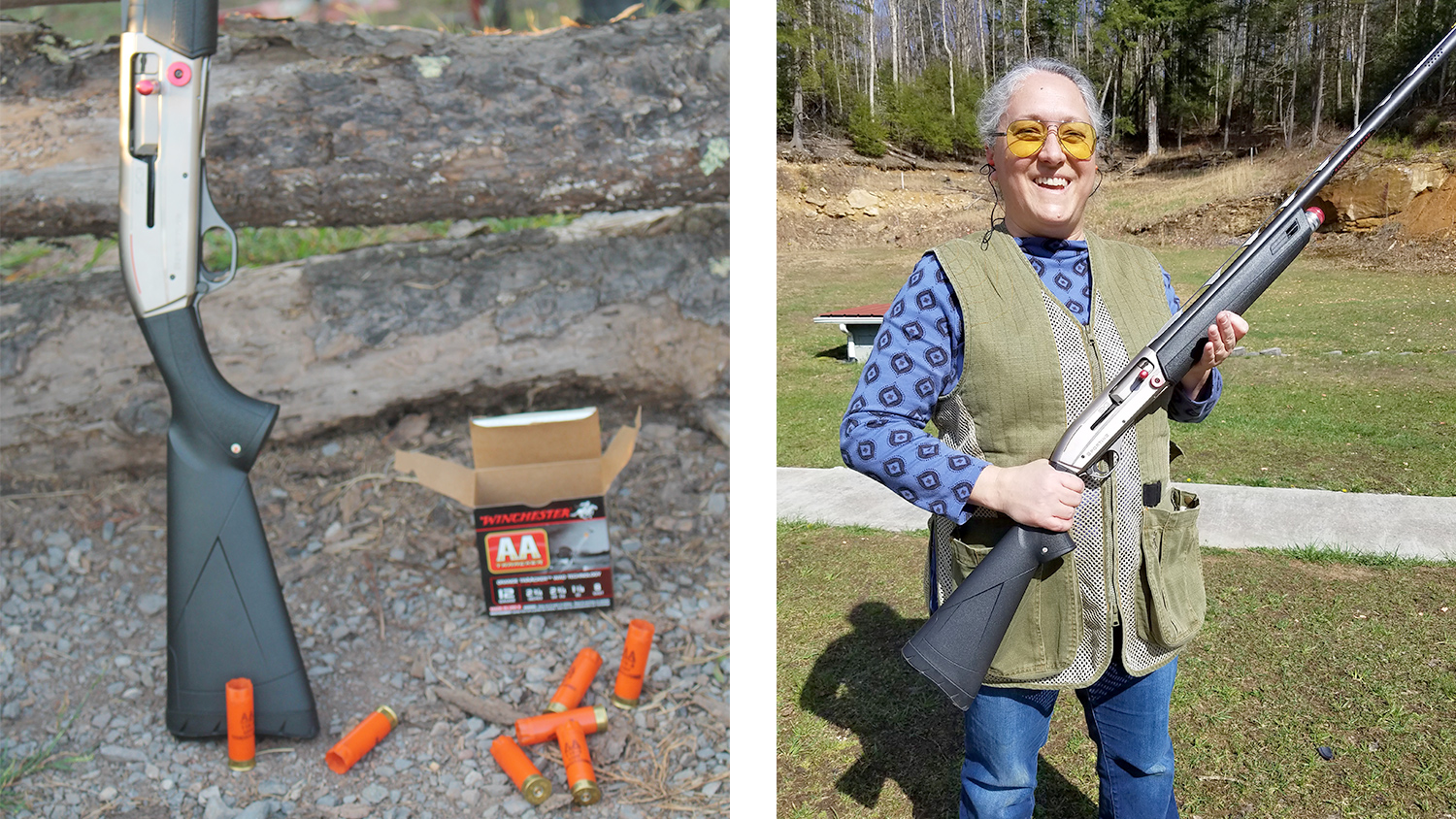 The stock on the gun is "grippy," it feels good when you grab it and provides a firm hand hold when you shoulder the shotgun. The overall good looks of the gun was admired by many shooters as well as the aforementioned features of the large bolt handle, release button, ported barrel and weighted magazine cap.
The SX3 provided went bang every time we pulled the trigger and ejected empties with gusto—up to eight feet away. Several brands of ammo were fed to the SX3 including
Browning BPT
,
Federal Target Load
,
Remington STS
,
Aguila Target
, and
Winchester AA
. No malfunctions were noted with any of the ammo.
MSRP $1,740.
If you are a dedicated clay shooter or you want to be, go down to your dealer and take the
SX3 Winchester Composite Sporting model
for a test drive. Just in case you were wondering, I gave up any hard feelings toward James McCoy long ago. He actually turned out to be a pretty good guy. Still think about that red Camaro though.