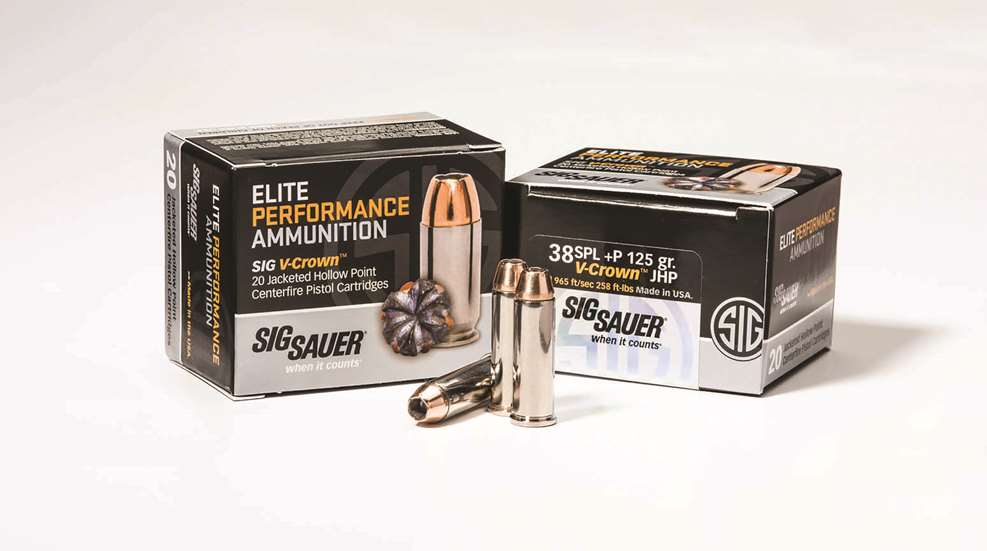 SIG Sauer has introduced new revolver ammunition in .38 Special, .44 S&W Special and .45 Colt. All three calibers are available in the SIG V-Crown jacketed hollow point (JHP) round of Elite Performance Ammunition in the following bullet weights: 125gr .38 Special with a muzzle velocity of 900 fps; 240gr .44 S&W Special with a muzzle velocity of 800 fps; and 230gr .45 Colt with a muzzle velocity of 950 fps. SIG Sauer proprietary V-Crown stacked hollow point is especially effective, delivering maximum accuracy, reliable, uniform expansion and optimal terminal performance. DUCTA–BRIGHT 7A coated brass cases also provide enhanced lubricity and superior corrosion resistance.

"SIG Sauer continues to expand caliber offerings for handgun shooters, which now includes the revolver market, and there will be introductions of additional revolver calibers in the coming weeks" said Dan Powers, president of the SIG Sauer Ammunition Division.

Bianchi Cup wheelgunners will be especially interested in the .38 Special offering. Designed specifically for practice and competition shooting, these premium target rounds feature solid brass cases and durable, copper-jacketed bullets that remain intact on impact. The precise, uniform profile of the SIG FMJ bullets results in maximum accuracy, while dependable primers and clean burning powders are used for reduced barrel fouling with more reliable functioning.

To learn more, visit www.sigsauer.com/ammunition.