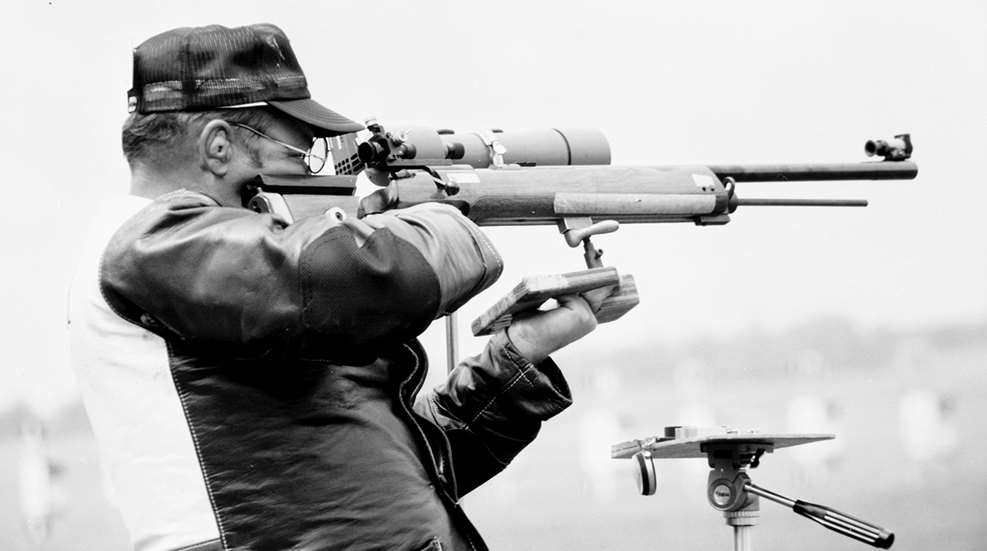 Above: Legendary All-American and Olympian Lones Wigger.

"Eventually, all things merge into one, and a river runs through it" wrote Norman Maclean in his semi-autobiographical story "A River Runs Through It." While Professor Maclean was writing about his brother and fly fishing the same may be said of the relationship between earning the NRA's Collegiate All-American smallbore rifle and air rifle awards and the U.S. winning Olympic gold medals in the same disciplines.

All-American status is conferred upon full time student shooting athletes who demonstrate a sustained level of excellence in shooting over the length of a long athletic season while exhibiting the valued, but intangible, characteristics of integrity, respect, and responsibility.

The NRA began awarding "Golden Bullets" to honor collegiate All-Americans in the sport of smallbore rifle shooting in 1936.  Therefore, in retrospect, it is not without some irony that the U.S. would not enter a rifle team in the 1936 Berlin Olympic Games. World War II would interrupt the quadrennial flow of Olympic Games and cause a four-year cessation of the "Golden Bullets" awards from 1943 through 1946.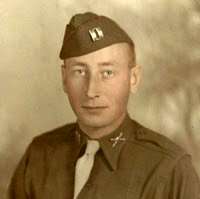 Some of the pre-World War II All-Americans would become household words in the shooting community. Robert "Sandy" Sandager of the University of Minnesota would compete on the international stage for his country. Brothers Robert and Roger Hughes, both of the Ohio State University, would attain shooting immortality when they won a matches set of trophies at Camp Perry which had been serendipitously donated by their father. The statuettes, once known as the Hughes Trophies, are still in competition but now more commonly referred to as the Whistler Boy because the statuette is that of a young boy wearing a sugar loaf hat, arms akimbo, head back, and cheeks puffed up as he whistles. All-American Sam Burkhalter would earn the Distinguished Marksman Badge and lead the Army Reserve team for many years. As skilled as they were World War II would interrupt competitive shooting and the Olympics to deny these worthies the opportunity to win gold.

When the All-American program resumed after the war a diminutive University of Maryland rifleman named Arthur Cook earned the first of his three All-American honors in May of 1947. Fifteen months later, he lay prone on the grass of a Bisley Camp rifle range, tucked the stock of his Remington 37 into his shoulder, and cranked out 50 tens before dropping a point in his final ten shots. When he was done, he had established a new world prone record of 599-43X and won an Olympic gold medal by shooting one more X than his teammate silver medalist Walter Tomsen.

Along with those two honors he also set a precedent yet unbroken. Since the first All-Americans were named no member of a U.S. Olympic smallbore or air rifle team has won a gold medal unless they have first earned All-American status.
Sixteen years later, far away in Japan, a young U.S. Army officer faced a tough test. Four days earlier he had shot a new world and Olympic record prone but lost the gold medal in the English Match to Hungarian Laszlo Hammer on a tie breaking rule. It was a tough loss and now he was facing Hammer once again in the three position match. At the end of 40 shots prone he had a one point lead on his nemesis. By the time the match was done Lones Wigger, Jr. had washed away the bitter taste of his prone loss with another World and Olympic record as well as an Olympic gold as he outpaced the second and third place finishers by a dozen points. The three time All-American, 1957-60, from Montana State College would go on to become, arguably, the best international rifleman of the 20th century.
The Games of the XXth Olympiad would be held in Munich in 1972 and the U.S. shooting team was well prepared for the challenge. A team of experienced riflemen, Wigger and television script writer and UCLA graduate Vic Auer in prone and John Writer, Jr. and Lanny Bassham were primed for three position. Auer, who was the only shooter who was not an All-American, would win a silver medal while Wigger finished out of the top three. Writer and Bassham would face off against each other and, while Bassham battled for second place against an East German, Writer cruised through the match never in any place but first.

As a matter of fact, in the 12 ten-shot strings Writer was the top scorer in eight of them. In the process of earning the top step on the medals podium the West Virginia University three-time All-American, 1964-66, set two Olympic and world records: a 381 standing and an 1166 for the aggregate. After he retired from shooting he worked in the family business in Illinois, then manufactured high-performance competition bicycles, and finally moved to Georgia where he took a position with the Army Marksmanship Unit loading ammunition.

Standing on the podium with the silver medal about his neck and the Star Spangled Banner playing for Writer in his ears Bassham began a post mortem on his performance. Over time his detailed examination revealed that he and Writer were evenly matched in skill, equipment, and motivation. Bassham became convinced that it was his mental game that was lacking. After fruitlessly searching for some sort of seminar to meet his need Bassham went to the horse's mouth and interviewed a number of Olympic gold medalist to specifically learn their methods of mental preparation. The results of his research became the heart of his mental management program.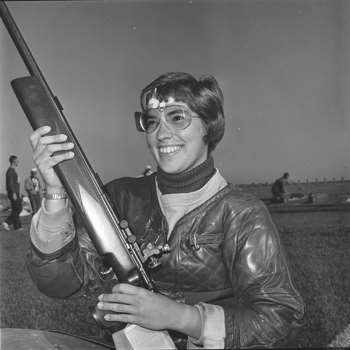 It paid off for the four-time All-American, 1966-69, from Arlington State College, now the University of Texas at Arlington. He needed every bit of mental control, and a touch of good luck, to meet his goal at Montreal in 1976. His teammate Margaret Thompson Murdock had edged out Jack Writer for the second three position on the tem on a tiebreaker at tryouts. She went in to tie Bassham at Montreal. Bassham argued passionately that both deserved the gold medal but was overruled because tie breaking procedures were in place. As the national anthem began he chivalrously pulled Murdock up onto the top step where they stood side by side. Had the tie breaker gone the other way the All-American string would not have been broken as Murdock earned the honor twice, in 1963 and 1964, while a student at Kansas State University. Murdock's silver medal was the first in Olympic history for a female shooter.

There would be no chance for an All-American to take home a gold in 1980 as the Olympics fell victim to politics. The XXII Olympiad was held in Moscow and to protest the Soviet war in Afghanistan, President Jimmy Carter led 65 countries in a boycott which would be reciprocated four years later.

After 52 years the Olympics returned to Los Angeles in 1984. The 1932 Games had an abbreviated shooting schedule and a poor facility but these matches would be held at the specially built range at Prado Regional Park in Chino, CA. On July 30th Edward Etzel, a Tennessee Tech three-time All-American, 1972-74, finished first twice in the 1984 English Match. In a crowded 40 minutes Etzel, shading the whole time in the switching winds, shot 59 tens and one nine in his second string to tie the World Record. He completed the match before any of his competitors and won the Olympic gold. The North Haven, CT native was in the middle of his phenomenal coaching career at West Virginia University where he amassed a 101-5 record, four NCAA titles, coached four individual NCAA champions—one being fellow Connecticut shooter Bobby Broughton, and saw his team earn 138 All-American honors.

Women's events were fully integrated at Los Angeles and a day after Etzel's win a poised multitalented 18-year-old Pat Spurgin, a student at Murray State University, became the first Olympic champion in Women's Air Rifle. Her alma mater would pay tribute to the gold medalist, and four time All-American in both smallbore rifle and air rifle, by naming its rifle range, the site of eight NCAA championships, in her honor.

It would be eight years before another All-American struck Olympic gold and it would be reminiscent of the mythical phoenix rising from the ashes. The shoot-off system was adopted at the 1988 Seoul Games with the eight top shooters in the preliminary round participating in a ten shot shoot-off with those scores being combined with the qualifying round to determine the winner.

At Seoul Launi Meili competed in both air and smallbore and was in a good position, based on her last string of standing in regulation competition, to pick up the bronze medal in Women's 3X20. At the time the final in position matches was shot standing and she had a 99 on her last ten shots but she just couldn't put together a quality string under the intense pressure.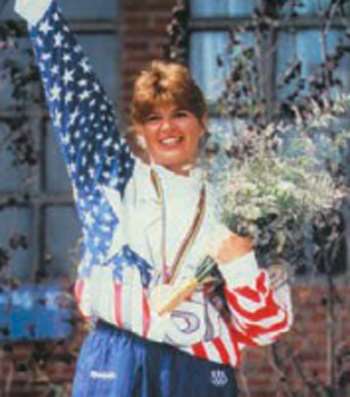 When she arrived at Barcelona in 1992, again competing in two events, she was a more seasoned competitor. The Smallbore and Air Rifle All-American from Eastern Washington University finished the qualifying round with a two point lead over her closest competitor. Now, with four years of international competition experience she was more confident in her abilities and attuned to the pressures of a shoot off, she channeled her nervous energy into 97.3 shoot off score which gave her the gold. Because of a recent change in target size she also established a new Olympic Record and remains the only woman to compete in both smallbore and air at two Olympics. Meili is presently the head rifle coach at the U.S. Air Force Academy in Colorado Springs, CO, and her gold medal winning rifle is on display at the NRA Museum in Fairfax, VA.

September 16, 2000 was a pleasant spring Saturday morning in Sydney when Nancy Napolski Johnson, a three time All-American University of Kentucky air rifle shooter, 1994-96, set up her equipment. After the qualifying series she found herself in the finals just two points behind the leader and knotted with four other shooters at 395. It would be a tall order to make up the difference and keep ahead of those with who she was tied.

While the qualifying round was integer scored the final was decimal scoring. In the shoot-off Johnson maintained a razor thin lead through the ninth shot but a 9.9 on her final pellet dropped her into second place in the shoot off. However her aggregate score was a 497.7, was just two tenths of a point ahead of her nearest competitor and a half of a point off of the Olympic record. While she did not tie the Olympic record she did enter the record books alongside her husband Ken Johnson, an All-American from Clarkson University, as the first married couple to compete in the same discipline in the same Olympics.

Greece, the birthplace of both the ancient and modern Olympic Games, would host the 2004 Games. Matt Emmons arrived in Athens with an impressive resume—four years as an All-American in both smallbore and air rifle at the University of Alaska-Fairbanks; four NCAA individual and team championships; and a junior World Record. Emmons was a rare triple threat entered in prone, position, and air competition.

Prior to the Olympic trials he found his rifle had been damaged and he borrowed a barreled action from University from Alaska teammate and fellow All-American Amber Darland. Emmons attached his trigger, bolted on his sights, and fitted into his own custom wood stock and used the rifle to shoot a 599 in the qualifying round. With a one point advantage he and Germany's Christian Lusch dueled it out through a tense final with Emmons coming out on top by a fraction of a point.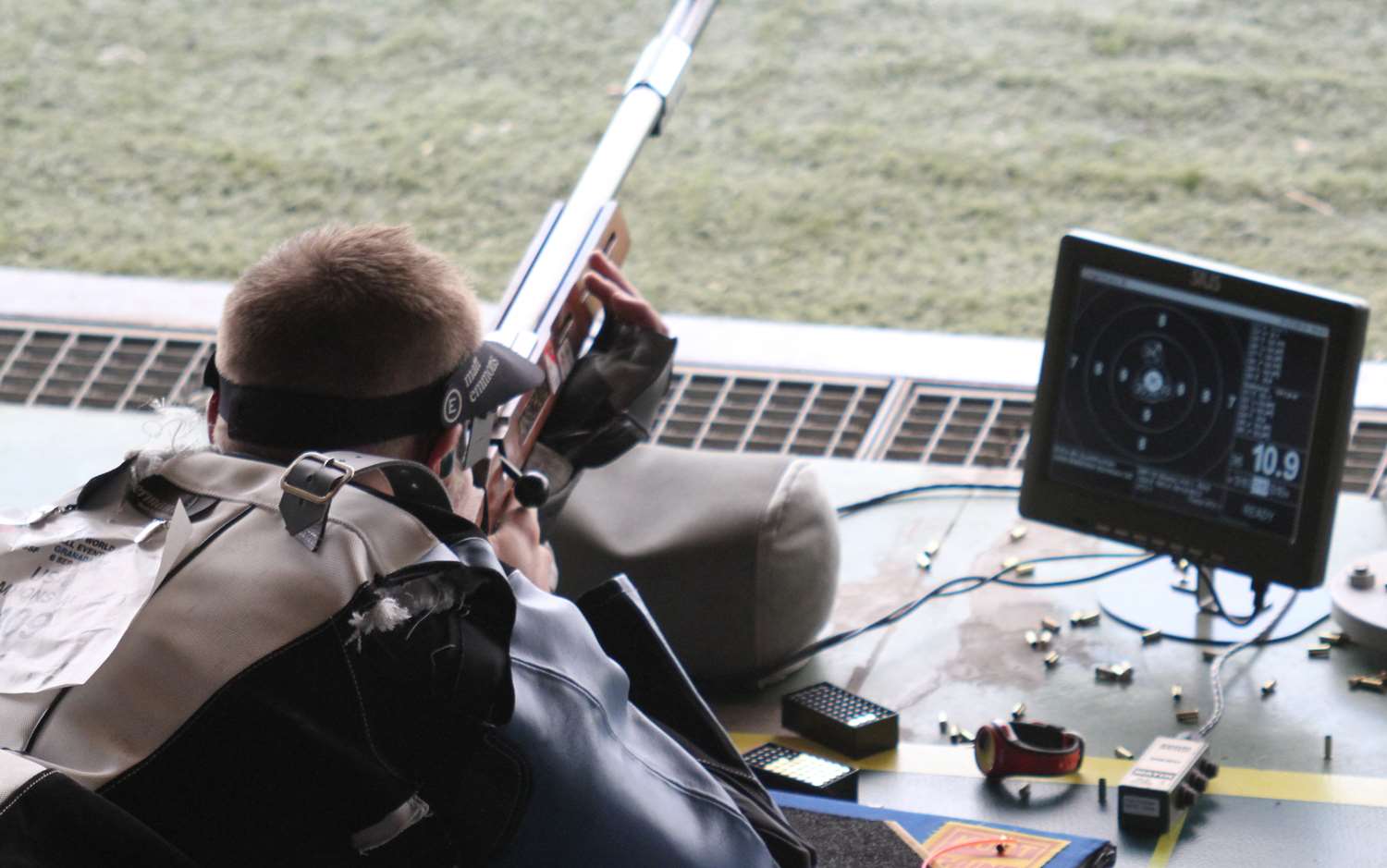 With a gold around his neck he looked forward to making it two but fate intervened on the last shot of the final in three position. With a commanding lead he fired an 8.1, not his best shot but enough to insure a second gold, unfortunately it was on the next target over and the crossfire resulted in a zero, dropping him to eighth place. But every cloud has its silver lining and for Emmons it was a consoling visit by Kateřina Kůrková, who had been doing TV commentary for the men's 3X40. Kůrková, a Czech Republic shooting athlete, and Emmons were married in 2007. Each has enjoyed a successful shooting career which allows them to display two complete sets of Olympic medals, gold, silver, and bronze, on the Emmons' family mantle.

Jamie Beyerle arrived at the Royal Artillery Barracks in London on a mission. She had narrowly missed out on a medal at Beijing and had used the past four years to refine her technical and strengthen her mental games. It was a cold and windy Saturday morning but Beyerle blocked out any discomfort from the weather or the pain in her lower back caused by a budging disc, and doggedly set about executing her shot plan. After the prone stage she was down two points but a pair of 99's standing and 98's kneeling brought her into the final with a two point lead and a new Olympic qualifying round record.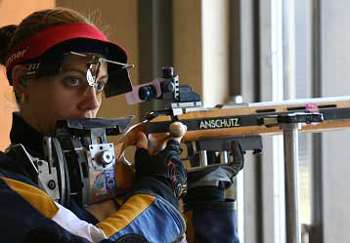 The University of Alaska at Fairbanks All-American shot for the Nanooks from 2002 to 2006, where she won the NCAA National Championship in air rifle in 2003 and smallbore in 2006 as well as three NCAA Team Championships. The toughest ten shots of Beyerle's life lay before her. She opened with a 10.5 and averaged 10s until an 8.9 on her ninth shot jolted her. Reaching into her mental gear bag she drew a few deep breaths, visualized the perfect shot, and squeezed the trigger on a shot she had been practicing for four years. A near perfect 10.8 appeared in her monitor. Her 592 and 99.9 set a new Olympic record of 691.9.

Two days later Niccolò Campriani started the final in the men's 3X40 having smashed the Olympic qualifying record with a score of 1180. Campriani was a two time All-American from West Virginia University where he earned a degree in Industrial Engineering and, perhaps more importantly, was able to work with the school's sports psychologist, Olympic gold medalist Ed Etzel.

With an eight point lead on second place training partner Matt Emmons it was clear that only a disaster would keep the Italian rifleman from the gold. As Campriani built up his lead attention began to focus on the ill-starred Emmons as he made his third attempt to win a 3X40 Olympic medal. Needing a 9.3 for the silver Emmons wasn't quite able to completely shake his final shot jinx when he shot a 7.6 to slip from silver contention but, at long last, to earn a medal in the event.

While Campriani's shoot off score was bettered by six of the eight finalists his stellar qualifying round gave him a new Olympic finals record of 1278.5 but that wasn't the Italian marksman's only shooting footnote. Campriani's triumph made him the only NRA Collegiate All-American to win a gold medal for a foreign nation.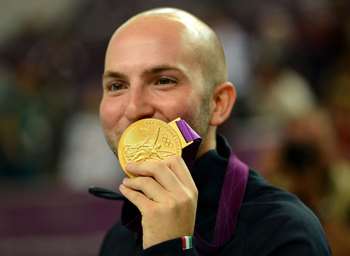 A key development for Niccolò was during the Beijing 2008 Olympics when he shot an eight and missed out on qualifying for the Air Rifle final. This disappointment led to a move to the U.S. to train and study at West Virginia University. There he met Edward Etzel, a great sport psychologist and Prone Olympic champion in Los Angeles 1984, who was a real game changer for Niccolò.

The move also gave him the opportunity to train with Matt Emmons and the rest of the U.S. Team. Matt, who had always been a role model for Niccolò, became a loyal friend and an exceptional training partner.

Norman Maclean's words ring loud and clear for future, current, and past collegiate All-Americans as they look towards winning a coveted place on the 2016 U.S. Olympic shooting team to compete in Rio de Janeiro. Collegiate shooting talent and Olympic gold medals have merged into one and the river that runs through it is the NRA Collegiate All-American program.