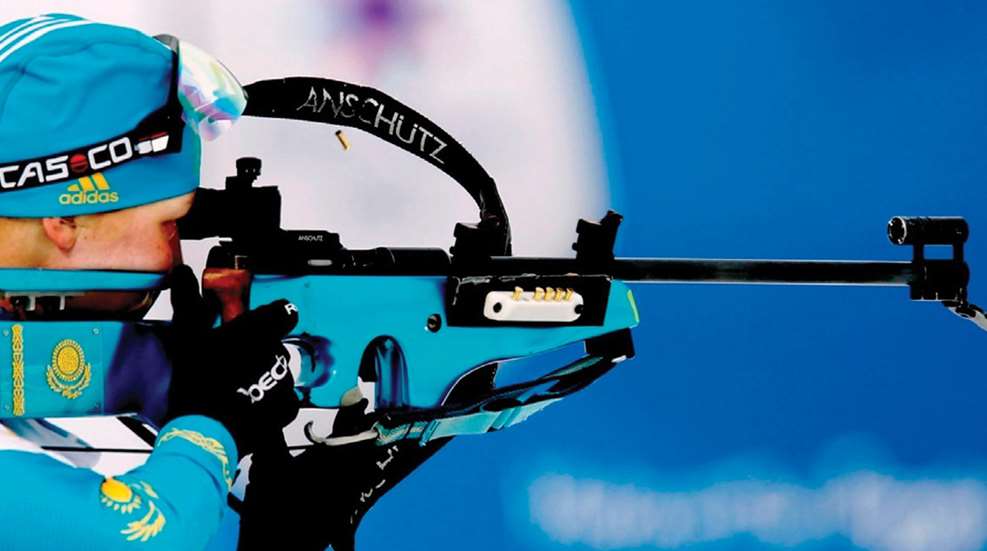 Above: Thirty-four-year-old Elena Khrustaleva, of Kazakhstan, won a silver medal at the 2010 Winter Olympics in Vancouver. Photo courtesy UpPhotos.net
Here is the background of a unique sport: Biathlon. Evolving from hunting and military patrols, the combination of skiing and shooting was first demonstrated at the Olympic Winter Games in 1924. Biathlon was not recognized as an official Olympic sport for years to come because the small number of competing countries disagreed on the rules. The biathlon debuted as a World Championship in 1958 in Austria, and became an Olympic sport at the 1960 Squaw Valley Winter Games in California. Women biathletes competed in their first Olympics in 1992.
Today the biathlon is a smallbore sport combined with cross-country ski courses that range from a 10K sprint (7.5K for women) to the 20K individual (15K for women). A biathlon event is a race in which cross-country skiers negotiate trails that are divided into either two or four shooting matches, half in the prone position and half in standing. Penalties for missed shots are assessed as either a minute added to the overall time, or a 150-meter penalty lap, depending on the event. The contestant crossing the finish line with the lowest calculated time is the winner.
But the biathlon wasn't always a smallbore sport. Biathlon competitions from 1958 to 1965 used high power, center fire rifles before the .22 LR rimfire was standardized in 1978. Ammunition was originally carried in a belt, and the only event was the men's 20K individual race with shooting range distances from 100 to 250 meters. With the addition of relays, the shooting distance was eventually reduced to today's 50-meter range. Mechanical targets, similar to those used in the sport of field target, made their debut at the 1980 Winter Olympics at Lake Placid, NY.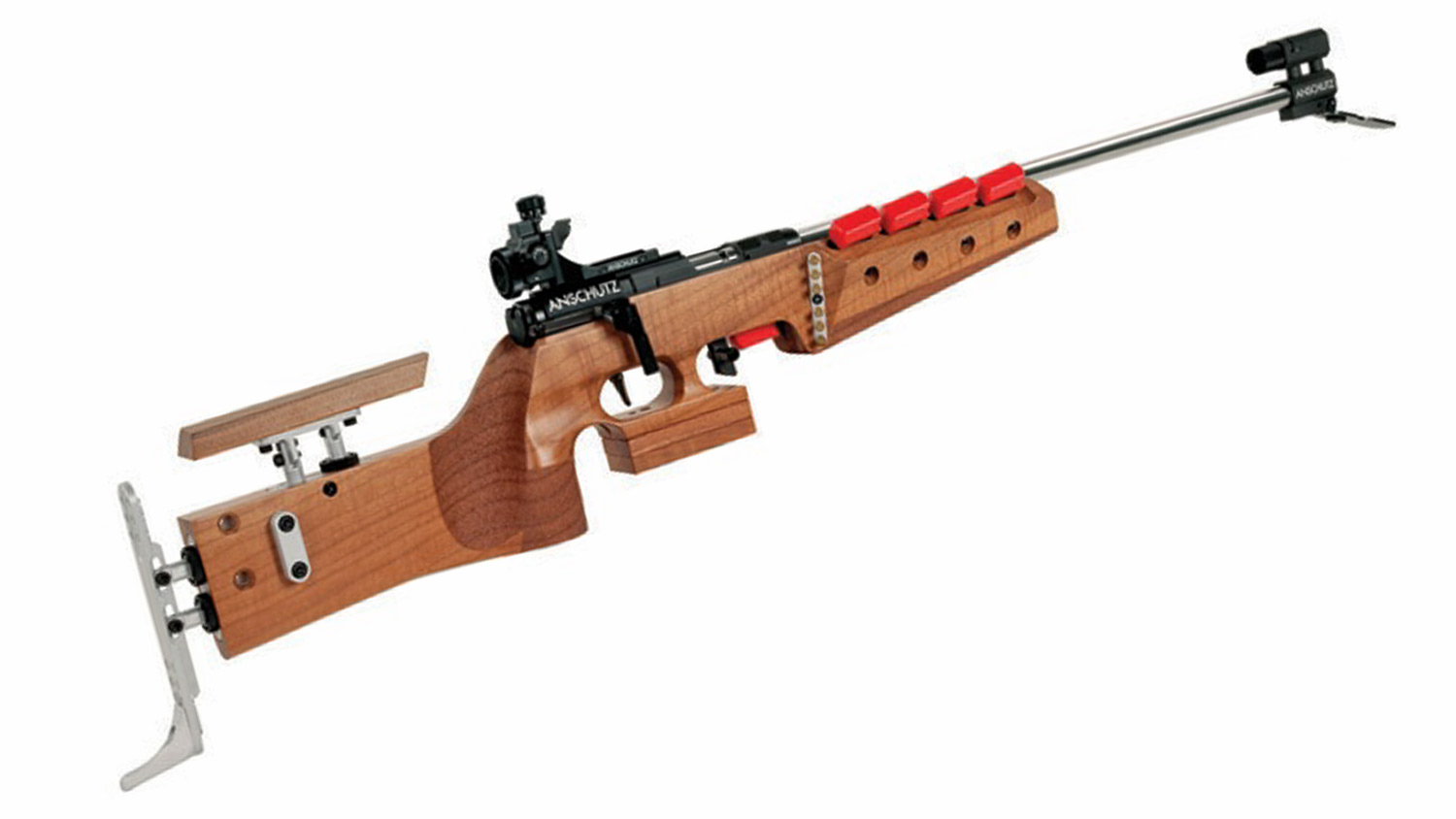 Biathlon rifle design draws from several disciplines, but is most easily recognized by the four 5-round magazines on the fore stock. Because the relay events allow manually loading three additional rounds after the magazine has been emptied, biathlon rifles typically store individual cartridges within easy reach of the shooter.
These are rapid fire guns and, as such, most athletes use a Fortner (straight-pull bolt) action, although traditional bolt-action guns are allowed. The rulebook regulates biathlon rifles by minimum weight, trigger resistance, dimensions and shape, and even includes advertisement restrictions (stickers placed on the stock). Magazines may be spot checked before or after an event to ensure they contain only five rounds that can be fired directly from the magazine.
From U.S. Biathlon team member Tracy Barnes: "The muzzle extension (see photograph above) is a snow shield/cover for the barrel and sights. The cover is flipped down for shooting. After a shooting stage, we'll flip it closed over the sights and barrel muzzle to keep snow from getting in them while we are skiing or if we fall. We also have a snow shield for the rear sight."
One of the many unique aspects of this sport is mandated video coverage. From the International Biathlon Union (IBU) rulebook: "At all IBU competitions, video cameras must be installed on the shooting range in sufficient number so that the placement and number of cameras totally covers and records all actions of all competitors on the range." Another unique feature is the altitude restriction for International competition. The rulebook states: "The maximum altitude of any part of the course may not be higher than 1,800 meters (1.1 miles) above sea level, unless specifically authorized …"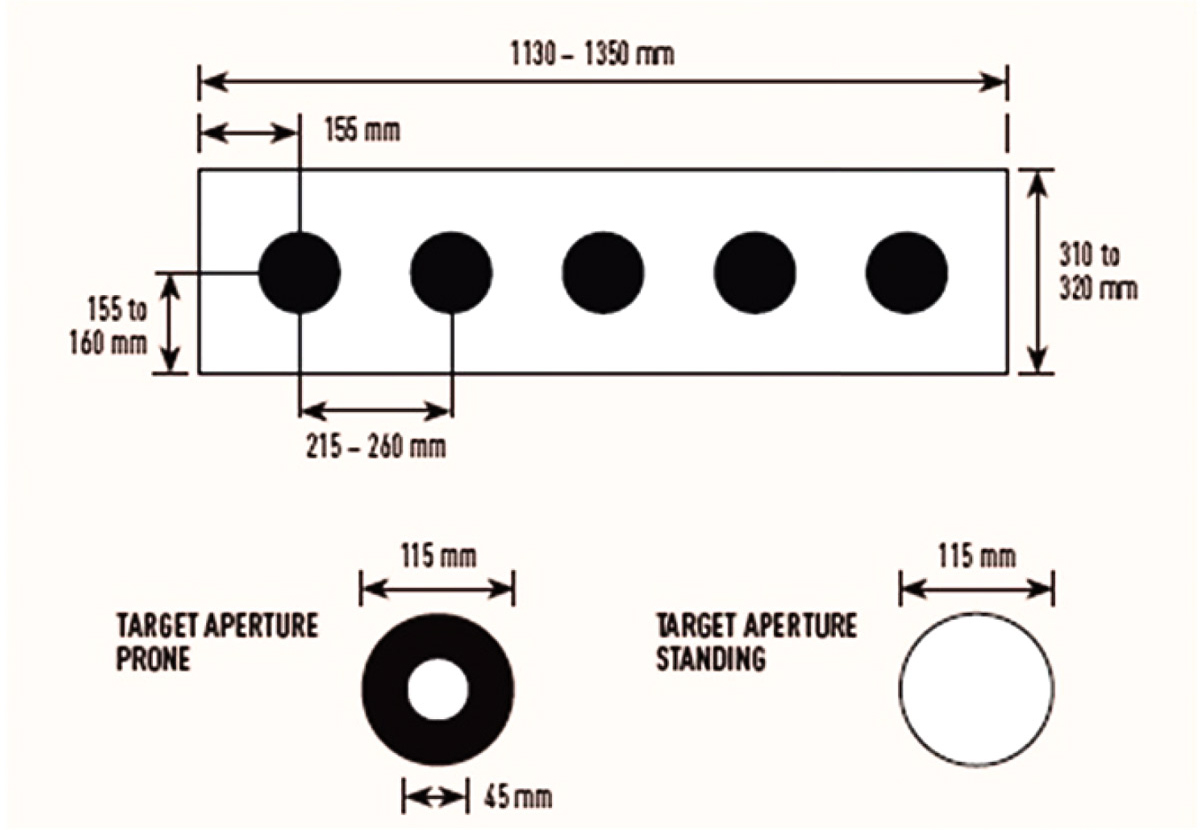 During a race, biathletes make two or four "pit stops" to shoot at five targets from a distance of 50 meters. The athlete's pulse rate going into these rapid fire shooting stages is approaching 180 BPM. Cleaning the five silhouette targets (no misses) allows the skiers to get right back on the ski course. As mentioned, misses in certain events require that the athletes take a 150-meter detour lap, while other events simply add one minute to their time. In addition to extra time or a penalty lap,
relay
events penalize a miss by requiring that the biathlete use an extra cartridge to finish. Only three extra cartridges are allowed, so a penalty lap must be made for each of any targets left standing after eight shots.
Targets


Two targets are used in competition—one for prone and a larger target for standing. Per the International rulebook illustration (pictured, see Table 2), prone shooters sight-in on a 115 mm (4.5 inch) black aiming area. But, as in field target, the target registers a scoring hit only if the smaller, 45 mm (1.7 inch) center plate is toppled. For comparison, the 50-yard, conventional smallbore prone target uses a 0.7 inch 10-ring, but without the elevated pulse rate!
Shooting Details


All cross-country skiing techniques are permitted in biathlon, but no equipment, other than skis and ski poles, may be used to move along the track. The biathlete carries a smallbore rifle, which weighs at least 3.5 kilograms (7.7 pounds), excluding ammunition and magazines. On all modern biathlon ranges, the targets are self-indicating, in that they flip from black to white when hit, giving the biathlete and spectators instant visual feedback for each shot fired. The spectator aspect of this sport creates an additional level of required concentration, since each bullseye is often rewarded with a cheer from the crowd.
Event Details


One of the events is called a pursuit, whereby the biathletes' starts are separated by times from a previous race, most commonly a sprint. A pursuit race consists of five laps that include four shooting matches of five shots each in prone, prone again, then standing and another standing. A miss requires that the athlete ski a penalty lap of 150 meters. To minimize congestion, World Cup Pursuits are conducted with only 60 biathletes.
Another event is the mass start. As the name implies, all biathletes start at the same time and the first to cross the finish line wins. The course is 15K (9.3 miles) for men and 12.5K (7.8 miles) for women and, like the pursuit, includes four shooting matches. To ensure safety during the first lap, shooters use the firing lane that corresponds to their bib number, regardless when they arrive at the range. Once the field has spread out during subsequent laps, shooting lanes are chosen on a first-come, first-served basis. As in the sprint and pursuit, mass start competitors must ski a 150-meter penalty lap for each missed target. Because of the number of targets on a biathlon range, World Cup mass starts are held with only 30 athletes.
Relays are run like a track-and-field relay, requiring a touch during the transition between skiers. In relays, however, for every round of five targets, there are eight bullets available, though the last three can only be single-loaded manually. If, after eight bullets, there are still misses, one 150 meter penalty lap must be taken for each missed target.
Top Gun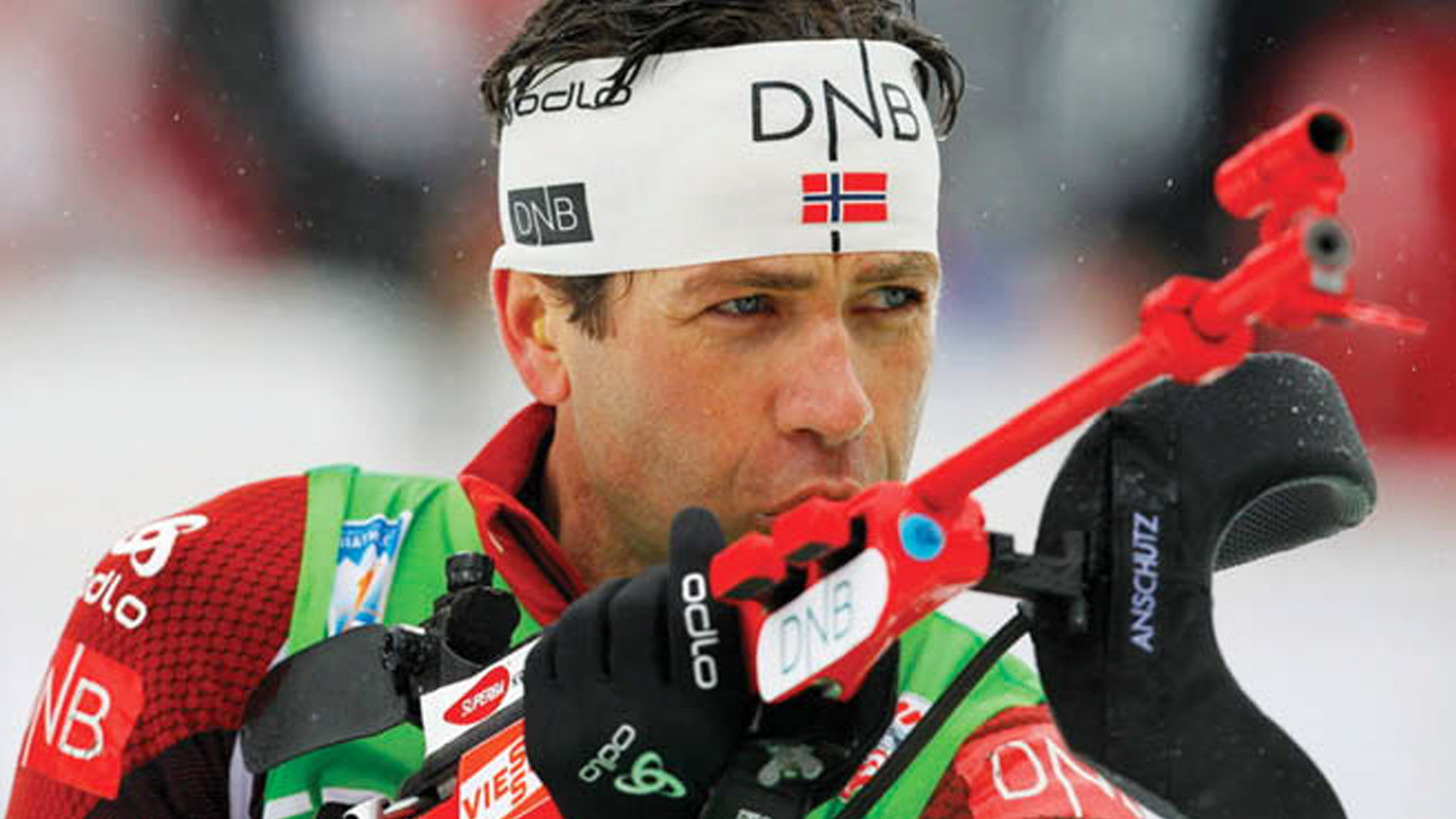 With a record-breaking 13th biathlon medal earned in 2014, Norway's Ole Einar Bjørndalen is the most medaled Olympian in the Winter Games. His innovative training elevated the sport with exercises like running on a treadmill immediately prior to his shooting practice.
Biathlon in the United States


Founded in 1980 and headquartered in New Gloucester, ME, the U.S. Biathlon Association supports the development of biathlon in the United States by preparing athletes for international competition, including the Olympic Winter Games.
Current and recent members of the U.S. Biathlon team include:
Lowell Bailey—
Lake Placid, NY
Tim Burke—
Lake Placid, NY
Russell Courier—
Stockholm, ME
Hannah Dreissigacker—
Morrisville, VT
Jay Hakkinen—
Kasilof, AK
Sarah Studebaker—
Boise, ID
Lanny Barnes*—
Durango, CO
Annelies Cook—
Saranac Lake, NY
Sean Doherty—
Center Conway, NH
Susan Dunklee—
Barton, VT
Leif Nordgren—
Marine, MN
Jeremy Teela—
Anchorage, AK
*
During the 2014 Olympics, NBC Sports reported that twin sister
Tracey
gave her Olympic seat to sister Lanny for the competition that year. From Tracy directly: "Lanny was sick during the trials for the Olympic Team and was only able to compete in one of the qualifying races. I qualified for the team, but declined my spot so that the competition committee could name someone else. They named Lanny based on her great results this season. I felt that Lanny was having a stronger season than me and that, had she not been sick, she would have made the team. I really wanted her to be able to have that opportunity to race again in the Olympics and it meant a lot to me to be able to watch her compete."
The upcoming PyeongChang Olympic Winter Games has biathlon competition scheduled for February 9-25, 2018. International athletes will compete in 11 events.
If, at this point, you find that there is an empty rifle spot in your vault, and are motivated to train in cross country skiing, then here are a few resources to learn more about this sport: