U.S. athlete
Lanny Barnes
is well-known for competing in
biathlon
at the 2006, 2010, and 2014 Olympic Games. Her 2010 showing in fact, was the highest placing Sprint finish for the U.S. women in 16 years. For Barnes however, this year was different. While she did still attend the Winter Olympics in Pyongechang, Korea, her role was not as a biathlete, but as a resident artist with
The Olympic Art Project.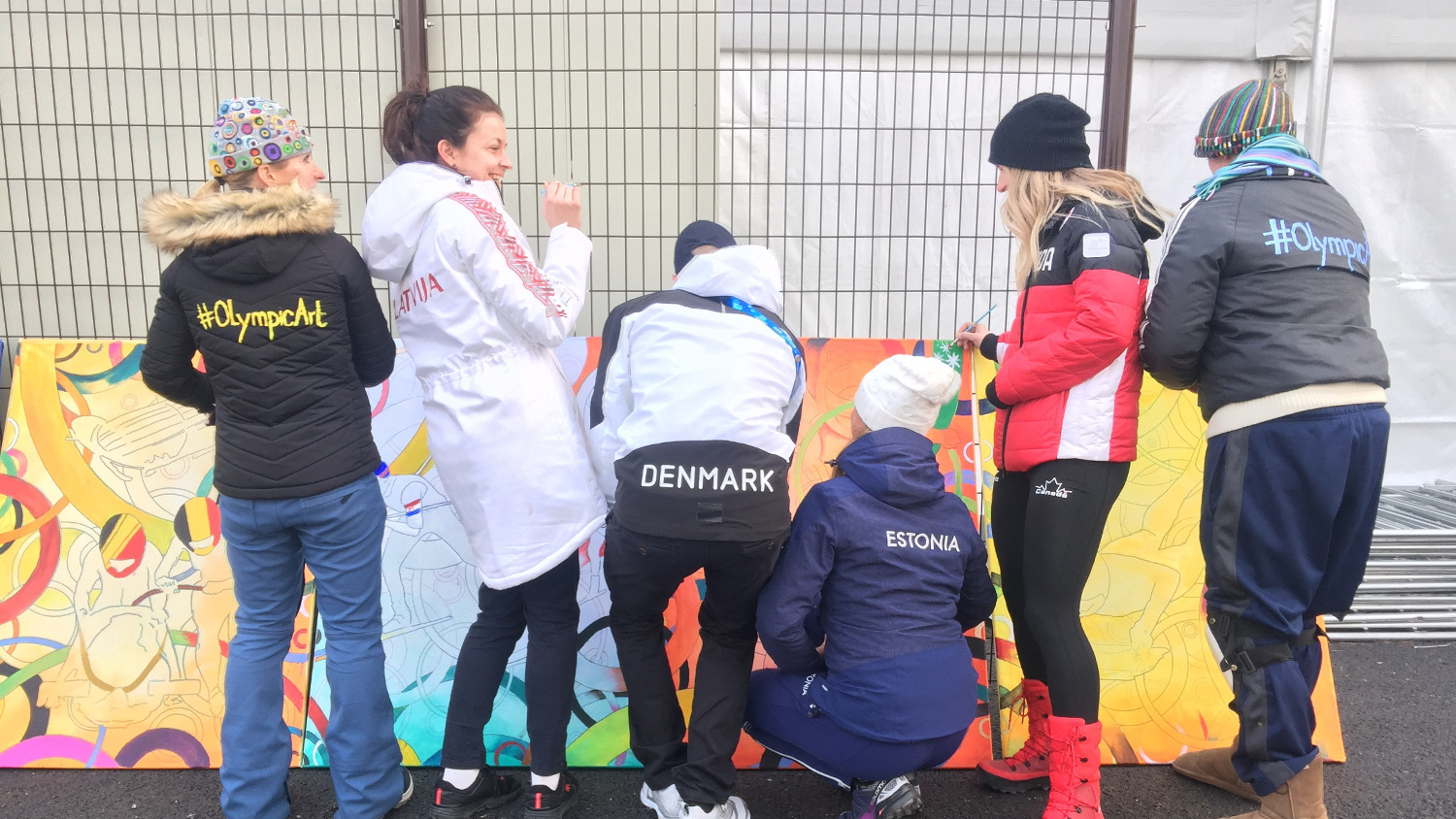 When queried about the project, Lanny informed that, "The Olympic Art Project is designed to bridge that gap between art and sport. It is a project for Olympians, by Olympians." This is a truly exciting prospect according to Lanny, as though between 1912 and 1948 the Olympics did award medals to artists, "This is the first time that the International Olympic Committee (IOC) has brought in Olympians who are artists."
In a way, this move simultaneously links the Olympics back to its artistic roots, while extending this aspect to its logical continuation.
As Lanny says, "There is always a huge artistic and cultural aspect to every Olympics, especially with the start and finish being so artistic in the Opening and Closing Ceremonies…but the IOC is starting to bring art back in a way that will help promote it through Olympic values, show the connection between Olympians as athletes and Olympians as artists, and highlight connections such as discipline and focus that one can take away from both."
The future for art at the Olympics indeed looks bright, as Lanny added, "The Olympic Art Project has been a huge success, and we are looking towards the future to add even more projects and ideas on how to incorporate art and promote art through Olympic Values at the games and beyond."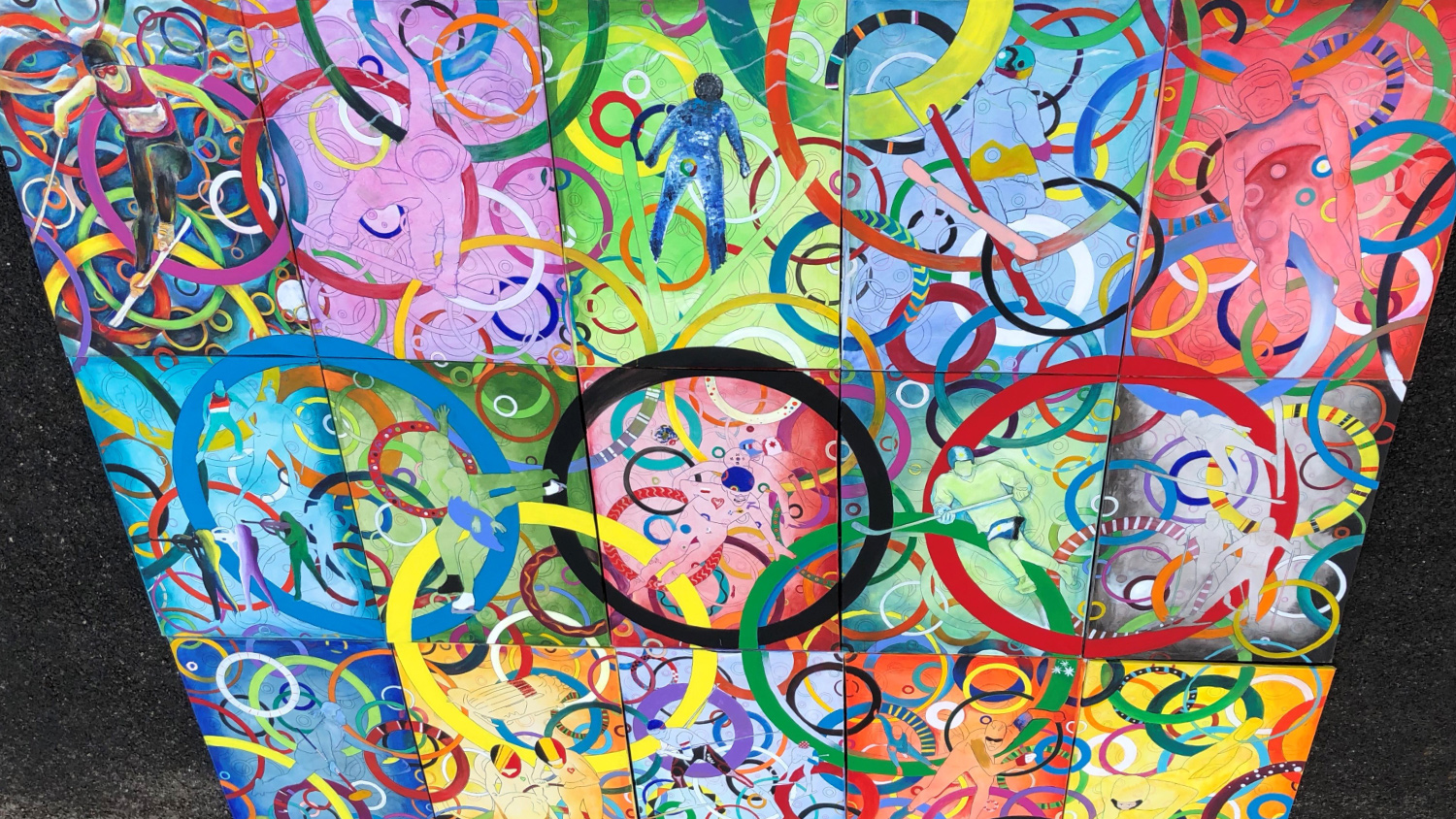 On the specifics of the project, Lanny provided this detailed description:
"I was part of a three-person team located inside the Coastal Olympic Village, bringing in Olympic athletes to help us complete 15 paintings (one for each sport) which come together at the end to form the Olympic rings. Separately they are each a piece of art, but when combined they create a much bigger picture. The idea was formed by head artist in residence Roald Bradstock, an Olympic Javelin athlete, also known as the Olympic Piccasso, and head of the new formed World Olympians Association Art and Culture division.
We are working towards setting a world record for the highest number of Olympians to complete a painting, and all of the painting will go to the Olympic museum in Switzerland after the games to be displayed."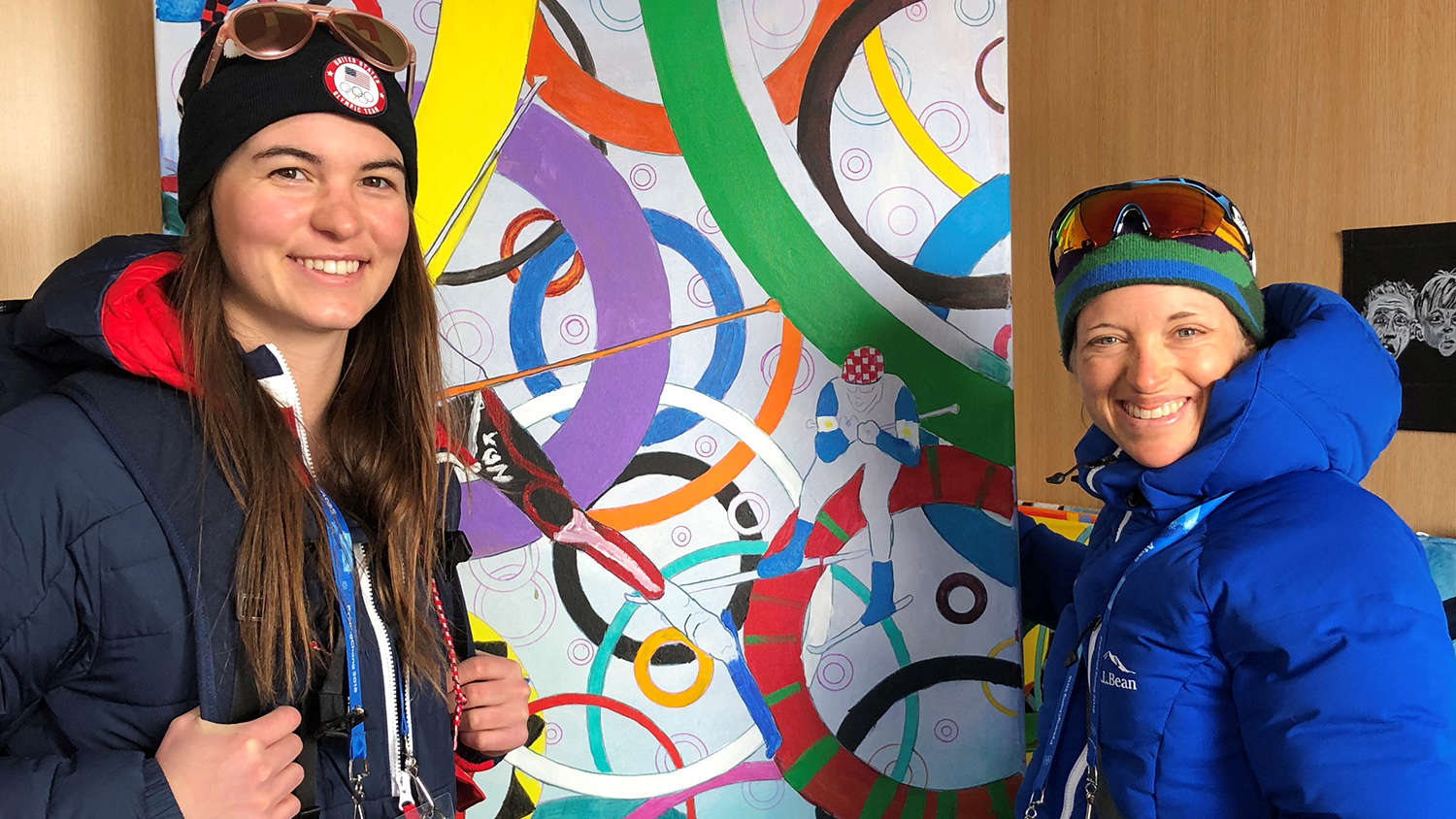 Regarding the makeup of the artistic team, Lanny posited that, "Many of the competing athletes taking part are artists, but many are not. Our goal is to give the athletes an outlet outside of their competitions to express themselves through art with their fellow Olympians. No one will sign the work, and the idea behind that is to show we are all Olympians working together to be a part of a bigger picture with promoting art in Olympic values. We keep track of the number and names of all the Olympians who have taken part in this project. IOC President Bach met with us to discuss further promoting art in the future, and he also spent some time painting on one of the 15 canvases."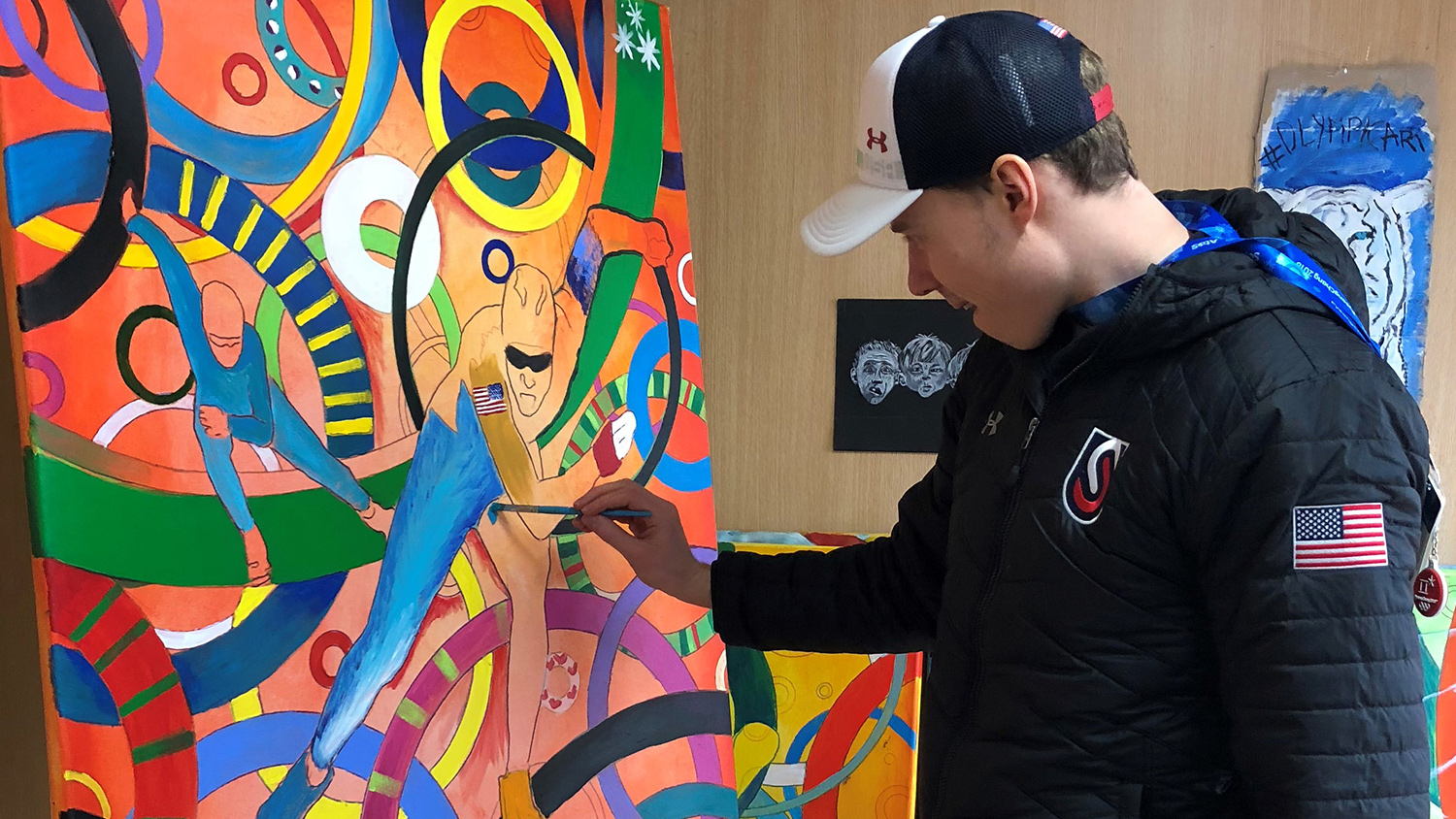 Though many participants may not be artists, this is entirely untrue of Lanny, who is singularly qualified to take part in this project. Largely self-taught with little formal instruction, Lanny has nonetheless been painting and drawing since an early age, turning professional in 2000. She specializes in wildlife art using charcoal, and though the medium dates back to some of the earliest known cave drawings, it has proven versatile enough to transcend the ages, even finding favor with Renaissance masters like Michelangelo, in his "Study of a Man Shouting." Lanny of course does not limit herself to just this subject and medium however. She has completed still-lives, landscapes and portraits, and has worked with just about every form of artistic creation. Wildlife in charcoal is simply her favorite.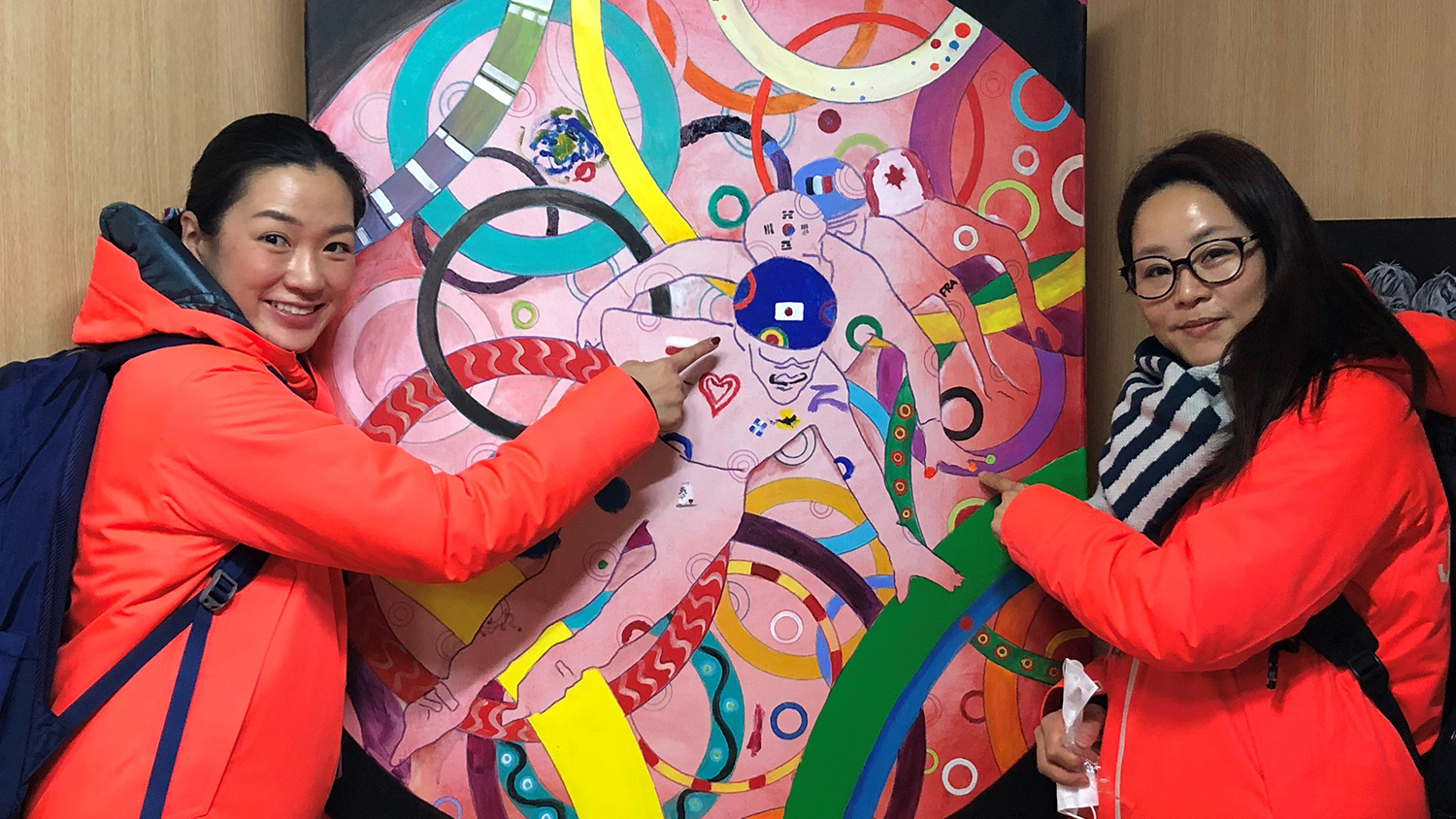 Far from a mere hobby, Lanny has made quite a career as an artist, and hopes to one day open her own gallery. In the meantime, she continues to make her living in a way more closely related to her previous Olympic experiences. Last year, Lanny won a slew of
3-gun championships
. Additionally, along with her twin sister Tracy, a fellow biathlete, Lanny started the T.O.P. (The Olympian Project) Shooting Institute in Durango, CO, to pass on the knowledge they have gained over their past 15 years of shooting at the highest levels in the world. Together they teach military and law enforcement, alongside hunters and competitive shooters, the tricks to staying calm and accurate—even with an elevated heart rate in high stress conditions.
When not instructing students on the finer points of marksmanship, the
twins
spend much of their free time travelling to schools, 4-H Clubs, Boys and Girls Clubs, and the Boy and Girl Scouts—where they encourage kids to follow their dreams, set goals, and lead active lifestyles.
In every sense, Lanny Barnes proves herself a credit to this Olympic Art Project in its inaugural year, and perfectly preserves Pierre de Coubertin's ideal that
"the arts and letters, in harmonious combination with sport, shall ensure the greatness of the Olympic Games."
One can only imagine that her artistic contributions to the project will be at least as extraordinary as the rest of her achievements thus far.
Learn more about the Olympic Art Project at
www.olympic.org/olympic-art-project


Visit Lanny Barne's website at
www.theolympianartist.com