by
posted on March 16, 2017
Support NRA Shooting Sports USA
DONATE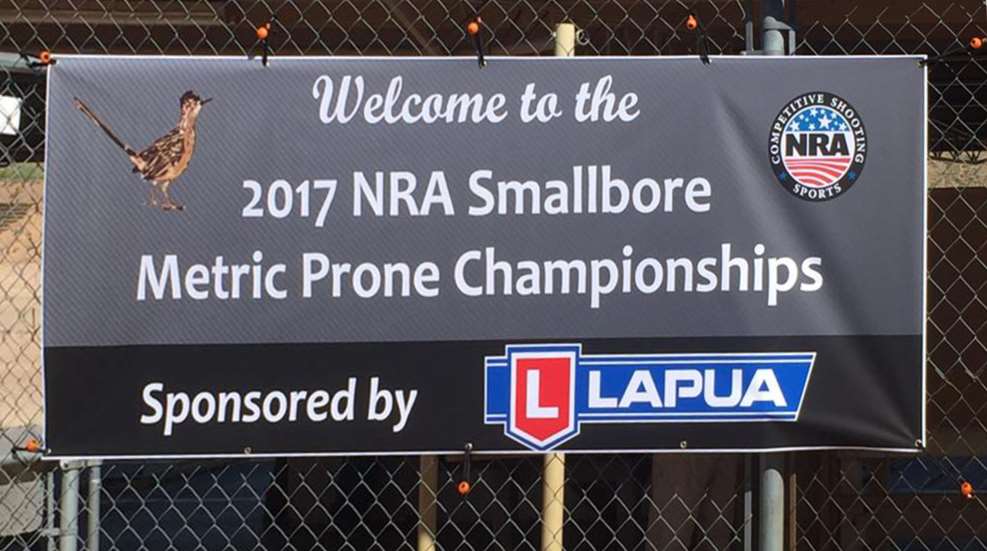 The 2017 NRA National Smallbore Rifle Metric Prone Championships opened on March 13 at the Ben Avery Shooting Facility under bright skies, temperatures approaching the 90s, and light, but tricky, switching winds.

The Metallic Sight Aggregate began with the Dewar, 20 shots each at 50 and 100 meters. British Rifleman Richard Fowke won with a 395-26X. Ron Wigger fired the only 200 of the day to help him earn second place with a 394-20X. Consistency gave Allen Thomas third with a pair of 197s, one X behind Wigger. Mike Arnstein, another British shooter, won the combined Expert, Sharpshooter, Marksman Class with a 379-11X just ahead of Hal Abel.

At 100 yards, Eric Uptagrafft of the U.S. Army Marksmanship Unit (AMU) and noted long-range specialist Nancy Tompkins battled it out tooth and claw. Uptagrafft took first by a single X, 395-20X to 395-19X. Third place went to reigning Conventional Smallbore Rifle Prone Champion Mark Del Cotto with a score of 393-18X. Arnstein took his second combined class win by putting up a 382-15X, just ahead of Duane Elms.

Fowke finished the day as he started, with a match winning score of 394-20X at 50 meters. Del Cotto and Tompkins were tangled up in a fight reminiscent of Tompkins' earlier 100 yard finish. Tompkins shot an opening score of 197-8X to Del Cotto's 195-8X. On the second target Tompkins shot a 195-11X to Del Cotto's 197-12X. This time Tompkins ended up in third place by a lone X—392-20X to 392-19X. Hal Able ably put a stop to an Arnstein sweep with a 379-11X to a 376-13X in the combined class.

Fowke, just two points ahead of Uptagrafft, 1180-65X to 1178-64X, won the Iron Sight title. Del Cotto was third with six Xs behind Uptagrafft. Tompkins and Kevin Nevius, 1174-54X and 1172-60X, were still in contention as only eight points separated the top five competitors. A five point lead might seem almost surmountable in conventional competition going into any sights—but a handful of points in a metric match is not a lead one can rely upon.

Arnstein's two victories, and a second place finish, guaranteed him the combined title class laurels with a score of 1137-39X. But like Fowke he would have to keep an eye on the rearview mirror at Able who, at 1133-28X, was well within striking distance.

Under the guidance of Wakefield Team Captain Peter Church, Uptagrafft, Del Cotto, Tompkins, Nevius, Adrian Harris, Wigger, Howard Pitts, Kerry Spurgin, Ginger McLemore, Norman Lilyerd, James Gaines and Ed Foley took to the line to try to bring the Wakefield Trophy home in this important postal match.

The 2017 Any Sight National Smallbore Rifle Metric Prone Championships got underway with a half dozen competitors in serious contention for both the Any Sight and National Championship. With scopes on the rifles—there would be little room for error.

It was a new match and new names popped up at the top of the results bulletins—starting with the first match of the day, the Dewar. Wes Schumaker, Nancy Tompkins, and Kerry Spurgin set the tone with a three-way tie for first. Each had posted a score of 396, so the statistical office went to the X count to decide the match. Schumaker only let 10 shots escape the X-ring, giving him the win. Spurgin slipped past Tompkins by just two Xs, 25 to 23. Mike Arnstein didn't seem to miss a beat as he continued his winning ways taking the combined class with a 385-16X.

Spurgin had the bit in his teeth and hammered away at the 100 yard 10-ring resulting an impressive 397-22X for the win. Richard Fowke was not giving up his hard earned lead from metallic sights and scored a 395-23X for second place. Only four Xs behind the British gunsmith, in third place, was Ron Wigger. Brian Hunter came out of nowhere and denied Arnstein a clean sweep of the combined class by beating him by five points, 387-16X to 382-12X.

Wigger made a headlong dive for the finish line with a match winning 396-27X. A traffic jam of 395s—Eric Uptagrafft, Tompkins, Howard Pitts, and Allen Thomas, followed him. Even within that four-way tie there was yet another. The X count for second was knotted at 26X for Uptagrafft and Thomas with Uptagrafft winning the tie breaker. Arnstein shook of his second place finish at 100 yards, regaining his hold on the combined class by shooting a 387-17X.

The remarkably consistent Uptagrafft had been nibbling at the heels of the match winners all day, and found himself the Any Sight champion posting a score of 1184-76X. Just as consistent was Tompkins, who duplicated his 1184, but fell short of the victory trailing the new champion by 11 Xs. Fowke placed third posting a 1176-61X. Arnstein won the combined class honors with a score of 1154-45X.

The Grand Aggregate results mirrored Any Sights. Uptagrafft's steady performance earned him the 2017 National Champion crown with a score of 2368-140X. Tompkins' strong Any Sight performance of 2358-11X lifted her into second place. Third place went to the Metallic Sight Champion. Fowke shot well, 2356-126X, but his two point lead in metallic was not enough to fend off the very experienced U.S. scope shooters. Mark Del Cotto was first Master, 2353-125X, followed by Wigger, 2347-115X, Kevin Nevius, 2345-121X, and Spurgin at 2343-115X.

High Senior was Ginger McLemore while James Gaines took home the special Grand Senior category.

Arnstein had free reign over the combined class with a 2291-84X, well ahead of Hal Able who put up a 2260-76X.

Learn more about NRA Smallbore Rifle Championships at this link: competitions.nra.org/championship-tournament/national-smallbore-rifle-championships.aspx.

Photo by Lapua.