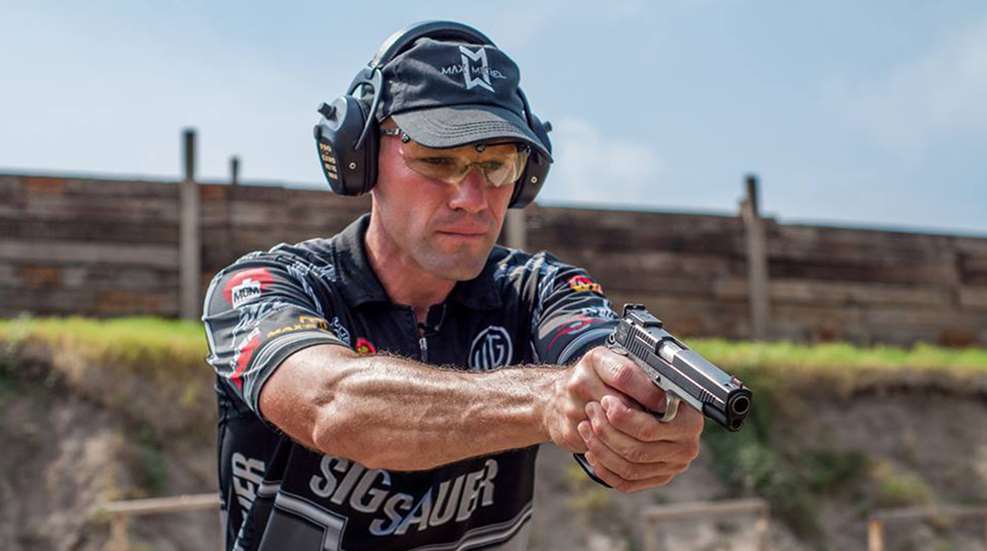 Team SIG Sauer Captain
Max Michel
dominated the competitive shooting world in 2017, adding an impressive slew of awards and accolades to his name.
In addition to ushering Team USA to a gold medal at the International Practical Shooting Confederation (IPSC) Handgun World Shoot in France, Michel secured wins at the national level turning out victories at the 2017 USPSA SIG Sauer Optics National Championship, U.S. Steel Shooting Nationals, and Pro-Am Shooting National Championship.
While Michel now proudly boasts international and national titles, he also proved to the world just how fast on the draw he is. Michel took on the Guinness Book of World Records in October 2017―setting a new record in the action pistol shooting category. Michel downed six steel plates in 2.05 seconds with his 9mm SIG Sauer
P320
. Not to be outdone, Michel later, unofficially, broke this record on his first attempt in front of fellow veterans at an Honored American Veterans Afield event, reducing his time to an awe-inspiring 1.91 seconds.
Michel said
earning a spot
in the infamous Guinness Book was something he never expected.
"Setting the Guinness World Record was amazing! I have accomplished so many of my goals over the years but I never dreamed I could actually hold a Guinness World Record," he emphatically stated. "And breaking the record was special. I knew I could shoot faster than the 2.05 previously set and when given the chance to do so in front of my fellow soldiers, I went for it."
Competing since the age of nine, Michel is accustomed to winning. He was a star on the youth circuit and later continued his winning reputation with the famed U.S. Army Marksmanship Unit (AMU). After a decade of service, Michel left the Army and officially began competing as a full-time pro shooter. Though 2017 proved to be a triumph, Michel said he began the year as he has every year previously—with a practical approach.
"I went into this year just as I go into every other year—focused on simply getting better," Michel commented. "I believe consistency and repeatability equal success; therefore, I focused on various skill sets needed to be at the top of the action shooting sports while minimizing my weaknesses as much as possible."
Michel's tactics paid off, delivering him nine state and sectional championship titles in addition to his international and national championship honors. The secret behind his success? Tireless work and drive to become better and faster.
"Success requires endless dedication and a burning desire to be the very best," Michel commented. "I have dedicated my entire life to being the fastest man in the world with a handgun and it is truly paying off."
In addition to the countless hours spent practicing and working towards his shooting goals, Michel explained that having the support of his family and team ultimately make the greatest impact in helping him achieve his goals.
"I always say, there are so many great people that I surround myself with. I simply am the guy that gets to accept the trophy and get all the congrats, but I do so knowing it is a team effort. I wouldn't be able to do what I do without the sacrifice of many," he said.
Despite recognition as one of the greatest competitive shooters, Michel remains humble, choosing to focus on the work itself rather than the awards.
"A great mentor of mine once told me, 'Count the trophies when you retire but for now keep your head down and be the hardest worker in your sport,'" he explained. "I do my best to not let anyone outwork me and do all I can to separate myself from my peers on and off the range. This philosophy has worked for me over the years."
As for junior shooters dreaming of being the next Max Michel, he offers this bit of advice.
"Write down goals, then build a plan to obtain those goals. Afterwards, review the plan with your parents and see if you are able to do what it takes to reach those goals. If so, surround yourself with the right people at all times and never be outworked. Dedicate yourself to being the best
you
, [that] you can be and never try to be someone else," he emphasized.
In addition to dedication and hard work, Michel also encourages youth shooters to keep things in perspective, never forgetting that who you are is more important than what you win.
"While winning is what we all strive for; it should never be about that. You should simply focus on the task and what it takes to get to the top and the winning will just be a result of what you do," he said. "It is more important to be a good person than anything else."
Michel's 2017 winning roster included:
IPSC Handgun World Shoot – Team USA Gold
2017 USPSA SIG Sauer Optics National Championship – Overall Champion
U.S. Steel Shooting Nationals – Overall Champion
Pro-Am Shooting National Championship – 1st Place Optics Division
World Speed Shooting Championship – 2nd Place Open Division
USPSA Area 3 – Overall Champion
USPSA Area 6 – Carry Optics Champion
USPSA Double Tap Championship – Overall Champion
USPSA Louisiana Gator Classic – Overall Champion
USPSA Alabama Sectional Championship – Overall Champion
USPSA Oklahoma Sectional Championship – Overall Champion
USPSA Mississippi State Championship – Overall Champion
USPSA New Mexico Sectional Championship – Overall Champion
Aiming For Zero Charity Match – Overall Champion
You can learn more about Max Michel at 
www.maxmichel.com