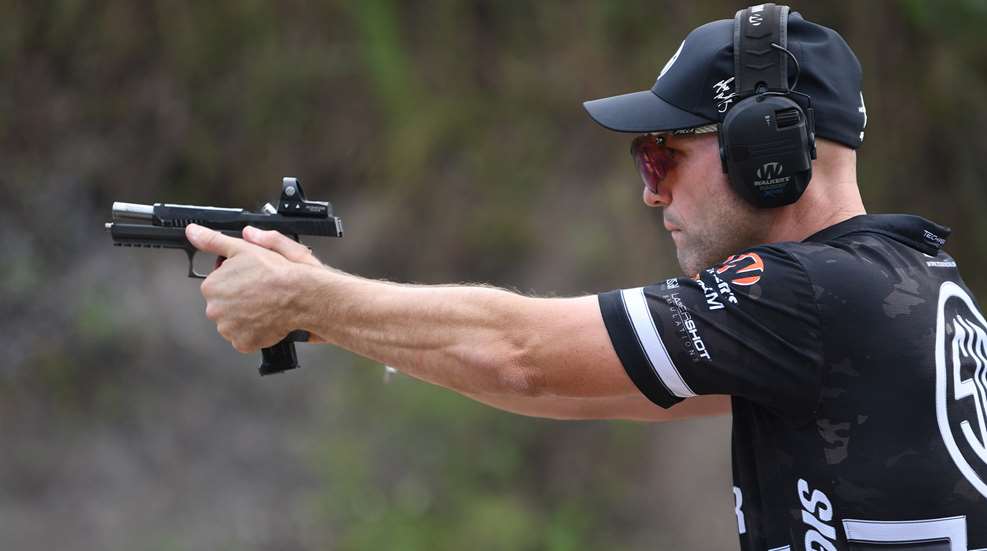 At the first USPSA Carry Optics Nationals in 2016, there were some interesting takeaways. The most used gun that year was a Glock, but it was a SIG P320 in the hands of Max Michel that would take that first Carry Optics division win.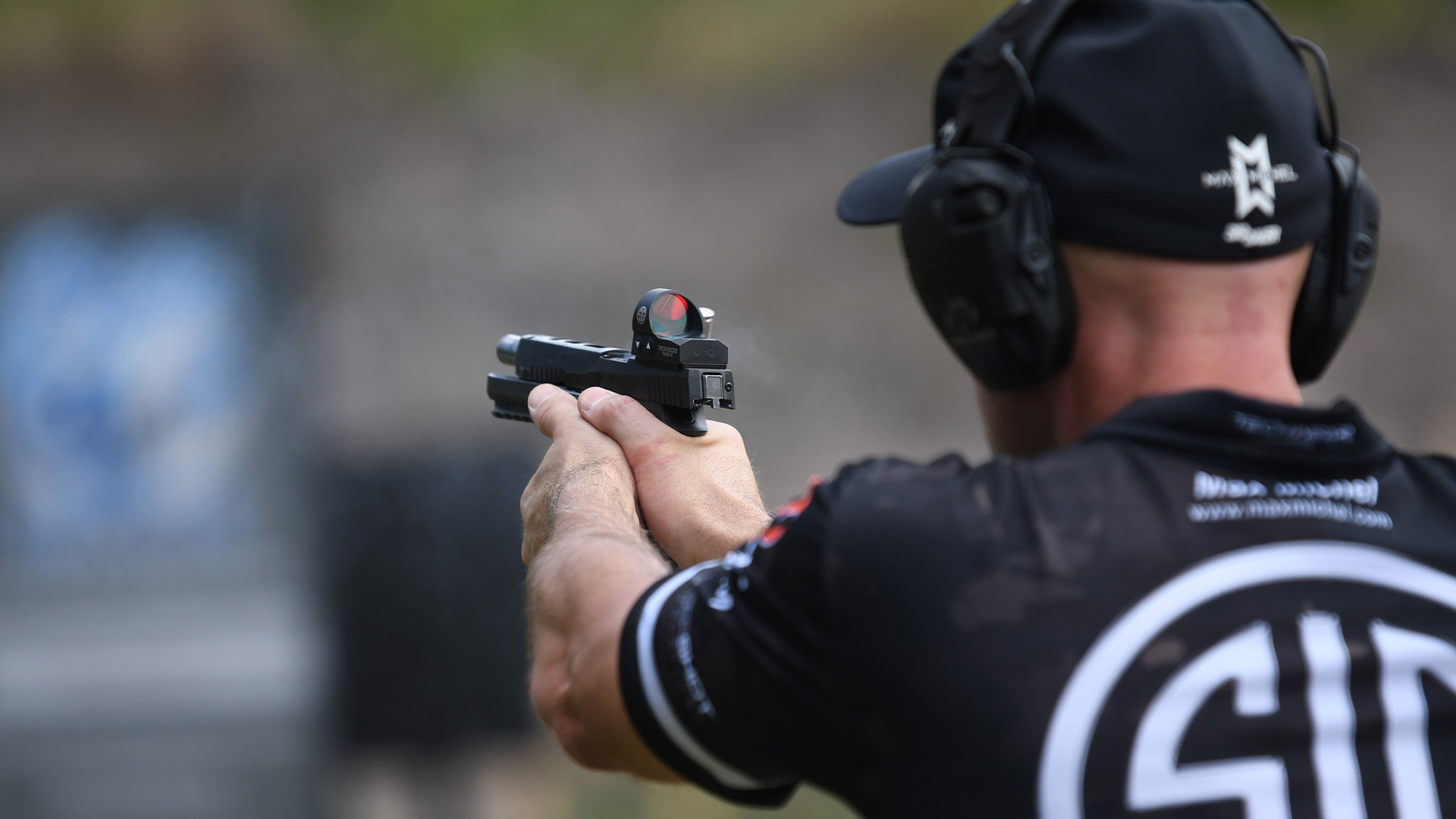 In 2017, the weight limit for the division increased to 45 ounces with an empty magazine that could now be a max of 141 mm in length with no capacity restriction. The Nationals were combined with all three optics divisions together – Open, Carry Optics and PCC—at Universal Shooting Academy in Frostproof, Fla. There were only 72 competitors who shot, with no GM classified shooters. The top gun that year was a Smith & Wesson, but it was Max Michel and his SIG P320 that would take the back-to-back victories.
During that match and the following months, Carry Optics started to grow in participation. With the maximum length of the magazine already established as 141 mm, the 10-round capacity restriction was removed and the growth in the division has not slowed down. More manufacturers were introducing optics ready handguns, and the optics manufacturers were answering the call for better red dots.
By 2018, the optics divisions were combined again with 85 competitors and now there were two classified GMs that competed. After back-to-back wins, Max Michel was one of the GMs and took home his third Carry Optics title. SIG had introduced the P320 X5 and took the spot for the most used handgun, with only bigger things to come.
In 2019, Carry Optics was paired with Limited at the HICAP National in Utah. Here,189 competitors were lined up to try to knock Max Michel off, but with the new SIG P320 X5 Legion he won for the fourth time.
Carry Optics was becoming the heavyweight division, not just in participation, but also in the weight of the gun, now allowed up to a 59-ounce maximum. The firearm manufacturers over the last few years were designing new guns such as the Walther Q5 Steel Frame, or making Production guns optics-ready such as the Shadow 2 from CZ and the Stock 2 from Tanfoglio. The aftermarket caught up with basepads boosting most stock magazines to 23 rounds with a spring and follower change. The SIG P320 X5 Legion with its TXG grip module and optics-ready slide remained the go-to out-of-the-box, ready-to-compete gun. Max Michel would take this combination along with the new SIG ROMEO3MAX red dot to his fifth consecutive Carry Optics title—beating out a field of 208 competitors at last year's Nationals.
Carry Optics Champion
I had the chance to follow up with Max Michel at the start of 2021 to look back on his career and what the future holds. At 39, Max has an impressive record of wins behind him, including an IPSC World Shoot Champion, 13 USPSA National titles, seven-time Steel Challenge World Speed Shooting Champion, seven-time Team Gold Medalist at the IPSC World Shoots, over 300 Major Championships, including winning all the Area Championships in one season and Guinness World Record Holder. So how exactly does a kid from New Orleans—where Michel still lives—go from there to the world stage in shooting?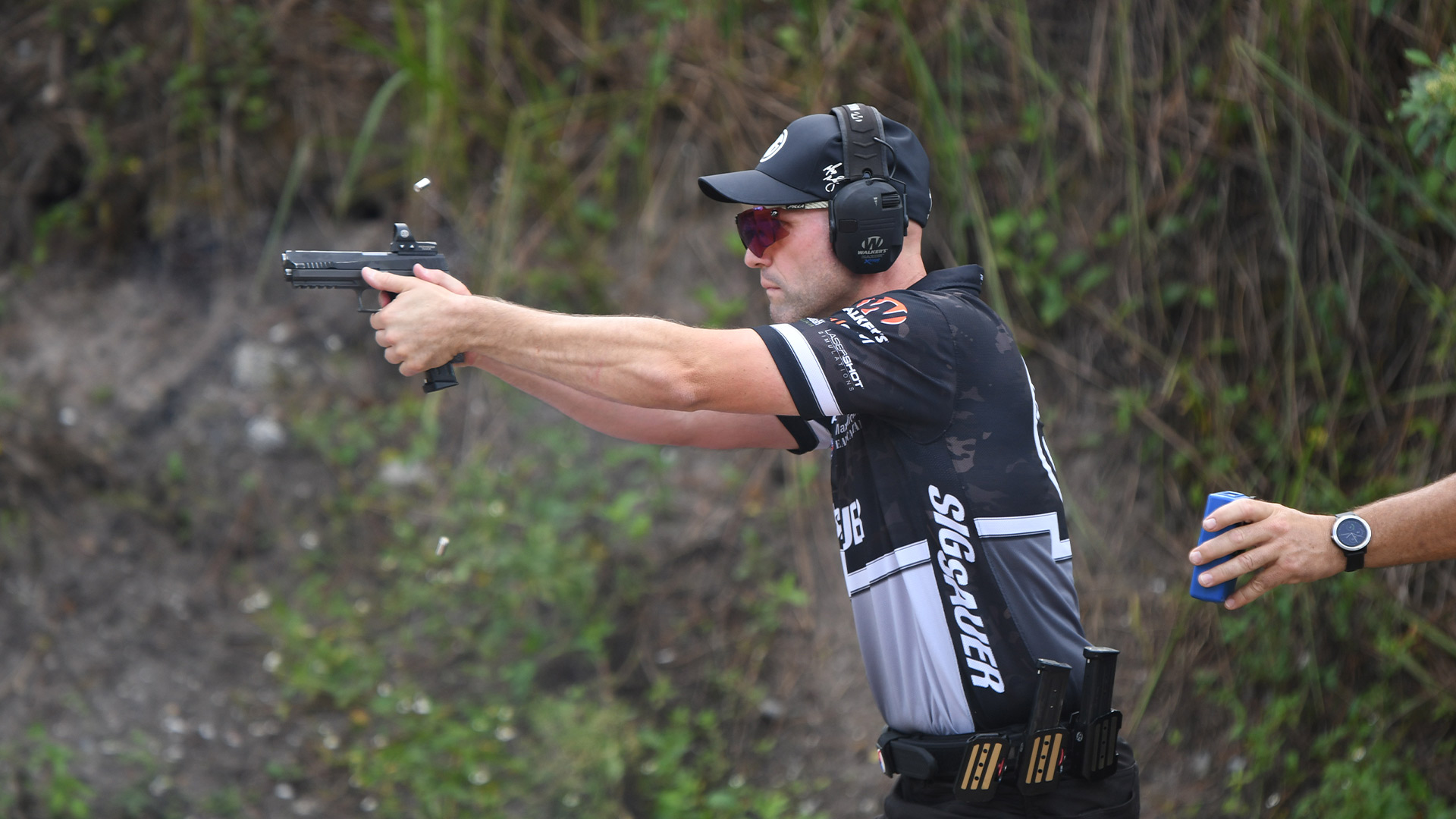 His father, Maxient Michel Sr., had him at the range shooting by age five. The senior Michel had always shot and once he started competing, Max would tag along with him. "I would do all the 'fun stuff' like pick up brass, paint steel and load mags," Max said, but that soon got old and he wanted to shoot. By the time he was eight years old he was competing in man-on-man steel matches with a 9 mm EAA Witness. He would soon find himself shooting USPSA matches with his father. Max stated "I won my first Major event at the Louisiana State match back in 1996 or 1997, I would've been 15 years old, I believe. I went on to win the Mississippi State match the very next weekend as well. I was hooked and wanted more!"
"When I was 13 years old, I gave up all other sports, basketball, football, baseball and travel teams, etc. I had a passion for shooting like no other and knew this is what I wanted to do. Back in 1994 or 1995 I met the U.S. Army Marksmanship Unit at the Area 3 Championship and it was at that moment I knew what I wanted to do. I knew it wouldn't be easy but I set a goal to join the AMU and really never thought much about anything else after that. I am blessed I found my love and passion at such a young age."
Max would practice regularly with his father and travel, competing all over the country for the next three years, many times against the AMU team. "They offered me a spot on the team when I was 16 at the Pan American Championship in Barry, Ill., back in 1998. It was a great accomplishment to be offered this prestigious opportunity, so on my 17th birthday I enlisted and left for Basic Training just six days after graduation in 1999."
For the next 10 years, Max was a part of the U.S. Army Marksmanship Unit. Max stated that, "It was an amazing time. I was in on the early years, so I was able to be a part of a lot of changes within the Team. Back when I joined, there really wasn't a team, we were just an extension of the Service Pistol team. But as the Army saw a need for our skills in training, we got more funding and eventually more soldiers, and our own range."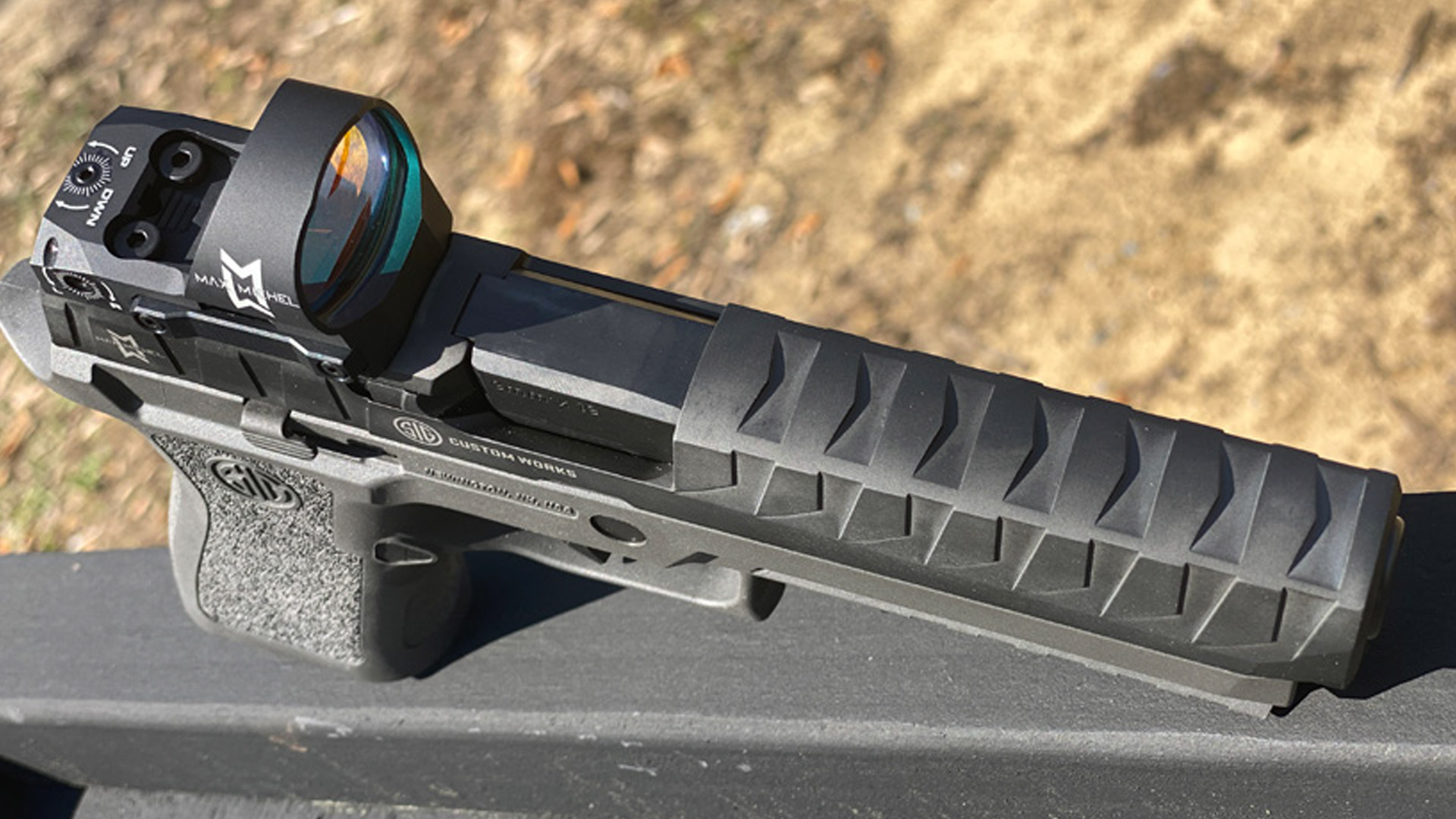 Max and the AMU team along with training other units would compete in USPSA and IPSC matches all over the world. "It was an exciting time and my role grew within the team to Coach of the Action Shooting Team. I truly loved being a part of the Unit, but everyone moves on at some point and it was time. I felt like the Team was much better than when I got there and the guys that I was leaving behind had a great grasp on how to make it even better."
After leaving the AMU, Max began his professional shooting career as a contractor and consultant for the gun industry. It was in 2009 that he joined SIG Sauer. "Teaming up with amazing companies like SIG Sauer allowed me the freedom to continue doing what I love and begin my training business as well. I felt like I was doing the same job as I was when I was in the Army but being backed by SIG, I was able to grow further individually and in the end, won more championships than I could've ever imagined. When you can make your own schedule and you are passionate about what you do, the sky is the limit."
This year marks his 13th competition season with SIG Sauer. Max stated, "I have seen SIG grow as a company and am so proud to be a part of their success. Much like the Army days, I enjoy coming in on the ground level and building something special. I had opportunities to work elsewhere, but SIG was exciting to me as I wasn't going to be another shooter for some big company. I was going to be the shooter for SIG Sauer. Some folks thought I was crazy, but it was the best decision I have ever made as it relates to my career. Together we have built something really special within the world of competitive shooting and beyond. As you know, the Team has now grown and the company continues to grow, and I couldn't be happier. I am truly blessed to be with the leader in our industry."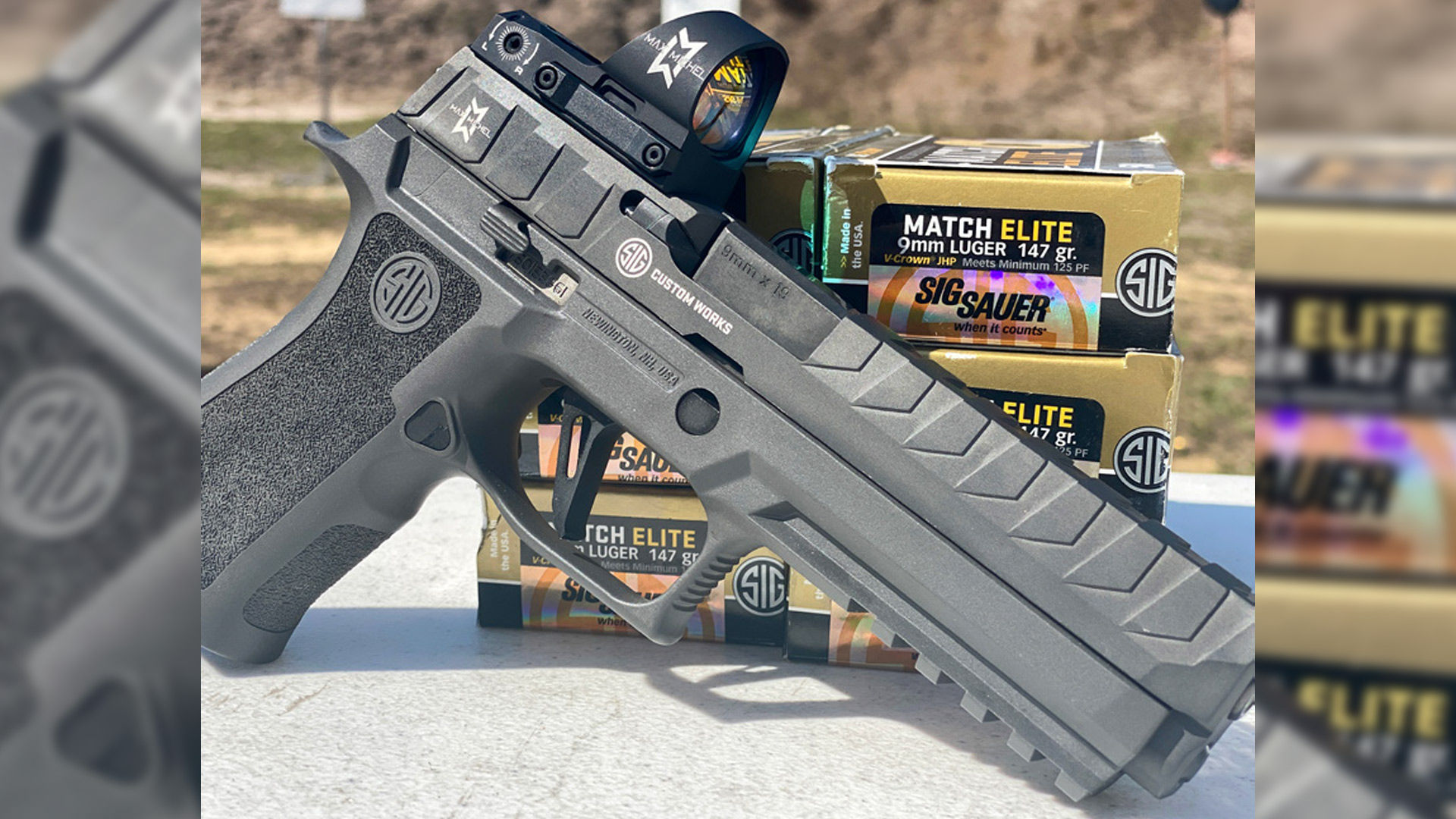 Max Michel's Guns
The first Signature firearm introduced by SIG was the 1911MAX. "That was a fun process. You see, back then, we weren't really much of a competitive shooting company. During that phase of planning it was fun to lay out everything competitive shooters would want into their guns, as I found it trickled down to the rest of the product line, making all of our products better. So, I played a large role in that and we still sell the 1911MAX today, which I hope to revamp into the 1911MAX2.0 at some point."
The gun Max used to win his first Carry Optics title in 2016 and the subsequent years have seen many changes. "Back then I was running the P320 full-size with a C-More RTS2. My pistol and optics have changed a great deal," Max explained. "Like everyone else, I was new to Carry Optics and I was always trying to find ways to become more competitive. Working with an awesome company like SIG, we were able to develop the X5, which was a bit more competition-ready over the full-size P320. It was obviously a full five-inch gun but the grip, trigger, guide rod and other features were all a little more in line with what we needed. [Over] time, we wanted more weight to help with recoil as well as stabilizing the dot, and that's how the Legion was born."
Max was also working on the personal touches we all like on our firearms. "During that time, I continued to develop my personal pistol and provide feedback to SIG. I honestly thought the X5 was going to be the MAX model and when that didn't happen, I thought maybe the Legion would be my model, but neither were. So I continued to develop the product and was happy to be a part of it every step of the way."
It wasn't just the firearm either that he was helping to develop at SIG. "Also, back in 2017 I believe is when I switched to the ROMEO3. While I liked the optic, I knew it wasn't what myself or top-level competitors would want on their race pistol. It was missing just a couple of features that would make it the leader in our sport. The ROMEO3MAX optic was a ton of fun and very rewarding developing as well."
Working directly with the SIG Electro-Optics division, Max was able to provide valuable input for the engineers.
"It had to have a large field of view, super-clean glass, very bright red dot and work! I feel we nailed those features, and the engineers knocked it out of the park with all their technical features that added to the performance of the ROMEO3MAX as well."
Max also spent time with the SIG Ammunition team developing the 147-grain 9 mm Match Elite ammunition that he uses in competition.
SIG Sauer P320MAX
Now for 2021 comes the full package—the P320MAX. Finally, after the X5 and Legion, SIG is releasing a Carry Optics division package with all the features they have been perfecting over the last few years in the X5 and Legion. This will be a new gun for Max this year, he explained. "It will be very similar but has a few different features that make it unique. It is also an extremely good buy for someone looking for a Carry Optics set-up, as it comes ready to go with the ROMEO3MAX optic mounted directly to the slide and four 21-round magazines."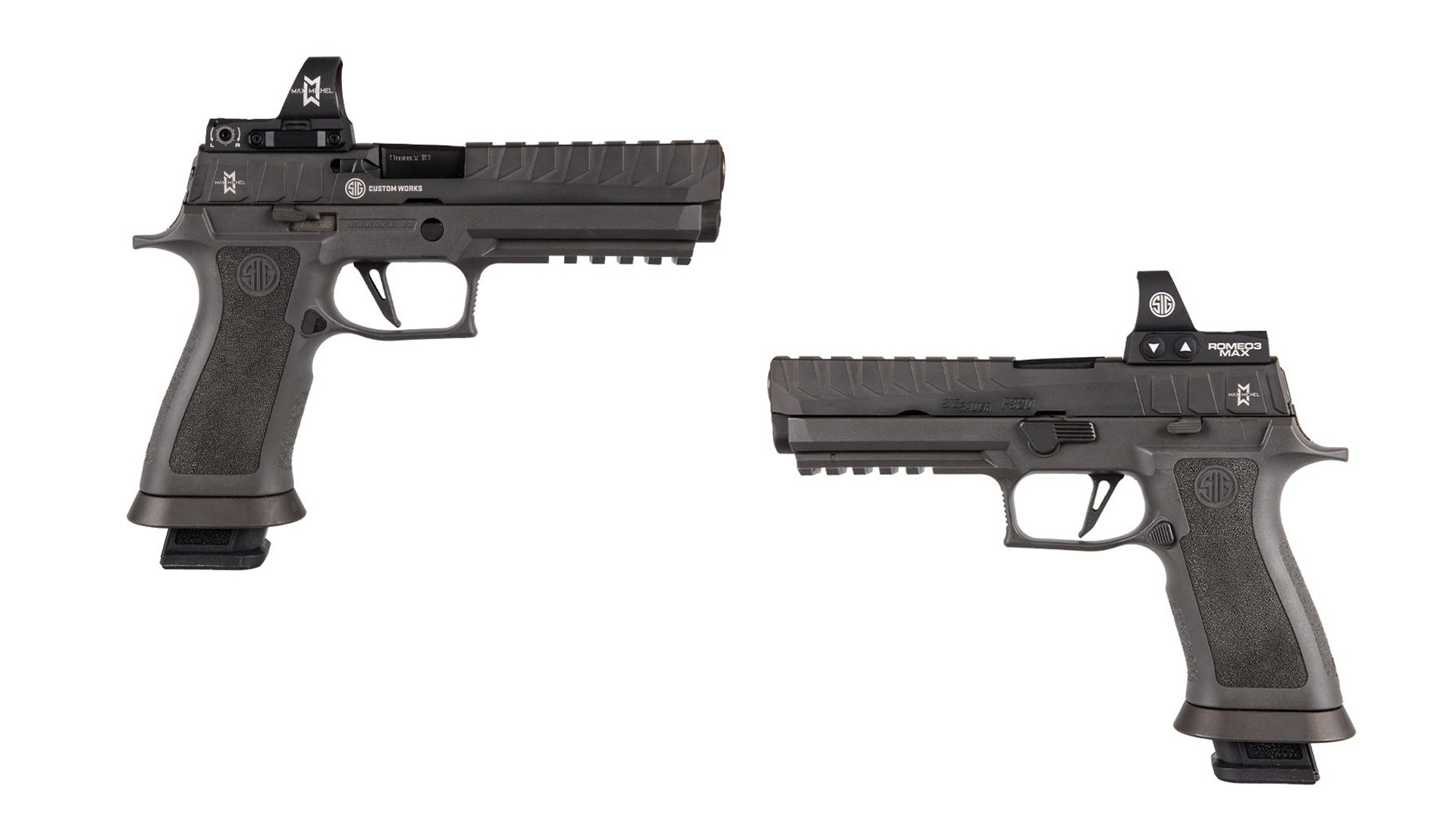 I asked Max if he had thought Carry Optics would become as popular as it has.
"I didn't know what to expect but I am truly glad it did. When I heard of the new division, I knew I wanted to be a part of it, as it is the perfect way for me to be able to highlight all that SIG has to offer: guns, ammo and optics. I also wanted to be a leader in the division and dedicate all my time to it, and try to make it a legit division. In other words, I gave up shooting Open completely to fully dedicate myself to it. I felt if a top-level pro would compete in that division at every match, then it would gain more popularity faster. Whether that mattered or not, I don't know, I just wanted to do my part as I felt it was important to SIG and our sport, to be honest. Optics on pistols is growing more and more each day within our law enforcement and military community, and I spend a lot of time working with those guys on transitioning to optics. It's great to be a part of Carry Optics in our sport and in our community of tactical shooters."
The SIG P320MAX is now available and, as Max stated, is a Carry Optics division winner right from the box. It boasts the heavy weight of the TXG grip module with removable magwell to make it legal for the division. The ROMEO3MAX 6-MOA red dot is directly mounted to the slide, with no aftermarket plates required. With the grip module, new slide and optic, the gun weighs 43.5 ounces. Comparing the top ends of a X5 Legion with a Springer Precision mounting plate for the ROMEO3MAX, it weighs 20.4 ounces and the new P320MAX top end is 19.4 ounces. The red dot being directly mounted to the slide also sits lower and when presenting the gun on the draw the dot is more natural to pick up faster. The lower of the gun is the same as the Legion, both with the skeletonized flat trigger.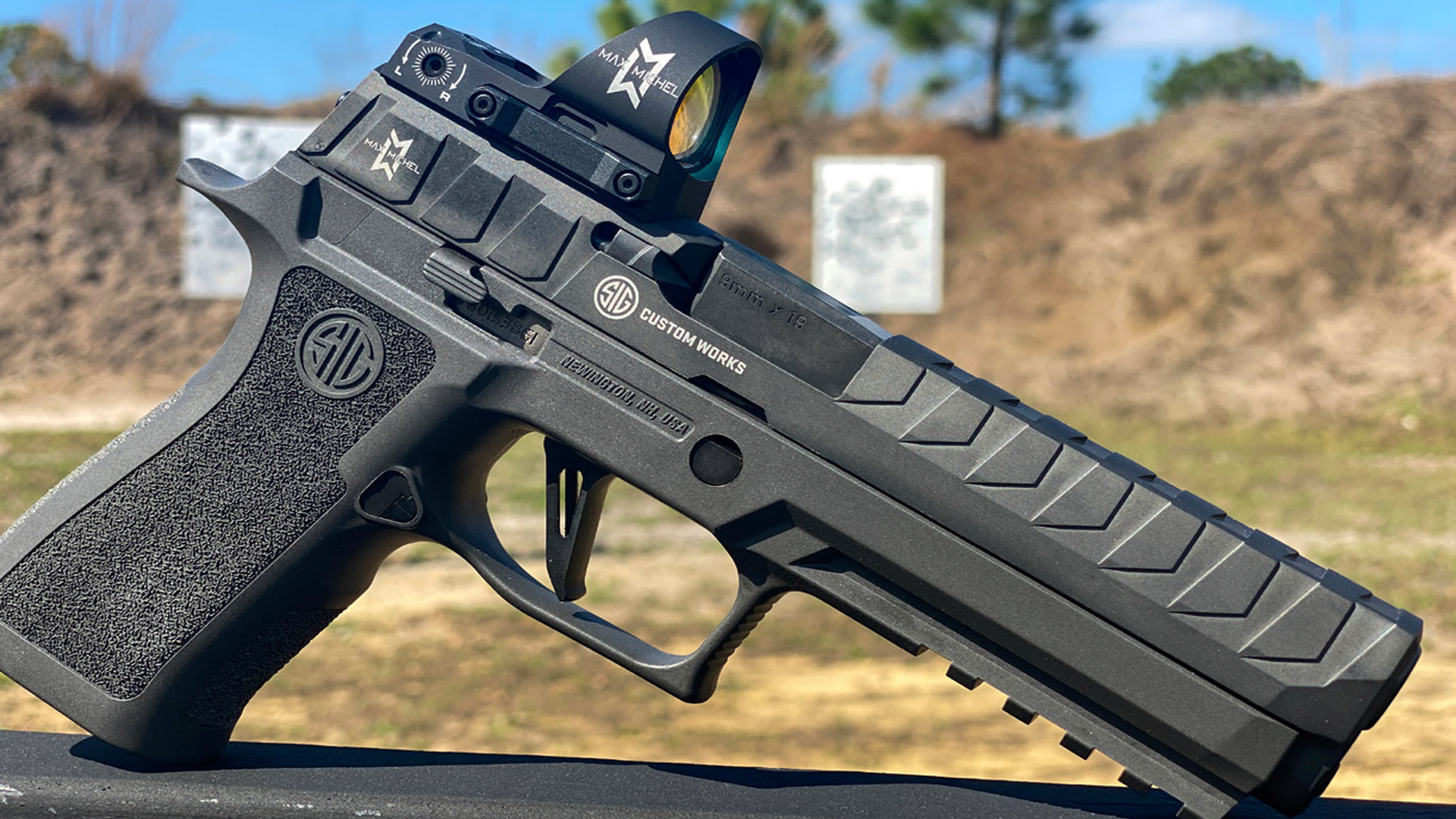 The slide is from the SIG Custom Works marked with the Max Michel Signature logo. Absent from the slide are any sight cuts for iron sights. This is a red-dot-only Carry Optics division gun. The slide has a unique pattern of serrations that are on both sides and carry over the top of the slide. Anywhere you grab it to rack the slide you will find the grooves to assist in manipulation of the slide. The five-inch match grade bull barrel and the one-piece stainless guide carry over from the Legion. The gun ships with both the 14- and 12-pound 1911-style recoil springs that allow for customizing your shooting with your preferred 9 mm ammunition. The four 21-round magazines are standard, and allow for competitors to either run the stock mags or get aftermarket basepads from a company like Springer Precision that offers baseplates for these magazines, keeping within the legal 141 mm maximum length.
Last year saw Carry Optics almost take over the lead spot for most USPSA activities, it came in just behind Limited. With the new Max Michel P320MAX out, will we see Carry Optics take over as the most popular division? This fall, Max will be going for his sixth consecutive Carry Optics Championship, running his new Signature SIG Custom Works P320MAX at the SIG Back to Back Nationals, which will be held in October at the CMP Marksmanship Park in Talladega, Ala.
Article from the March/April 2021 issue of USPSA's magazine. Photos by Jake Martens.
---
Read more: Top USPSA Carry Optics Guns And Gear In 2020