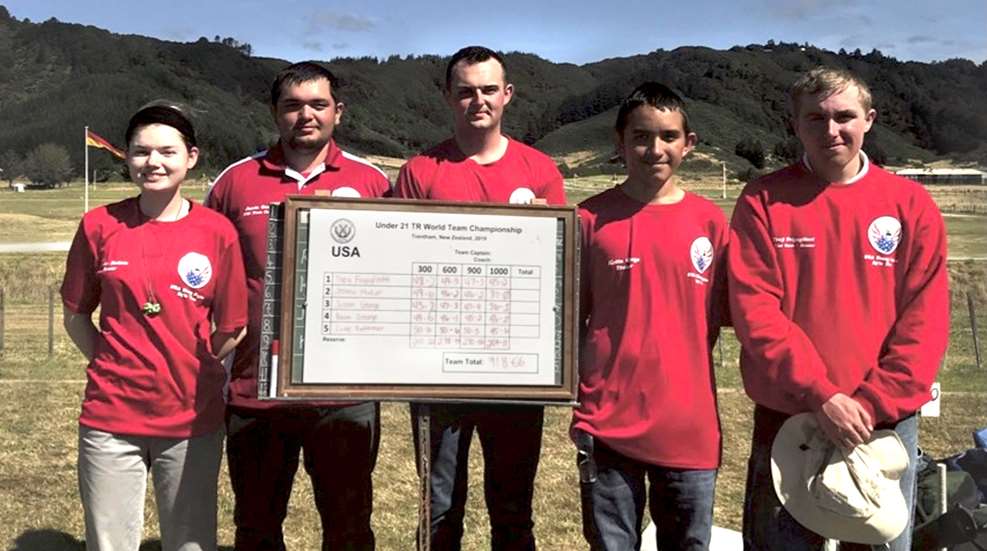 On Monday, January 28, the United States Under 21 International Rifle Team competed in the World Long Range Championship at the Seddon Range, Trentham, Upper Hutt, New Zealand.

This international championship featured four countries (Australia, New Zealand, the United States and Great Britain) fielding a single team each. The weather as the competition began was partly cloudy, with the temperature in the low 70s and winds coming from the north averaging 5 to 10 miles per hour.

The match started promptly at 8:30 a.m. with shooting at the 300-yard line. At the completion of this stage, the U.S. Team was leading the pack with a strong performance by Luke Rettmer of California firing an impressive score of 50-6V.

Next, shooters moved back on the range to the 600-yard line. The notorious Trentham winds were gusting up to 15 miles per hour, often switching directions. The U.S. Team was short-handed, with no designated non-firing coach. Trey Frigugiletti and Kevin George shared this honor when they weren't shooting.

At the completion of firing at 600 yards, the U.S. Team were in second place behind New Zealand. After moving back to 900 yards, the wind picked up and the team struggled at this distance. Subsequently, they found themselves in third place behind New Zealand and Australia.

At 1000 yards, the difficult conditions had taken its toll on the U.S. team. New Zealand, shooting on their home range, scored 230-9V, Australia scored 215-11V and the U.S. Team's final score was 209-11V.

In the final standings, New Zealand won the gold medal, Australia snatched the silver medal and he U.S. Under 21 Team held on to win the bronze medal.

The U21 U.S. Team performed admirably and should be proud of their performance in this prestigious world championship. Well done, U21 Team.

Special thanks to Walt Walter for his help reporting this story.