Despite difficult wind conditions, the United States Rifle Team had an impressive bronze medal finish in the Palma Match at the World Long Range Championship in Trentham, New Zealand.

This year marked the 31st firing and competition for the Palma Team Trophy for the U.S. Rifle Team. The Palma Match was fired during the last two days of the World Championship. The match includes four days of shooting at 800-, 900- and 1000-yard distances.

Seven teams were entered in the Palma Match. The range at Trentham was in great condition, but the wind was another story altogether. Palma Match coaches had their hands full dealing with it. Each team is assigned to fire on four separate targets, each requiring four line coaches and one back coach. With the skill of every rifleman being some of the best in the world, the winner is ultimately decided by the ability of coaches to read the wind―and the shooter's ability to deliver the shot before the wind conditions shift.

By the end of the second day the Australians had mastered the ever-changing wind conditions, posting the winning score of 7078-773V, thus winning the Palma Trophy and the gold medal. They were followed by the team from the United Kingdom winning the silver medal with a score of 6951-608V. The U.S. team, finishing in third place with a score of 6932-676V, won the bronze medal. Both the U.K. and the U.S. teams fiercely fought for the runner-up spot, right down to the last shooter.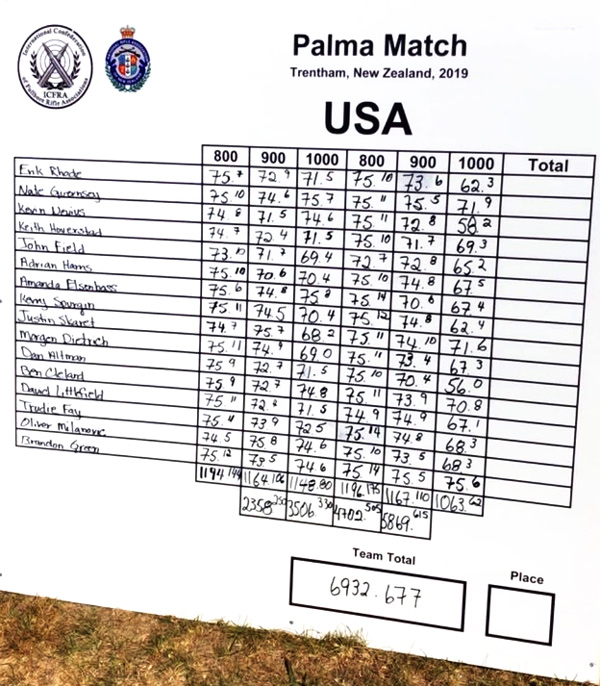 South Africa, New Zealand, Canada and the Channel Islands rounded out the Palma Team Championship leaderboard.

Rifle shooters from over eight countries competed for the Individual World Championship. At completion of firing, it was Australian shooter S.M. Negus declared the winner. The U.S. shooters here fared well―with O. Milanovic and B. Green placing fifth and sixth, respectively.

The next World Championship for Target Rifle will be in South Africa in 2023, where the U.S. will be vying for their 14th Palma Trophy World Team Championship. Should they accomplish this feat, it will be their first win since 1985, out of 32 total attempts.

Special thanks to Walt Walter for his help reporting this story.
---
Read about how the U.S. Under 21 International Rifle Team won a bronze medal at the World Long Range Championships.