The first issue of Shooting Sports USA for the new year begins with the results of the 2019 NRA National Police Shooting Championships in Pearl, MS. U.S. Border Patrol Senior Agent Robert Vadasz made history after winning his ninth consecutive NPSC title. What's more is this is his 10th NPSC title overall. Previously conducted in Albuquerque, NM, for 15 years, the return of the match to Mississippi was a huge success. You can read Lars Dalseide's cover feature with NPSC results here.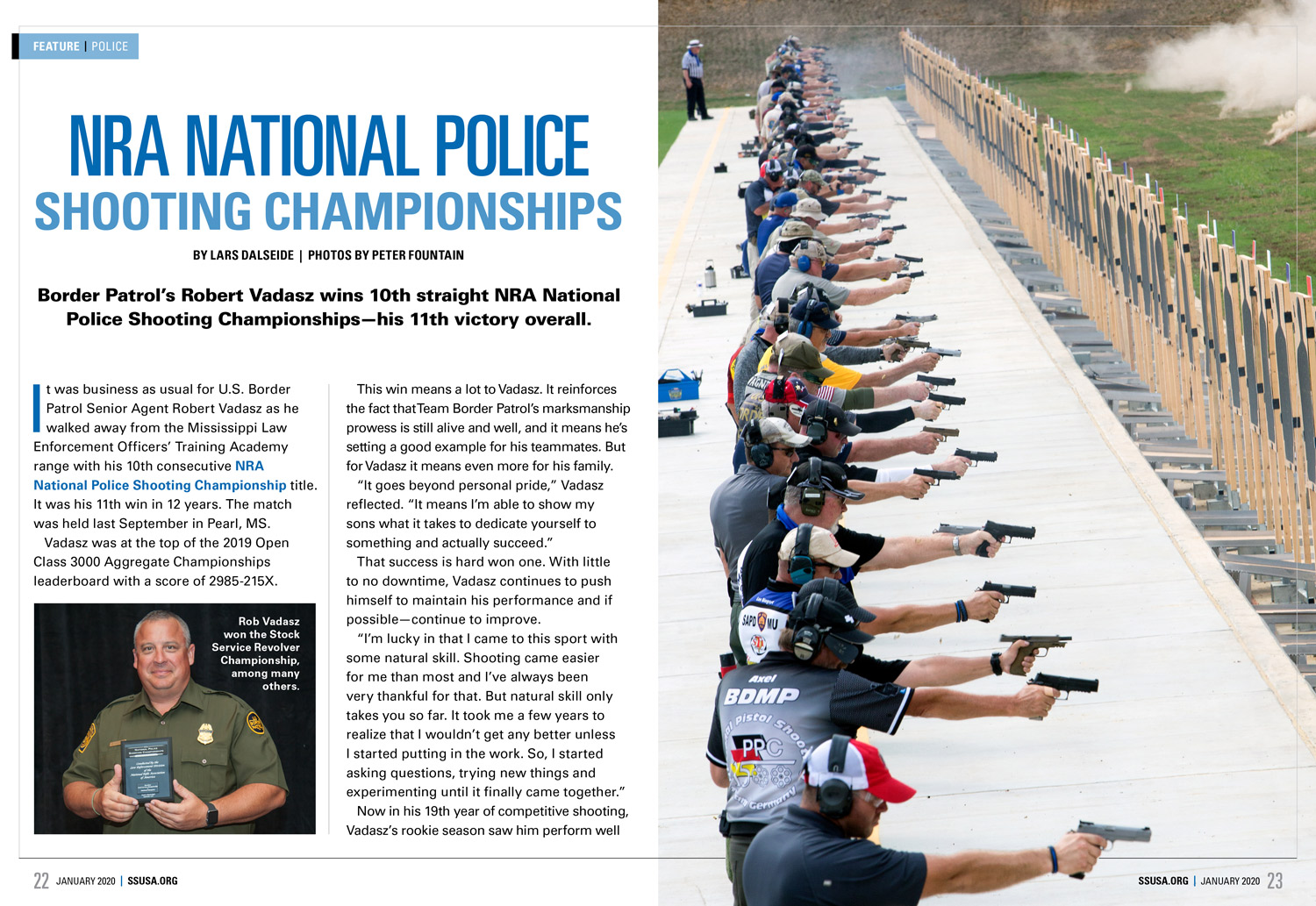 Although John Browning's 1911 design earned its iconic reputation in .45 ACP, competition 1911s chambered in 9mm are making major inroads against the old favorite, according to Field Editor Chris Christian. One of the top picks is the Colt Gold Cup Trophy, a 9mm 1911 that's match ready out of the box. Read his review in this month's Product Focus.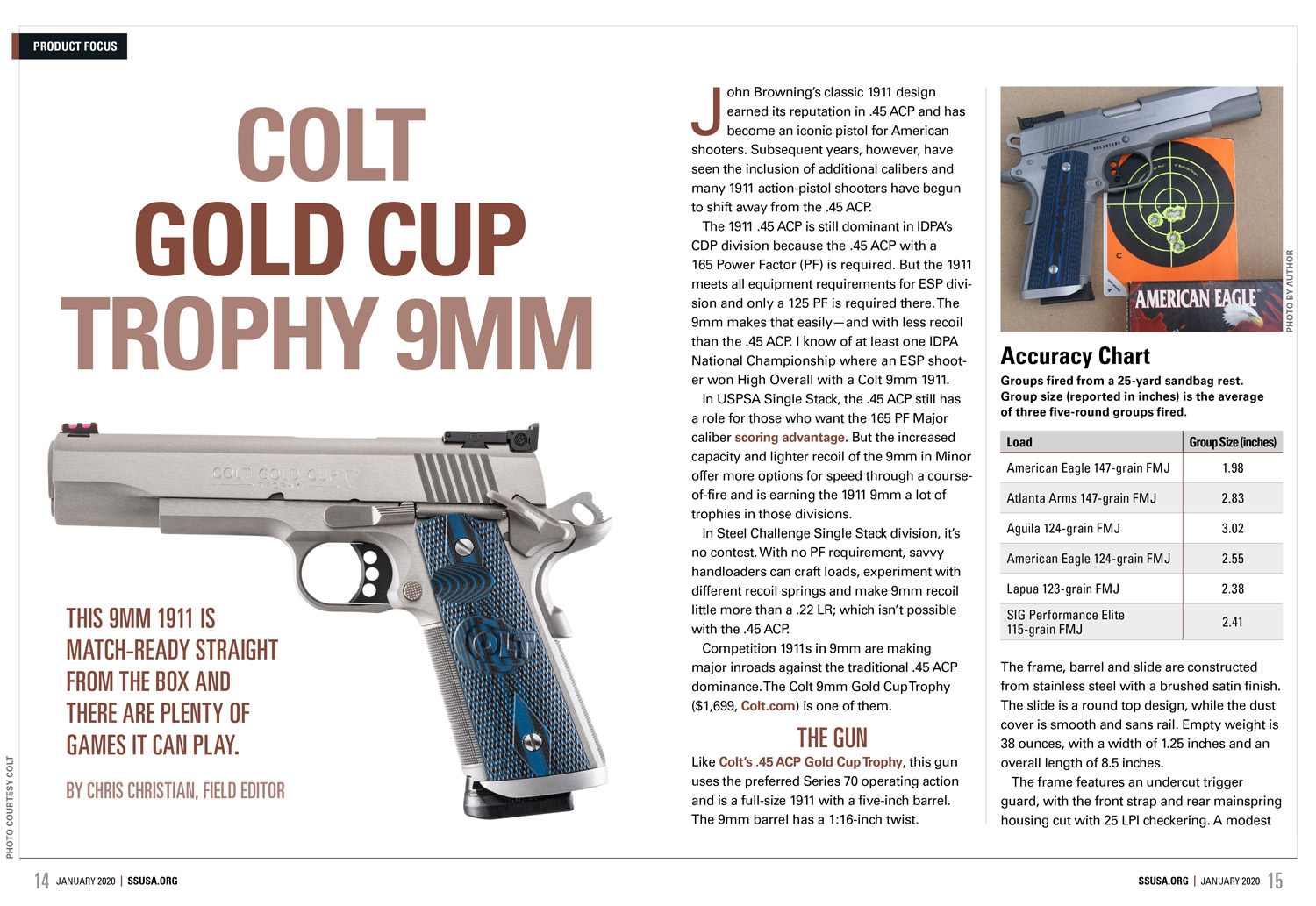 Ask any shooter—Browning shotguns are dominant in the field at trap matches across the country. The company's new flagship trap gun, the highly adjustable Citori 725 Trap Max includes all the bells and whistles shooters have come to expect from the brand, plus a beautiful oil-finished Grade V/VI black walnut stock. Learn more about Browning's new premier trap gun by reading this article.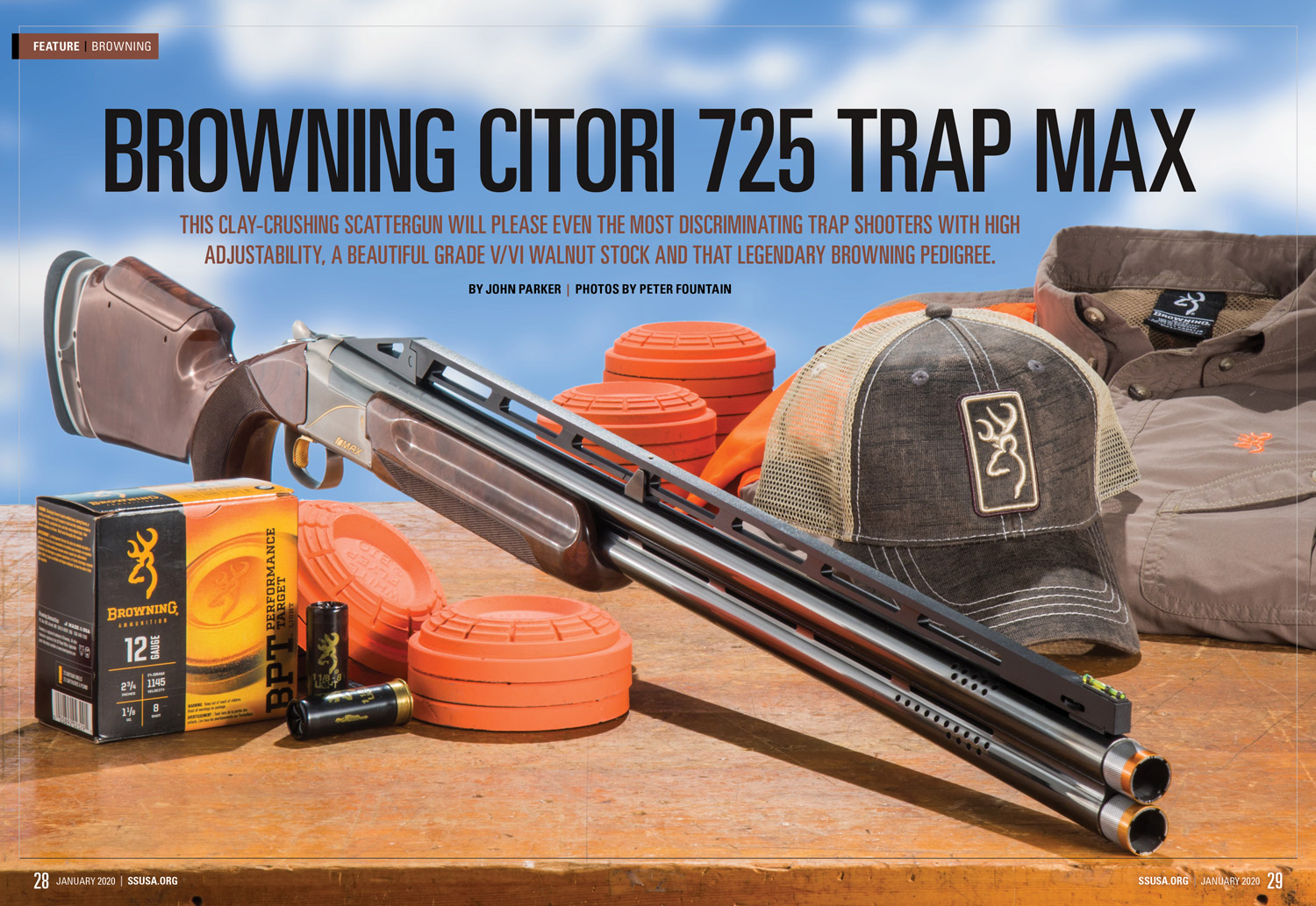 Led by scattergun expert David Miller, Team CZ-USA made history last October after setting a new Guinness World Record for a five-person team shooting the most sporting clay targets over a 12-hour period. The team was comprised of Miller and five special youth shooters that were selected via a two-part process. Once assembled, the five-person team proceeded to break a mind-boggling total of 14,176 clay birds—shattering the previous team record of 4,602 targets. Check out Larry Case's feature on Team CZ-USA's record-breaking feat.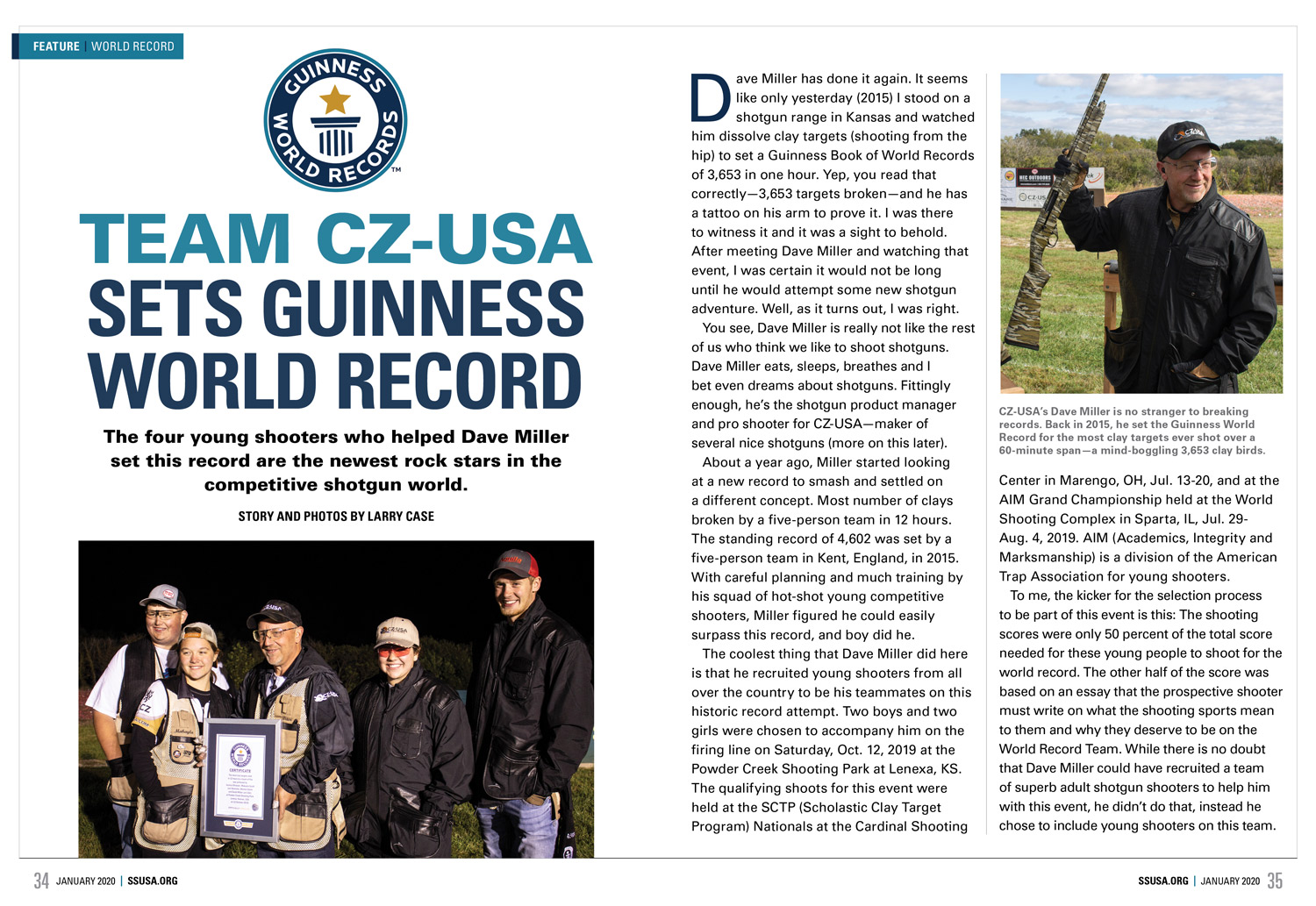 Competitive shooters are always trying to get the most accuracy they can from their gun and ammunition. As such, there's a booming aftermarket scene for many popular pistols, such as Smith & Wesson's popular M&P line. Apex Tactical produces aftermarket barrels for the M&P and Brad Miller tested the results of the company's Apex Grade barrel on his 4.25-inch M&P9 2.0 to see if it improved accuracy. Learn more here.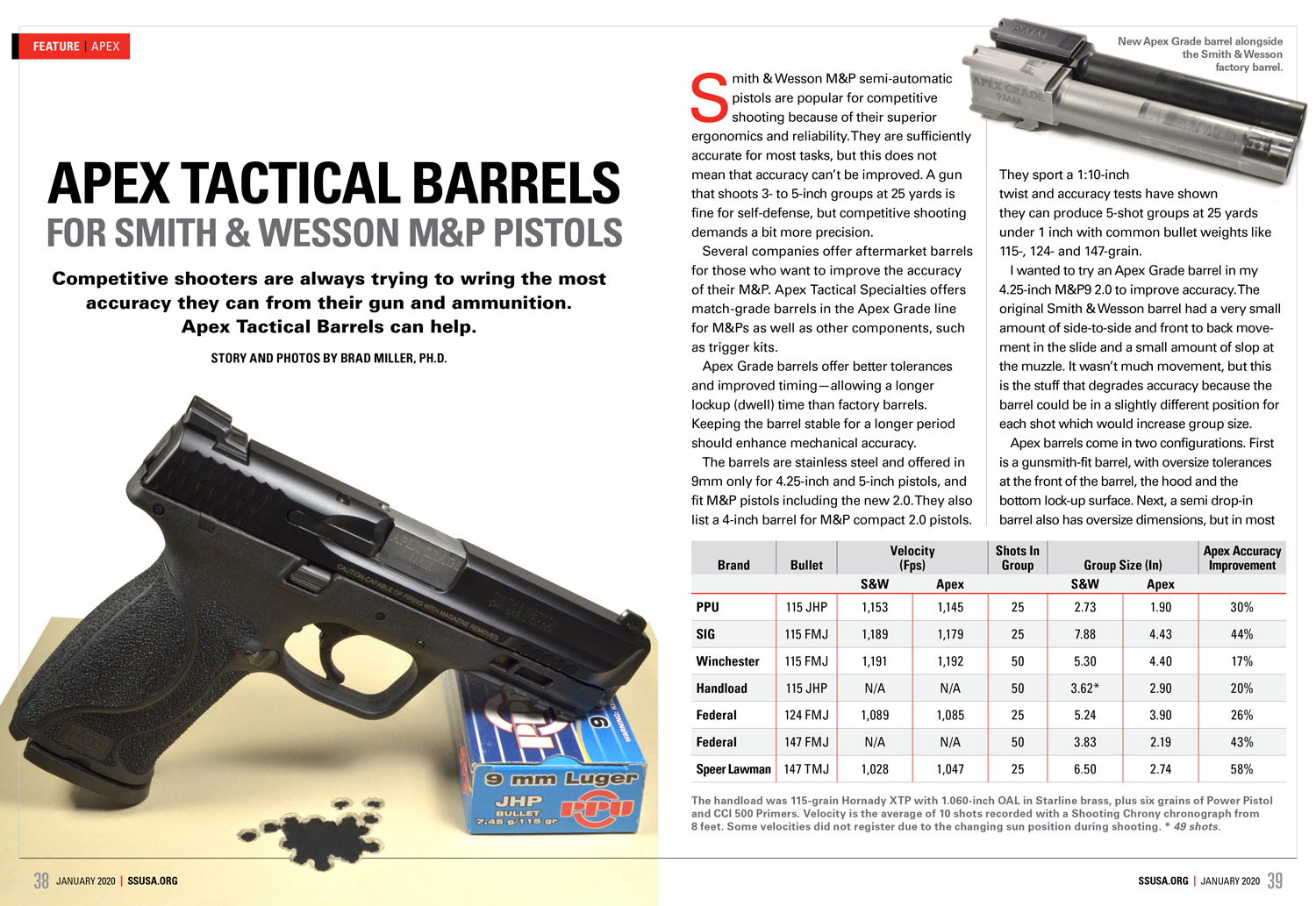 Finally, this will be the biggest year yet for SSUSA, coverage-wise. In addition to reporting the latest news from the 2020 NRA National Matches at Camp Atterbury, I will be traveling to Tokyo this summer to cover the Olympic Games. Good shooting to everyone in 2020! I hope to see many of you on the firing line this year.
—John Parker
Executive Editor, Shooting Sports USA
Reporters Welcome
In our efforts to recruit more reporters, we frequently hear the comment: "But I'm not a writer." What people overlook is that they are on the scene, hearing and seeing the action first-hand. Editing and completing the article is our job, so if you'd like to try your hand at sharing draft reports and photographs from national-level matches or interviews with key people in the shooting sports, please email us at [email protected].