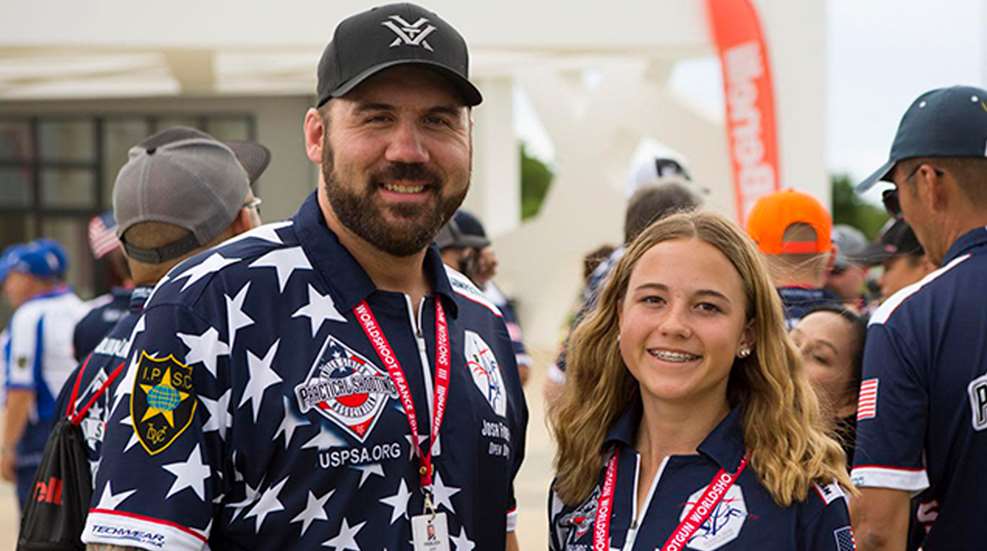 Two of the top shooters on the
JP Rifles
Shooting Team will continue to shoot with the company. Talented 3-Gun and action shooters Josh Froelich and Dakota Overland have both re-signed with JP Enterprises for two years.
Interestingly enough, both of these competitive shooters are relative newcomers to competitive shooting, with under a decade of shooting experience among them. Nevertheless, they possess championship winning-caliber skills when it counts during matches.
Josh Froelich shot his first match in 2014, rapidly rising to become one of the dominant 3-Gun and
pistol caliber carbine
(PCC) shooters in the country. Before shooting as a sport, he was a high school athlete and also an MMA fighter. Last year, Froelich won a second 3GN National title in the Unlimited division. Even more impressive, he also triumphed in France at the 2018 IPSC Shotgun World Championship with an Open division victory.
At age 15, Dakota Overland is one of the most dynamic shooters competing in 3-Gun today. With many High Junior and High Lady honors to her name, she is known to outperform more experienced shooters when it matters the most. A true ironwoman when it comes to staying the course over a busy shooting season, last year Overland competed at 20 matches
—
notably the IPSC Shotgun World Championship where she won third place in the Ladies division.
This year, both Froelich and Overland will spend a lot of time preparing for the 2019 IPSC Rifle World Championship, scheduled this summer in Sweden. Fellow JP Team shooter Teemu Rintala is the reigning world champion and a native of Finland.
The continued partnership should be fruitful for all parties involved.
---
Read about Josh Froelich's Instagram account, which we named one of the top 5 accounts for competitive shooters to follow on social media.