From the vault: Carl Bernosky is a legend in the competitive shooting community. Read author Jock Elliott's 2010 interview with Bernosky, as published in the March 2010 issue of Shooting Sports USA.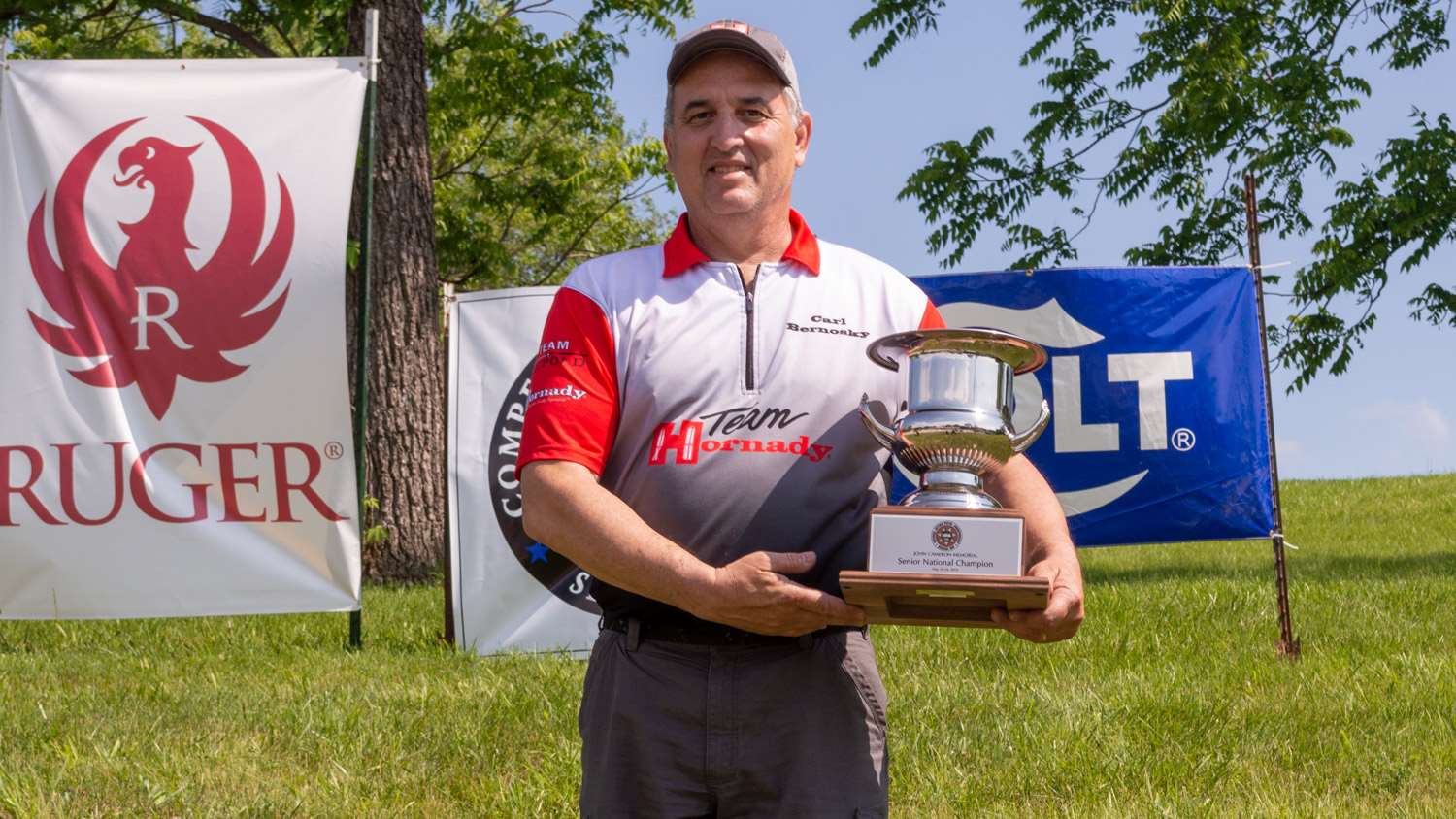 ---
Carl Bernosky has an enviable record of success in shooting sports, so much so that if he were NFL coach or a Major League Baseball manager, he could name his price for any team in the nation. As it is, Bernosky achieves excellence in shooting for far different reasons than a big paycheck. Recently, the 53-year-old shared his thoughts with me from his shop in Ashland, PA, where he builds custom rifles and stocks.
How did you get started? My dad was a competitive shooter. In Pennsylvania we have a lot of smallbore leagues and I got started in a local junior club program.
How many times have you been high power champion? I shot Camp Perry for the first time in 1976. I've entered 15 times, won eight firsts, four seconds, and one third. I'm the only person to win it four times in a row (1977-1980).
What else have you won? I won the Camp Perry smallbore in 1985, making me one of three people to have won both smallbore and high power. I also won the National Air Rifle Championship in 1985. In action pistol, I have been third at the Bianchi Cup three times and second at the World Championships.
What equipment do you use? I have always been a bolt rifle shooter. The last three years I shot an AR-15 platform rifle. I use a Creedmoor coat, Warner rear sight with an Anschütz diopter and a front sight from Right Sight. I shoot in jeans and boots and wear a long sleeve t-shirt under my coat. The other significant equipment that I use includes Hornady bullets and SunBuster eye enhancement glasses for better contrast. This past year, I had intended to shoot a bolt rifle but because of a shoulder problem, manipulating the bolt in prone was nearly impossible—so I stuck with an AR Match Rifle.
What is your practice routine? I start shooting action pistol in the spring to get ready for the Bianchi Cup in late May. I shoot the NRA course-of-fire and a lot of extra "movers" as often as I can. I start shooting rifle around July 4th. I like shooting standing almost every day— that's where matches are won. On a typical training day, I'll work until 5 p.m., go home and shoot 50-60 shots standing. I'm fortunate to have my own 200-yard practice range. The 300- and 600-yard stages are shot prone, and I don't practice prone.
How many rounds do you shoot a year? I shoot about 10,000 rounds of pistol annually and about 2,000 rounds rifle each year, including matches. After practice, I'll usually load until my wife comes looking for me. Margaret is a very understanding wife, truly one-of-a-kind.
Do you exercise or do other physical training?  I try to keep my weight down. I battle with it. When it comes time for Camp Perry, the rule is: I have to fit into my coat. I do a lot of walking with the dog and watch what I eat.
What advice would you give to high power "newbies?" I'd tell them to shoot a match rifle. Service rifles are difficult to shoot and hard to learn to shoot well. With a match rifle you have better sights and a better trigger which help to shoot better, and that just makes you want to shoot more.
When I look back at my shooting, I remember getting discouraged shooting a rifle that was not very accurate. I wasn't getting a true feedback of my performance or ability. When I re-barreled the rifle, my scores shot up, competitive with the top guys. I've learned to trust myself and make equipment changes as needed.
The rifle has to give you a true indication of your ability. If you have a gun that shoots 12-inch groups at 600 yards, you're not going to shoot very well.
There's another piece of advice I would offer—never pass up an opportunity to watch a good shooter shoot. There is a lot you can learn just by watching.
What sight picture do you use? When I shoot standing and rapid sitting, I touch 6 o'clock with the post. I switch to the globe and put the circle in the circle at 300 and 600 yards.
Do you trigger the shot or do you wait for the surprise? I'm very aggressive standing. When I see what I want to see I trigger the shot. Sitting and prone I use a steadier squeeze, but I know when it's going.
What would the table of contents of your "how to shoot" book look like? To be honest, I don't know. I'm not that complicated, and shooting is not that difficult.
Then how do you account for your success? I feel that I was blessed with a gift. To me, shooting is pretty simple: you find the sight picture and pull the trigger without disturbing the rifle. It takes practice to get it right every time and that's the fun of it.
How was it shooting the National Match Air Rifle at Camp Perry this year? It was a lot of fun. I got in the night before and that morning was the first time I handled Creedmoor's NMAR Air-15. I really enjoyed it.
What's the bottom line for you when it comes to shooting? It's got to be enjoyable. The people associated in the shooting sports and the fun of shooting is what drives me. I have as much fun shooting practice as shooting matches. It's just plain fun.
What the best moment when you were shooting? That's a tough question; I've had a lot of good ones. Shooting with Lones Wigger is at the top of the list. The success I've had has given me the opportunity to share the range with many of the top shooters in the U.S. and the world and that's a real high point for me.
What was the worst moment? Probably when I was shooting the Sportsman Team Challenge, and I had to hit six targets on the final pistol stage and I only hit five. Letting my teammates down was a bummer.
What is the greatest challenge? The biggest challenge is balancing family life, business life and getting to shoot as much as I want.
To learn more about Carl's business, see www.carlbernosky.com.
---
See more: The Legend Of Carl Bernosky