by
Chris Christian, Field Editor
posted on December 15, 2020
Support NRA Shooting Sports USA
DONATE
The current ammunition crunch has not only restricted factory ammo availability, but has also resulted in a significant shortage of primers and component bullets for reloaders. Unfortunately, this product shortage is projected to last well into 2021.
This has put a serious crimp into practice regimes and has resulted in many shooters limiting themselves to dry firing in the living room. That's better than nothing, but it doesn't duplicate match conditions like responding to the BEEP, rapid gun handling, reloading, movement, foot position and equipment management.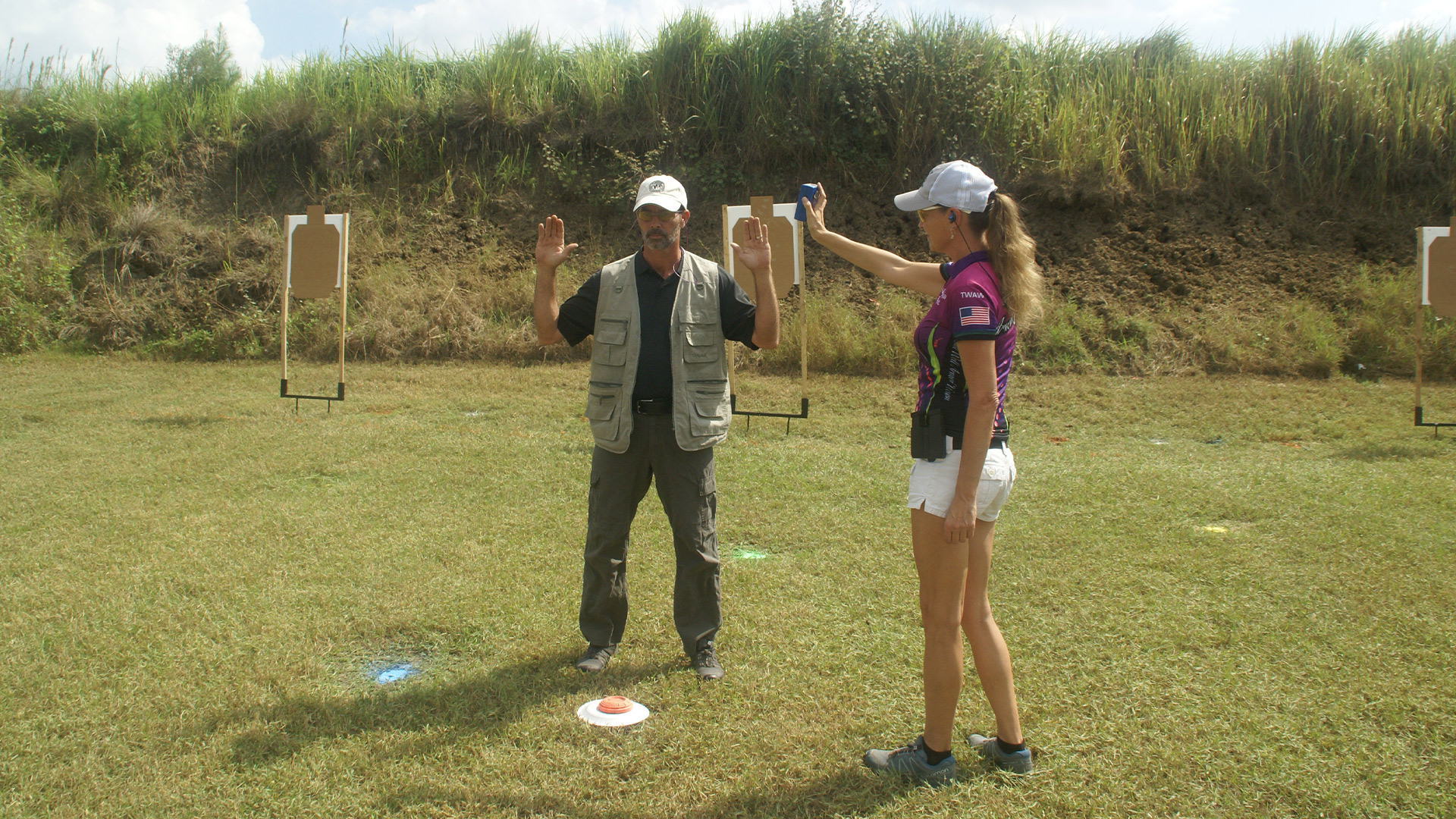 That can be tough to do in the living room, but it's easy on a range and with just a fraction of the ammunition one would expend during their normal practice sessions. Call it "Dry Match Practice" instead of just "Dry Firing Practice."
Savvy shooters will duplicate match conditions by wearing their full match gear—holster, ammo carriers, ear and eye protection (and a cover garment if shooting IDPA) just like they would in a match. Use targets appropriate for the discipline, and old pasted practice targets work fine. A timer should also be incorporated. This can be set on delay and shooter activated, or better yet have a shooting partner call out the Range Commands and activate it. Keep things as realistic as possible.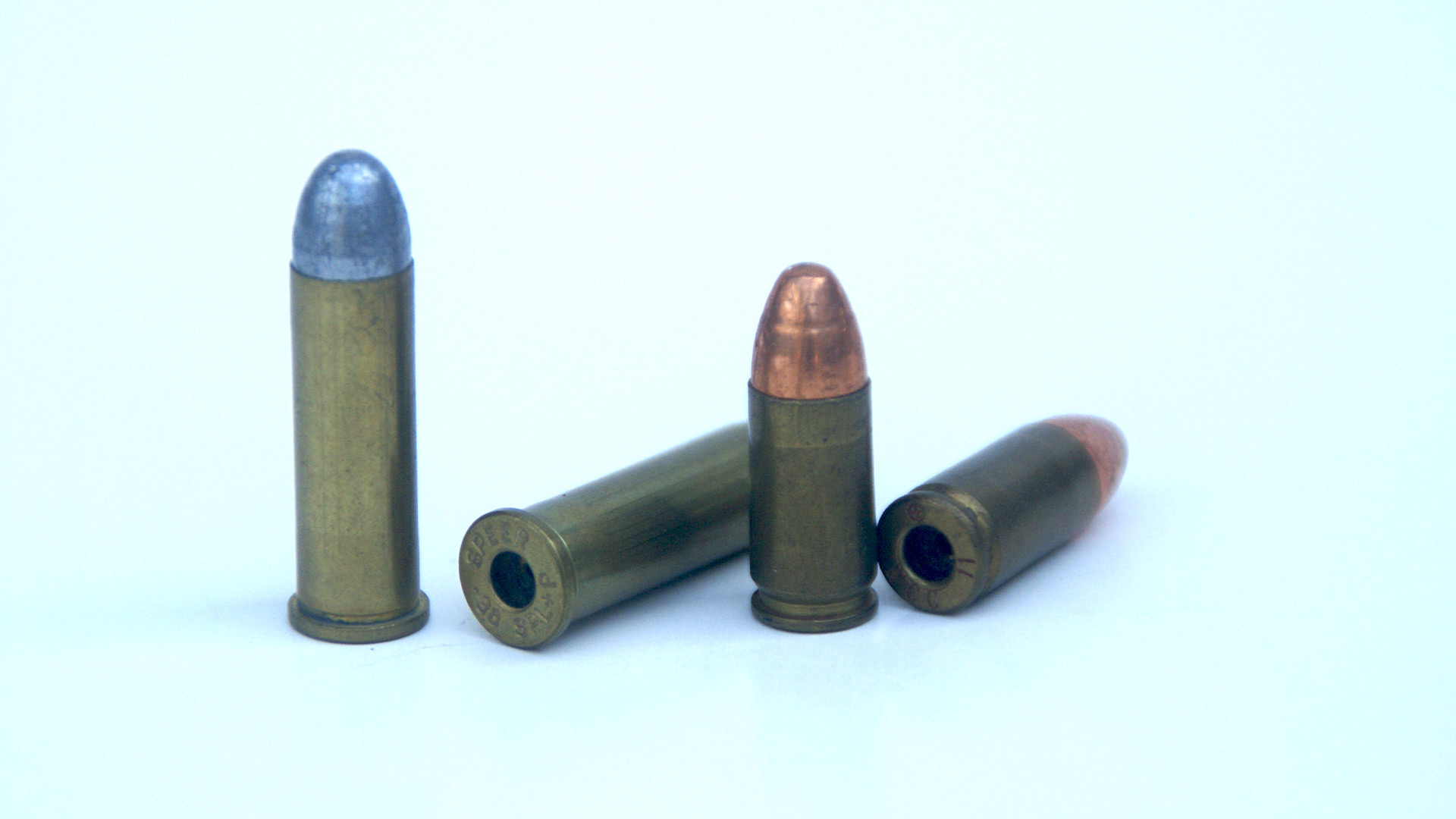 That starts with setting up targets on one's normal practice range. An active range is important because some live rounds will need to be fired, although far fewer than in normal practice sessions. Multiple targets are important to allow for practicing movement and transitions. Three or four targets, spaced three to five yards apart, should be set up if range conditions allow it. Shooting boxes and fault lines are standard in action shooting and shooters can easily duplicate those with nothing more than a white Styrofoam cup or plate to mark each position.
Before beginning "dry" practice, some live rounds should be fired to get the shooter into their normal rhythm. It's also advisable to end every practice session with live firing. That's important to stay real and it doesn't take a lot of ammunition to do it. One magazine or a couple of revolver cylinders worth at the beginning and end will suffice. They can be fired static or moving. After the beginning rounds, the stages can be run with dry firing.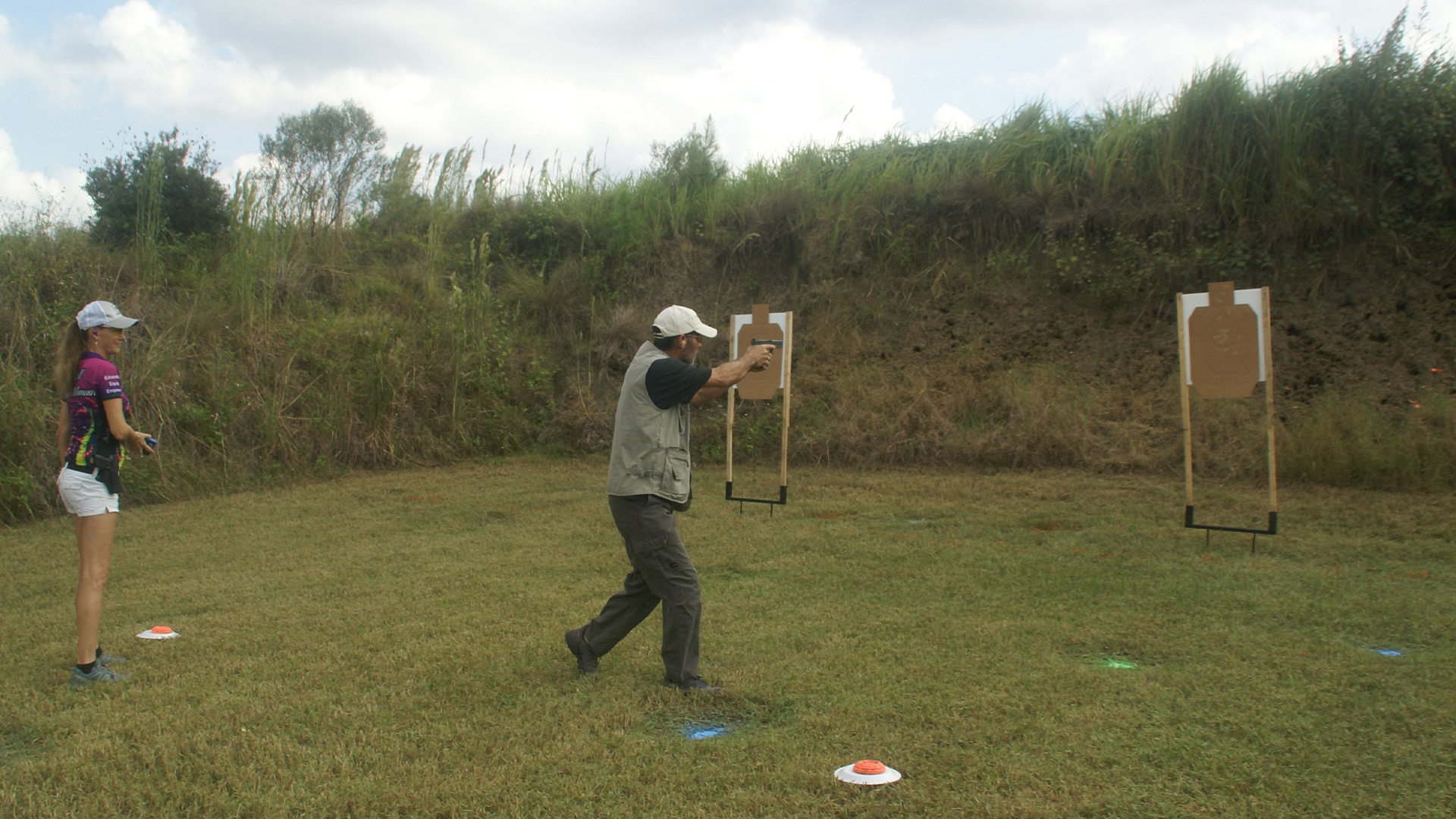 A basic drill would be addressing a target, and at the BEEP drawing and "dry" double tapping it. This can be done facing downrange, or facing up range to practice the spin and draw. Hand placement can be either at the side or in the Surrender Position. Moving to the middle of the target array allows the shooter to work on transitions— from right to left and left to right. Shooters can also use this to practice Strong Hand, or a Strong Hand to Weak Hand shift. They'll likely see these in matches.
Practicing movement is needed. Most USPSA, IDPA and ICORE stages will start by engaging one or more targets from a starting position, with the shooter then moving through the COF to engage targets at other positions. How you move is important. Is the gun up and on the target as you hit the next shooting position, or did you drop it to waist level and have to find everything again? Are you ready to shoot when you hit the mark, or do you have to settle in?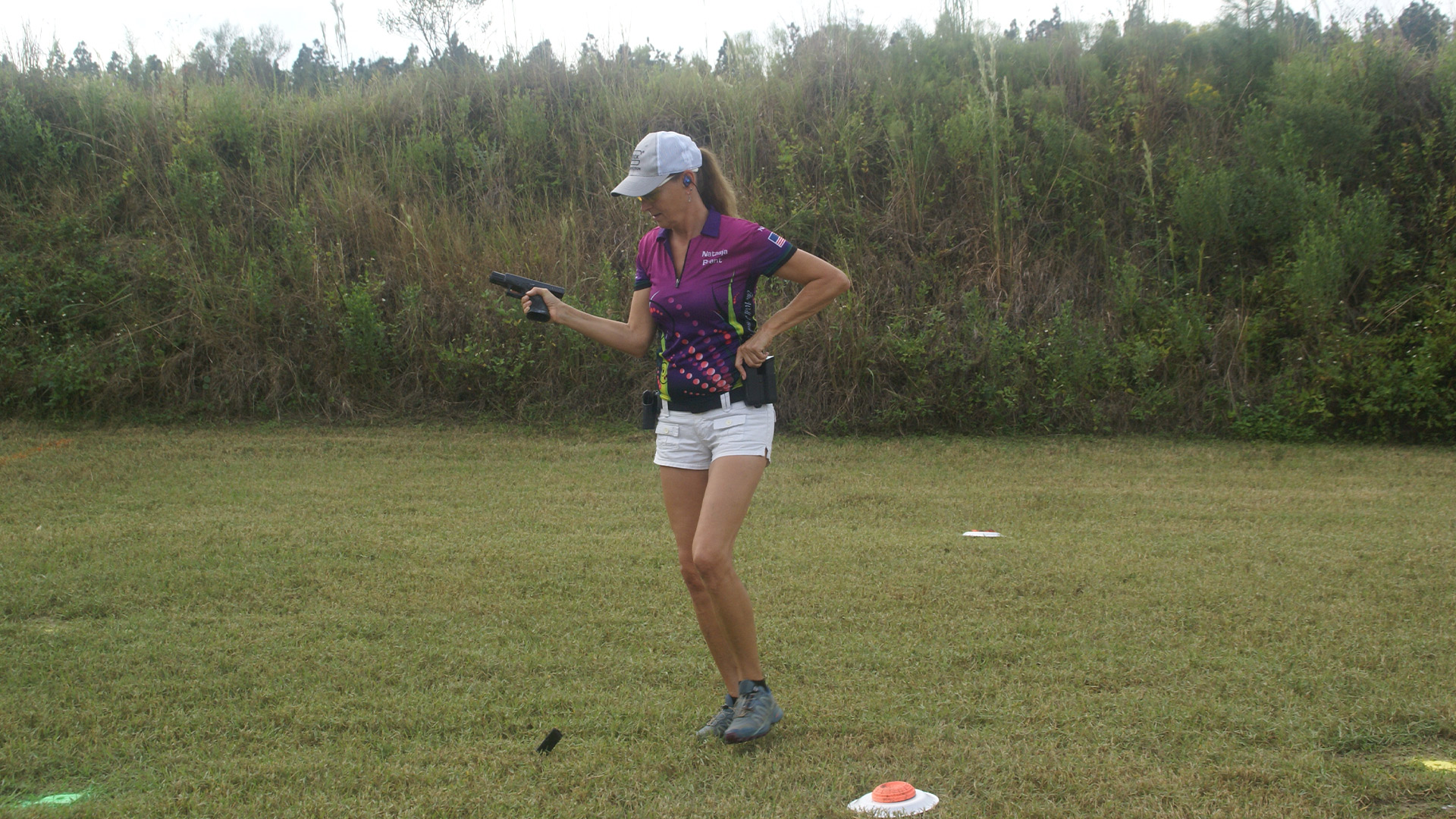 With multiple targets and marked shooting positions, this is easy to do. At the BEEP, draw, dry double tap and move to the next position keeping the gun up and the next target and position in focus.
Shooters can also "dry" double tap targets on the move—whether laterally or moving forward or backwards.
Reloading is another critical skill. Competitors will normally make multiple reloads during any stage. Having "dummy rounds" on hand is needed for revolver shooters, and a good idea for semi-automatic competitors. Slamming an empty magazine into a semi-automatic without the cushioning effect of rounds in the magazine can cause feed lip damage. Making dummy rounds is easy for reloaders—resize, de-prime and bell a case. Then seat a bullet without powder or primer. Leaving the primer pocket empty clearly shows it's a dummy round, and prevents mixing them with live ammo.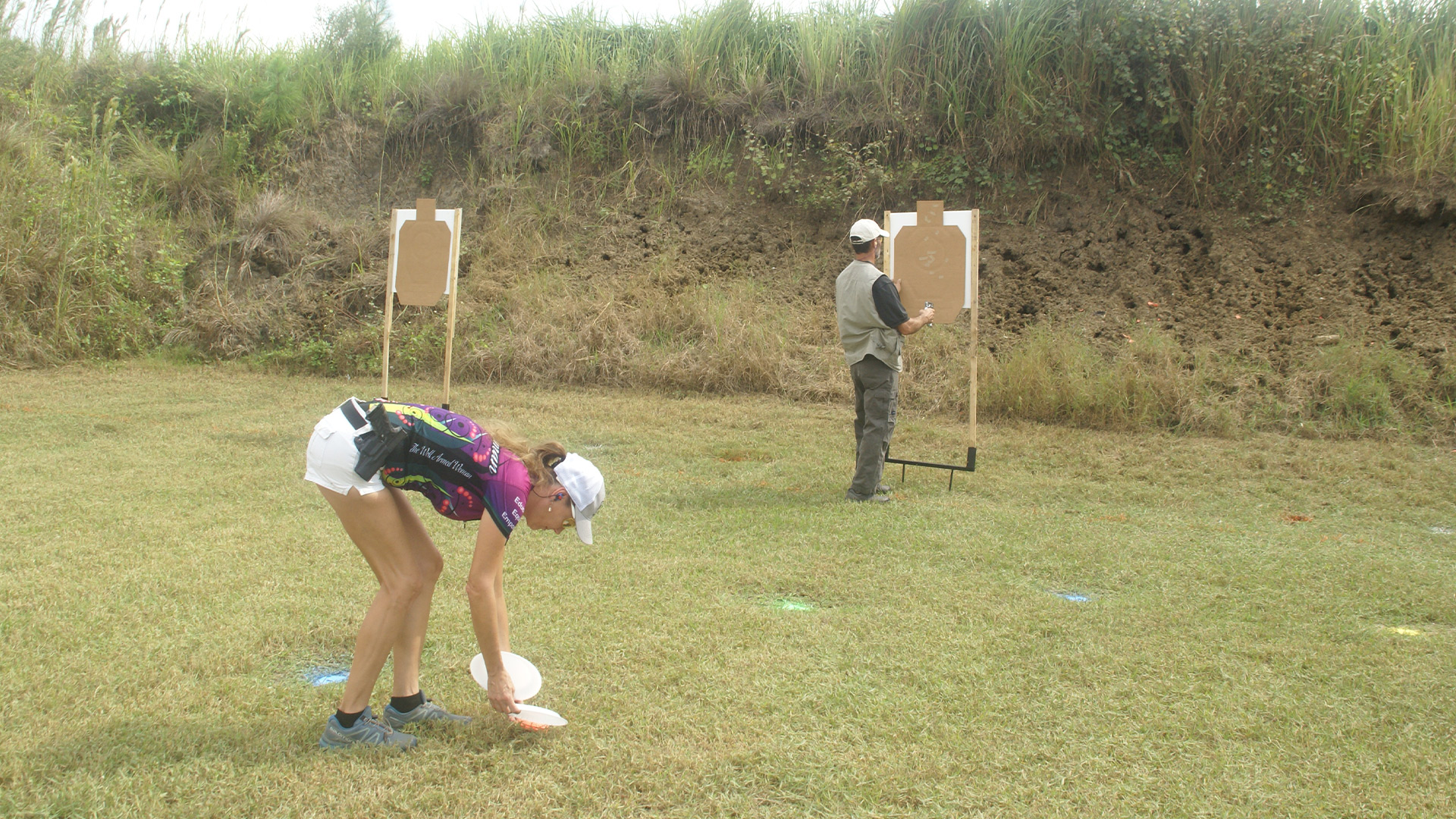 Reloads can be made standing (flat-footed). Combining reloads with movement is a better bet, and a more realistic match scenario. Draw, "dry" fire and reload on the move to the next position.
Revolver shooters should definitely have empty cases in the gun for each reload. Getting the empties out of the gun is half the battle, and without them shooters can develop bad habits like short-stroking the ejector rod or holding the gun at the wrong angle. This will slow things down as shooters refill the cylinders with empties, but it's better than developing bad habits.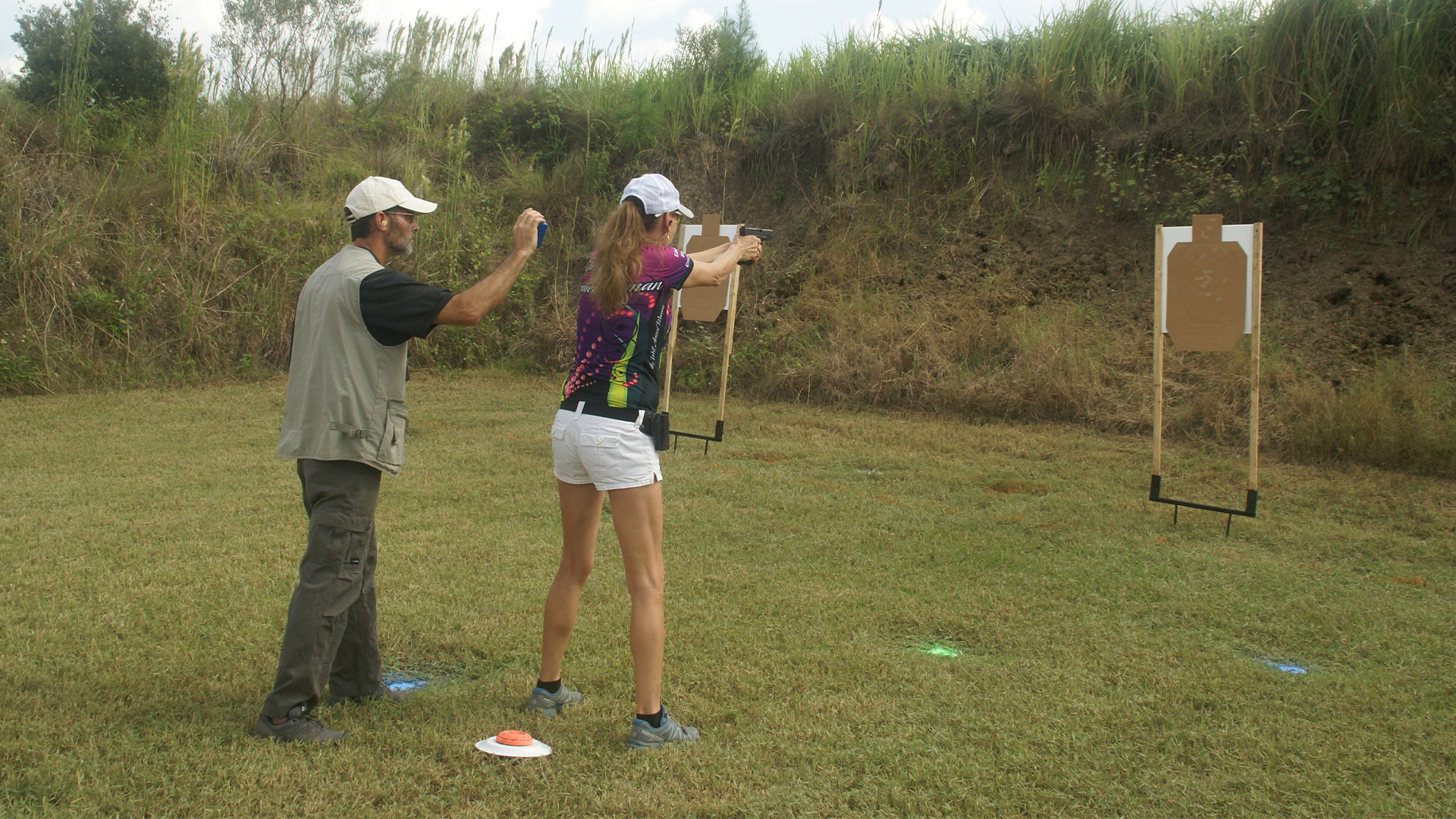 Semi-automatic shooters have it easier. Slide forward reloads (speed loads) can be done by loading a couple dummy rounds into each magazine and leaving the slide forward on an empty chamber. Draw, "dry" double tap and execute the reload while moving to the next position. Slide lock reloads will require a round be fired. Load each magazine with one or two live rounds and charge the gun. Draw, fire to slide lock and reload while moving to the next position.
Effective "dry" practice is limited only by the shooter's imagination. It may not be as good as a full live fire session, but by keeping it realistic, shooters can stay in match shape while surviving the ammunition shortage.
---
Read more:
Why Dry Fire? Part 1