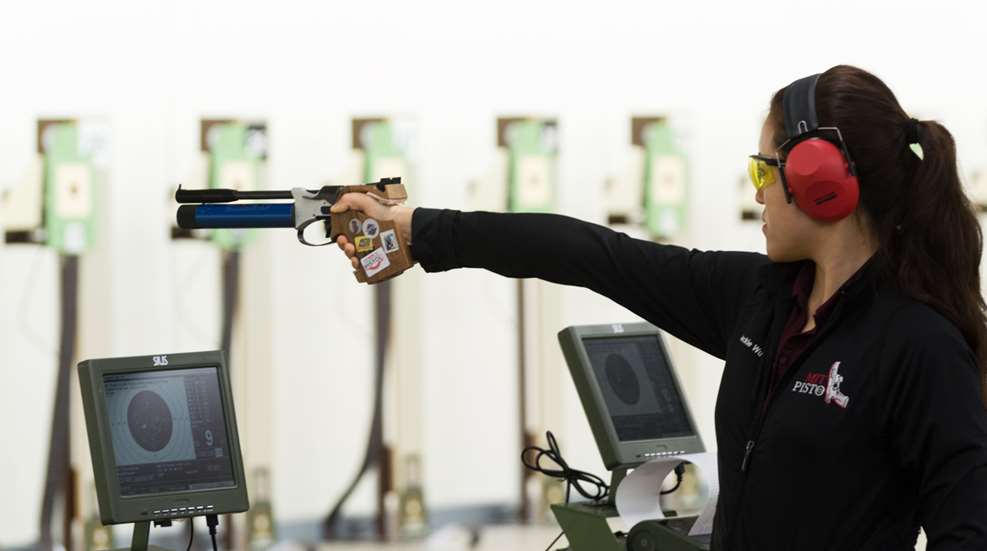 The Ohio State University (OSU) Pistol Team won their third consecutive title at this year's NRA Intercollegiate Pistol Championship, held at Ft. Benning, GA, on March 13-17. OSU's score was a full 106 points over the next highest team.

The United States Military Academy (USMA) placed second with a score of 6188. The Citadel placed third, with only a single point separating them from the USMA.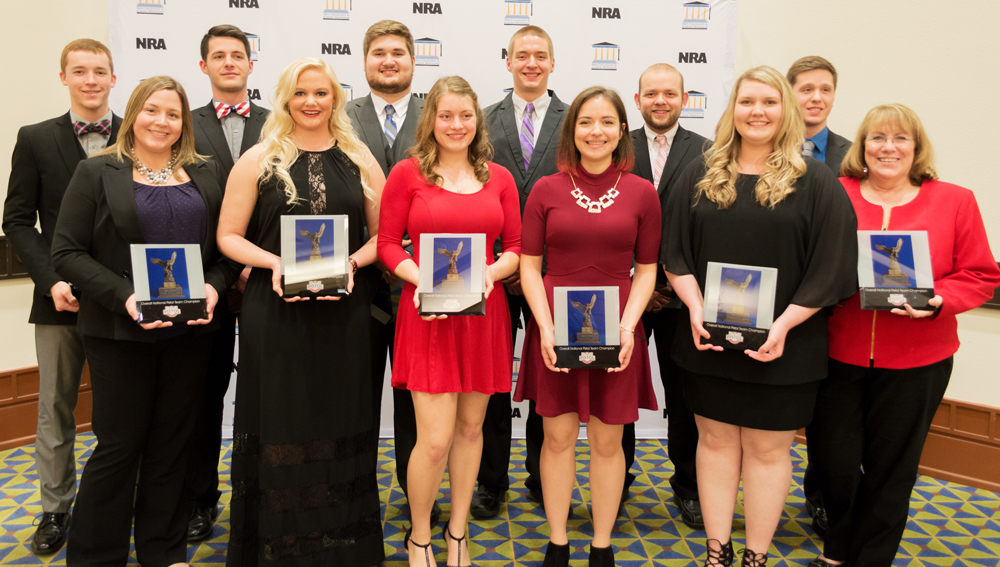 Student-athletes from 11 schools competed as both individuals and teams at the championship, which has been held since 1981 at a variety of venues throughout the country.

The overall individual aggregate winner (match winner) was Jeffrey Schanz of the USMA, with a score of 1604. In second place was Alana Townsend of North Dakota State University (NDSU), with a score of 1597. David Wilkinson of the Citadel placed third, with a score of 1593.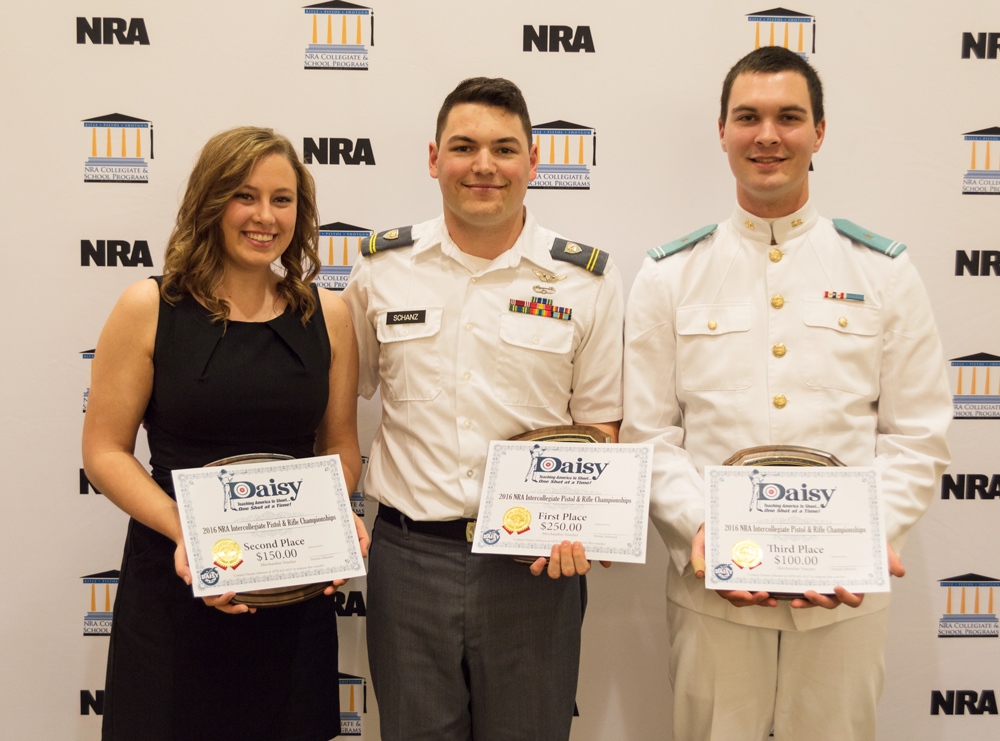 Alana Townsend was a force to be reckoned with at the championship, winning both the free pistol and open air pistol championships. She also won her third consecutive women's air pistol championship. When I asked her about this year's match, which is her last, she told me, "I started shooting pistol when I was 12, and have competed here for the last four years. I will always cherish the memories I have made here, and will always be grateful for the support of my coaches and teammates."

Her NDSU teammate Caitlyn Fleahman also competed at this year's championship. "I have been shooting competitively for 10 years, and have been shooting this match for three years. My family has been extremely supportive of my competitive shooting career."

Fleahman and Townsend both started shooting through the 4-H program. The duo stayed at Ft. Benning after the match, so they could shoot the 2016 NRA Rifle Club Championship for the first time. Townsend added, "It's going to be a new experience, and I'm really excited about that."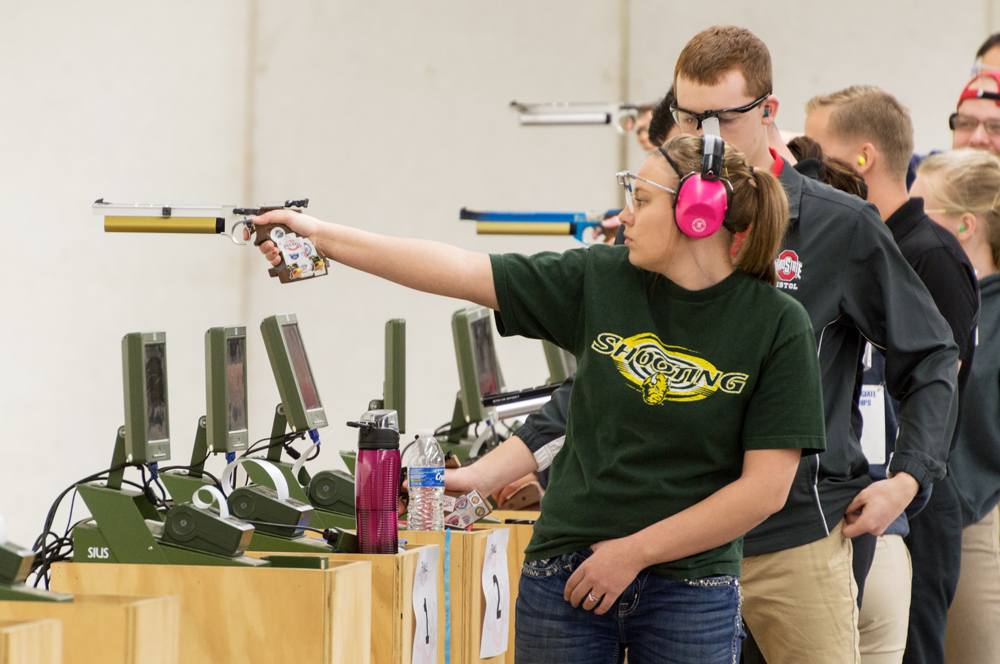 The awards ceremony was held at the Ironworks, located on the historic Columbus waterfront. Competitors, coaches, parents and match staff were treated to an excellent dinner before the festivities began. A highlight of the evening was special guest speaker Raymond Prior, PhD. Prior works with athletes, teams, and coaches from the Olympic level to youth sports.

Raymond's firm commitment to growing the shooting sports was evident in his speech. He spoke of several athletes from other sports such as soccer and the martial arts, who had to challenge themselves to become the best. The one idea he wanted the student-athletes to go home with: Don't waste your time with the distractions that modern life provides, instead challenge yourself to become the best in competition. Raymond received a standing ovation for his inspirational presentation.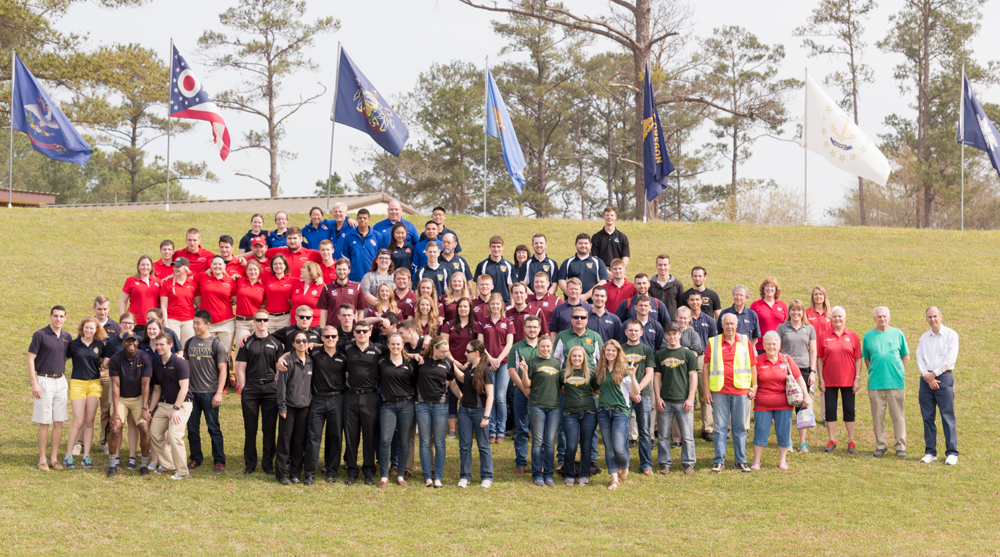 For the past three years the NRA has presented the "Bill Wayda Spirit of the Sport" award, given annually to individuals representing the positive spirit of collegiate shooting sports. For 20 years, Bill Wayda has unselfishly given his time and talent to support the NRA and the Intercollegiate Championships. Victoria Croft, National Manager of NRA Collegiate Programs said, "Without Bill's leadership, dedication and compassion, this event would not be what it is today." A plaque, as well as a brick of Eley ammunition was presented to this year's recipient, Payton Duvall-Freymuller of Texas A&M University. Payton's dedication and passion for shooting are second to none.

NDSU Coach Eric Pueppke was honored with the 2016 NRA Distinguished Pistol Coach of the Year award. Pueppke's list of accomplishments is extensive, he is an assistant national coach on the USA Shooting pistol team, as well as a level-four advanced international pistol coach.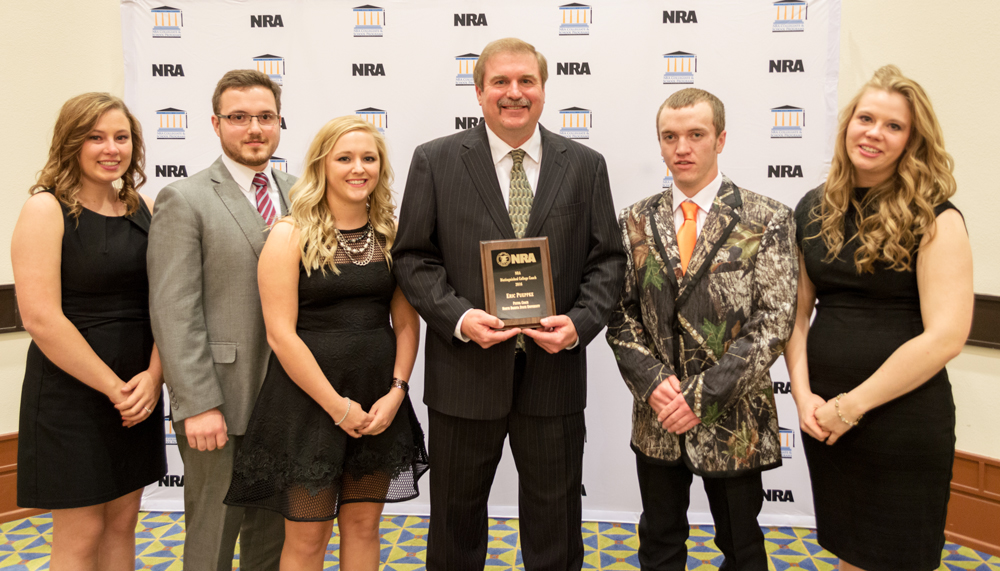 NRA championships are always supported by a dedicated crew of independent contractors that help things run smoothly, performing roles such as range safety officer and referee. NRA Intercollegiate Pistol is no exception, and during the awards ceremony Croft thanked all of the match staff for their hard work.

"A huge thank you goes out to all of the wonderful championship staff that helped us this year. Without you, championships like this would not be as successful as they are. I look forward to seeing all of you again next year."

The U.S. Army Marksmanship Unit (AMU) hosted the championship for the ninth consecutive year, providing the Pool Complex and Phillips Range at Ft. Benning, as well as logistical support. A big thank you to the AMU for the generosity extended to the NRA. The AMU Commander LTC Bret Tecklenburg and CSM Isaac Ragusa were a familiar presence during each match.

2016 NRA Intercollegiate Pistol Championship Leaderboard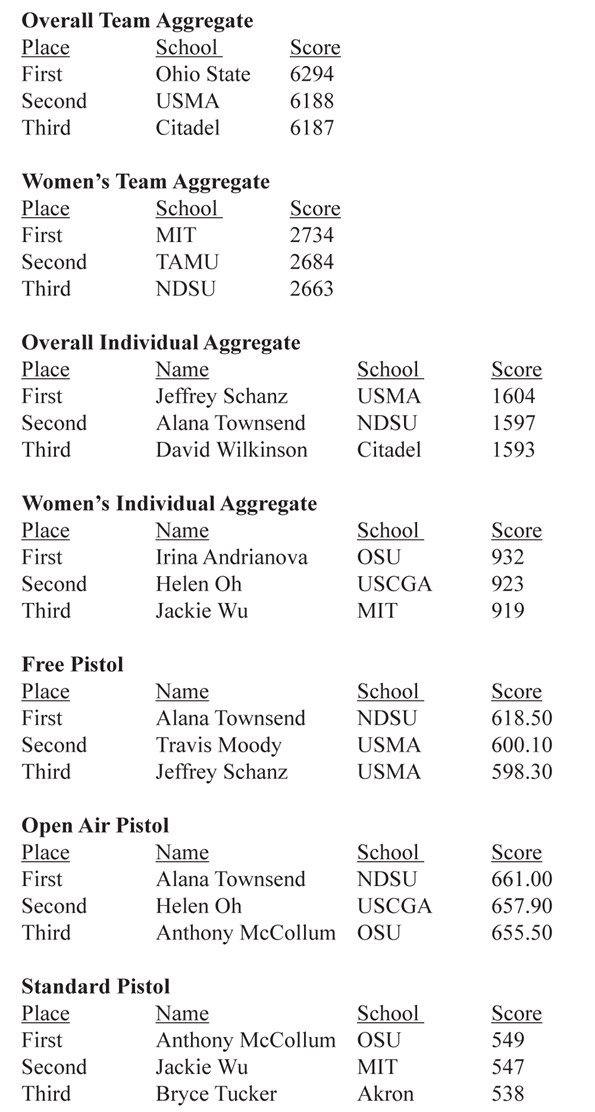 Editor's Note: This is only a partial leaderboard, the full results of the 2016 NRA Intercollegiate Pistol Championship will be published in a future edition of the digital monthly magazine.