The National Shooting Complex in San Antonio, Texas, once again hosted the annual National Sporting Clays Association National Championship on October 22-30, 2022. Competitors, spectators and industry folks from around the country and the world attend each October to shoot, network, socialize and soak in the aura of this clay-target shooting extravaganza. The 2022 Main Event alone saw just shy of 1,800 entries, with total individual shooters participating in at least one event numbering more than 2,300 strong.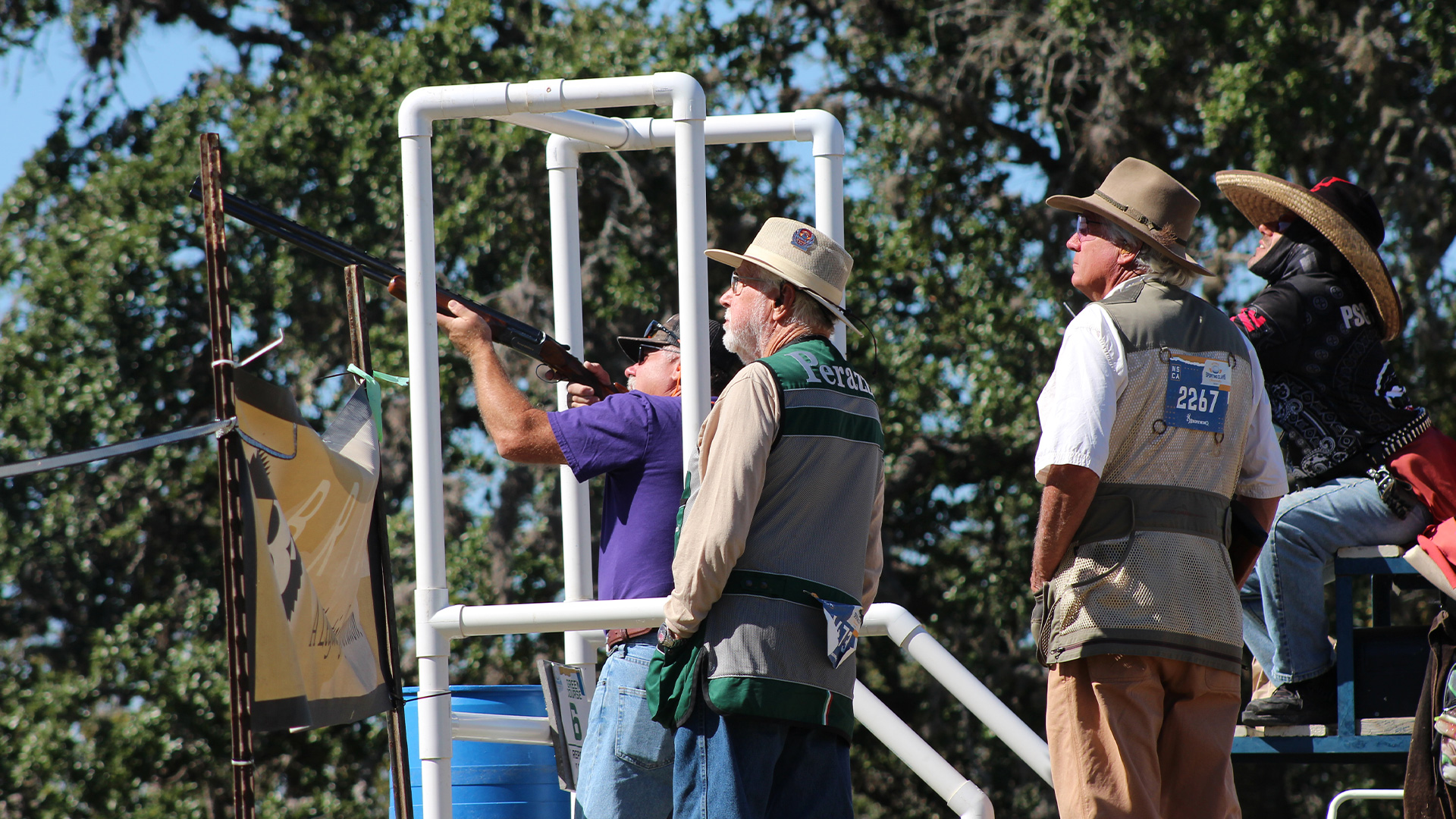 This expansive clay target playground, home for the joint National Sporting Clays Association and National Skeet Shooting Association, sits on more than a square mile of rolling real estate on the outskirts of San Antonio, offering multiple fields, permanent vendor buildings, the Hal duPont NSSA-NSCA Hall of Fame Museum and an expansive administration complex.
The 2022 tournament marked NSCA's 34th National Championship. Thirty-three of them have been held at the NSC—and every year a dedicated staff of experts makes it look easy. They keep the games running smoothly, provide a locked armory for overnight gun storage, and staff an impressively stocked ammo barn. There is an onsite grill selling sandwiches, soft drinks and beer, and most evenings complimentary food, beer, wine and hors d'oeuvres are set out under a pavilion. Special spectator-focused events are held under the stadium lights to entertain the masses after the close of each day's shooting. The vendor area is always bustling with activity, while old friends are reunited from years past and new friendships are forged. Gunsmiths, vision and hearing protection experts, firearm manufacturers, ammunition reps and clay target machine companies can be found on Vendor Row. All the while, throngs of shooters fill the various fields for the 15 different competitions.
SPECIAL EVENTS
The annual NSCA Hall of Fame induction was celebrated at a local hotel, the 2022 class seeing Zachary Kienbaum, Cory Kruse and Ron Shafer inducted for shooting expertise, and Dr. Sammy McFaddin receiving the Hill-Adams Youth Service award. The new inductees join the ranks of sporting clays luminaries such as Jon Kruger, Bob Brister, Andy Duffy and many others who have left their mark on the game over the years.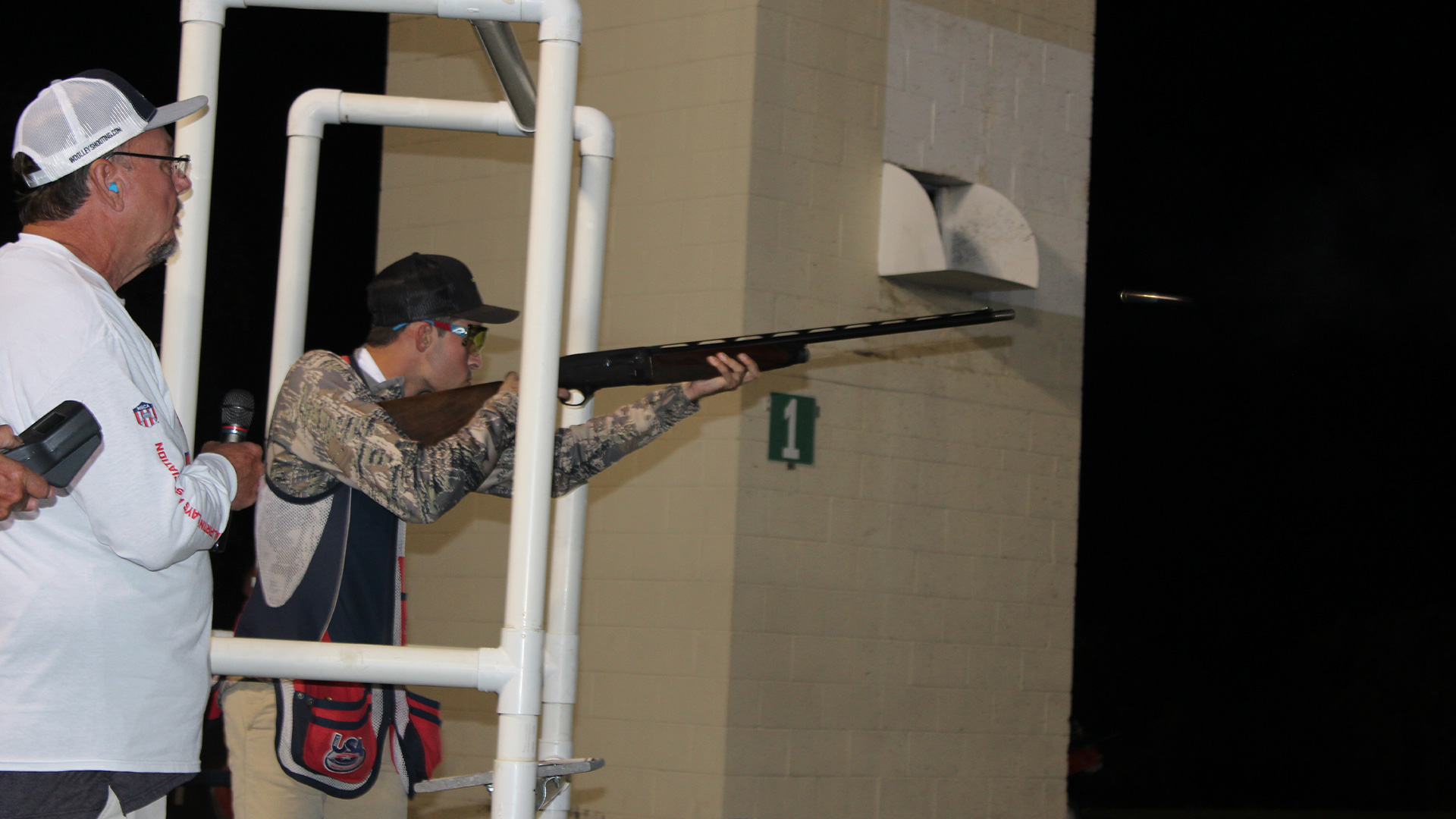 Another tradition, the Top Gun Shoot-Out, was held Friday under the lights of the stadium and pitted nine male shooters along with seven women shooters to vie for men's and ladies' division bragging rights, along with some handsome payouts. Joseph Fanizzi took high gun for the men, followed by Anthony Matarese as runner-up and Todd Hitch in third. In the ladies division Meagan Harrington won the top award, followed by Madison Sharpe as runner-up and Ashley Little in third.
The North vs. South Shoot-Out is another long-running spectator friendly event. A select team of NSCA All-Americans from the Northern states shot against a team of Southern All-Americans in an entertaining format emceed by industry man Mo Parsons. The South prevailed this year, with a solid lineup featuring Jasper Copelan, Joseph Fanizzi, Brad Kidd, Jr., Zachary Kienbaum, Gebben Miles and Karen Shedd.
MAIN EVENT
The Main Event is a 300-target contest that can be shot on one of three different schedules. Traditionally a four-day contest held the last four days of the week, several years ago the NSCA added two early, two-day lineups of 150 birds-per-day agendas for those whose schedules don't allow the traditional 75 target-per-day program. In addition, in 2022 a Super Squad program was implemented, arranging the top male and female shooters from across the country to compete on the same course on the same flight time. The goal was to even the playing field while creating an exciting, more spectator-friendly race. The four-person Super Squad lineups were comprised of three top-tier qualifying shooters, along with one slot reserved for a competitor who paid extra to experience shooting with the big dogs. The last day the Super Squads would be rearranged by score, making it a head-to-head contest for the podium.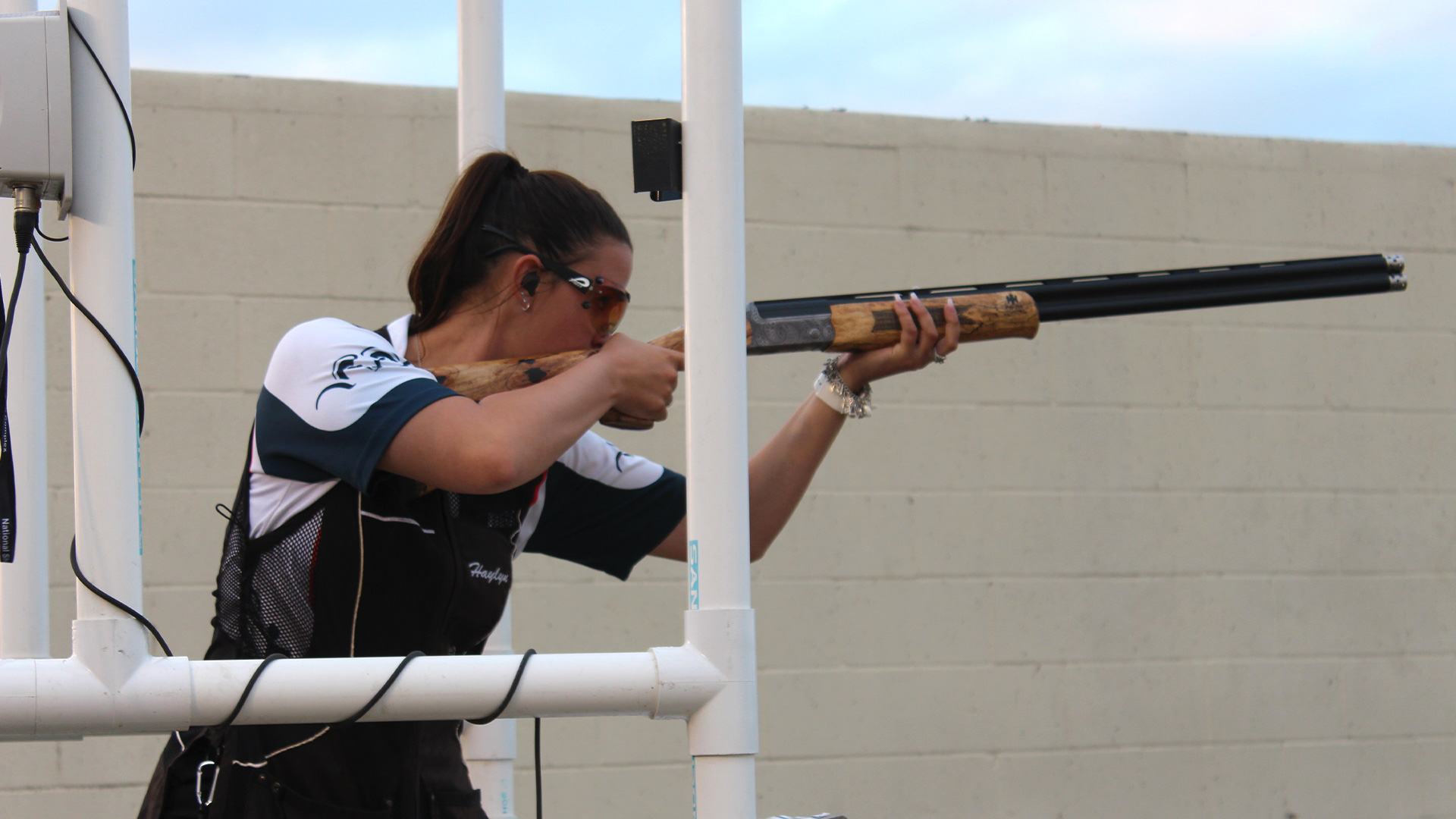 There were several good scores posted from the two-day rotations, but none that would ultimately contend. Trent Allen (277), James Plumley (276) and Brandon Burgert (275) were at the top of the board from the early rotations. Although all turned in scores of better than 91 percent, the rules imposed this year, along with the Super Squad program, dictated that the ultimate Main Event winner would have to shoot the four-day rotation to qualify.
The Super Squad shooters all shot the Yellow course Thursday morning, the first day of the four-day rotation. Two-time Main Event champion Zachary Kienbaum set a scalding hot pace by posting a perfect 75 score, followed by Theo Ribbs on 74 and last year's champion Joseph Fanizzi, who stood on 73.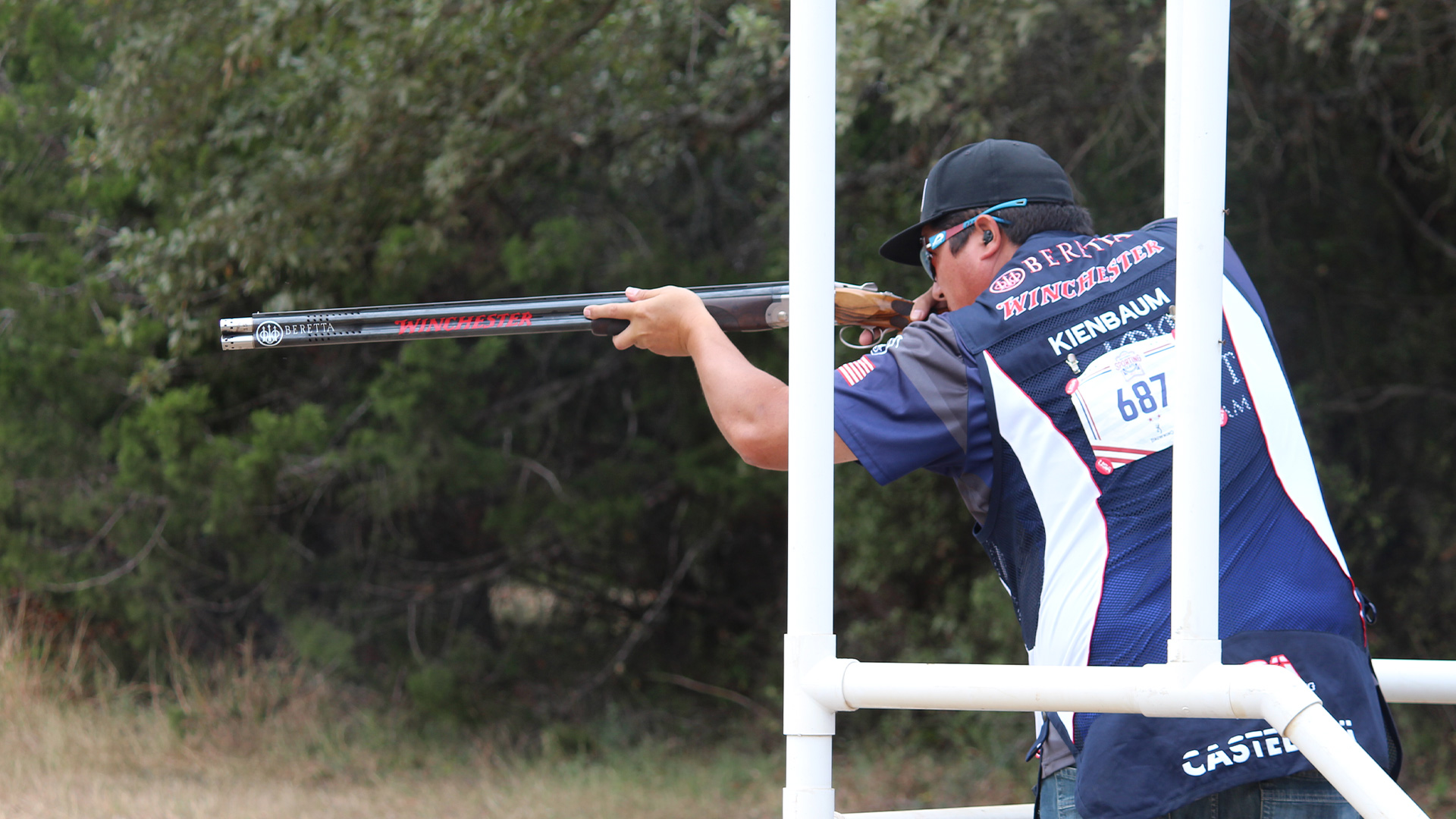 The tension was building as Friday saw the Super Squads hit the Red course mid-morning. Kienbaum, who in 2022 would retain the lead throughout the four-day stretch, missed five birds for a score of 70 on Red and a cumulative score of 145. Anthony I. Matarese, Jr., the 2018 National Champion, also logged a score of 70, moving him into a tie for runner-up with 142, along with Theo Ribbs and Jonathan Henrici.
The Super Squad shooters attacked the Orange course midday Saturday. Kienbaum held strong by posting a score of 72, keeping him at the top with a cumulative three-day score of 217. Ribbs missed only two targets for 73, which positioned him temporarily in second place with a total of 215. Matarese, Jr., shot 71 and was two birds back with 213. Henrici was still in contention at that point with his Orange course score of 70, but there was sleeper holding tight in the wings—Brandon Powell.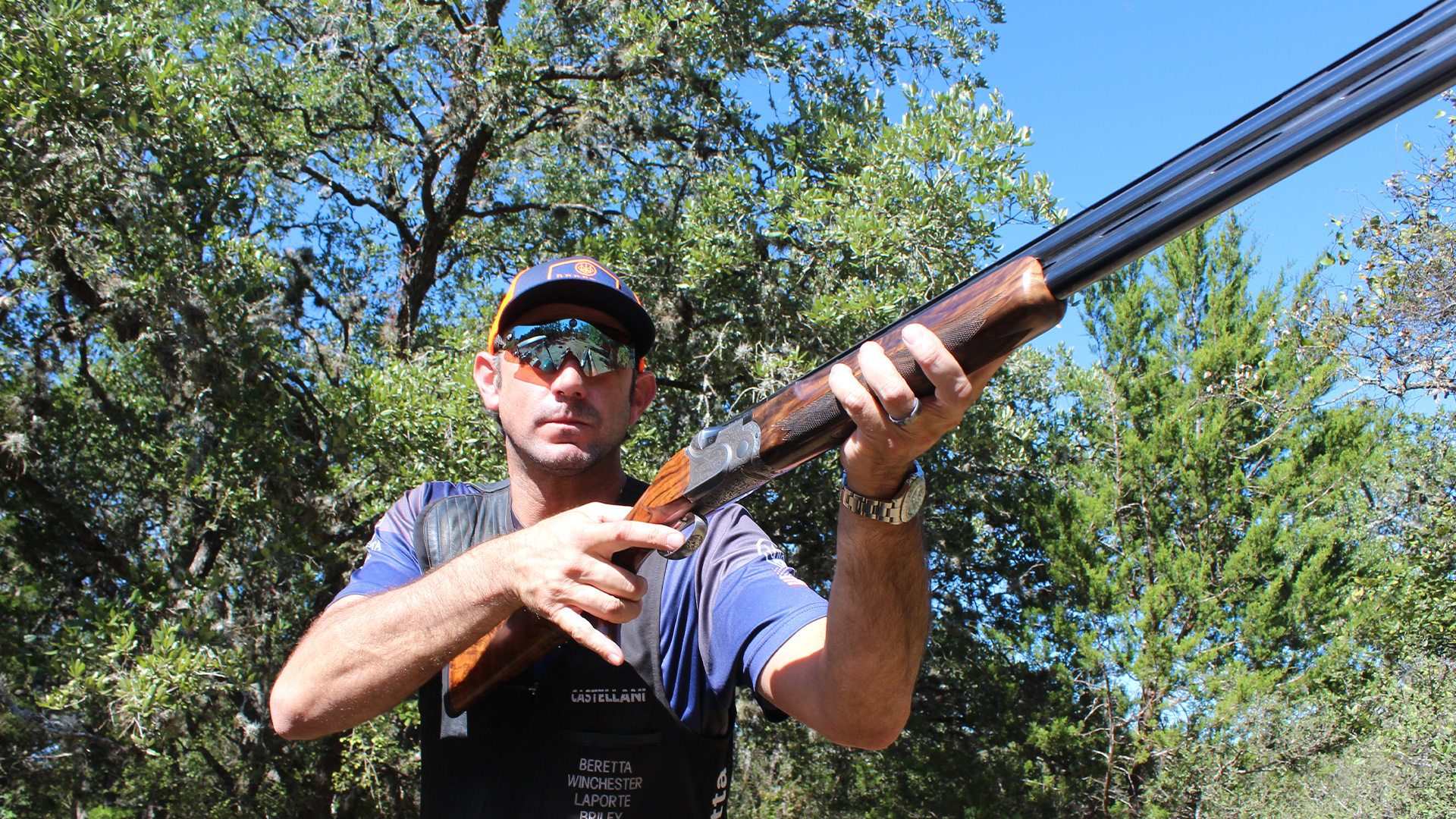 Powell, the 2019 Nationals runner-up, has a long-running reputation as a bad boy from Georgia whose shooting past is marred by controversial behavior on the field. Reputation aside, Powell is a major threat whenever he shows up to shoot and is arguably one of the most talented Americans to ever pick up a shotgun. Although he had not attended the National Championship in several years, Powell was determined to make his mark in 2022. By the end of Saturday, he was quietly sitting on a three-day total of 212.
Going into the final leg of the four-day Main Event, shooters tackled the Green course on the 3:30 p.m. flight. It was Kienbaum's title to lose. Everyone wondered if this previous two-time HOA national champion would become the third individual in NSCA history to win the contest three times.
Super Squads were reshuffled for Sunday's final leg of the Main Event to put the highest scorers on the same squads. Top scorers Kiebaum (217), Ribbs (215), Matarese, Jr. (213) and Henrici (212) were squadded together as squad 1B. Shooting in front of them on squad 1A were the next highest scorers: Powell (212), Fanizzi (211), Shawn Kemeter (210) and two-time Nationals winner Derrick Mein (210).
The lady shooters had their own reshuffled Super Squads. Ladies squad 1B included Haylyn Hanks and Karen Shedd (both with 208), followed by Desirae Edmunds (207) and Ashley Little (203). Ladies Squad 1A consisted of the next four highest scores, made up of Reanna Frauens (198), Madison Sharpe (196), Jenni Clark (194) and Kayla Kane (194).
What followed was sporting clays history. Matarese, Jr., turned in a strong score of 70 to end on 283, two birds ahead of last year's HOA winner Fanizzi, securing him the third place step on the podium and the $3,000 third place purse money. Powell shined by shooting 72, the highest score on the top squad. This put him one target ahead of Matarese, Jr., and firmly in the runner-up position with $5,000 paycheck. Kienbaum slid by with a score of 68, which was just enough. He ended with 285, capturing the 2022 NSCA National Championship along with a $10,000 payout. Kienbaum is one of only three shooters in NSCA history to win three times.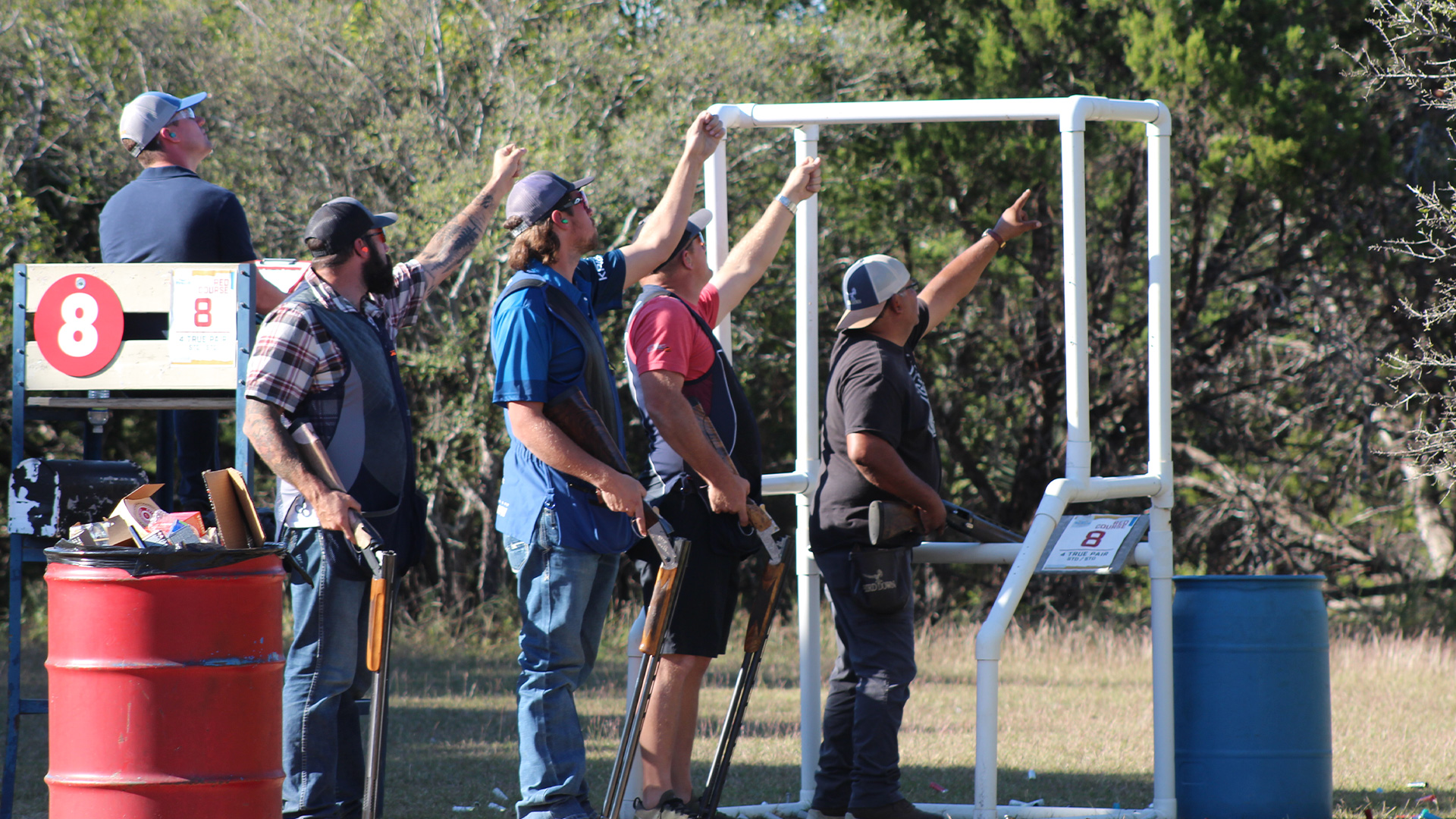 Haylyn Hanks and Desirae Edmunds both fired scores of 68 on Sunday's final leg, Hanks with 276 for Lady champion and Edmunds with 275 and the runner-up spot. As for Karen Shedd, she posted an uncharacteristically low score of 61 for third place.
The 2023 NSCA National Championship will be held October 21-29 at the National Shooting Complex. As of this writing there are nearly 700 entrants registered. Go to scorechaser.com.