by
posted on September 21, 2023
Support NRA Shooting Sports USA
DONATE
The 2023 NRA National Matches at Camp Atterbury kicked off Saturday, July 8, with a star-studded opening ceremony and the High Power Rifle OTC National Championship. Now in its third year at Camp Atterbury, which is a National Guard training facility in Indiana located about 37 miles south of Indianapolis, this year's NRA National Matches featured five weeks of continuous competition in High Power Rifle, Precision Pistol and Smallbore Rifle. (Smallbore will be featured in a future article.)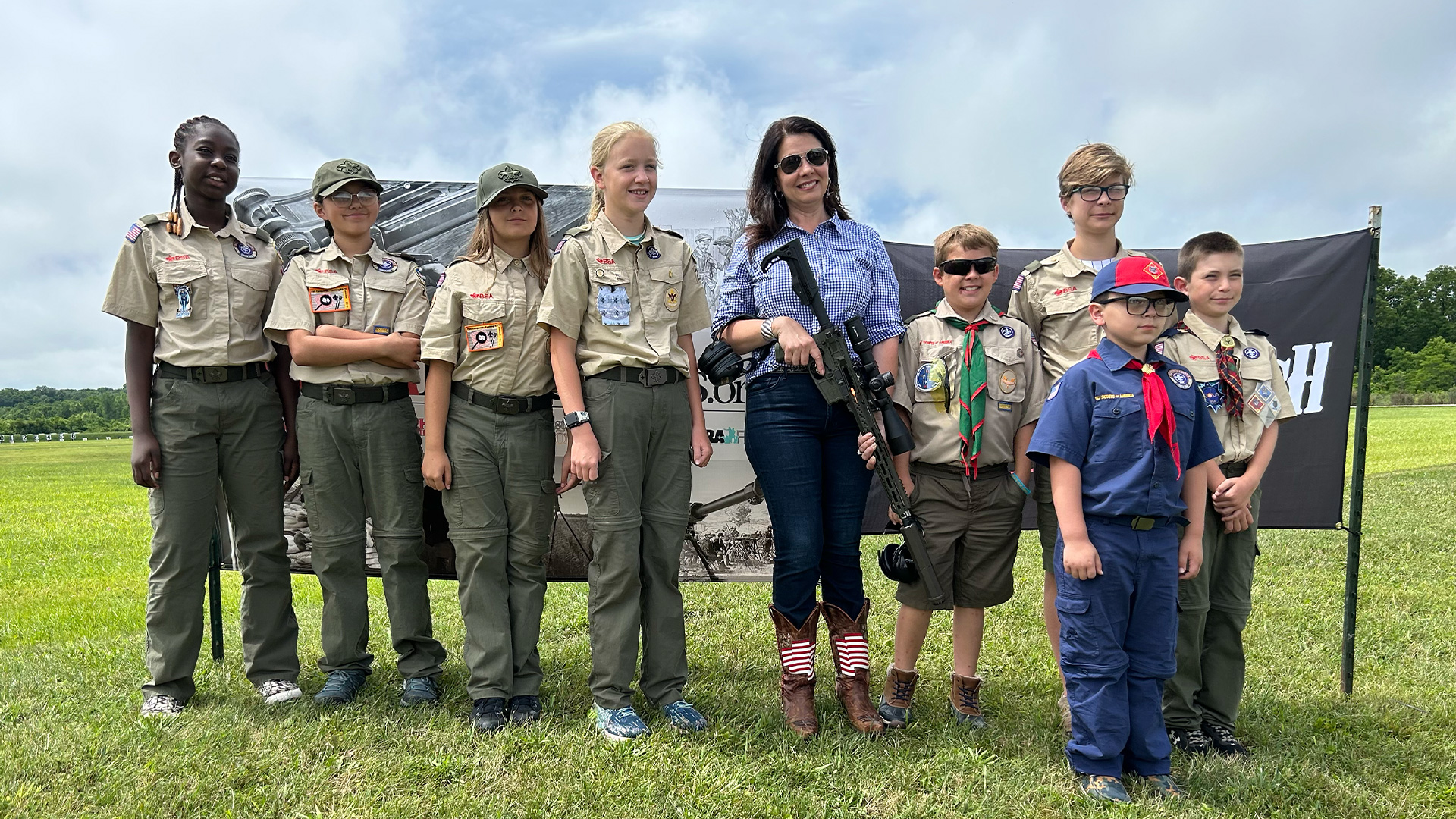 Opening the competition this year at Camp Atterbury were Indiana First Lady Janet Holcomb, NRA Second Vice President David Coy, and Indiana State Rifle and Pistol Association President and NRA Board Member Charlie Hiltunen.
For the third consecutive year, Janet Holcomb fired the ceremonial first shot.
"Growing our ranks is my mantra when speaking with Second Amendment groups," Mrs. Holcomb said. "We each have a responsibility and obligation to get new people out and educate them and involve them in the shooting sports. It's the only way that it will continue and is really the best way to preserve our traditions and protect our rights. As the uneducated go after our firearms and our rights, getting people out and involved in the shooting sports does so much to advance our message."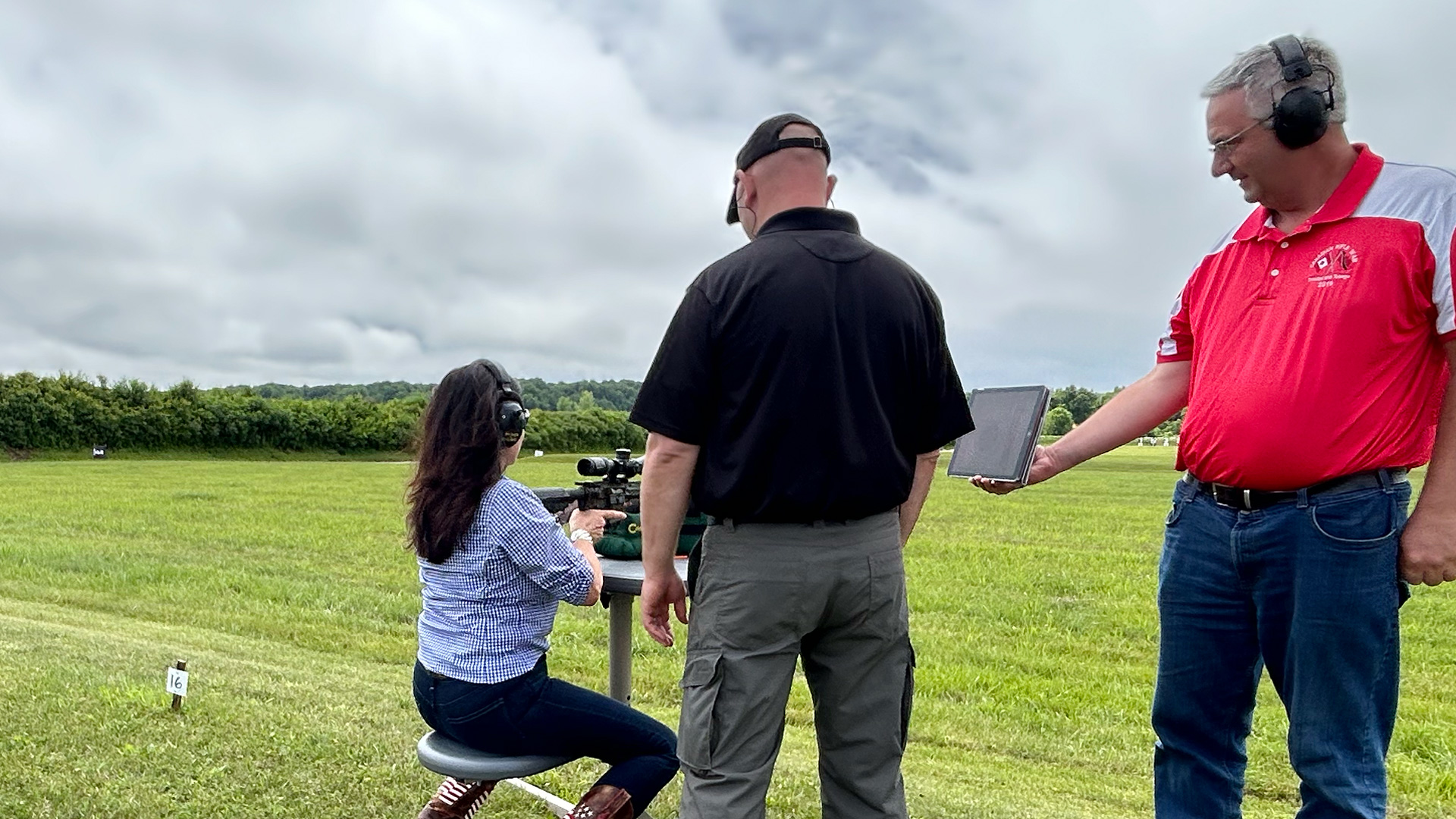 NRA Second Vice President David Coy expanded on how the National Rifle Association of America has been besieged legislatively, along with a politically motivated effort to destroy the Association by the State of New York.
"We're coming to the end game of that, and I'm personally optimistic it will be resolved favorably for the Association, and we can get on with the important work that we need to do—all of the good things involved with the shooting sports," Coy said. "We defend the right to keep and bear arms so we can exercise this right freely. I'm reminded of the words of the late Dr. David Kaplan, a former NRA Board Member. He said, 'Rights that are not exercised are rights that are lost.' There is no more righteous, peaceful and lawful exercise of our rights than competitive shooting. The NRA National Matches are a great tradition and example of this."
HIGH POWER
The NRA National High Power Rifle Championship at Camp Atterbury, held July 8-14, kicked off this year's NRA National Matches. With a score of 2387-113X, Amanda Elsenboss of Woodbury, Ct., won the High Power title for the first time since 2021. After the competition at the awards ceremony, Elsenboss was awarded a Mumma Trophy plaque, along with a gold-tone NRA National Championship medallion. Classified as a High Master, Elsenboss was competing in the Service Rifle category, with her score netting her the National Service Rifle Championship and setting a new National Record, as well as securing her the High Woman award. And, with a score of 796-40X, Elsenboss won the Vandenberg Cup this year by a three-point margin over the runner-up, Hugo B. Adelson of Breinigsville, Pa.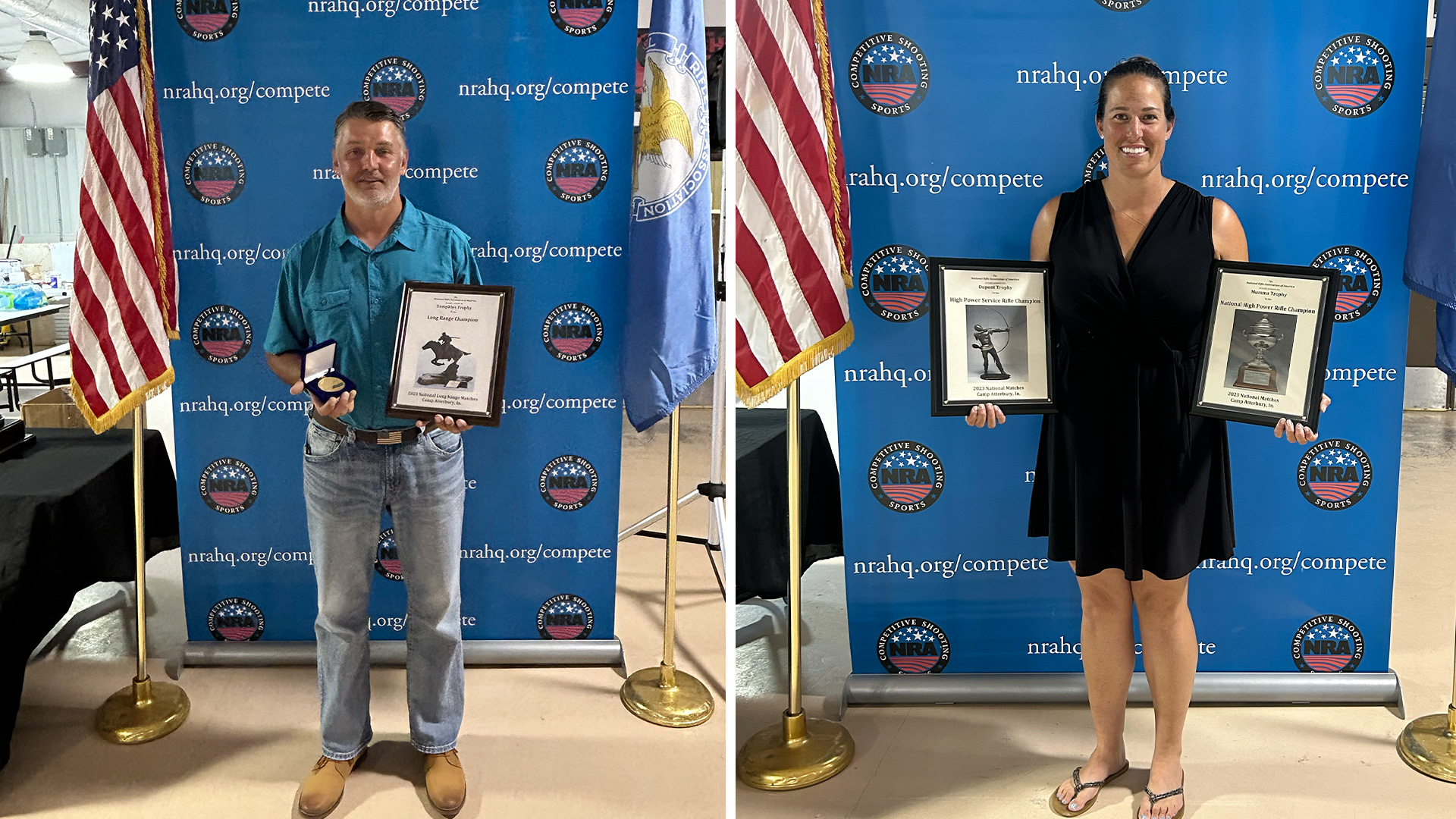 In second place overall at the 2023 NRA High Power Rifle Nationals was civilian Match Rifle shooter Kenneth Lankford of Laramie, Wyo., who walked away from the competition with a score of 2375-90X. Finishing third was Maj. Samuel K. Freeman (Army National Guard), a Service Rifle competitor with a score of 2374-93X.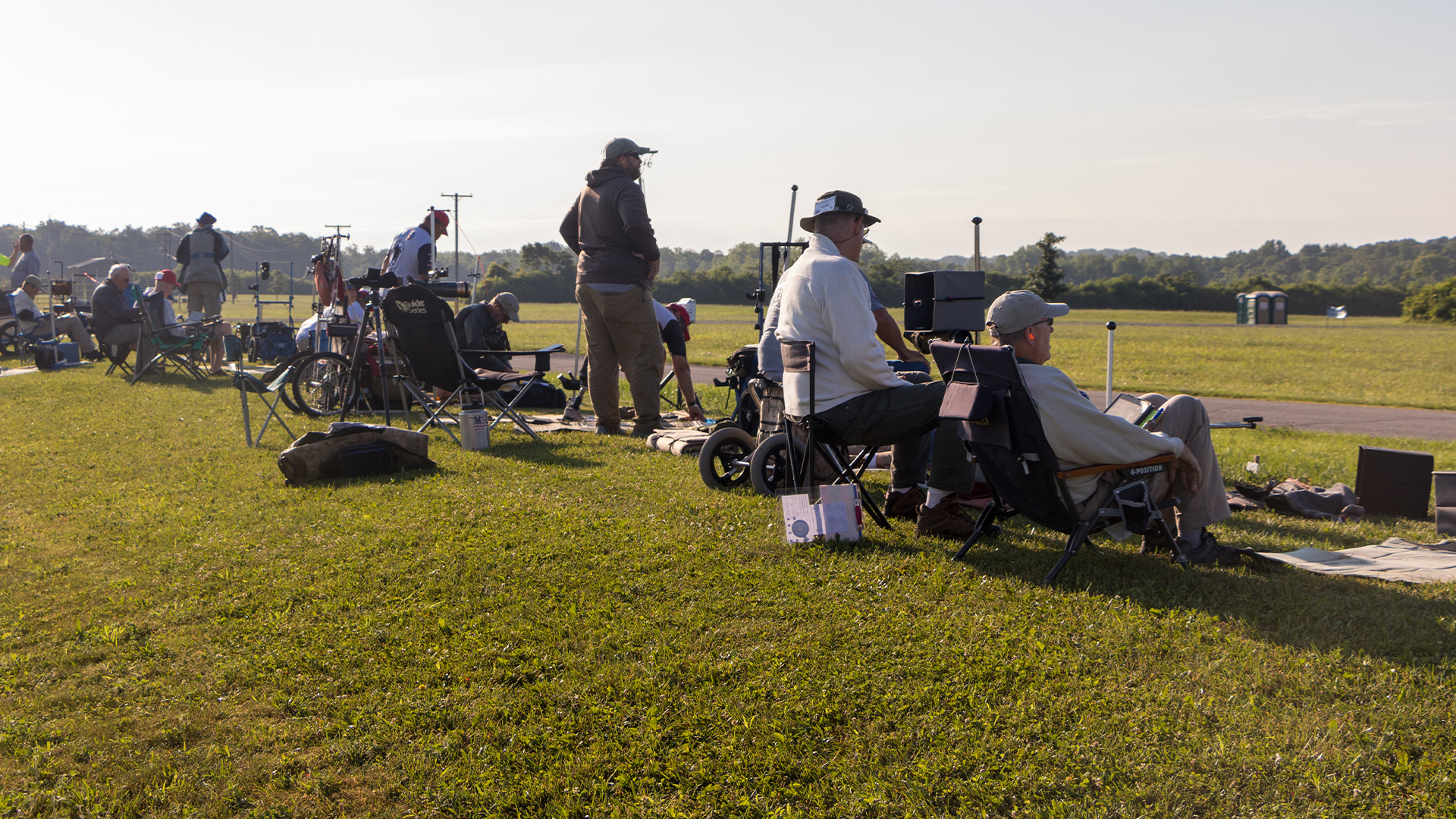 MID-RANGE
The 2023 NRA National High Power Rifle Mid-Range Championship was held July 16-21, and similar to OTC, a woman took the top honor. With a score of 2396-171X, Kim Rowe of Wadsworth, Ohio, is this year's Mid-Range National Champion, receiving a Patriot Minuteman Trophy plaque, a gold-tone National Championship medallion, and a $200 check from the NRA for the win. Additionally, Rowe was a member of the champion Mid-Range Prone team USNRTRowe, with teammates Oliver Milanovic, Larry Sollars and Joseph Bakies, and Team Captain and Coach Charles Rowe. USNRTRowe fired a winning score of 2394-163X.
Coming in second place at the Mid-Range Nationals was Larry Sollars with 2396-167X. Sollars, hailing from Cumming, Ga., was four points down in the X count from Rowe. The Mid-Range runner-up, Joseph F. Bakies of Lima, Ohio, finished the match with a score of 2396-166X, a single X behind Sollars.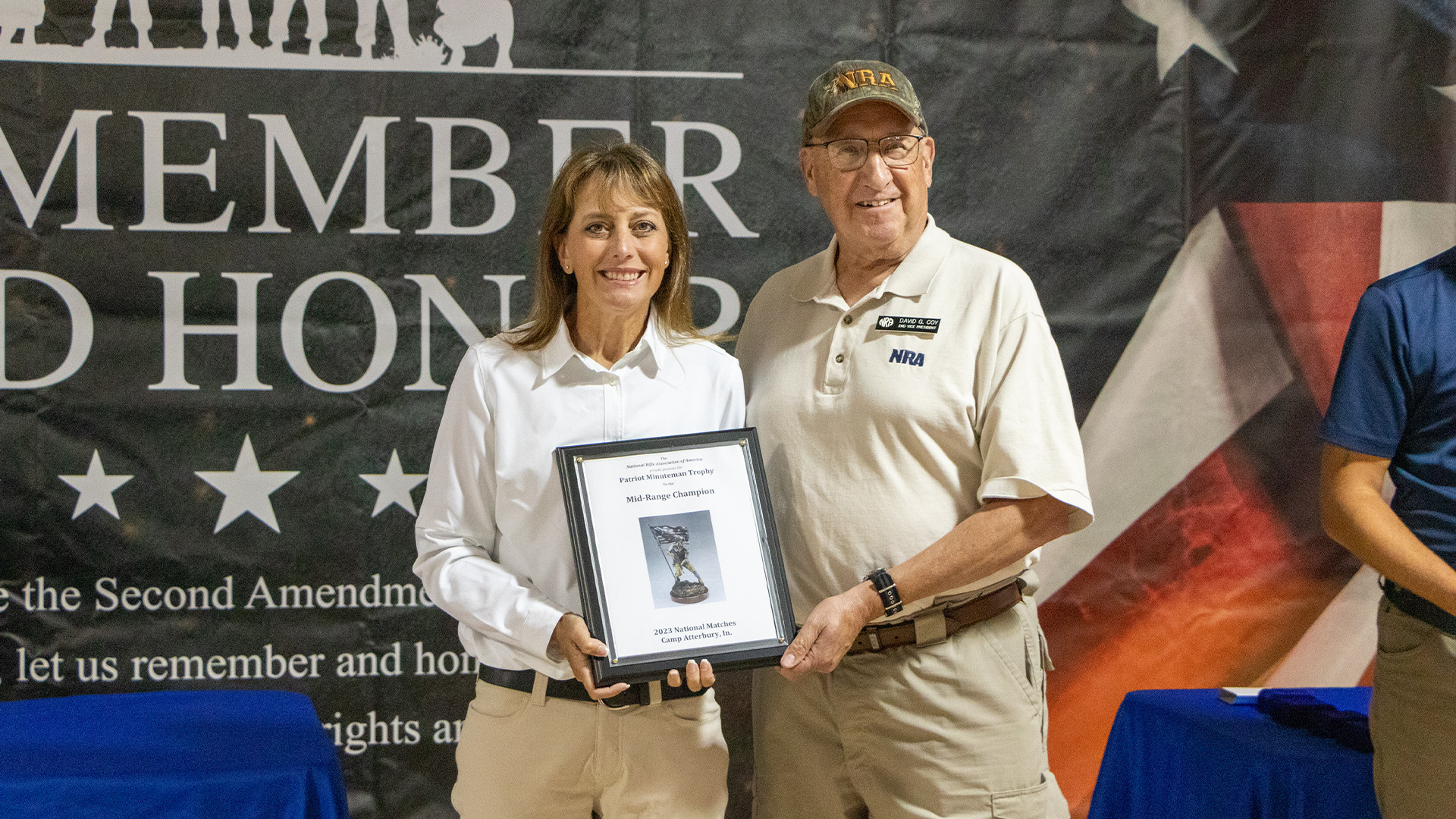 LONG-RANGE
The NRA National High Power Rifle Long- Range Championship was held July 23-28 as part of the NRA National Matches. Oliver Milanovic of Gilbert, Ariz., is the 2023 NRA National Long-Range Champion after posting a score of 1242-66X.
His awards haul this year included a Tompkins Trophy plaque, gold-tone NRA National Championship medallion, a $440 Krieger Barrel Gift Certificate and three boxes of bullets from Berger Bullets. Milanovic's winning score also garnered him the High Palma award.
Coming in second place was Phillip R. Crowe of Cullman, Ala., who finished the aggregate only one point behind the champion Milanovic with a score of 1241-63X. Third place went to Thomas Colyer of Harriman, Tenn., with a score of 1240-61X.
High Junior at Long-Range this year was Kevin George of Corcoran, Calif., with 1228-46X. For the win, George received an Ian Cheeseman Cheyenne Trophy plaque. As for High Service Rifle, the winner was Michael James of New Lenox, Ill., with 1185-36X. In addition, Brian Mrnak of Ashland, Wis., secured the High Military Veteran award with a score of 1231-53X.
2023 NRA High Power Championships Leaderboard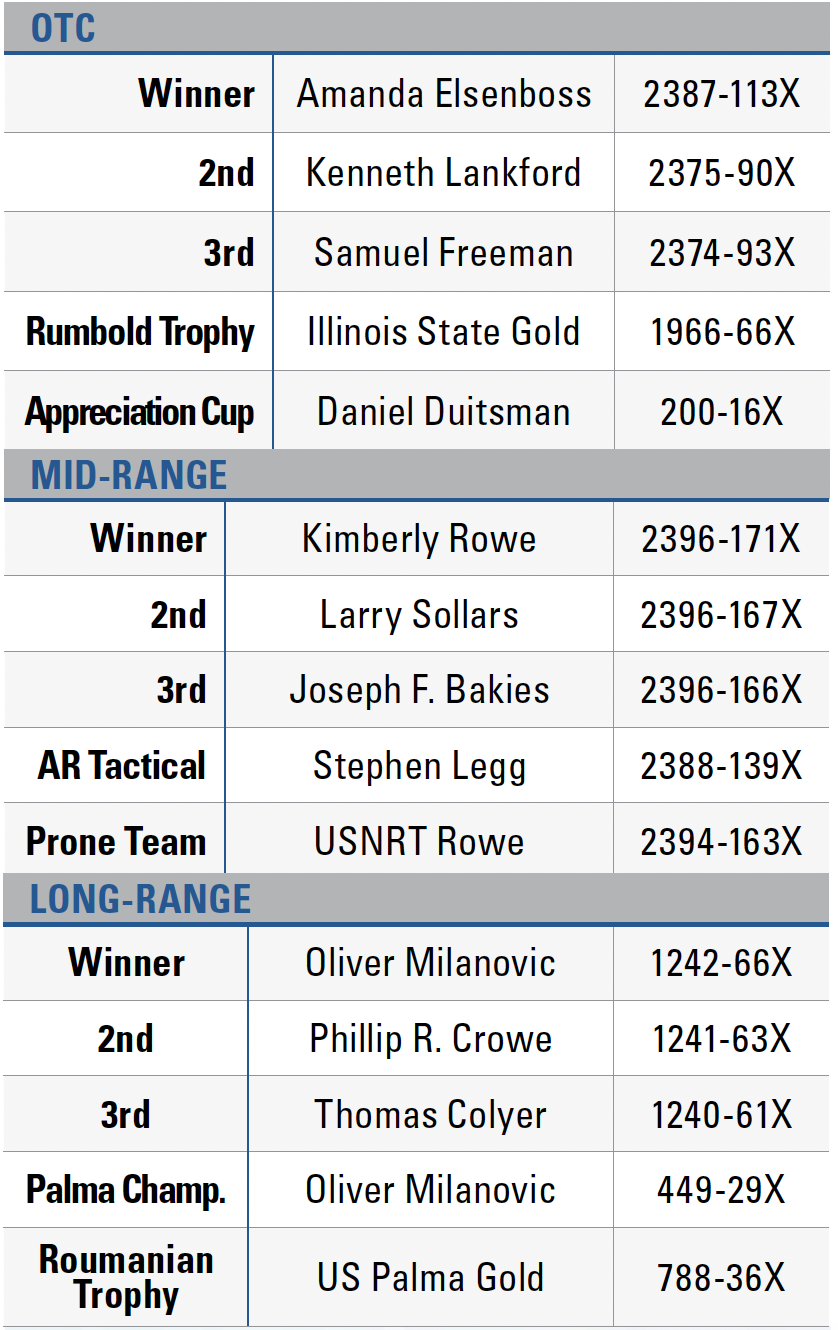 PRECISION PISTOL
The NRA National Precision Pistol Championships are comprised of the traditional bullseye three-gun course of fire—a 2700-point aggregate drawn from the .22, Centerfire and .45 Caliber championships. This year's NRA National Precision Pistol Nationals at Camp Atterbury were held July 18-22.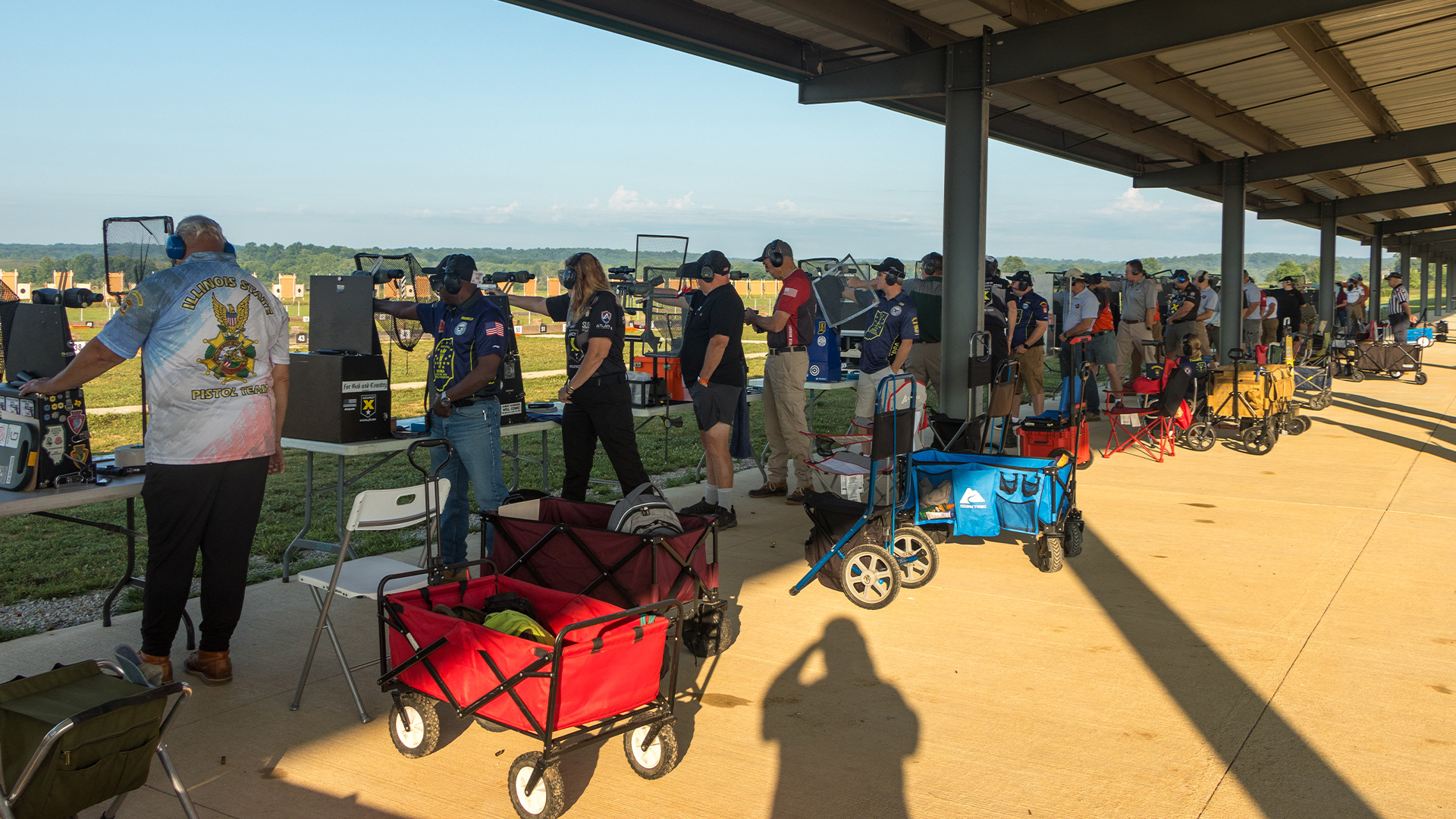 Taking the national title this year was Jonathan Shue of Liberty, N.C., walking away from the match with a score of 2662-135X. Shue's score—25 points ahead of the nearest competitor—also earned him the High Civilian and High Military Veteran awards.
The 2023 NRA Precision Pistol runner-up was John S. Zurek of Alpine, Ariz., who finished the match with a score of 2637-128X. In third place and rounding out the top three open pistol shooters was Travis A. Jorgenson of Dent, Minn., with a score of 2630-121X, which was seven points behind Zurek.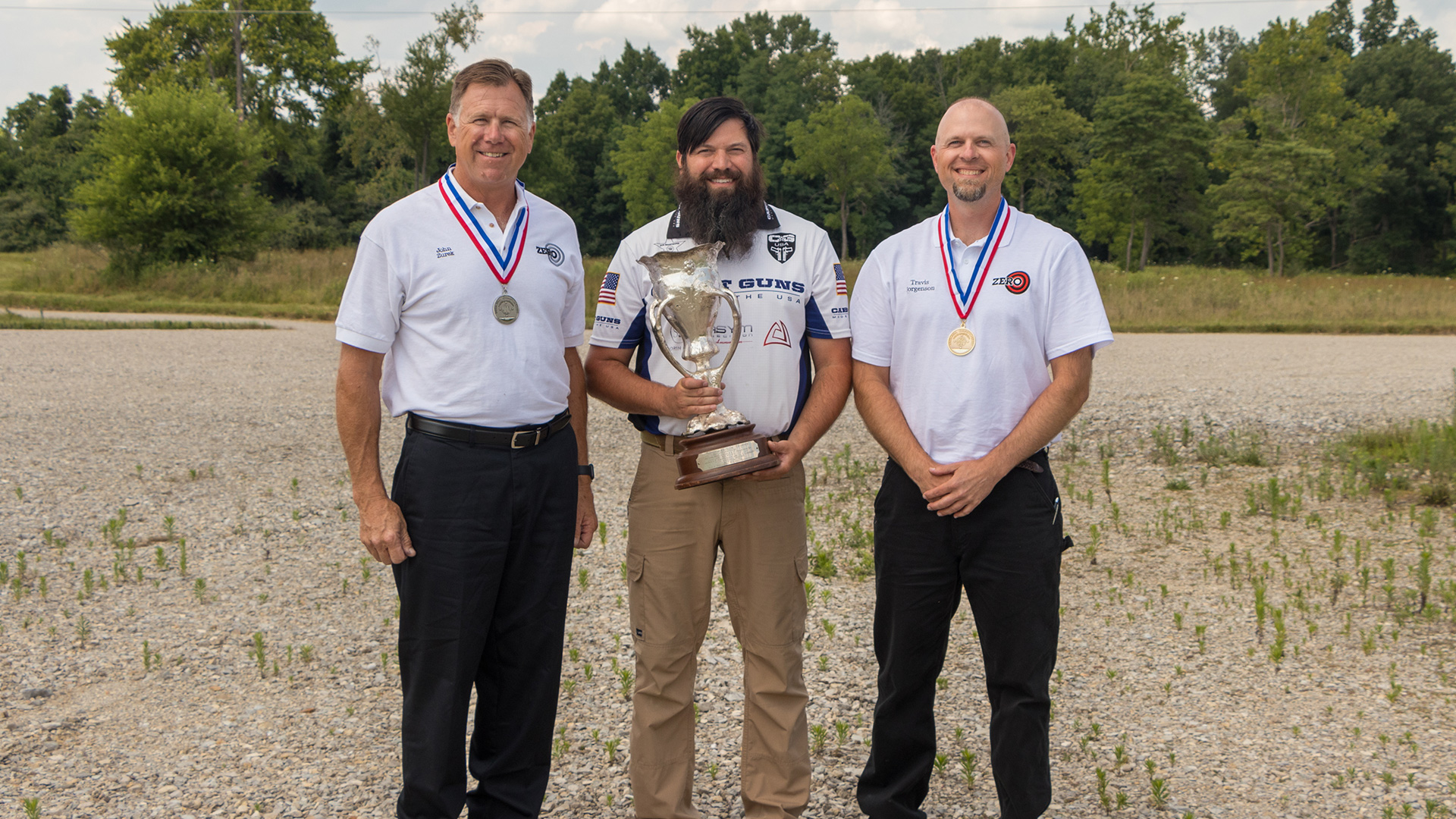 High Woman went to Kimberly Hobart-Fleming of New Philadelphia, Ohio, with a score of 2498-62X. Legendary law enforcement competitor Phil Hemphill of Meridian, Miss., was the Police Champion with a score of 2612-108X. Additionally, the Service Champion title went to Master Sgt. Jerry Millan (U.S. Army) with 2396-45X.
Winning the .22 Caliber Championship was John C. Bickar of Menlo Park, Calif., with a score of 887-52X. Four Xs behind Bickar in second place was Jon Shue, and John Zurek in third place with 885-40X.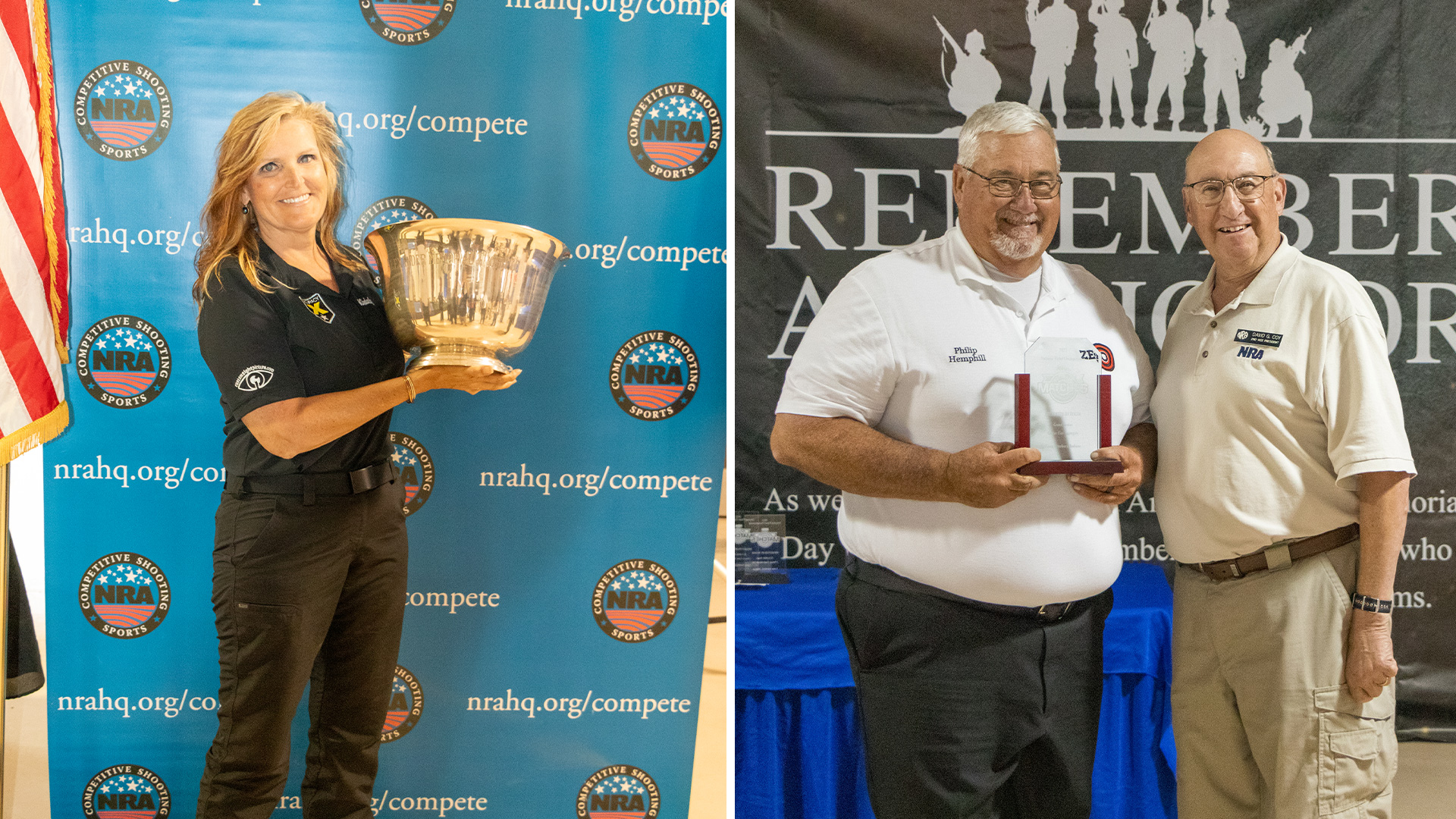 In the Centerfire Championship, again it was Jon Shue at the top of the leaderboard with 888-40X. In second place was Jordan P. Kramp of Monterey, Calif., with a score of 878-35X. Taking third place was Travis Jorgenson with 877-44X.
Finally, the .45 Caliber Championship was a near-mirror image of the Precision Pistol grand aggregate results, with Jon Shue again as match winner with 887-47X, followed by John Zurek one point behind, and Travis Jorgenson in third place with 876-36X.
2023 NRA Pistol Championships Leaderboard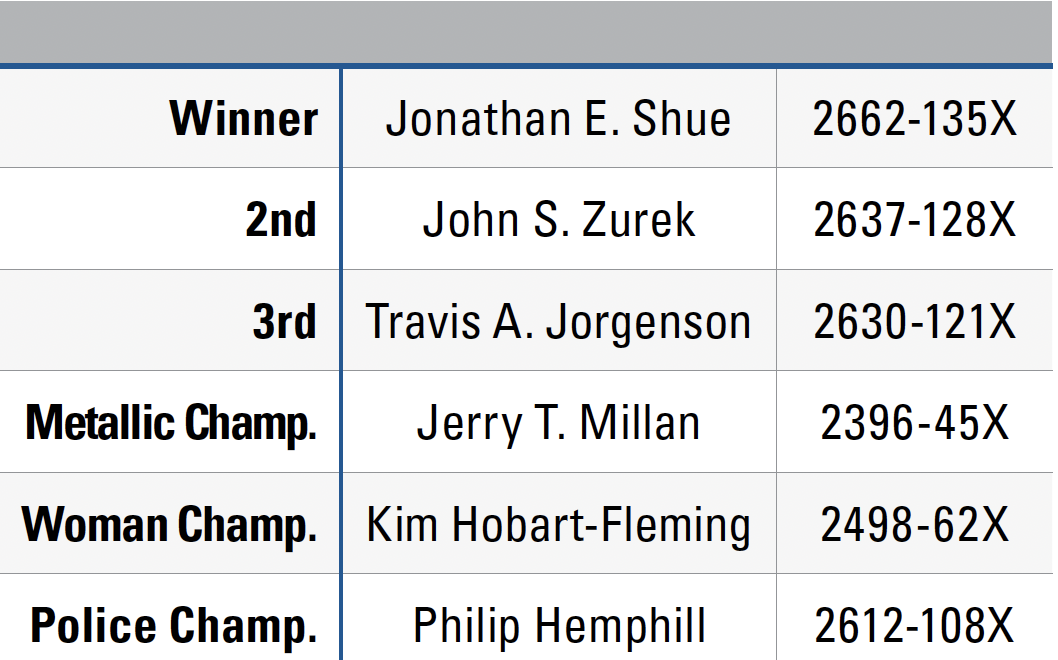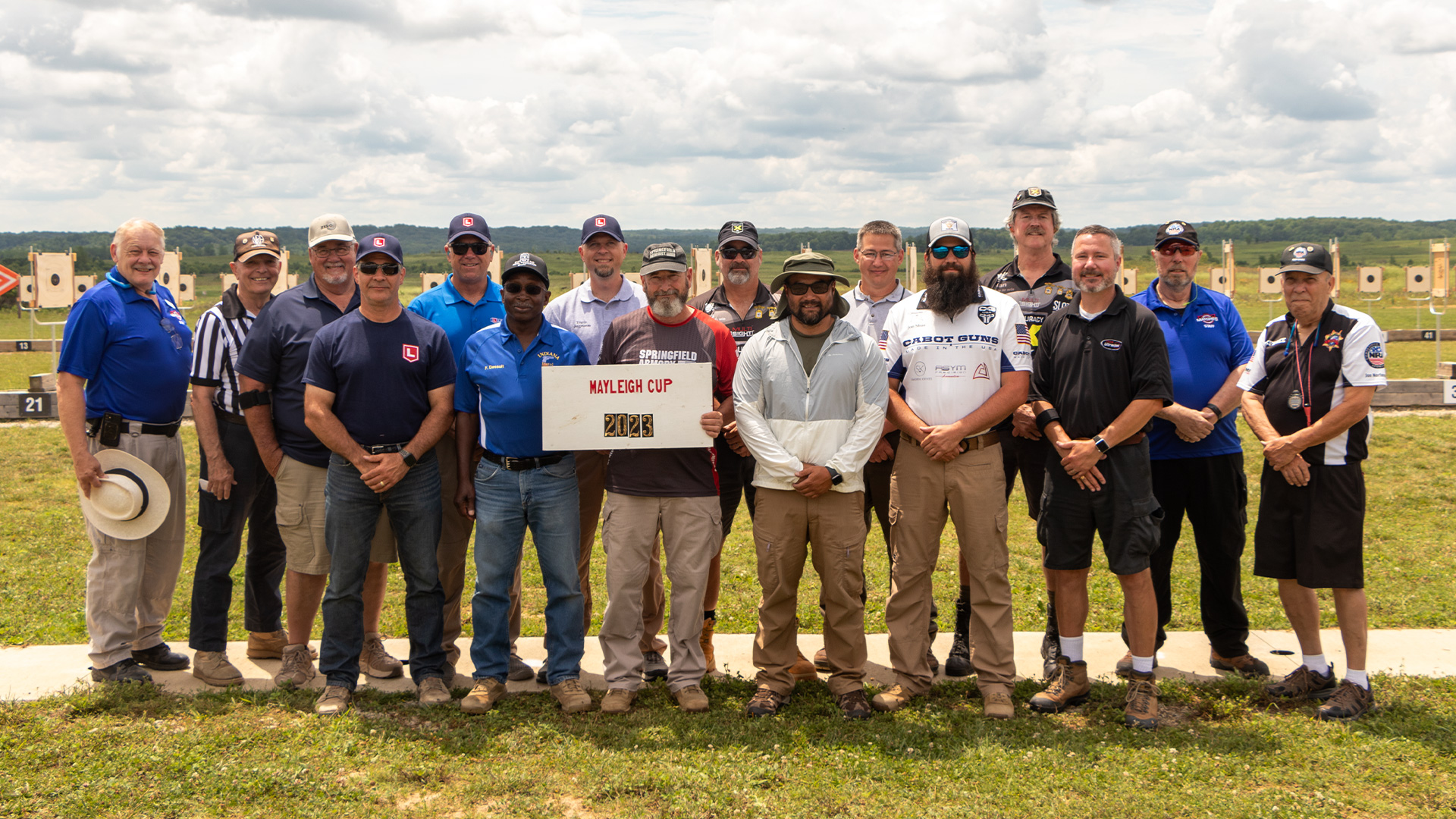 See the full results of the 2023 NRA National Matches At Camp Atterbury at the NRA Competitive Shooting Division website.