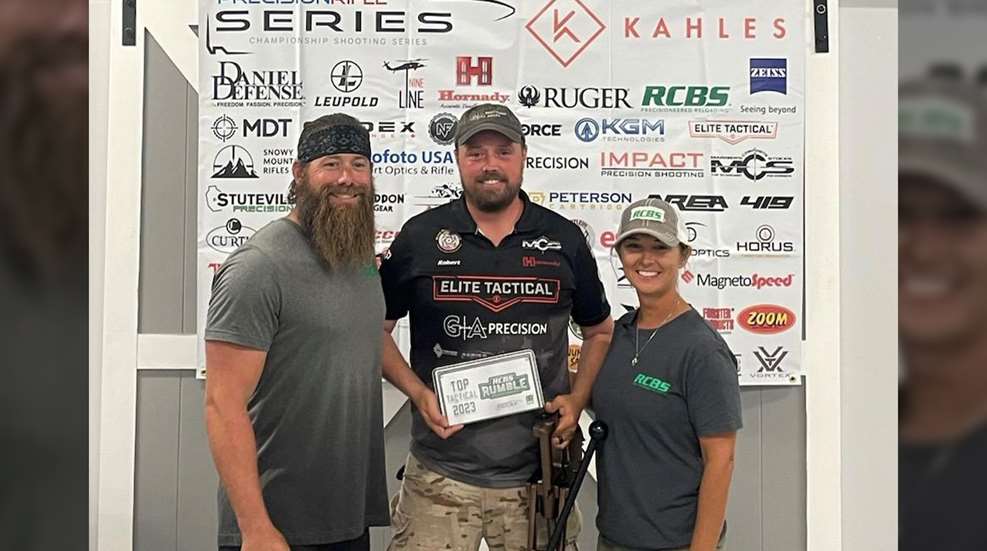 At the 2023 RCBS Rumble, Team RCBS and Elite Tactical shooter Robert Brantley landed at the top of the Tactical leaderboard with a final time of 143.12 seconds, taking home one RCBS custom press trophy.
This year's RCBS Rumble, held August 11-12 near Pleasant Hill, Missouri, was "one of the most popular and fastest-selling Precision Rifle Series matches of the season."
The victory marks Brantley's third in a row, as he continues to lead the points race for becoming the Top Tactical shooter of the 2023 PRS Season. Additionally, RCBS and Elite Tactical teammate Melissa Gilliland took Top Lady with a final time of 134.58.
Brandon Hembree topped the overall leaderboard and was the match winner with a final time of 145.51.
At the 2023 RCBS Rumble, first through third place winners received gold, silver and bronze Summit presses, while fourth and fifth place finishers were awarded a custom copper RCBS Rebel press.
The 2023 RCBS Rumble drew 92 top PRS shooters from across the country, selling out its allotment of registration spots in less than an hour.
The match had a go-big-or-go-home feel, presenting plenty of fresh challenges for competitors to navigate. Hot and humid weather on day one gave way to hard rains and fierce winds that partly obscured targets on day two. Over the course of two days, shooters worked their way through 18 unique stages, including a new shooting tower. In addition to the main competition, the match included side stages sponsored by Manners Composite Stocks and Bushnell.
This year, the RCBS brand is celebrating its 80th anniversary, and the RCBS Rumble celebrated the company's legacy. "This year's RCBS Rumble was by all accounts a tremendous success," Laurie Kokoruda, senior product manager and match director said. "We knew from the beginning that we wanted to make the course of fire even more challenging than the previous year, so we added more movement and new obstacles for competitors to face. Of course, the weather itself added its own degree of difficulty. Despite the new challenges, we heard nothing but positive feedback from shooters throughout the match."
2023 RCBS Rumble Leaderboard
Winner – Brandon Hembree
Second Place – Chris Opfer
Third Place – Jeremy Von Glahn
Top Tactical – Robert Brantley
Top Production – Doug Koenig
Top Gas Gun – Scott Shreve
Top Senior – Dale Rhoads
Top Military/Law Enforcement – Jarrod Berry
Topy Lady – Melissa Gilliland
Top Junior – Garrett Stephens
Top Amateur – Morgan Kenner
Top Marksman – Brent Harlan
View the full results of the match at the Practiscore website. Learn more about RCBS at rcbs.com.