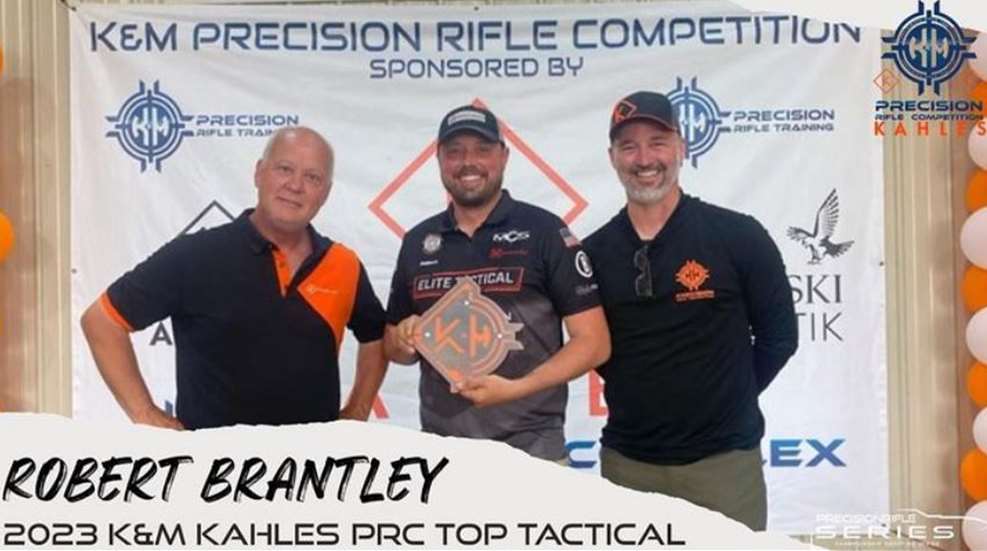 Bushnell and RCBS pro shooter Robert Brantley landed in first place in the Tactical division at the 2023 K&M Kahles Precision Rifle Competition, held last month at the K&M Shooting Complex near Jackson, Tennessee.
Brantley, who used an Elite Tactical XRS3 riflescope to secure the win, has now won Top Tactical in back-to-back PRS events.
"This year's match was incredibly difficult, with lots of targets unforgiving of any scope that doesn't track or hold zero," Brantley said. "However, with the Elite Tactical XRS3 these things were a non-issue and the G4P reticle allowed me to easily hold on the smallest of targets. The mover holds on the G4P also lined up perfectly, making light work of the three stages with moving targets."
Additionally, Brantley opted to use a new competition rig chambered in .308, and mounted the rifle with a new scope three weeks before the match. Despite not using either the rifle or scope in competition, his confidence remained high.
"I enjoy shooting the .308 as it doesn't mask any of your flaws and forces you to stay in it," Brantley said. "You must nail your wind calls, manage recoil and account for the drop in the heavier load. When shooting Tac, my goal is to always try and finish within the top 10 of the Open winner. Having quality gear that you can rely on makes this a possibility."
Brantley also relied on his RCBS reloading setup to prepare for the match, including his Rock Chucker Supreme Press, MatchMaster Dies, Bench Primer, Case Prep Center, Chargemaster Supreme powder dispenser and Ultrasonic Case Cleaner.
"My RCBS reloading setup is great because it helps me tailor my ammunition to my exact needs," Brantley said. "I have more control over every detail, so I can trust my ammunition will be consistent and accurate."
Learn more about the Precision Rifle Series here. Also, visit the RCBS and Bushnell websites.