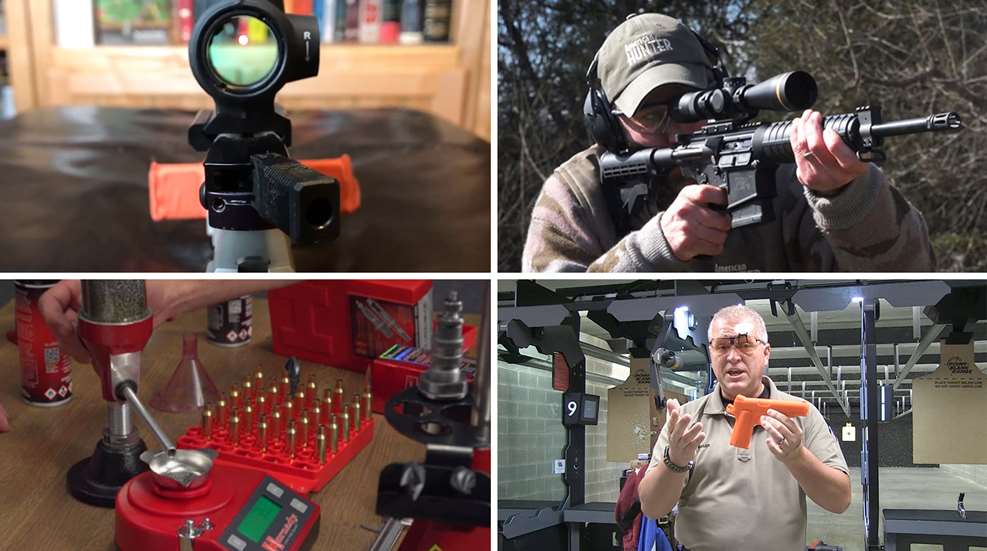 YouTube has opened the door for competitive shooters to demonstrate their capabilities on the range as well as share tips, tricks and advice to shooters of various skill levels all across the globe. With a seemingly endless supply of video content from shooters in every stage of competition and sport, we invite you to come fall down the rabbit hole of YouTube as we lay out some of our favorite competitive shooting based videos to binge watch. Please note these are listed in no particular order.
1.  Julie Golob
You can't venture far into the world of competition shooting videos without bumping into Julie Golob's channel. Golob uses her platform to offer shooting tips and tricks in addition to videos of her shooting specific matches and stages. Golob's channel proves a wealth of information for shooters starting out and even those already in the game. Topped off with her infectious energy and positivity, Golob's YouTube channel is a must for anyone looking to enter the competition scene.
2.  NRApubs
Variety is the spice of life and NRApubs (NRA Publications) has plenty of that. Providing a steady, reliable stream of content on a wide range of shooting disciplines, NRApubs is a wealth of information for any shooter looking to better their performance, source out gear or make gun buying decisions. With reviews and in-depth interviews with some of the industry's top competition shooters, the NRApubs channel is brimming with video content that is both entertaining to watch and informative. Consistently churning out videos, this channel is the most up to date in terms of after action reports as well as what's new and upcoming in the world of competitive shooting.
3.  Miculek.com
Miculek.com is the video warehouse of all things Miculek, housing content from patriarch Jerry, his wife Kay and daughter Lena. Boasting over 798,000 subscribers, the channel doubles down on content, producing a bevy of video topics from trick shooting to drills and match stages and just about everything else in between. If you're looking for advice and tips from the gun industry's first family of shooting, Miculek.com is the go-to source.
4.  National Shooting Sports Foundation
Whether you're a seasoned veteran of shooting looking to groom some skills or a beginner wondering what to expect out of competition, the National Shooting Sports Foundation (NSSF) offers a slew of video content of which to learn. With topics ranging from long range shooting to competitive handgun shooting, the NSSF's channel brings in professionals and notable instructors to easily break down topics to help shooters progress in their competitive journeys. Coupled with playlists that are organized and tailored to specific shooting goals, the NSSF's channel provides easy to digest content.  
5.  Gabby Franco
Gabby Franco, competition shooter and former Top Shot contender, delivers an international perspective to her YouTube channel. Enlisting her skills as a native Spanish speaker to expand her videos to shooters outside the English language, she produces content in a both English and Spanish. Franco's channel introduces shooting tips, how-to's, reviews, interviews and competition videos to a wider audience base through her bilingual expertise.
6.  Patrick E. Kelley
Patrick E. Kelley's YouTube channel offers a unique perspective on the typical "unboxing video." Categorized under the moniker "From the box to the match" Kelley's camera rolls as he unboxes a new gun and immediately puts it to the test in competition. Paired with his other videos on trick shooting and 3-Gun fun, Kelley's channel does a nice job of delivering relevant buying information with fun, entertaining competition content.
7.  Corrine Mosher
A firearms instructor and competitive shooter, Corrine Mosher's YouTube channel focuses on showcasing Mosher's performance during competition. Viewers watch as Mosher completes various matches and stages and are even privy to missteps along the way. Alongside her competitive shooting content, Mosher's channel also tackles handgun shooting basics as well as relevant topics such as "Can competitive shooters defend themselves?" Mosher's ability to take on tough topics while providing entertaining shooting videos earns her spot as one of the YouTubers to watch.  
8.  Tim Herron
Forgoing all the bells and whistles of post-production, Tim Herron's YouTube channel keeps to the motto of "Keep it simple." While you won't find any fancy camera angles, Herron's channel is riddled with competition footage in addition to some reviews, drills and general tips on shooting. Setting himself apart from other competitive shooting-based channels, the USPSA Grand Master focuses on topics and drills often overlooked by other YouTubers. From transition drills to speed shooting with content delivered on a monthly basis, Herron takes viewers on a ride through the USPSA circuit.
Did we miss any? Please send us a note at [email protected]