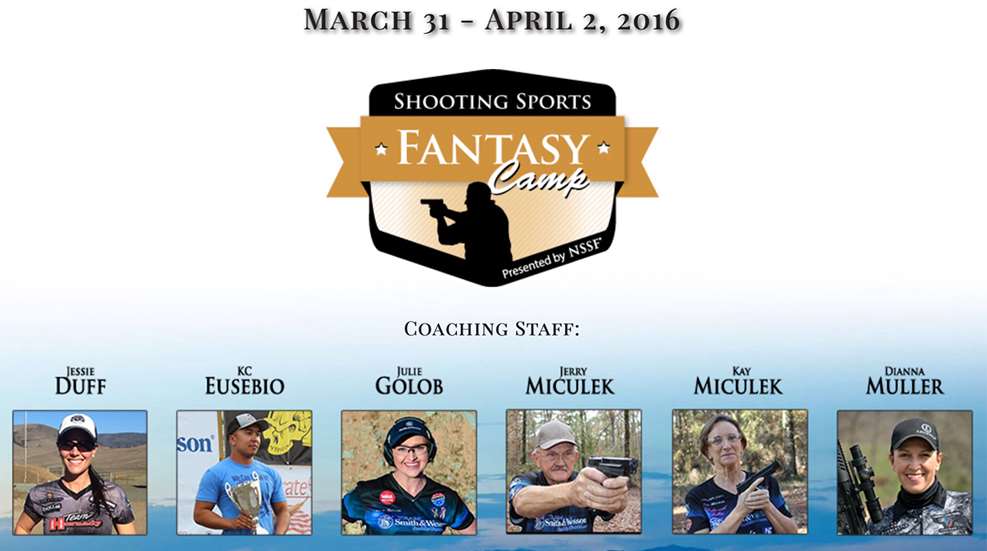 The world-class Clark County Shooting Complex in Las Vegas will be hosting the first-ever NSSF Shooting Sports Fantasy Camp on March 31-April 2, 2016. Shooters can look forward to a weekend of handgun shooting, friendly competition, making new friends, and top-notch instruction from some of the world's best competitive shooters.

The buzz that this event has generated in the first few days since its announcement has swarmed the internet. When I first heard about it, I thought of The Simpsons episode where Homer went to rock n' roll fantasy camp. Although Mick Jagger and the Red Hot Chili Peppers won't be at NSSF's fantasy camp, attendees can rest assured they will be in good hands.

The list of instructors at the fantasy camp includes some of our favorite shooters:

-Jessie Duff: Multiple World and National Champion including the prestigious MidwayUSA/NRA Bianchi Cup. Co-Host of NRA's All Access TV show.
-K.C. Eusebio: The youngest USPSA Master at the age of 10, the youngest USPSA Grandmaster at the age of 12 and the youngest shooter ever to win a world speed shooting title at age 15.
-Julie Golob: One of the most accomplished professional shooters in the world with over 120 championship titles in international, national and regional marksmanship competitions in seven different shooting disciplines. Former AMU shooter and the leading lady in competitive shooting sports.
-Jerry Miculek: One of the best all-around shooters on the planet, with over 100 National and World titles, as well as five Revolver World Speed Shooting Records. A member of Team Smith & Wesson since 1989, Jerry is one of the most recognized professional shooters of all time. Jerry makes numerous television appearances and has a very popular YouTube channel.
-Kay Miculek: One of the top ranked women in action shooting and the wife of Jerry Miculek, including two IPSC World Handgun Championships, six World Speed Shooting Championships, and twenty-five USPSA Handgun and Multi-Gun National titles.
-Dianna Muller: Lady Champion at the NRA World Shooting Championship. Dianna has been a member of the USA Ladies teams in two Pan-American Shotgun matches and a member of the USA Ladies Team that took gold in the World IPSC Shotgun match in Italy in 2015.

The schedule calls for 30,000 rounds of 9 mm ammo to be sent downrange over the weekend, and the HQ hotel is the Aliante Casino/Hotel/Spa. All that ammo and the glitzy accommodations won't come cheap though. The price for a single slot at the camp is $2,995. Considering all that is involved with this exciting new event however, the price is a bargain.

Learn more about the NSSF's fantasy camp at shootingsportsfantasycamp.com.