by
Art Merrill, Field Editor
posted on February 21, 2019
Support NRA Shooting Sports USA
DONATE
There's no accounting for sentimental value in a hand-me-down firearm. Maybe a throwback gun that belonged to a relative or friend? One that might fetch $50 at a yard sale (yes, honest citizens can still buy and sell guns at yard sales here in Arizona), but a gun which you wouldn't part with for a million bucks.

Mine is a 9-shot .22 LR revolver that belonged to my mother. I have fond memories of shooting it as a youngster. Manufactured from 1956 to 1973, Mom's Harrington & Richardson Model 929 Sidekick and I are contemporaries.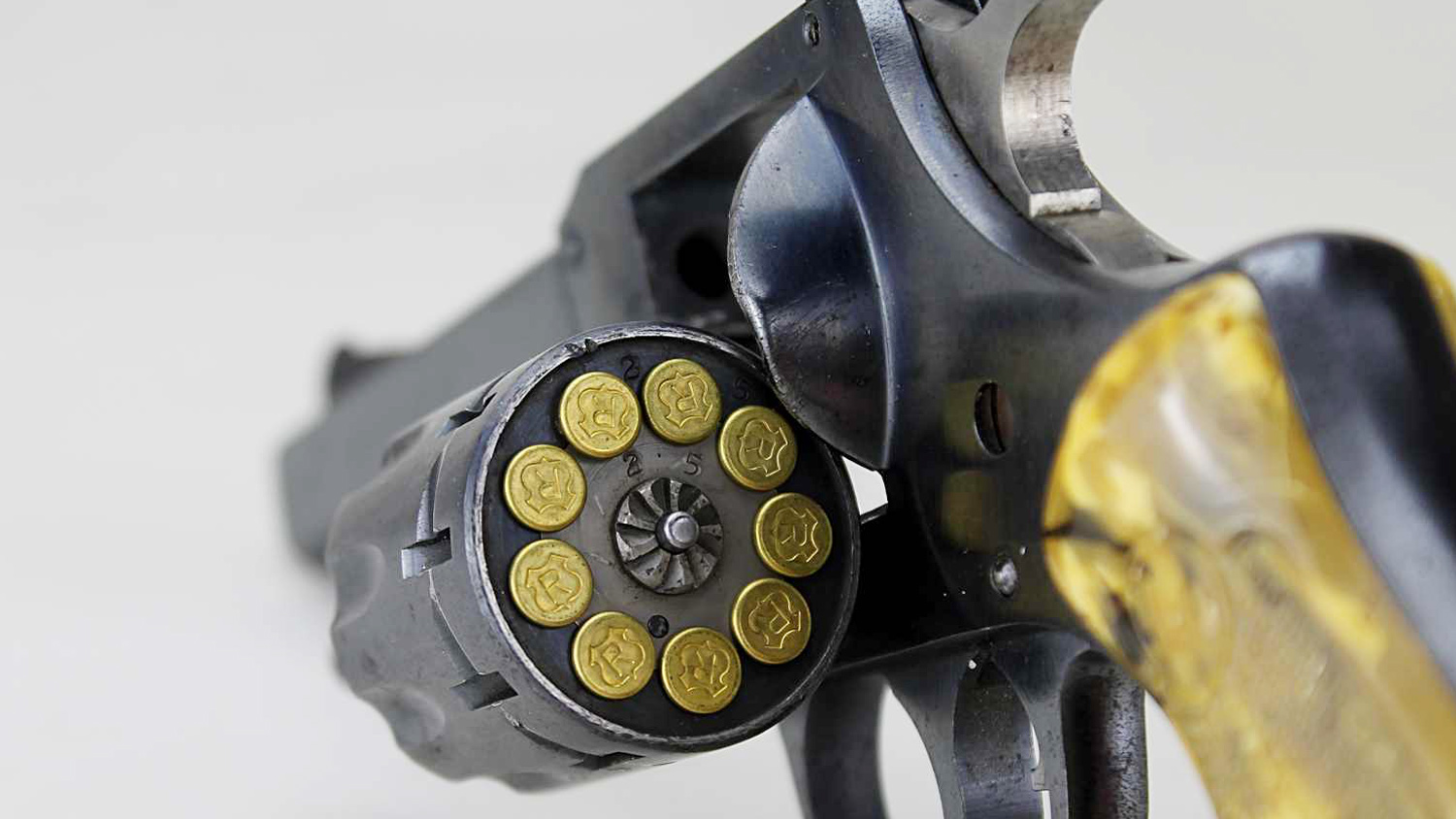 NRA review

The Sidekick sold for $36.75 in 1956. That would be $339.44 in today's dollars, according to an online consumer price index calculator, and a middle- to lower-end offering at about the same price as Ruger's then-debut semi-automatic pistol. American Rifleman reviewed the H&R Model 929 Sidekick when it hit the market; the technical staff was not entirely enamored of the Model 929, but then nor were they negative, calling firing tests, "uneventful." At 40 feet shots landed "in approximately correct position," with a six o'clock hold utilizing the revolver's fixed sights.

"We noted the cylinder of our gun opened with considerable difficulty," they wrote. "Actually we had to bang the cylinder against the edge of the desk to open it." Backing off the crane lock adjustment screw resolved the minor problem. I learned the same lesson many years later when reassembling the revolver after disassembly and cleaning. "Other than that, the revolver functioned quite satisfactorily," the review reads.

Indeed. My Model 929 still functions satisfactorily, though it shows the usual wear and tear expected from an old, used (but not abused) blued steel handgun. The "U" serial number prefix indicates a 1958 manufacture date. The NRA technical staff said the frame is a steel alloy, and mine grabs a magnet with considerable gusto. There's a fair amount of rust freckling the polished metal surfaces, an indicator of its decades spent in humid Florida, so if it's alloy, it's obviously got plenty enough steely beef for a .22 LR.


Mostly plinking

Sights present your basic fixed square front blade in a square rear notch sight picture. The barrel top and frame top are an anti-glare matte black. Depending on the ammunition brand or load, the ejector rod may need a bit of extra encouragement to dump all nine fired cases. Just like people and pickup trucks, guns always seem to have their own idiosyncrasies. The 929's mottled plastic checkered grips are unexpectedly ergonomic, with a palm-filling M1911A1-ish arch on the steel backstrap and a concavity at the top that perfectly nestles in the web of the hand, but it is really best suited to small hands.

The curvature of the trigger and the serrations on its face are very conducive to double-action shooting. Though the pull is a bit heavy compared to something like a nice Smith & Wesson factory trigger, it is not prohibitively so. In single-action the trigger has a subtle but definite two-stage feel, like a military rifle trigger, but breaks cleanly at 2.75 to 3 pounds. Accuracy is nothing to write home (or an article) about, though I seem to recall bagging one or two cottontails with the revolver back when it was no crime to turn a responsible young teen loose alone in the forest with a .22 LR and a beagle.

"It appears suitable for informal plinking or for use along the trap line," was NRA's technical staff judgement of the Model 929 in 1956. "Considering its nonadjustable sights and heavy trigger pull, it could not be recommended for target shooting purposes." Agreed.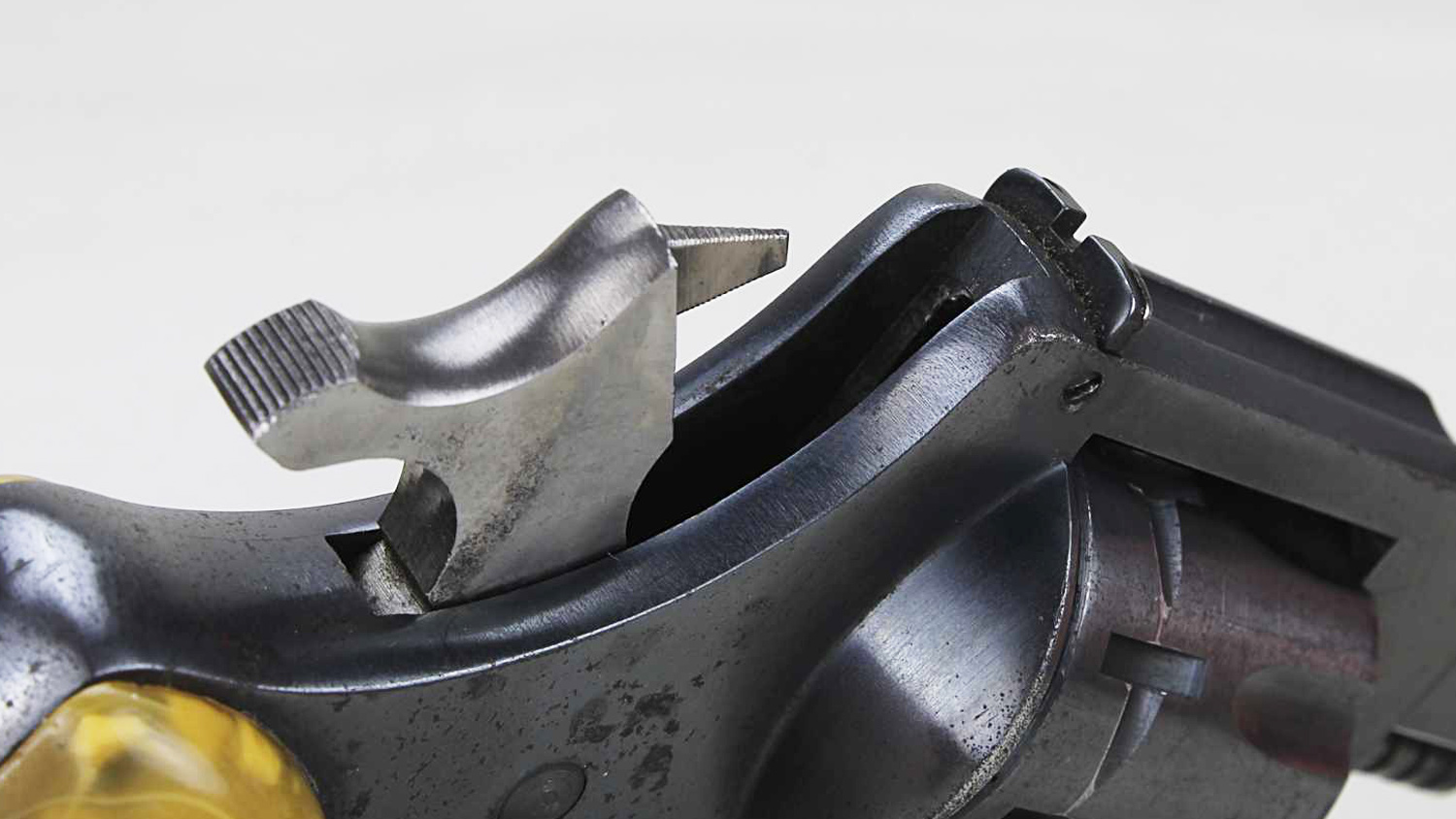 "Cheap?" Really?

Probably a majority of shooters uncharitably and incorrectly think of H&R firearms as "cheap." Old .32 cal. H&R top-break revolvers with shot-loose cylinders and peeling nickel plate help promulgate that idea. Certainly, H&R firearms have less value than the bigger brand names, and yet like the old guns from J. Stevens Arms, they are eminently sound, though admittedly utilitarian. If you think your own sentimental piece has no monetary value, a fun exercise in comparing current dollars to its original price may help you feel better.

The Blue Book of Gun Values says my Model 929 in its present condition is worth about $75 to $85 today and that its last MSRP in 1973 was $127. Adjusting for inflation, in 2018 dollars that $127 equates to―hang on to your seat―$718.26. Working back the other way, the $85 I might get for the used H&R today equates to $480 (that is, $85 in 1973 works out to $480 in 2018). Hmm―maybe not so cheap after all.

H&R made several permutations of the basic Model 929 "SIDE-KICK" (it's stamped on the barrel just like that, with a hyphen and quotation marks). Mine is a 4-inch barreled first run, all of which were blued and came in 2.5-, 4- and 6-inch barrel lengths. The second model, made from 1974 to 1986, was outwardly the same but with a transfer bar ignition. Blue Book says there is no real difference in values between the two models unlike, say, between a Ruger Single Six three-screw with and without a post-manufacture transfer bar safety installed. Also unlike the Ruger, the H&R doesn't have any collector status, so Blue Book value for specimens in 100 percent condition are only about $200. An online perusal showed buyers the past few years are paying $150 to $200 for 929s in NRA Very Good to Excellent condition.

H&R also brought out two chrome/nickel finish versions with 2.5- and 4-inch barrels they dubbed the Model 930 Side-kick. According to Blue Book the first run was 1957-1986; the second run with transfer bar ignition was 1974-1986. Values are essentially the same as the Model 929.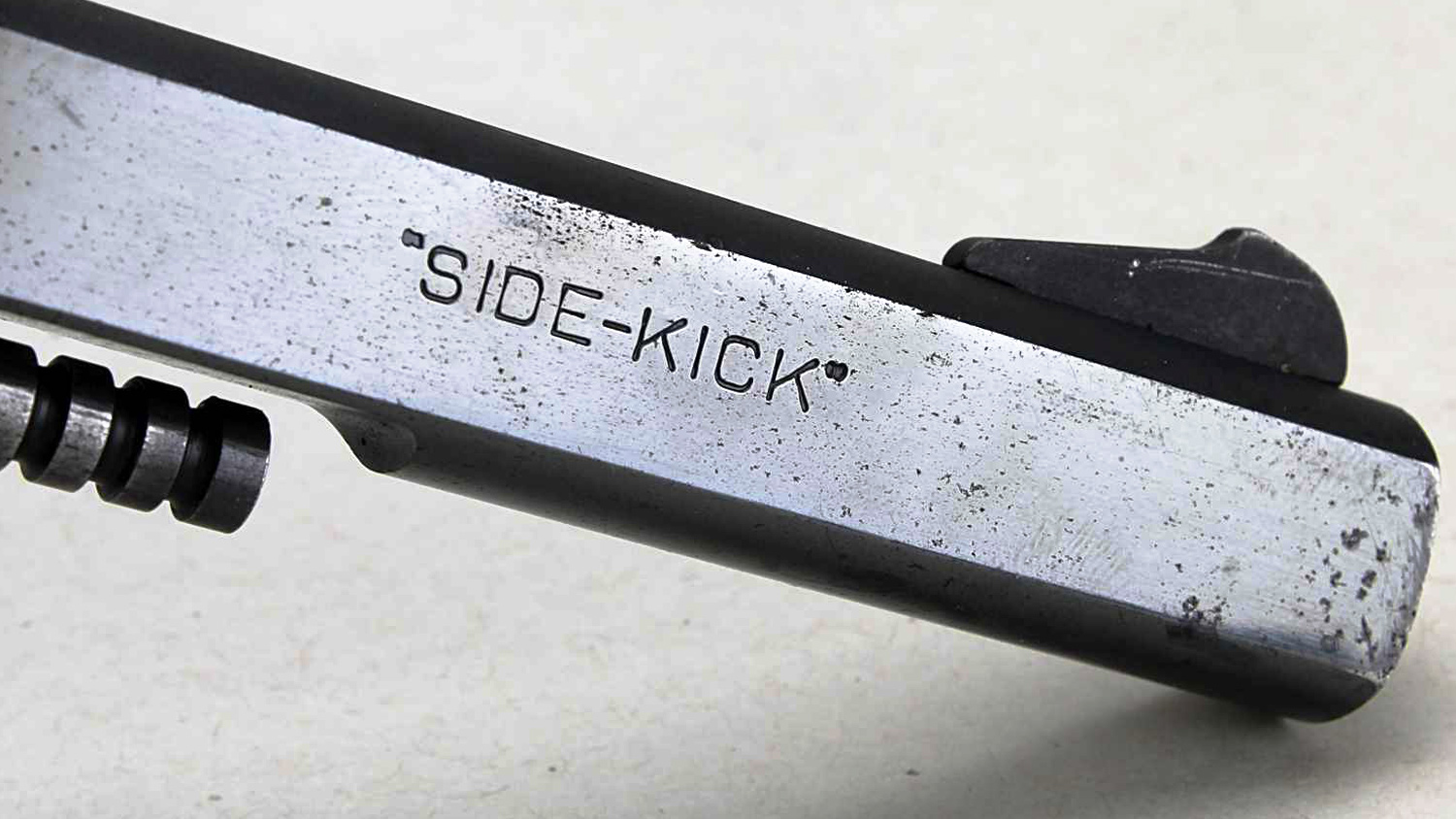 Still a sidekick

The saying is that the best gun for self-defense is the one you have at hand, and for many years my monther kept the H&R Model 929 revolver under her mattress. Combined with Florida's humid environment, we can understand the origin of the rust speckling. Mom was not a fan of recoil, and she was confident that nine shots from a .22 LR would be adequate for dealing with any night home invader.

During one visit home on leave from the Navy I convinced Mom to upgrade in stopping power to a .38 Special revolver; after buying her the J-frame .38 and taking her out for shooting sessions to get acquainted with it, I gave her the .38 and she gave me the H&R. Over the years I often took the nine-shooter on hikes or out for some informal plinking, and it's long been my go-to choice for introducing first-timers to a handgun.

Mom is gone now, but I still have the Model 929. Come to think of it, the .38 I traded her for it has also come to me. I suppose there's a lesson there somewhere about trading guns with the old folks, but I'm not sure what it is. Yes, the H&R has got sentimental value, but I don't leave the revolver in the safe. It still occasionally accompanies me on hikes, fly fishing trips or informal plinking sessions. I never thought about it until now, but like the name "SIDE-KICK" stamped into the side of the barrel, I reckon this familiar and reliable old friend still fills that role.