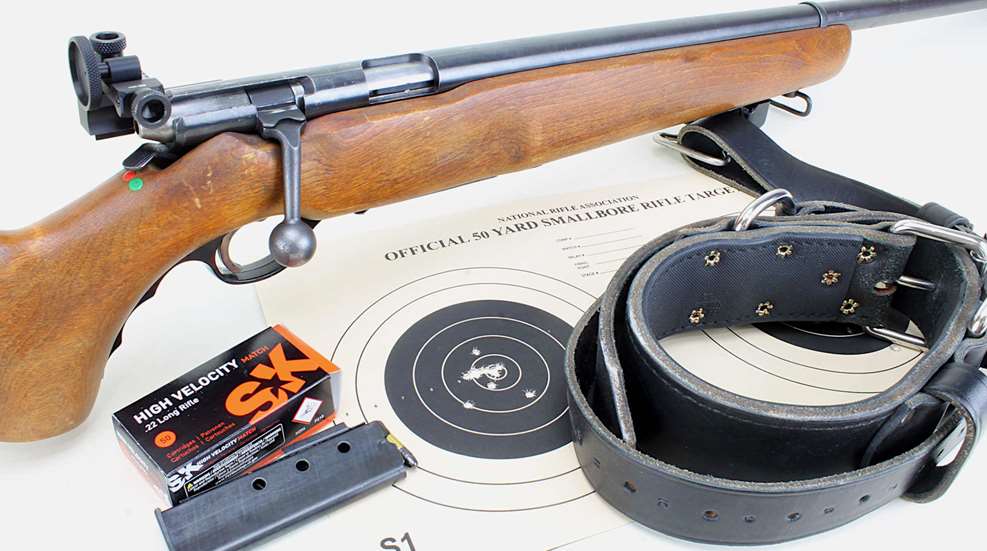 Smallbore competitors with a sense of history are among those who recognize Mossberg's participation in and contribution to the game in the 20th century. Though today long out of that market, many of Mossberg's landmark precision rimfire rifles are still around, including the war-born Model 144.
First appearing in O.F. Mossberg & Sons, Inc., 1950 catalog, the Model 144 .22 rimfire target rifle was the offspring of its World War II veteran progenitor, the Model 44US used by American military recruits for marksmanship training. Mossberg designed the Model 44US for the War Department, which was in need of a dedicated training rifle for the 16 million Americans who ultimately served in WWII. Most who served learned to shoot, and many learned or demonstrated marksmanship in basic training with a Mossberg.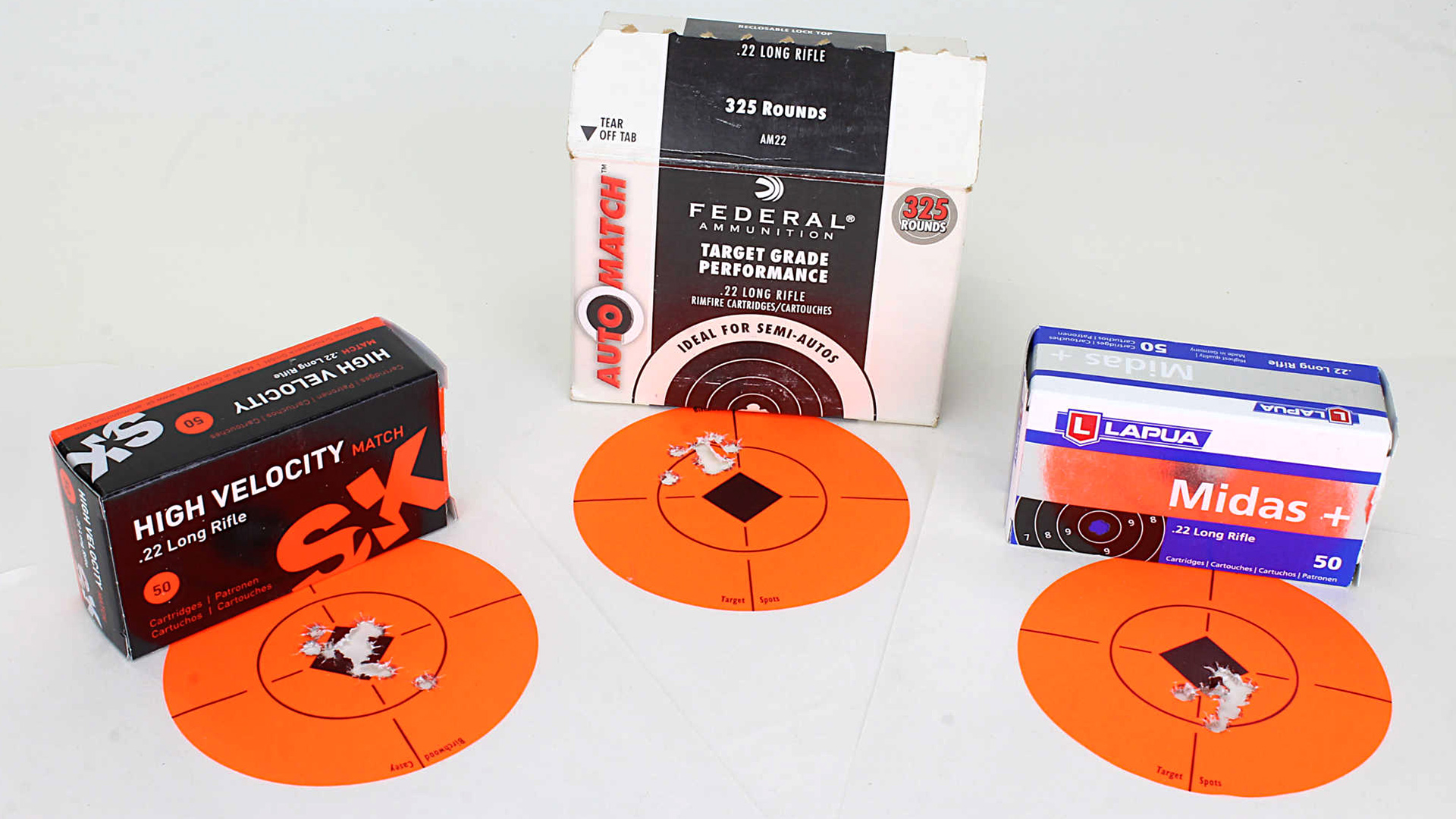 Mossberg delivered nearly 58,000 Model 44US rifles to the armed forces in 1943–44. Post-war, Mossberg's surprisingly accurate Model 44US became a popular target rifle, and the company sold so many wars-end cancelled-contract rifles, designated Model 44US(a), that it went on to sell Model 44US(b), (c) and (d) versions, each with minor modifications. Part of the popularity was due to Mossberg offering its target rifles at prices below those of Winchester and Remington, when NRA Smallbore competitors in the 1950s probably well outnumbered other rifle disciplines. But the Model 44US was ostensibly a training rifle, not a Smallbore rifle, so it was a logical next step, then, for Mossberg to bring out what is essentially an improved Model 44US better suited and intended by design for competition, the Model 144.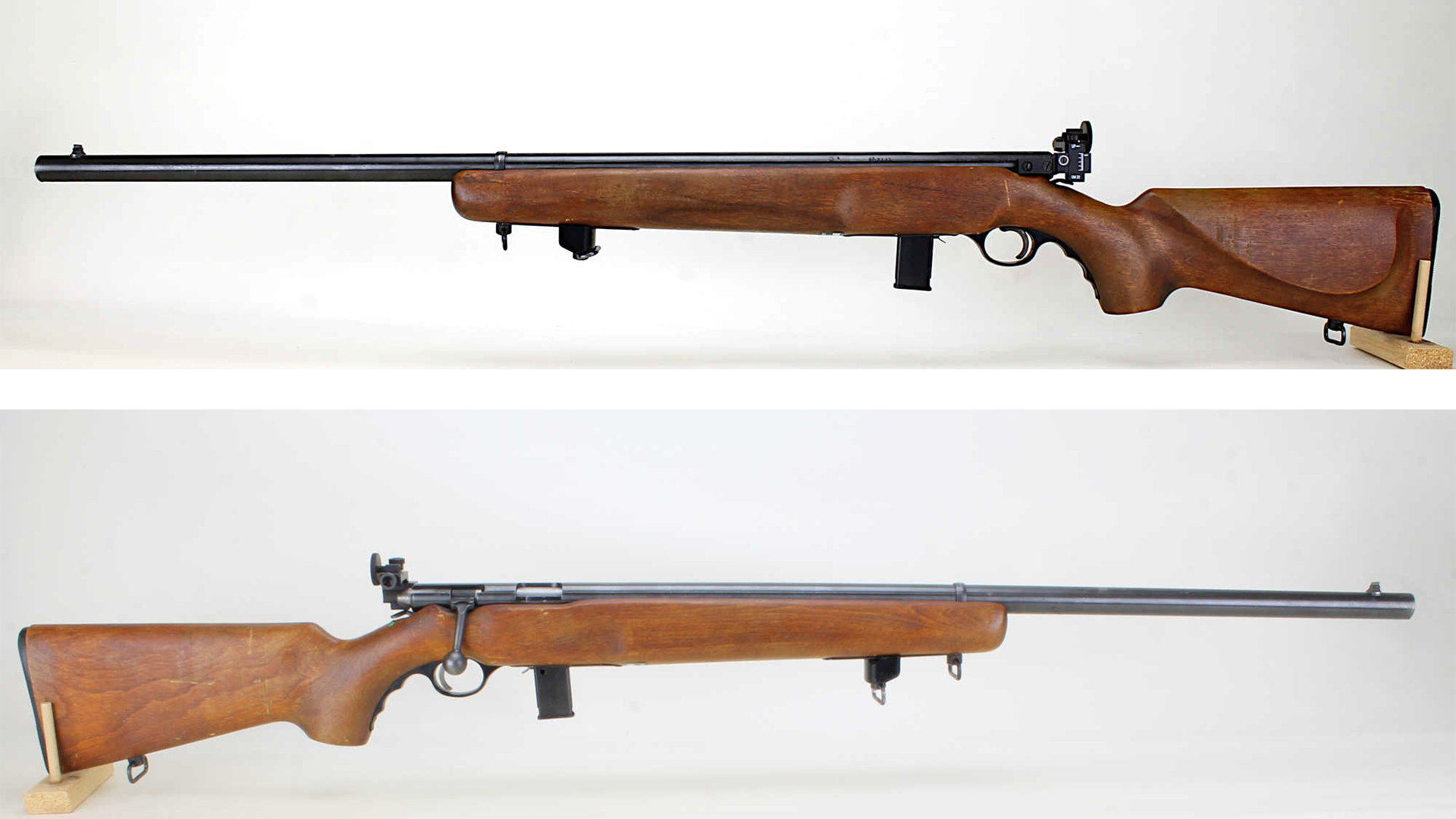 Made for the game
Competition features of the Model 144 include a 26-inch, heavy, "semi-free floating" barrel of 13/16-inch diameter, adjustable trigger, target stock with cheek rest, beavertail fore-end and adjustable hand stop, along with Mossberg's S130 ½-minute click adjustable rear aperture sight and S106 front ramp sight. In 1954, Mossberg upgraded the rifle with Lyman's 17A front sight and a Lyman competition rear sight made specifically for Mossberg, the 57MS, and labelled the new gun the Model 144LS (for Lyman Sights). By 1960, the Model 144LS was also sporting white line spacers and Mossberg's "AC-KRO-GRUV" rifled barrels.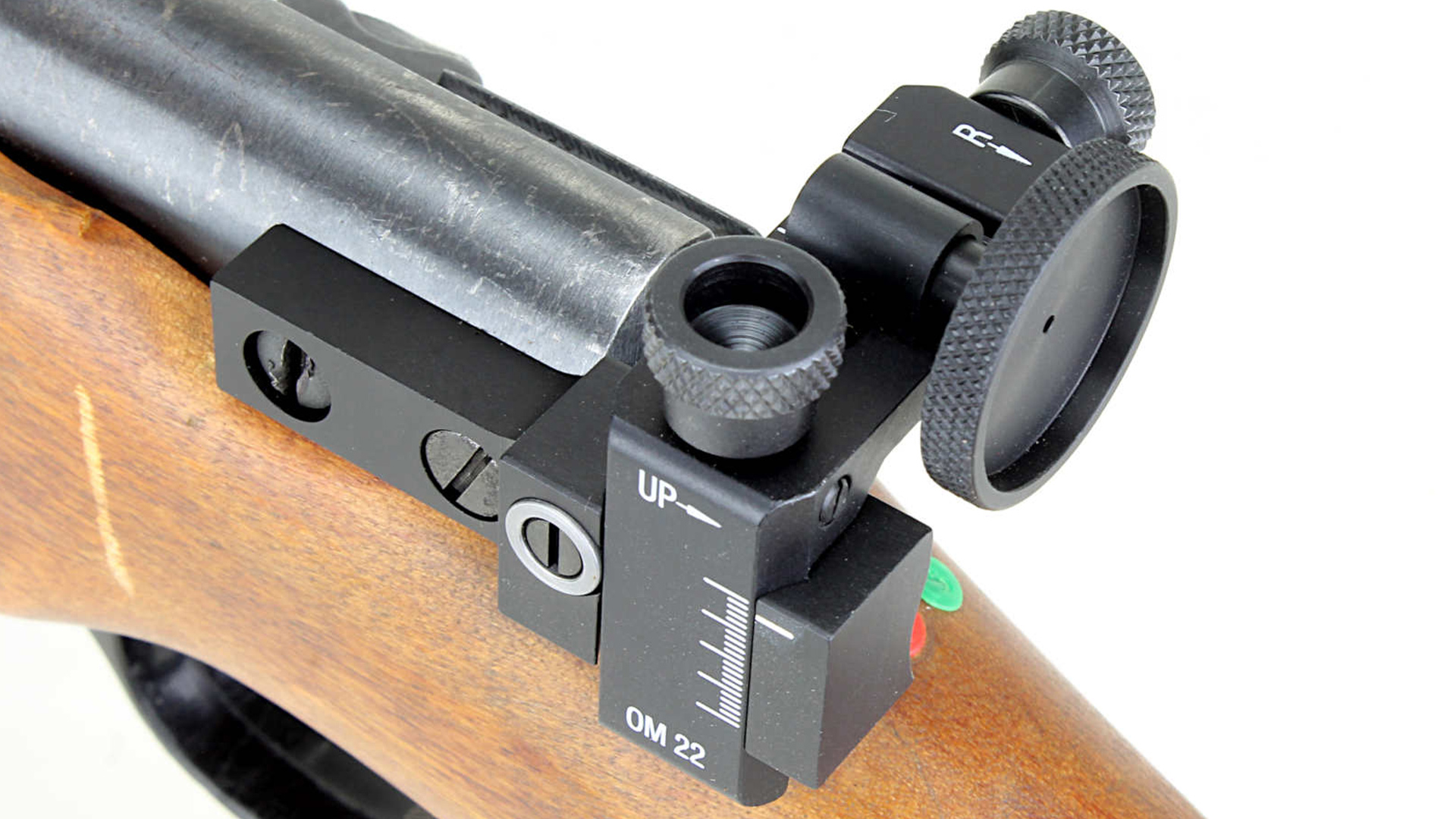 Later model designations indicate more changes. The 144LSA of 1960 dropped the steel 57MS rear sight, replaced by Mossberg's S331 alloy sight. The Model 144LSB of the mid-1970s added an inch of bigger barrel for a 27-inch, 15/16-inch diameter tube and stretched the stock an inch, adding about a half-pound of weight. Mossberg quit the .22 precision rifle business in 1985 (the company makes plinker and hunter models today), ending the Model 144 series. 
Unusual details
Unsurprisingly perhaps, the U.S. military was among Mossberg's customers for the Model 144, and so we see today some of these rifles marked, "Model 144US." The specific rifle here has "Model 144US" stamped on the barrel below "O.F. MOSSBERG & SONS INC. NORTH HAVEN, CONN. U.S.A." followed by "22 LONG RIFLE ONLY." A second "U.S." stamp appears in front of the serial number on the receiver portion. Mossberg did not habitually serial number its firearms until the Gun Control Act of 1968 required the practice, so except for government contract rifles bearing the "U.S." stamp, Model 144s may lack serial numbers.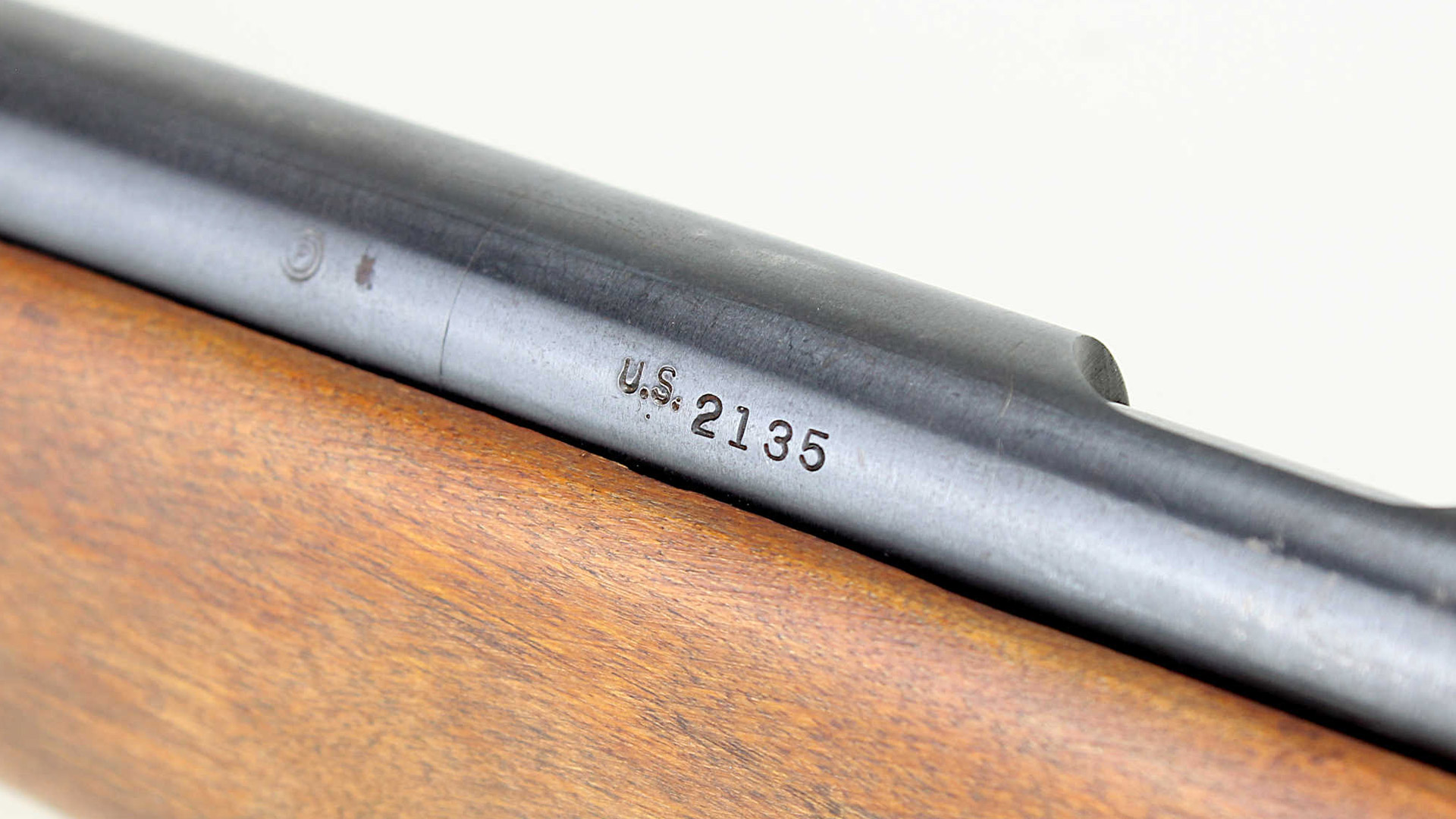 Examining a Model 144US in your hands, the heavy barrel and receiver appear at first to be turned from a single bar of steel; both are of the same diameter, and fit is so tight and clean that you must look to find the joint. What is Mossberg's "semi-free floating" barrel? Two screws hold the barrel and action to the stock, the receiver screw and a second screw on the fore-end that passes through the sling swivel and threads into a stamped steel barrel band to pull the band into the stock. The barrel channel is inlet to accept the band. Apparently, Mossberg intended the barrel to free float its entire length, except at the barrel band, which acts rather like a pillar (hence, "semi-free floating" barrel). But on this specimen, I could not slide a piece of paper between barrel and stock at any point, indicating the barrel is not free floating at all. Given the rifle's provenance, the barrel and stock are possibly not original mates from the factory and so do not fit precisely.

The rifle is among several acquired from a college gunsmithing program by my local gun shop, along with a baker's dozen of Mossberg Model 44US rifles. Previous ownership includes the Arizona Game & Fish Department, as borne out by metal ID tags and stocks etched with Department numbers. All rifles were in various states of disrepair, suffering buggered screw slots, dinged or cracked stocks and missing parts. In addition to the barrel not "semi-free floating," this particular Model 144US was missing the rear sight and magazine. Havlin Sales, which specializes in obsolete Mossberg firearms, came through with a reproduction 10-round magazine and an OM 22 Peep sight, a new production sight that replaces the various Mossberg rear sights original to the Models 44US and 144. Intermittent misfiring plagued the rifle as well, which was rectified by replacing the mainspring and the slightly bent mainspring plunger.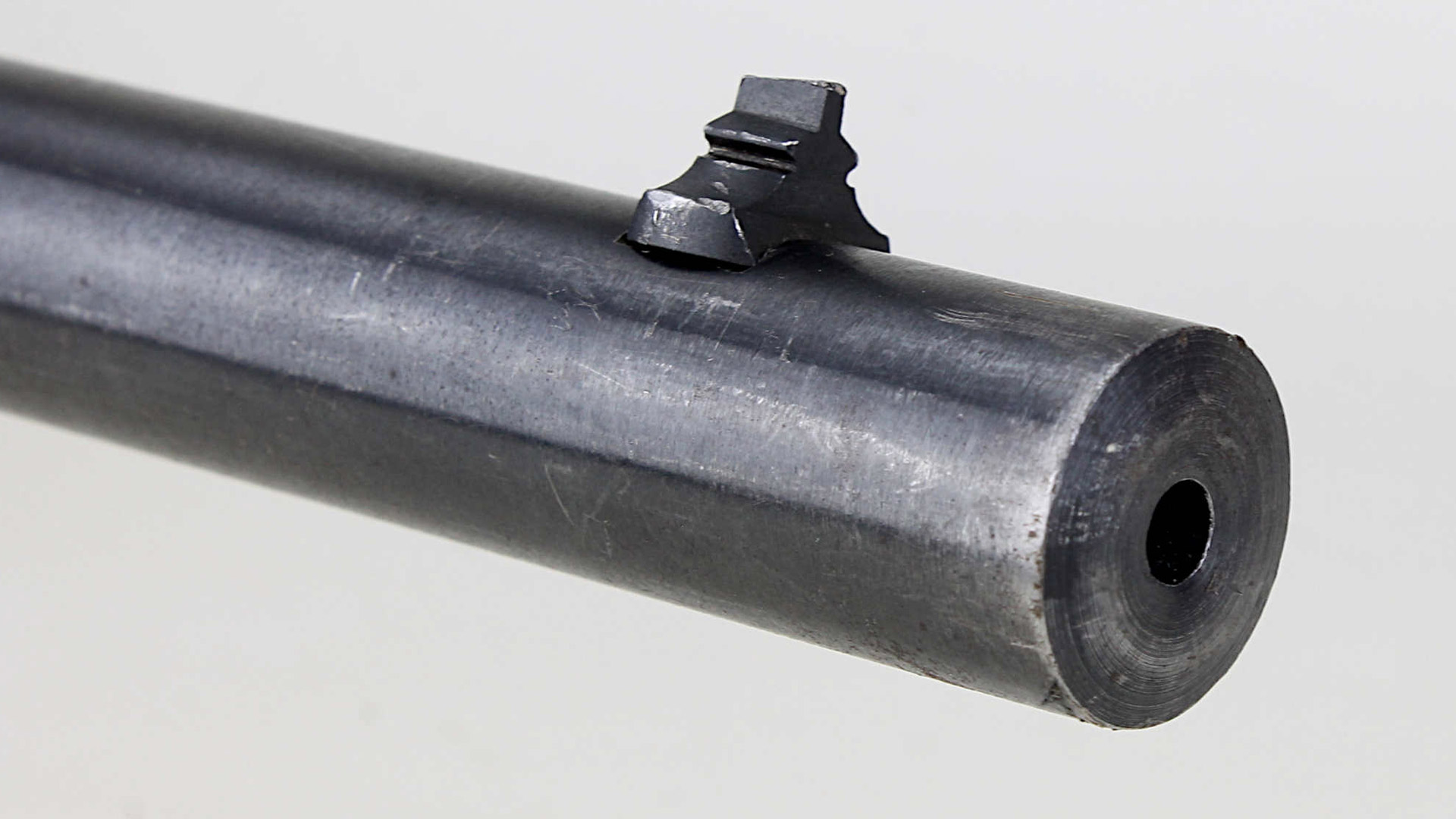 Trigger adjustment is a simple spring-plunger-screw configuration at the front of the trigger. Turned all the way in, the trigger won't move. Backing it out from that point, each full turn of the adjustment screw reduces trigger pull weight roughly one pound, from nine pounds down to a measured minimum of 3½ pounds. The trigger has no take-up and breaks cleanly without perceptible overtravel. Especially given its simplicity, it's surprising to find such a good trigger on a bargain-price target rifle. 
There is no evidence of the firing pin striking the chamber face, so the Model 144US apparently can be dry fired without damage, as befitting a competition rifle. Headspace on the rifle checked good, and pulling bullets and dumping powder from a few .22 LR cases to test-fire, with only the priming demonstrated all parts in the fire control group were doing their jobs.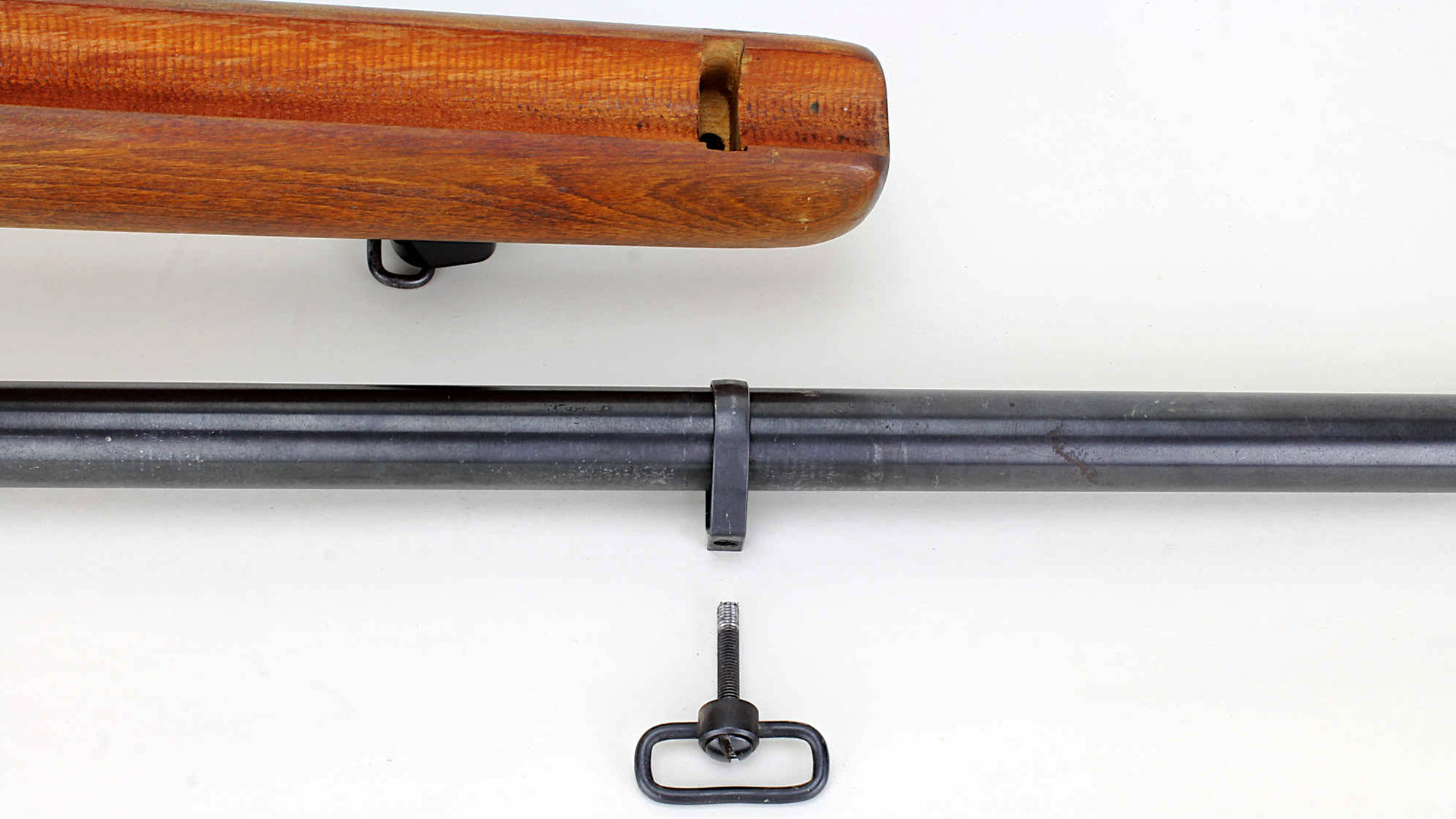 But is it competitive?
Using inexpensive plinking ammunition to get some semblance of a zero also fouled the bore for subsequent shots to "settle in," before shooting for groups with pricier, match-grade ammo. Fired from a heavy rest, the Mossberg is capable of routine ½-inch groups at 25 yards with a variety of match-grade loads. I attribute some dispersion and flyers to my own eyesight and the ceaseless wind in my locale. While groups recorded here (which include the flyers) don't keep up with today's uber-.22s like those from Anschutz or Vudoo Gun Works, they are competitive by 1950s NRA Smallbore competition standards. A younger eye and more exhaustive testing would likely coax better performance from the Model 144US.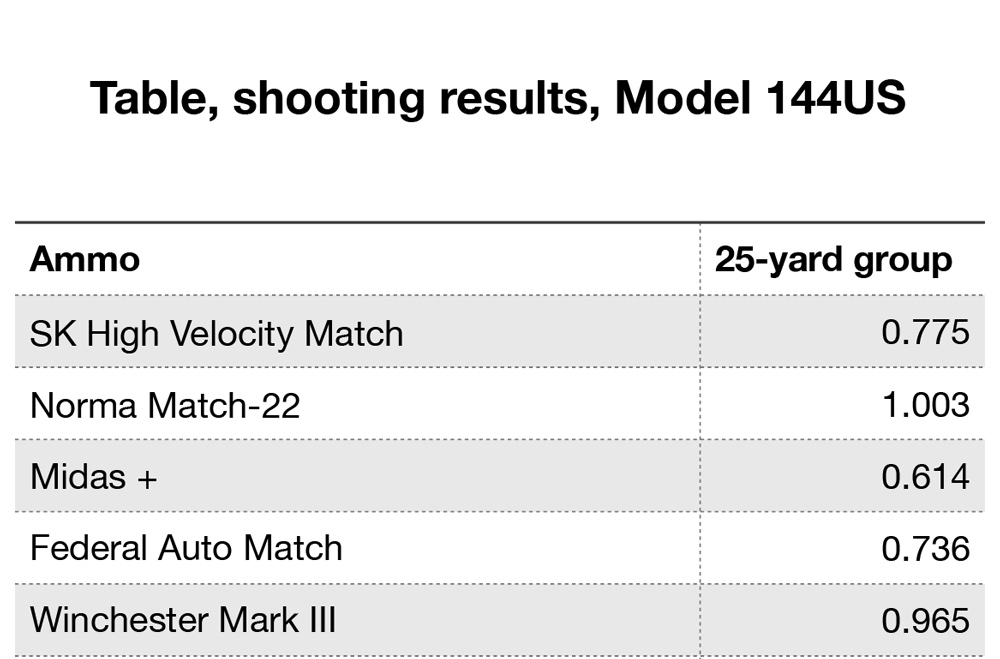 Prices and parts
"A new .22 long rifle match rifle by Mossberg has been giving excellent groups at 50 and 100 yards, comparing favorably with fine high-priced match rifles," Elmer Keith reported on the Model 144 in American Rifleman magazine's March 1950 Dope Bag section. "Yet the new Mossberg rifle sells for only $28." Keith recorded the Model 144 printing 1½-inch groups at 100 yards and ¾-inch ones at 50 yards. "It will do very fine work for such a low-priced rifle," he said.
By 1955, Gun Digest listed the upgraded Model 144LS for $39.95. The same Gun Digest listed the comparable Winchester Model 75 Target Rifle with sights for $62.40, the Winchester Model 52 Heavy Barrel without sights for $106.90, and Remington's Model 513T for $62.45 and Model 37 for $144.10, both with sights. Examining the workings of the Model 144, we find that Mossberg apparently undersold its major competitors not by inferior workmanship, but by clever engineering to minimize complexity and the number of parts. For example, the Model 144's entire fire control group—bolt assembly, adjustable trigger mechanism, safety and ejector—contains only three springs and two screws. There is perhaps also some cost savings in the alloy trigger bracket and trigger.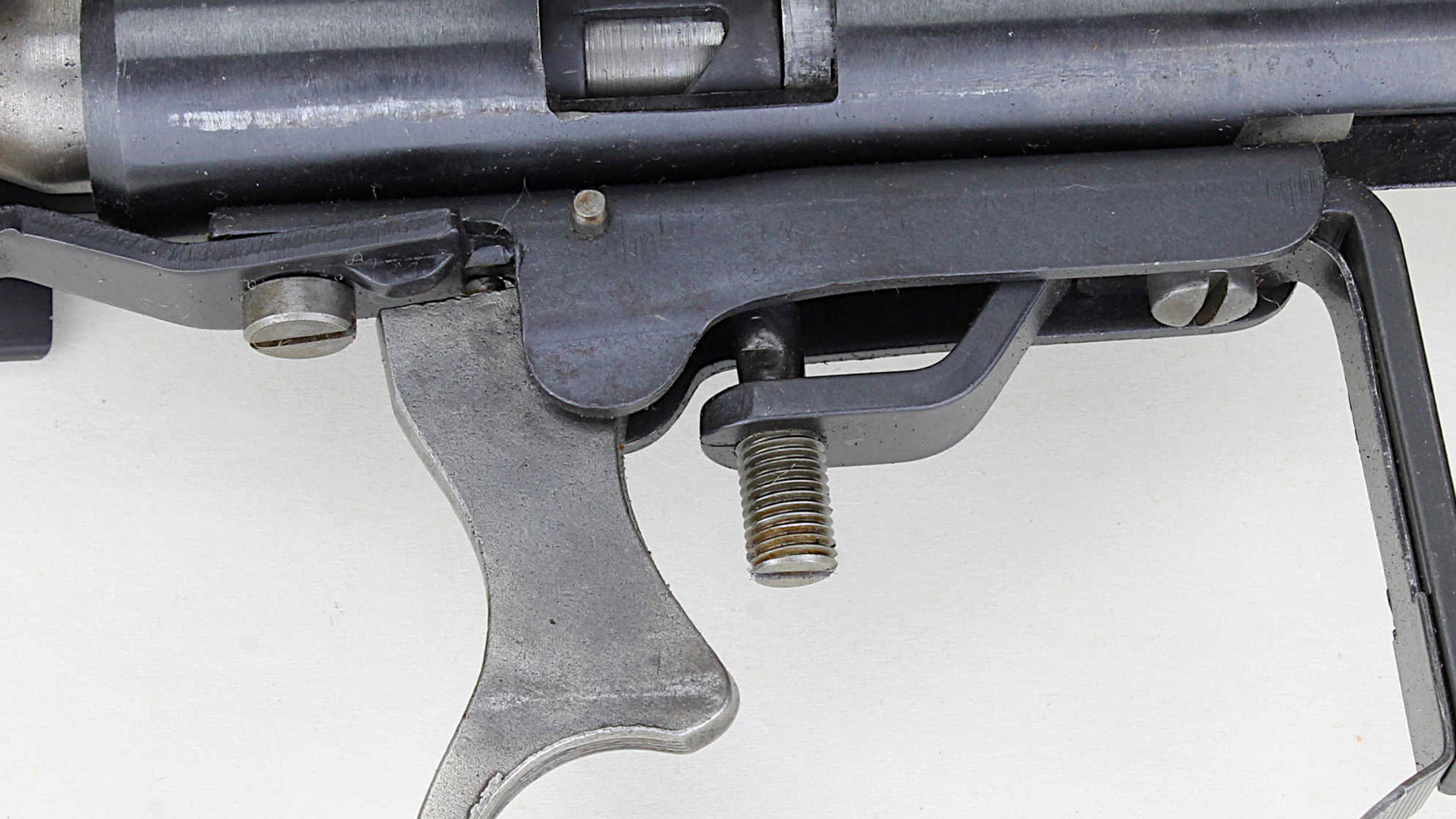 Model 144 rifles are still in demand today—as shooters, not just as collectors. A quick internet perusal for this article showed four rifles sold in 2021 from $330 to $748, making an average of $502. If you stumble across or decide to seek out a Model 144 to call your own, expect that not all parts may be functioning, correct or original—or even present. Some original or reproduction parts are readily available, and some are not. Three major resources for M144 parts are the previously mentioned Havlin Sales, Jack First Gun Parts and Numrich Gun Parts Corporation. Shooters possessing even a modicum of mechanical aptitude will have little trouble understanding the fit and functioning of the rifles' simple innards, but the NRA Guide to Firearm Assembly has an "exploded view" schematic of the Model 144LS, if needed.
Wartime exigencies typically prompt finding shortcuts in manufacturing, including utilizing materials or designs that are "good enough" rather than top-of-the-line in order to reduce cost and complexity. Mossberg's Model 44US is typical in that regard, and yet it unexpectedly earned such a reputation for accuracy that "good enough" successfully carried over into the popular Model 144, a full-on match gun still appreciated and still appearing at local shooting ranges three generations later.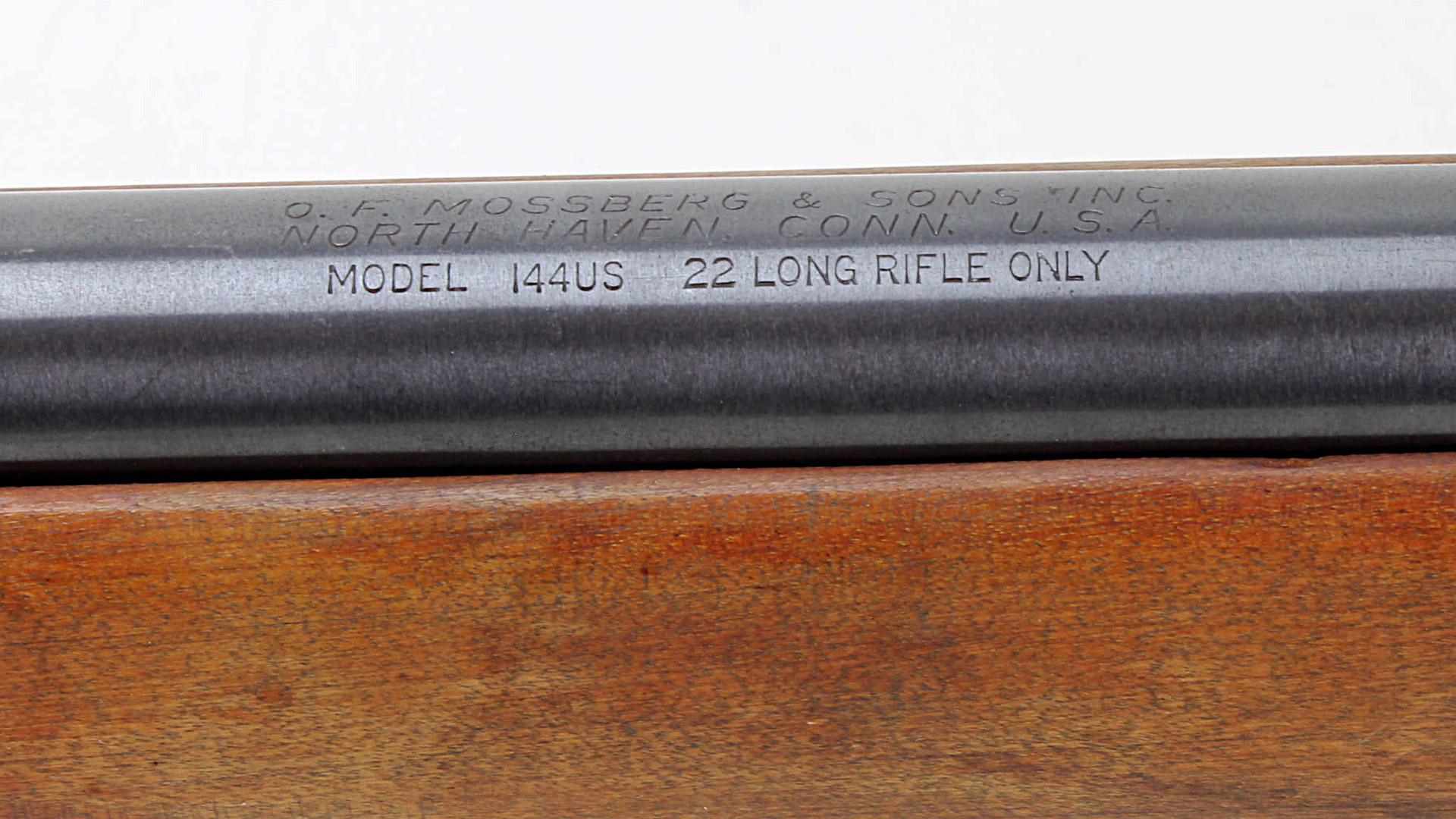 AC-KRO-GRUV Rifling
Soon after Marlin introduced its "Micro-groove" rifling in the 1950s, Mossberg's own testing led to the company developing its "AC-KRO-GRUV" rifling. The two are similar in swaging many, shallower rifling grooves than found in typical barrels up until that time.
Both companies claimed improved accuracy and both introduced proprietary shallow-groove button rifling in .22 rimfire rifles, Mossberg beginning with the 300 series of hammerless .22s in 1957. While Marlin's .22 LR Micro-groove barrels sported 16 grooves, Mossberg decided eight grooves were optimum for the .22 LR bullet. Both companies retained the 1:16-inch twist standard for .22 LR bores. 
Marlin patented its Micro-groove rifling method first, in 1953, and went on to apply it to center-fire rifles, such as the Model 336 .30-30 lever-action rifles.
---
Read more:
From En Bloc To Box Magazine: M1s Mimicking M14s