by
posted on September 7, 2020
Support NRA Shooting Sports USA
DONATE
"Shooters departed Camp Perry uncertain of the future."
—American Rifleman, October 1991.
A bureaucratic cloud hung over this year's National Matches that forced tournament officials to ponder the logistics of conducting a national shooting program without federal funds.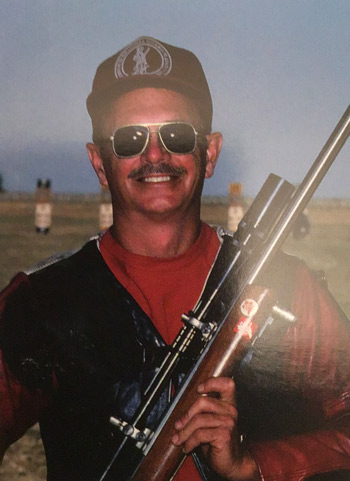 In a March memo, NRA Statistical Coordinator Ed Andrus suggested "districting" or "regionalizing" future matches to determine national champions (similar to the 1930s), should Camp Perry not be available. Meanwhile, fees for matches, lodging and meals were increased to help offset the impending effects of the DCM's self-sufficiency order instituted the year prior. Hut and barracks rates increased from $3 per day to $5 per day, while modulars went up to $10 per day from $6 per day. Additionally, fees for individual Board matches increased $11 per event, while team matches increased $24 for pistol, $26 for rifle.
Come July, the cloud of despondency transformed into a meteorological reality, as pistol competitors worked their way through cold and windy conditions. Mayleigh Cup firing was even postponed in the hopes that the weather would improve for the .22-cal. international postal competition, but center-fire match scores suffered the worst, as the high aggregate score of 877 by Thomas Ginovsky would attest.
The first shooter out of the gate, however, proved his mettle through the testy conditions and emerged victorious on the last day. M/Sgt. Steve Reiter posted wins in the Preliminary and .22-Cal. Championships on his way to a 2646-121X tally, and this year's national pistol title. For the Army Reservists, it proved to be the beginning of a remarkable run that would result in five championships over a 10-year span. Former national champions Darius Young (1979, 1989) and Thomas Woods (1986) finished second and third overall, while Marine Sgt. Mario Lozoya, a shooter whose turn on the champion's podium was on the horizon, took the regular service title. Reiter was also the high scorer when he joined forces with Young, Frank Goza and Norm Girardin as the USAR Gold Team to win the NRA Team Aggregate title.
Allen Fulford nabbed the senior championship in his first year in the category, while identical 2457 scores were posted by junior and women's champions James Marsh and Deborah Storey.
Marine Gy/Sgt. Mitchell Reed, who had his hand in all facets of the 1990 Board matches, was a presence again as he defended his President's Match title and also fired on the winning National Trophy Team. His bid for a repeat NTI win, however, was foiled by Michigan National Guardsmen Ronald Zalewski, who topped the field with a score of 289.
"Weather at Camp Perry is quite variable" states the match program, and this year was proof positive. On the heels of the cool and windy conditions that blanketed the pistol program, smallbore positions shooters battled extreme heat and humidity. In other years, such conditions might not be considered unusual for Camp Perry, but this summer was one of the more severe, evidenced by the high volume of water consumed through the deluge of empty containers in the trash receptacles that dotted the ranges.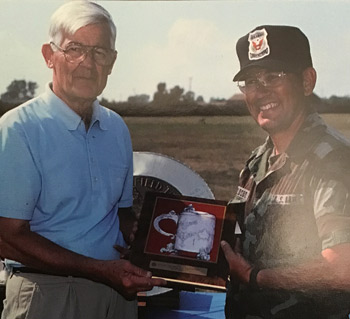 Army Reserve Maj. Bill Beard took advantage of the not-so-extreme morning conditions to post a record score in the metallic sight prone match. Beard also won the final match (kneeling) of the championship, but in between were performances by four other shooters who struggled through the heat for wins. Army Lt. Matt Suggs and Lones Wigger Jr. won standing matches, while Ken Benyo and Richard Sarver shot high scores in the metallic sight kneeling and any sight prone matches, respectively.
After the first day, most stood in awe of Wigger's record setting 1131-38X that he fired with his Anschutz 1813 to garner the metallic sight championship, while Suggs and Benyo finished with 1119s. Any sight scores put Beard on the stage as champion of the second day but in the end, Wigger emerged victorious. His large margin of victory with irons, coupled with a solid civilian master class winning any sight score, put him in front by 11 over Brad Carnes out of Fort Benning, who was named service champion.
Wigger's rate of victory at Camp Perry was nothing short of astounding, for this year marked the 20th of 28 possible position championships he had won since his first in 1963. U.S. Army Marksmanship Unit shooter Kristin Peterson withstood the challenge by 1987 open champion Karen Monez to earn her first women's title, while repeat wins were recorded by collegiate champion Erin Gestl and junior winner Benyo.
While temperatures on the firing line dropped to more comfortable levels for prone, the heat of competition did not abate and service shooters dominated on the first day. Match wins went to Beard, Capt. Steve Goff, Maj. Jim Meredith, Sgt. Greg Tomsen and an aggregate victory for Lt. Ron Wigger with a 1598-130X. Veteran shooter Ron West then won the second daily aggregate, followed closely by Lones Wigger Jr., setting the stage for a championship run by the two elder statesmen of the sport.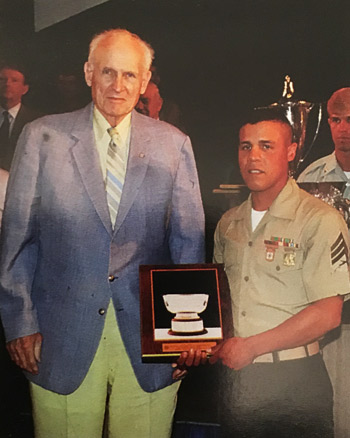 During day three, Wigger held a single point advantage over West and going into the final 160 shots, the only certainty was that matches could turn on errant puffs of air. West's 1599 was good for second behind Marine Rudy Hernandez in the any sight championship, and he turned the single-point advantage in his favor by edging Wigger 6390 to 6389 for the prone championship—his second overall. In addition, West nabbed civilian and intermediate senior honors, while Carolyn Millard-Sparks earned her third Remington Trophy as high woman. Beth Herzman and Cory Brunetti, who had done so much to bring the Connecticut junior program to recent prominence, took home the collegiate and junior championships, respectively. Larry Moore, who shot a rare custom-made left-handed Morgan rifle, hung in to deny Richard Hanson his fifth straight senior title, winning the national crown he had lost to Hanson in 1987.
Defending high power champion David Tubb welcomed all challengers this year, and emerged victorious again after a solid performance netted him the McCann Trophy for the high rapid fire aggregate, plus the Nevada and Clarke Trophies en route to his fifth NRA National High Power Championship. At this point in National Match history, only Mid Tompkins held more open titles (six), and Tubb displayed no signs of slowing down after his 2373-112X effort this year.
Service champion Sgt. Nelson Ocasio of the Army Reserve and women's champion Nancy Tompkins-Gallagher each fired 2363s, while Tubb's father George topped the seniors with 2328. Eric Obermeyer, the 1989 junior champion, won the title again in his last year of eligibility and carried his mastery into the long-range phase, where he dominated the younger set. Overall, Army marksmen took the lead at 1,000 yards when SFC Terry Duling edged Mid Tompkins by one in the Leech Cup shoot-off, while Maj. Boyd Goldsby picked up Wimbledon laurels. Earlier in the program, Spc. Lance Hopper, the 1990 President's Match winner, earned top honors in the National Trophy Individual Match, and fired on the winning Rattle Battle team. This year's President's Match victory went to Marine S/Sgt. Kevin Kistler, and the Marine Corps won the National Trophy Team Match.
National Match Fact: The 1991 National Matches marked the 35th year that a smallbore position championship was fired, and the 20th time that Lones Wigger won it. This year was also the last program for the NRA's John Grubar as National Match Coordinator and first for new DCM Director Paul Cullinane Jr., who replaced M.S. Gilchrist.
---
See more:
A Page From History: The 1970 National Matches