by
at
Sams Custom Gunworks
posted on September 9, 2015
Support NRA Shooting Sports USA
DONATE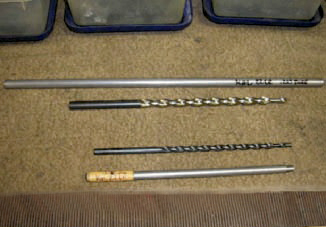 Re-lining is a great alternative to re-barreling, especially when the barrel has special markings or engravings that cannot be replaced. The decision to replace or reline a barrel can be broken down into two questions: "How much time do you have?" and "What price are you willing to pay?"

While it may be quicker and cheaper initially to purchase a drop-in target barrel, you lose control over the custom fitting process and, depending on the drop-in barrel quality, it may cost more in the long run to have it properly fitted. In the world of match accuracy, few jobs are drop-in. So relining is typically more economical than barrel replacement and it is guaranteed to achieve match accuracy. What follows is an account of a job where I upgraded a new S&W Model 41 .22-cal. semi-automatic pistol to match condition, for about half the total investment in a stock, high-end European match gun. While other work was done to the trigger, extractor and breach, my focus in this article is the barrel work.
If all the gunsmithing is done precisely and the best liner is used, sub 1-inch groups at 50 yards for a pistol will be the norm. I use the re-lining approach for all of my .22 conversions, 1911-A1 Government Model .45-cals and the Beretta 92's. For non-match work, I've also relined rifles in .22 LR, .25-20, .32-20, .38 and 44-40. In pistols, I've relined many S&W Model 41s, High Standards, Hammerli 208's, Rugers, Pardinis and Walthers. I've also converted Hammerli 280's from .32 S&W to .32 ACP with liners, which makes a great bullseye centerfire pistol. And I have converted many everyday handguns and rifles into extremely accurate firearms using the re-lining process. 

The general sequence for barrel re-lining includes:

1)  If the model allows, the barrel is removed from the existing receiver/frame and set-up either in a milling machine or lathe. This set-up is very precise to insure perfect alignment with the original bore.

2)  A piloted drill/reamer is then used to remove the existing rifling and to accommodate the outside diameter of the new liner.

3)  The new liner is then anchored to the barrel. The older method is to use soft solder, which can require the use of an elaborate set-up of gas jets spraying on the barrel and is very tedious. A more modern, easier and stronger method is to use epoxy adhesive, but not just any epoxy will do. The types used to bed rifles are the only ones that are acceptable. I prefer an epoxy that contains stainless steel particles and I've never had one come loose. An epoxied barrel will also withstand the 295-degree Fahrenheit heat generated in a hot caustic bluing tank and will be impervious to later chemical reactions such as cleaning.

4)  After the epoxy hardens in about 24 hours, the barrel muzzle is crowned and, depending on the model, the breech end is chambered and ramped. Unlike a drop-in barrel, here the gunsmith has the ability to set a perfected chamber and headspace in relation to the breech-face—something that usually is neglected by the manufacturer. Also, the chamber can be set for a specific cartridge and load for better accuracy.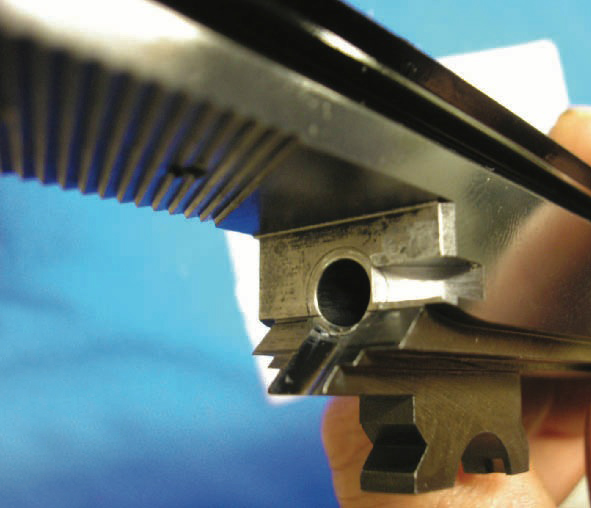 Re-lining should be done if all other measures such as re-crowning, setting the barrel back, re-establishing a new chamber (if possible), or lapping the barrel have not produced the desired result. Lapping or polishing with abrasive paste removes lead and jacket fouling and, more importantly, any imperfections like machining marks or damage from firing.

Rifled liners are available from a few sources and range from excellent to "no better than you started with" results. Another option is to lathe turn an existing barrel to the proper diameter for use as a liner in another barrel. This is a very risky operation because whenever you remove material from the outside of a barrel, the inside diameter gets bigger, which is not conducive to accuracy. It requires a lot of work and if the excess material is removed too fast, the work could result in failure.

Lastly, changing caliber is an option as well, ranging from .17-.44 caliber. In my view, re-lining is usually the best choice to turn an "also ran" gun into a match-grade winner. Changing caliber is usually reserved for older firearms that have obsolete calibers, such as changing a .38-40 to a .38 special, or taking an AR-15 (.223) and relining it to a .17M2 or .22LR (with a .22 conversion bolt and magazine of course).

To learn more about David Sams Custom Gunworks, go to his web site at www.samscustomgunworksusa.com.