I'm often surprised by who I meet in the shooting community and their stories. From the outside looking in, you would think the Reyna family has a perfect life, traveling around shooting, without any worries in the world. But as I got to know more about their family, what they've been through and their day-to-day lives, I realized there's so much we don't see from the surface.
I knew who Diego and Martin were because of my marketing work. I had photos of them for ads and content and saw all their social media posts tagging Hunters HD Gold over the years. But I never knew anything of what they've been through—nor would I—from their level of positivity online and in person.
The Reyna family is originally from Guatemala and moved to the United States for a better future for their family. Martin and his wife, Valerie, arrived first, with Diego following two years later. During those two years, this family stayed together and made it work, despite the distance. All junior shooters have parents or guardians who make sacrifices for their kids, but it takes another level of sacrifice to be apart from your family, supporting them from another country. Today, Valerie is on active duty in the Air Force stationed in Maryland, while Diego and Martin live in South Florida. To say this family is close-knit (and tough) is an understatement.
Diego Reyna competed in the shooting sports for Guatemala and medaled in several events. He competed in the Rapid Challenge, which is similar to bullseye competition, focusing on strong-hand-only marksmanship. After Martin was born, Diego shifted away from competitive shooting to focus on raising his son. It wasn't until Martin got older that he would tell his dad he wanted to try competitive shooting, only for Diego to turn him down and suggest other sports or activities. This continued for years until Diego eventually caved and allowed Martin to try his hand at competitive shooting.
Whether you have a kid interested in shooting or a new shooter wanting to get into shooting sports, the best place to start is with Steel Challenge, which is what Martin did. Other than Outer Limits, all Steel Challenge stages require zero movement, and rimfire divisions allow you to start at the low ready position, unlike centerfire where you must draw from a holster. To make it even simpler, there are only eight Steel Challenge stages with five steel targets on each, so no matter which club you visit, you'll be shooting the exact same thing.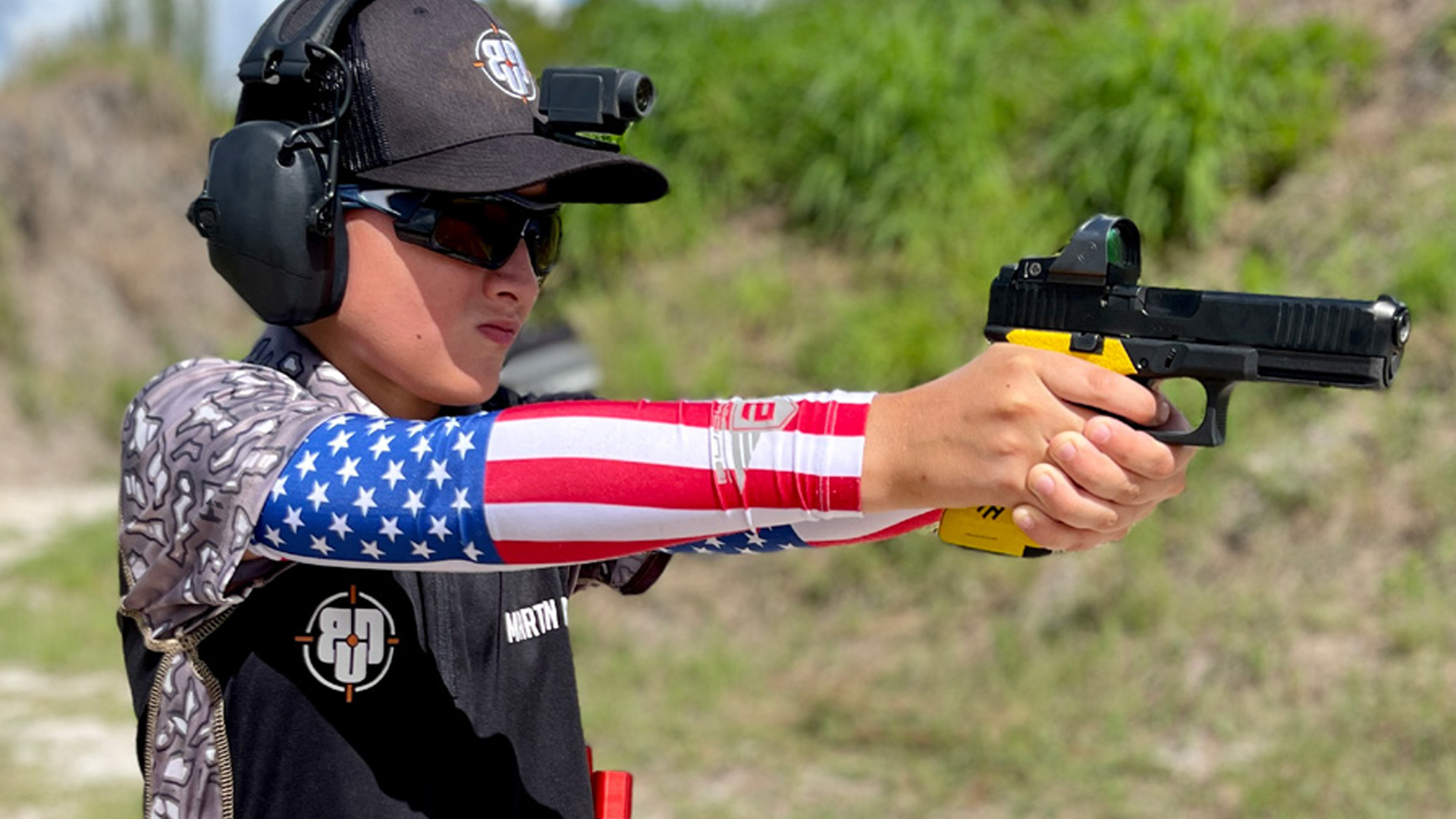 Prior to competing, Martin was taught safe gun handling techniques by Diego and had to prove to his dad that he could handle firearms safely. The ability of someone to handle firearms safely is not based on age but is based on maturity. Martin isn't even 10 years old, yet he is one of the safest gun owners I've been around on the range. This is a testament to how well Diego trained Martin and how seriously Martin took firearm safety.
Martin quickly progressed in Steel Challenge, shooting in different divisions, including both iron sights and red-dot optics. He quickly learned range commands, how to clear malfunctions on his own and also reacted well to the stress of the timer. This fundamental knowledge of how a shooting competition operates allowed him to easily transition into shooting USPSA. In November 2021, Martin began shooting in Carry Optics division at local USPSA competitions to prepare for major USPSA and IPSC matches.
"Traveling gives us more time to get to know each other. I have time to tell him more about me and our family when we were young, and I tell him stories of the rest of the family in Guatemala. He asks about the food in Guatemala, what the shooting ranges are like, and more," said Diego. "He hasn't been there in more than four years, and in July we will be there for a Level III IPSC match. I'm excited to watch him explore a totally different reality than the one I have.
"Martin is experiencing shooting in a totally different way than I did. I like to train him because he can handle training like a teenager, despite being a kid. For me, it is satisfying to see how focused he is. I was trained since I was 13 years old by a Ukrainian, a few Cubans, a Russian (the old school ones) and a former USSR for Olympic Shooting. They were living bibles, especially the Russian. A lot of the concepts they taught me can be applied to USPSA and Steel Challenge. It was important to me to reach Grand Master and Master in some Steel Challenge disciplines and move up in classification in USPSA and win matches to help me with my credibility to teach him. It's important for me as an instructor to be able to do what I am telling him to do. I am also extremely grateful to him for bringing me back into the shooting world because I love it and it is fun."
Martin is planning on shooting the 2022 Carry Optics Nationals and the 2022 IPSC Pan American Handgun Championship this September over back-to-back weekends. The level of dedication Martin has for shooting is beyond a hobby. He has a goal to make shooting his career one day and to continue representing companies on and off the range.
"Martin's goal is to win and be a World Champion one day," said Diego. "His mom and I believe he can make it. I find joy in helping him to find pleasure in the discipline and that's what I think has helped him to channel his will to improve at a young age in USPSA. The sport is so demanding in many ways, both physically and mentally. I always tell him to find joy in the effort he is putting into shooting. That's one of the core values of Olympic Sports and it's valid for life too. He is happy, but he misses his mom a lot as we live alone away from her right now with the military. Already at a young age, Martin is making sacrifices so we can train at Volusia Gun Club while his mom is many miles away working. It gives us strength as parents seeing him understand sacrifice and working hard despite the struggle."
To think about the future of our Second Amendment rights and shooting sports, Diego, Valerie and Martin are leading by example on how to pass along firearms knowledge from one generation to the next. Martin is a testament to the fact that age doesn't matter when it comes to handling firearms safely or learning how to shoot. With the right patience, discipline and outlook, we can educate the youth at an early age to help preserve our Second Amendment rights.
One of Martin's personal goals is to beat his dad one day, as they both compete in Carry Optics division. Diego revealed this motivates him to stay ahead of the learning curve, pushing himself to improve as well. The healthy competition between father and son makes shooting together a fun family activity. I'm honored to know this family and I for one, will be watching Martin's career to see what he accomplishes down the line.
Article from the July/August 2022 issue of USPSA's magazine.