Held March 11 at the Dothan Gun Club in Midland City, Alabama, the 2022 USPSA Red Hill Tactical Alabama Sectional match included nearly every type of weather over two days, from pouring rain to snow. Despite the wild weather conditions, however, the competition was well run—thanks to a solid match staff.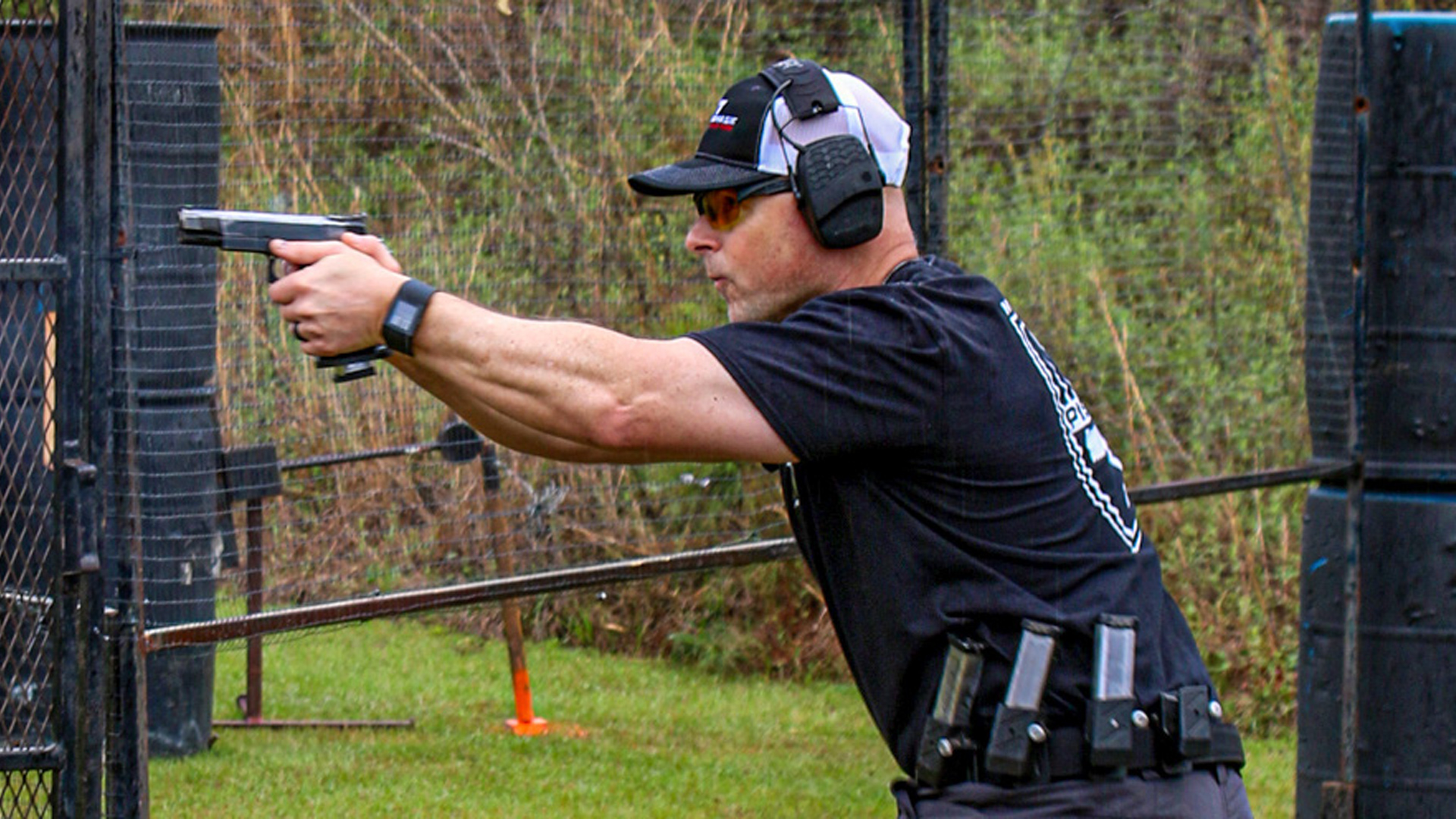 Many competitors were excited to play on what's known as the "grassy courts of Dothan Gun Club." If you've never been to this range before, you're missing out. The owner takes pride in his range, so much that he spends time aerating the lawn so each bay looks like a pristine football field. It's also a nice break from the usual rocks and gravel terrain that I'm used to.
This year's USPSA Alabama Sectional marked an important milestone for my friend Drew Coleman. This was his first official match as Match Director, and to say he ran an exceptional match is an understatement. Drew is one of the best stages designers in the country in my opinion, and certainly knows how to make stages fun to shoot as well. He's been mentored by Range Masters and Match Directors, and has worked so many major matches, it's hard to keep up. To run a major match on your own is an entirely different challenge. All the competitors and staff would agree it was a successful debut as a Match Director.
"It was a challenge, but my friends and fellow shooters made it a success for me. It taught me a lot about running a match, stage flow and the challenge of putting a major match on the ground. I'm excited for the future of USPSA and will continue to be involved in helping how I can," said Drew.
Says Range Master Kyle Stephens: "I believe my exact response when Drew Coleman asked if I wanted to RM the 2022 Alabama Sectional was 'hell yeah!' He has a reputation for great stage designs and is so well respected by other ROs that we had staff volunteering from Arizona to New Hampshire. It goes without saying that the crew of 40 staff members he was able to put together were amazing. Given the rain all day Friday and snow flurries with 30 m.p.h. winds on Saturday, we needed it. They were able to keep things running smoothly while dealing with some of the worst possible conditions. I'm just grateful to be a small part of such a positive experience for so many shooters."
The best major matches are those that test the full spectrum of a shooter's skills. This year's Alabama Sectionals did not disappoint, with stages sporting extreme differences. There was a mix of open targets, partials, no-shoots, swingers, low ports, mini-poppers and a short stage shot from on top of a swinging bridge. Start positions varied from outside the shooting area, inside the shooting area, feet on Xs and wrists above shoulders.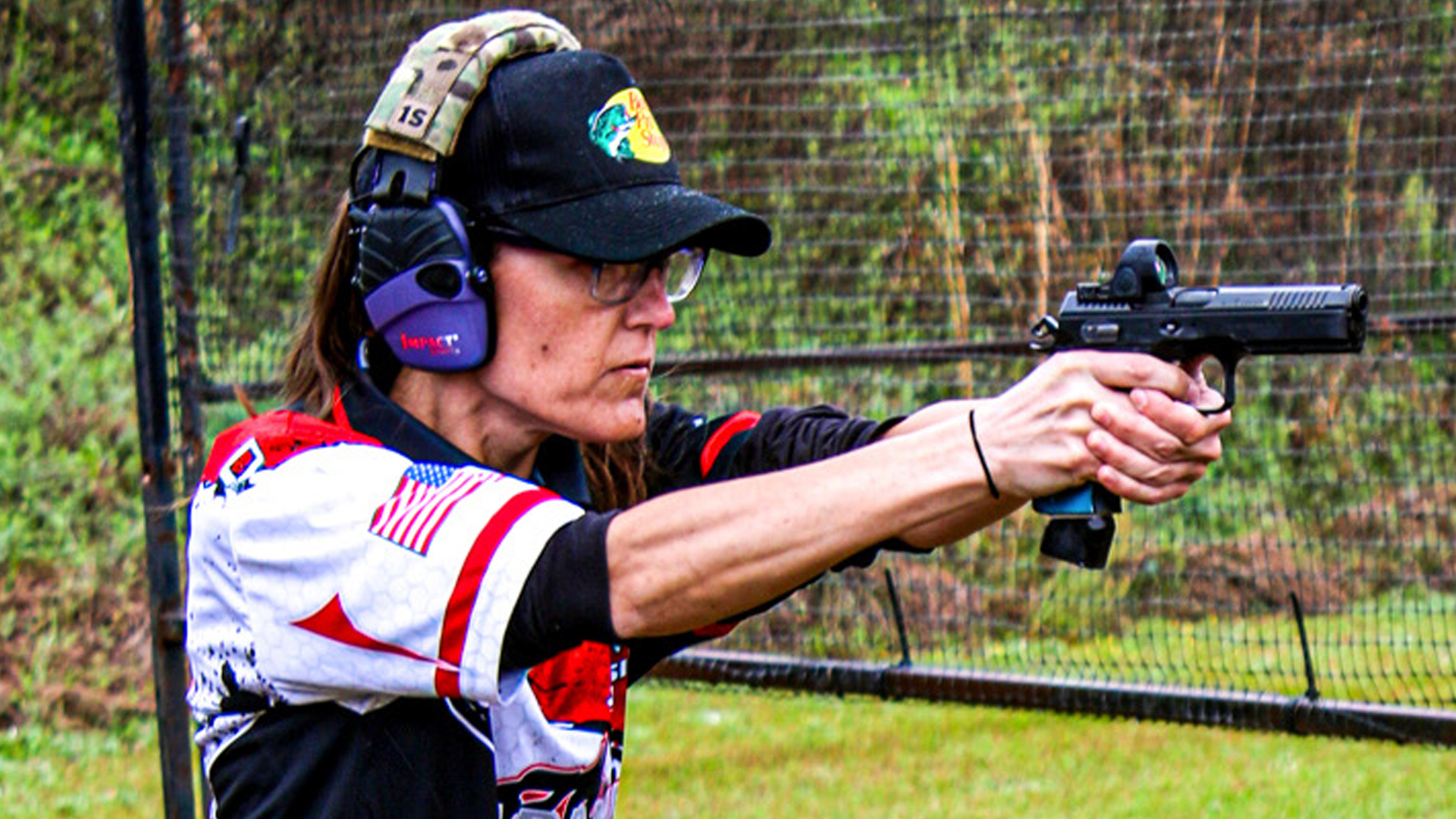 One of the most thrilling stages that I always look forward to shooting at Dothan Gun Club is one out of the shoot house. Not many ranges have permanent structures built on a whole bay dedicated to running shoot house stages. Stage 10 was laid out where you started downrange on the side of the house and had to shoot targets while backing up to get to the front of the building. Then you worked your way to the front to shoot through the windows at targets not visible in the inside and had a few on the opposite side of the house before entering. Once you entered the shoot house, you were presented with a partial target towards the ground, paper targets outside of the house to the left and right, paper targets on either side of the wall on the back of the house and two steel outside to finish the stage. One of the biggest challenges of shooting that stage on Friday was retreating and shooting in thick mud without slipping and sliding. Many people know my affinity for falling—I'm happy to report back that not only did I stay on my feet, but it was also one of my best stages of the match.
Stage 4 included the swinging bridge and although the target array was simple, the stage was not. The written stage brief read: "On the audible start signal, from within the shooting area, engage T1-T4 or P1-P4 and T5, perform a mandatory reload, and engage the remaining array strong hand only." For a simple, non-movement stage, the bridge moved more than you'd expect it to—presenting more of a challenge than other speed shoots.
What I like most about Drew's stage designs—many allow for different stage plans where shooters can choose a plan that works best for their skills. One example: Stage 2, "Pulling My Leg," which featured two doors with rope pulleys to open the port, revealing targets that were only visible through these windows. The rest of the targets were available through the window port or from other shooting positions. Depending on your skills, the faster way to shoot the stage was by shooting strong hand only through the ports, rather than go to two extra shooting positions to shoot freestyle. What I liked best about this stage was the gamble many shooters took on shooting strong hand only to save time, versus going to more positions for a slower time, but with potentially more accurate hits.
I was the Chief Range Officer for Stage 6 "Bang Bang, Clang Clang," with Jessie Lane as my Range Officer. To say that stage was a challenge to keep set up is an understatement. The stage consisted of four poppers, two of which activated their own swinger on both sides of the hard cover. Anyone who shot our stage on Saturday either experienced or saw the wind blowing the poppers down and activating the swinging targets. Despite the challenge of the wind, our stage had minimal reshoots thanks to the speed of the stage and timing between gusts.
As a Chief Range Officer, the responsibility of running a stage is all on you, but it's much easier running a stage when you know you have great Range Officers behind you. Jessie Lane was the Range Officer on my stage; it was her first time ever working a major match, and only the third major match she's competed in. Jessie is a hard worker, detail-oriented, and has skills such as holding up three poppers with two hands and one leg that I don't possess. Drew asked Jessie and I to reset the swingers for every shooter of the match to make sure they activated and presented the same for everyone, plus avoid any reshoots due to improper reset. This was the right move to make as Match Director.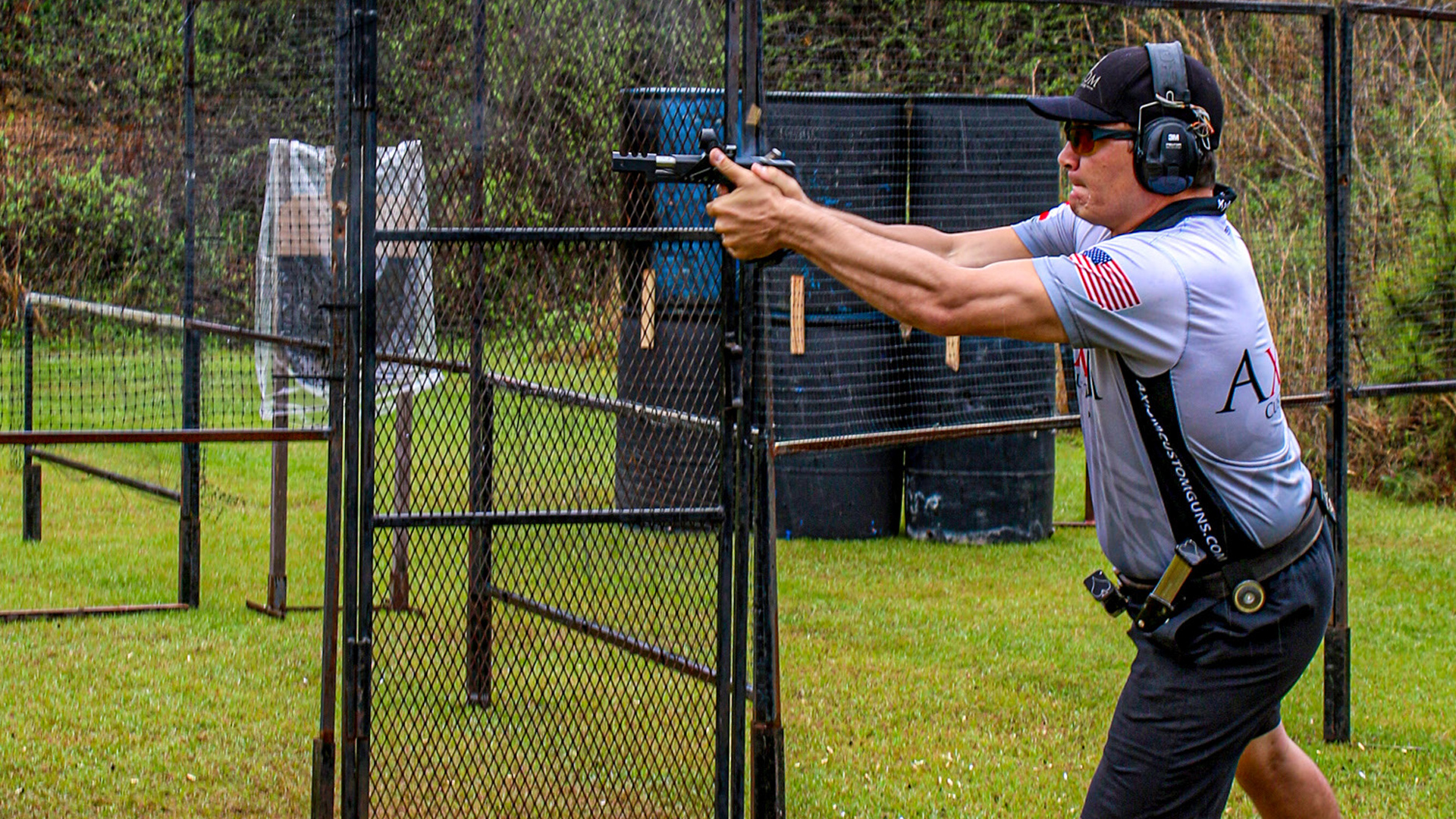 "I had a lot of fun and I learned so much from Kenzie that weekend because of how professional she was as a Chief Range Officer. She made it fair for every single person shooting the match, from target activation to scoring calls. Kenzie held that stage to the highest level possible of which I don't think anyone else could have done. I don't think a lot of people take being a CRO or RO as seriously as she did, and it was an important stage to make fair for everyone," Jessie said.
One of the biggest challenges of working a match is feeling rushed to shoot, usually having less days to shoot, and having to work as an embedded Range Officer while trying to focus on your match. This usually means your match performance suffers.
A highlight of the 2022 USPSA Alabama Sectional for me was seeing a volunteer Range Officer win overall, as well as his division—an accomplishment that takes a lot of focus to pull off.
"The Alabama Sectional in Dothan has always been a can't-miss match for me. Back in 2016, it was my first Level 2 match, and every year I'm impressed by the staff, facilities, format and stages. The stages were incredible with many viable options on almost all stages. I would have to say that Stage 8 'Angles' was my favorite because each option played to different skillsets but could produce a nearly identical score," said Ethan Howell, the 2022 USPSA Alabama Sectional Champion.
He added, "When Drew announced that he would be hosting, I said I'd be happy to help. The Stage 3 Range Officer crew, Michael Wray, AJ McCartney, Tamer Tokay and I were like a well-oiled machine—entering a competitor's score about every three minutes. This year I was thrilled to shoot on staff day over Saturday because 75 degrees and rain is always better than 40 degrees with a 30-m.p.h. wind and spitting snow. Huge thanks to Drew, Dan, Kyle, the setup crew, the match sponsors and the rest of the staff for all their work to make the match happen. I feel very fortunate to have been able to walk away with the Overall, Open and Alabama resident win."
The competitors on Saturday had an entirely different challenge of staying warm and shooting in the high winds. Once the sun came out, it was more tolerable weather. For many shooters, it was their first visit to Dothan Gun Club, but definitely not their last after seeing what Dothan has to offer. One such competitor who enjoyed being at the range and shooting the Sectional is Jason Clark, the Pistol Caliber Carbine division champion.
"I've been wanting to visit Dothan Gun Club for a match on that luxurious grass for a few years now. The grass and the 2022 Alabama Section match exceeded my expectations," said Jason. "It was nice to see a match cut loose with a few challenging 32-round stages, but also mix in some interesting speed shoots to help balance the round count for those still challenged to find primers. I won't hesitate to return to any match put on by Drew Coleman or with Kyle Stephens as Range Master."
Overall, the 2022 USPSA Alabama Sectional was one to remember. Whether it is hosted again at Dothan Gun Club or not, I hope you get to experience the grassy courts that are so fun to shoot on. And I highly recommend shooting any match that boasts Drew Coleman as a stage designer.
2022 USPSA Alabama Sectional Leaderboard
Overall Winner: Ethan Howell, 113.71
Carry Optics Winner: Max Michel, 114.84
Limited Winner: Shane Coley, 135.25
L10 Winner: Chris Zambesi, 287.73
PCC Winner: Jason Clark, 130.63
Production Winner: Tony Donatelli, 167.68
See the full results of the match at the Practiscore website.
Article from the May/June 2022 issue of USPSA's magazine.