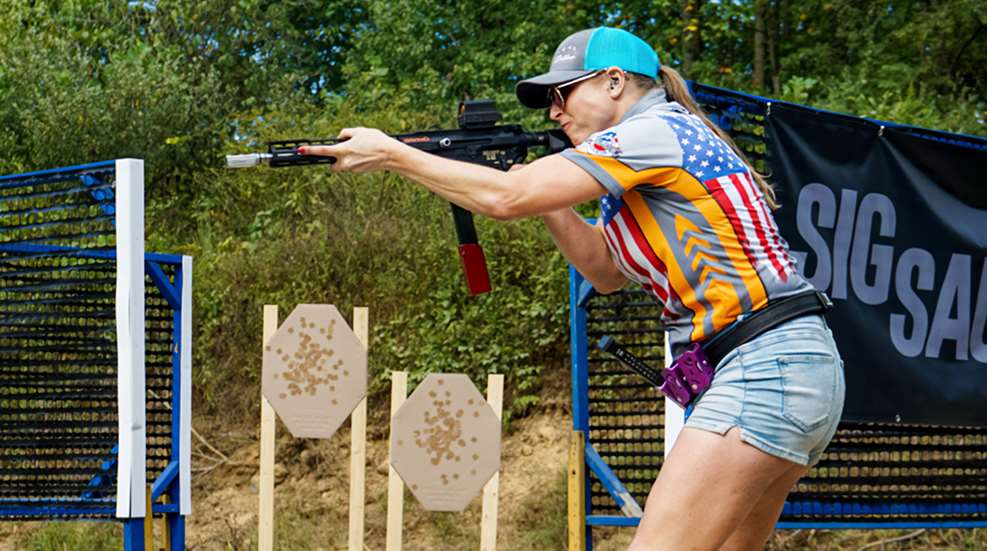 The 2022 USPSA Area 8 Championship was held August 25-28 at Ontelaunee Rod and Gun Club in New Tripoli, Pa.
Area 8 had 13 stages that tested your ability to balance while shooting, to shoot points and not penalties on a pendulum, and to shoot the best stage plan for your abilities. All 13 stages were shot in a one-day format, and I enjoyed spending three days on the range, one walking stages, one shooting and the final one watching one of my best friends and some of the best shooters in the country.
One of the first stages my squad shot was Stage 4, which had a balance beam as the "shooting area." Now, you may or may not know my luck with two feet on flat ground. I wasn't too keen on holding a loaded gun while moving and trying not to fall off one way or another. I remember thinking long and hard about shooting in one spot, stepping off the beam, getting to the next position, stepping back on it and repeating this process until I was finished. But I stayed on the beam while shooting at some of the fastest-moving swinging targets behind hard cover that I've ever seen. It didn't matter if you were shooting a pistol or pistol-caliber carbine, those two targets were some of the toughest to hit in that match.
Stage 5 was one of the funniest stages I've ever witnessed. On each side of the stage was a shooting port covered by a hinged door with a handle you pulled upward to open the port. During the stage walkthroughs, I watched many shooters throw open the door and immediately position their bodies in the window. The door would swing up and crash down with a thud on top of their heads. I observed one gentleman use a folded-up towel underneath the top of his hearing protection so that he would have a little padding to soften the blow when the door swung down. It was hard not to laugh watching this occur in walkthroughs and live fire. My approach with PCC was a little different. I wear in-ear protection from PremEar, so I knew I didn't want to fling the window open to have it impact my head, as I bruise easily and don't need any more injuries. I knew it would also take me more time to open the window, set it down on my head, get my hand back on the carbine, and into the port than it would be to just shoot with one hand holding open the window and shooting one-armed. I did, and walked away injury-free.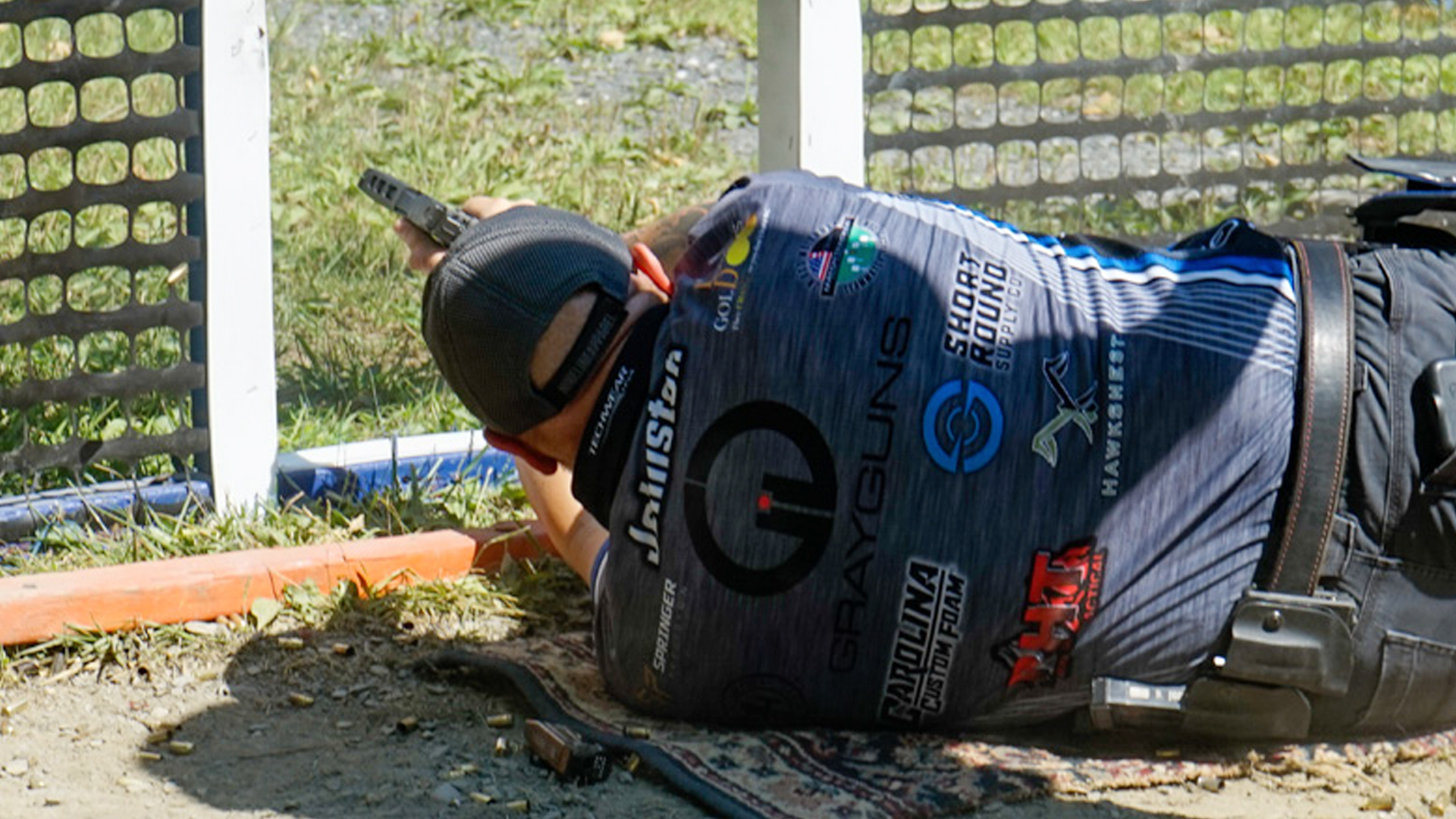 Stage 6 was my favorite stage, and not only because I shot it well, rather, I will never forget the start position that still makes me laugh. For PCC shooters, the start position was loaded gun held above shoulders. My squadmate, Jeremy Gresham, missed the start position during the stage brief and happened to be the first shooter on this stage. So I'm watching from the sidelines as Jeremy has his stock on belt, and the Range Officer is trying to tell him the correct start position. I remember watching Jeremy's face of disbelief, as if the Range Officer was trying to pull a prank on him. Jeremy works for IWI, and his choice of competition PCC is the IWI Galil AK Variant. I watched as Jeremy hoisted his PCC over his head, did a few up-and-down pumps with it, laughed, and got ready to shoot the stage.
Stage 7 featured a door that activated two separate clamshell targets on each side that, once completed, only left a head box on each visible. Opening a door with activator targets you have to shoot at immediately is much easier with a pistol than with a carbine, as the time it takes you to get your support hand back on the gun eats up most of the activation time. Even pistol shooters struggled with being able to shoot both open papers in the larger A zone, before being covered up by no-shoot targets.
Although I'd heard of the infamous "pendulum" swinger target, nothing could have prepared me for the real thing. At the end of Stage 8 was a beast of a pendulum, with two open IPSC targets and a no-shoot in between them. The targets moved so quickly that even the best Open shooters I watched shoot at it took at least two passes.
Stage 12 was one stage shooters tackled in a multitude of ways. There were three ports on this stage, one of average height to the left of the shooting area, one on the ground in the middle section, and one low port on the far right. The start position for pistol was hands touching marks, and PCC was muzzle touching mark. The marks were above and to the left of the ground port, and I watched shooters shoot this in every way possible. Some ran all the way to the right to start with the low port, to the left to shoot the high port and finish by laying sideways onto the ground. I saw others start by kneeling on the ground in front of the low port, draw their pistol from that position, and finish the stage in the high or low port. Others, like me, started closer to the high port and shot the stage left to right, going down to the low port and exploding back up to finish on the right in the low port. The test here was knowing your limits—if you were quicker ending in the ground port, or faster shooting left to right even with the need to come off the ground midstage.
"I prepared to shoot against top competitors from Area 8 and around the country," Open division winner Christian Sailer said. "I stay in shooting shape almost year-round, but I increased volume, the number of training sessions and time behind the gun two to three weeks before the match. I felt strong going into the match and had a good early start. I had a rough stage shortly after, but bounced back quickly with a stage win on the next. I found a groove seeing my sights well and didn't let off after lunch. The stages were challenging with multiple technical elements embedded in each. The match didn't present anything overly challenging for less experienced shooters, but provided areas to separate in the pack—perfect. My shot calling and efficiency of movement drove positive results and I was pleased with my performance besides a few small tweaks. This match got me extra excited for Nationals and the World Championship."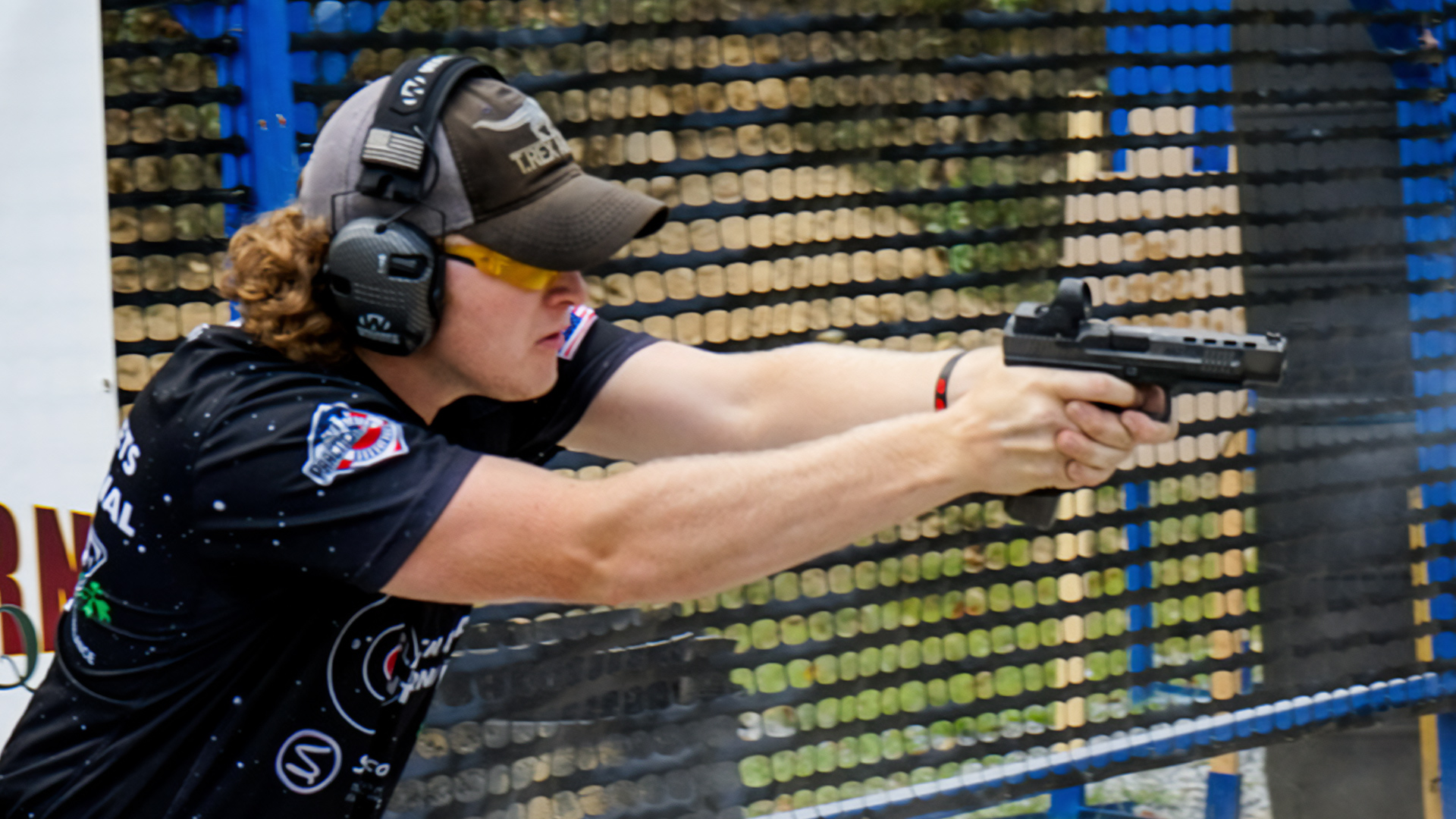 Many competitors expressed how pleased they were after shooting this match.
"Thanks to the Area 8 staff for putting on such a great match. The stages were fun and challenging, especially for the LoCap shooters," Production division champion Sal Luna said. "I'm happy with my Production win that I couldn't have done without the help of God and my supporters."
"The match was well done and staffed with great range officers. I liked the stage designs, which presented some tough shooting challenges but were simple enough to plan in a low-cap division," Brian Nelson said. "Shooting Single Stack division has been a fun new challenge for me, and I'm glad I get to have awesome gear from Taran Tactical, Berry's Manufacturing and Scoring Technologies."
"Winning my home area match has always been a goal of mine," Limited champion Nick Reynolds said. "To get the win despite a stacked field along with challenging stages was icing on the cake. Ontelaunee is a great range that puts on first class matches and Area 8 was no exception. Thanks again to all the staff that made the match possible as well as the sponsors."
"The guys at Ontelaunee always put on a good show," Single Stack champion Mason Lane said. "I'm lucky to be driving distance from the match, but their events are worth traveling far and wide for. I've shot every Level 2 they've put on since 2014. This year's Area 8 was no exception. There were unique props and movers on every stage, the stages were about perfectly balanced for round count and hit factor. The match presented a great opportunity for me to shoot against some of my best competition prior to Carry Optics nationals. Nils and I were squadded together and traded match points over the course of the day. A tip of the hat to him for some great shooting at Area 8 as well as his iceman performance to win this year's Carry Optics nationals."
The vendor area was amazing at Area 8 and had Southern Bobby-Q on-site cooking meals for all the shooters and staff. Toward the end of the day, an ice cream truck would roll up onto the range selling cold soft serve with your choice of topping. As warm as it was, this was a nice treat towards the end of the day. Lyman Products, Cosaint Arms, Go Fast Don't Suck and PremEar all attended the match, providing product demos, gear and custom-fitting shooters for ear protection. It was a different style of match than I'm used to, but it was a lot of fun.
2022 USPSA Area 8 Championship Leaderboard
OPEN DIVISION
Christian Sailer
Chris Tilley
Clemente Wagner
CARRY OPTICS DIVISION
Mason Lane
J.J. Racaza
Nils Jonasson
PRODUCTION DIVISION
Sal Luna
Jacob Hetherington
Michael Shatalov
PCC DIVISION
Greg Jordan
Brian Harrington
Caleb Smith
LIMITED DIVISION
Nick Reynolds
Shane Coley
Mike Gnyra
SINGLE STACK DIVISION
Brian Nelson
Article from the November/December 2022 issue of USPSA's magazine.