Justine Williams, the younger of the famous action shooting sister duo, has won the United States Practical Shooting Association National Lady Title in seven divisions—only missing out on number eight because there weren't enough women competitors to claim the Revolver division.
Winning several titles during her career, Justine has 24 USPSA national championships under her belt, along with eight world records in Steel Challenge. Here, Justine shares what she loves about shooting, how she began match directing and what's next for her.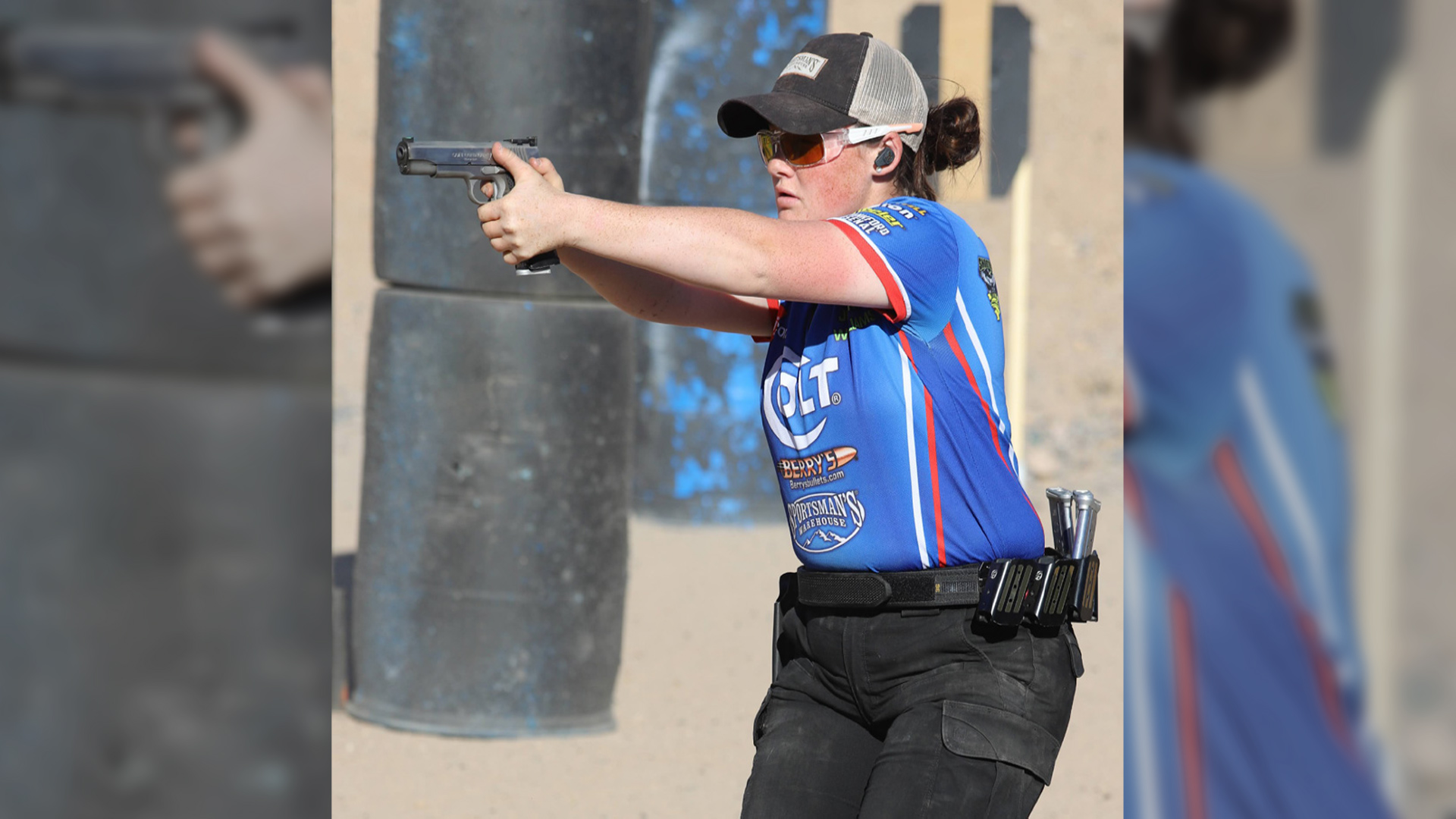 What was your progression of firearms starting out?
Both Jalise and I started out with .22 rimfires, moving on to compact .380s and later, 9 mm guns.
How did you choose a gun that worked for you and make adjustments to fit your hand size?
We tried a lot of different guns before finding what worked best for us in terms of fit, recoil and comfort. We landed on buying the gun with the smallest grip. Back then, Production had more rules to the modifications you could make to a firearm, so we just added grip tape to the gun to help hang onto it more. My hands aren't that much bigger now, so learning how to manipulate any size gun was a good lesson for me. I actually learned early on how to use my left hand to push the magazine release button rather than flipping the gun in my hand to use my right-hand thumb. To this day, I use that technique and have mastered it to be able to reload in about a second. The other way I've learned to reload a magazine is to reach my middle finger on my right hand under the trigger guard and push the magazine release. I still don't have to flip the gun in my hand and have learned to use both ways on my firearms.
Were you always competitive, setting goals for yourself and knowing what you wanted to do?
My sister and I have always been competitive towards each other and other people growing up. We learned about our competitiveness when we started karate around age four or five. We got our black belts at nine and 10. So we were always super competitive and then when we started shooting, that was just another thing to go all the way with. Being competitive with each other has really helped us push each other. For me, I would start to improve and then relax in my training. Then she'd beat me and it would drive me to get back to work.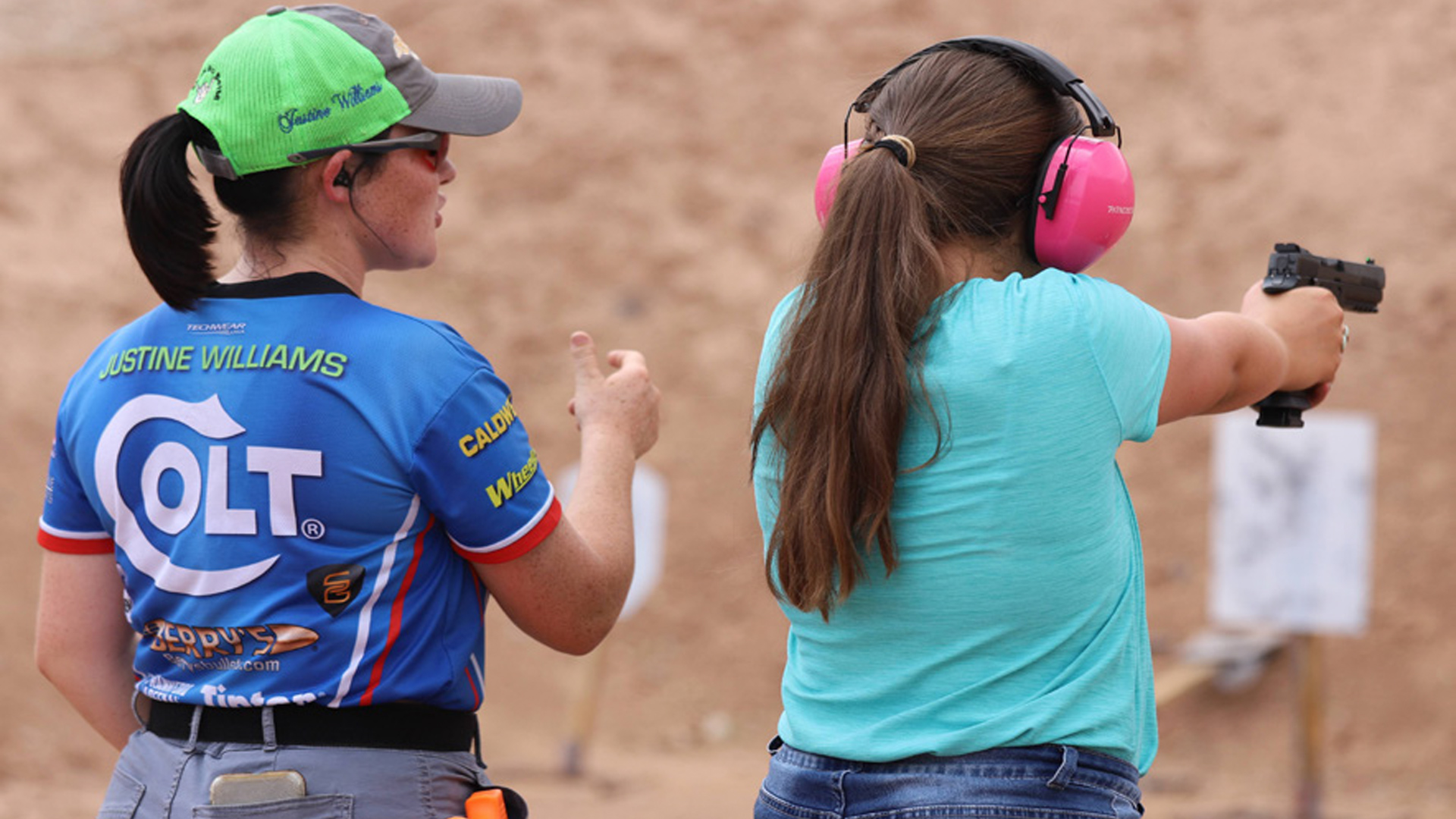 When did you start to change divisions?
Even when I was shooting Production, I really wanted to go fast, and I couldn't do that as much as I wanted to in that division. A race gun caught my eye, which I didn't know at the time was an Open gun. My dad said he would buy me one after I made Grand Master in Production division. At the time I was D class and I think there was little faith in me to actually make Grand Master, but once I made Master class, my dad realized it was almost time. It took me seven more months to make Grand Master—my Open race gun came from Eddie Garcia.
I finished that year in Production and immediately transitioned to Open. It was a more challenging transition than I anticipated, as I struggled to understand how to shoot a dot. What happened next was pure opportunity. It was 2019 then and St. George, Utah, was hosting the USPSA Open and Pistol Caliber Carbine National Championship, along with the Limited and Carry Optics National Championship. Since it was essentially in my backyard, I also decided to shoot Carry Optics in the second match. I was set on doing well with my Open gun, so I shot barely 1,000 rounds through my Carry Optics pistol. I went into the USPSA Carry Optics Nationals shooting my Carry Optics pistol as if it was an Open gun; people were telling me to slow down, but I wasn't holding anything back. That year, I ended up winning the USPSA Ladies Open and Ladies Carry Optics National titles.
Something many people don't know about: I never had a desire to shoot Pistol Caliber Carbine. That is Jalise's thing. So, around this time it was winter break and I was burnt out. I decided to shoot Pistol Caliber Carbine because I could go to a match, be freezing cold and not have to wear a belt or anything. After shooting PCC, I landed in A class and realized I wasn't half-bad. Once again, I found the transition to a rifle harder than I thought. Now it was 2020, and the USPSA Nationals were rescheduled due to COVID, but I trained hard and was ready to compete. That match was one of the best matches I've ever shot with a rifle and I still came up short, about 11 points behind Lena Miculek. I had a mental block after that match after putting so much time and effort into it and failing, but I kept on working with Pistol Caliber Carbine division.
I started mixing in some pistol practice right before the USPSA Limited 10 and Single Stack Nationals in Talladega, Alabama. I went in with minimal expectations, but that year I won the Ladies Single Stack title.
In 2021, I shot the USPSA Pistol Caliber Carbine and Carry Optics Nationals and placed 10th overall in PCC. And, finally I earned the USPSA PPCC Ladies National title. The second match was Race Gun with Open and Limited divisions. Originally I was going to shoot Open, but the opportunity to shoot Limited division and potentially come away with the Ladies title in that division was hard to resist. It's important to me to earn a title rather than be given one by default. After seeing the competition in Limited that year in the Ladies division, I made the choice to switch three days before the match so if I won, it was against the best. Jalise had won the title the last two years and I managed to win in 2021—she was shooting minor power factor and I was shooting major.
I set out to win a USPSPA Ladies National title in every division over the last several years—only falling short of my goal because there weren't enough women competing in Revolver to count towards a title.
When did all the sponsorships arrive for you and your sister?
Our first sponsor was Berry's Manufacturing, which we're still with today. They are local to St. George so it's a really great partnership. They're like a family. I see them all the time. Now, we also work with Colt, Hunters HD Gold, Caldwell Shooting Supplies, Wheeler Tools, Trijicon, Starline Brass, Shooters World, Tipton Gun Cleaning Supplies, Frankford Arsenal, House of Hearing SoundGear, Techwear, Glen Wong, Smoke Composites and Schrade. Additionally, my sister and I work together in the industry to promote brands—we are a package deal when it comes to sponsorship.
If you had to pick only one USPSA division to shoot for the rest of your life, what would it be?
I get bored so easily. I would actually probably choose Pistol Caliber Carbine. I'm straying away from Open right now. I'm having so many trigger control issues right now when it comes to shooting Open. I just blast and I use my whole hand to pull the trigger. It frustrates me so right now it would probably PCC for the rest of my life.
What does your dry-fire and live-fire routine look like for you and Jalise?
Right now we shoot Monday to Thursday in the morning with our coach from 8:00 a.m. to about noon. Our round counts are around 150 to 200 until we're leading up to USPSA Nationals. A few weeks before Nationals, we bump the round count up to about 350 or more.
What's your physical fitness routine and how do you work on your mental game?
Jalise and I went through a program at a hospital that works with professional athletes to make them stronger and faster. We did that for about six months and now train on our own. The mental side of shooting is 90 percent of what this game is about. I used to get frustrated at matches where one bad stage would carry into trigger freeze or not doing well on the next stage. So now, I set a goal to give myself a few minutes to think about the stage I messed up and then move on from it to get reset and focus on the next stages. Also, Coach Glen would have us use notebooks to write everything down at the beginning on how we were feeling, what we were doing well and what needed improving. Now I don't journal anymore, but I know in my mind exactly where I need to improve my skills.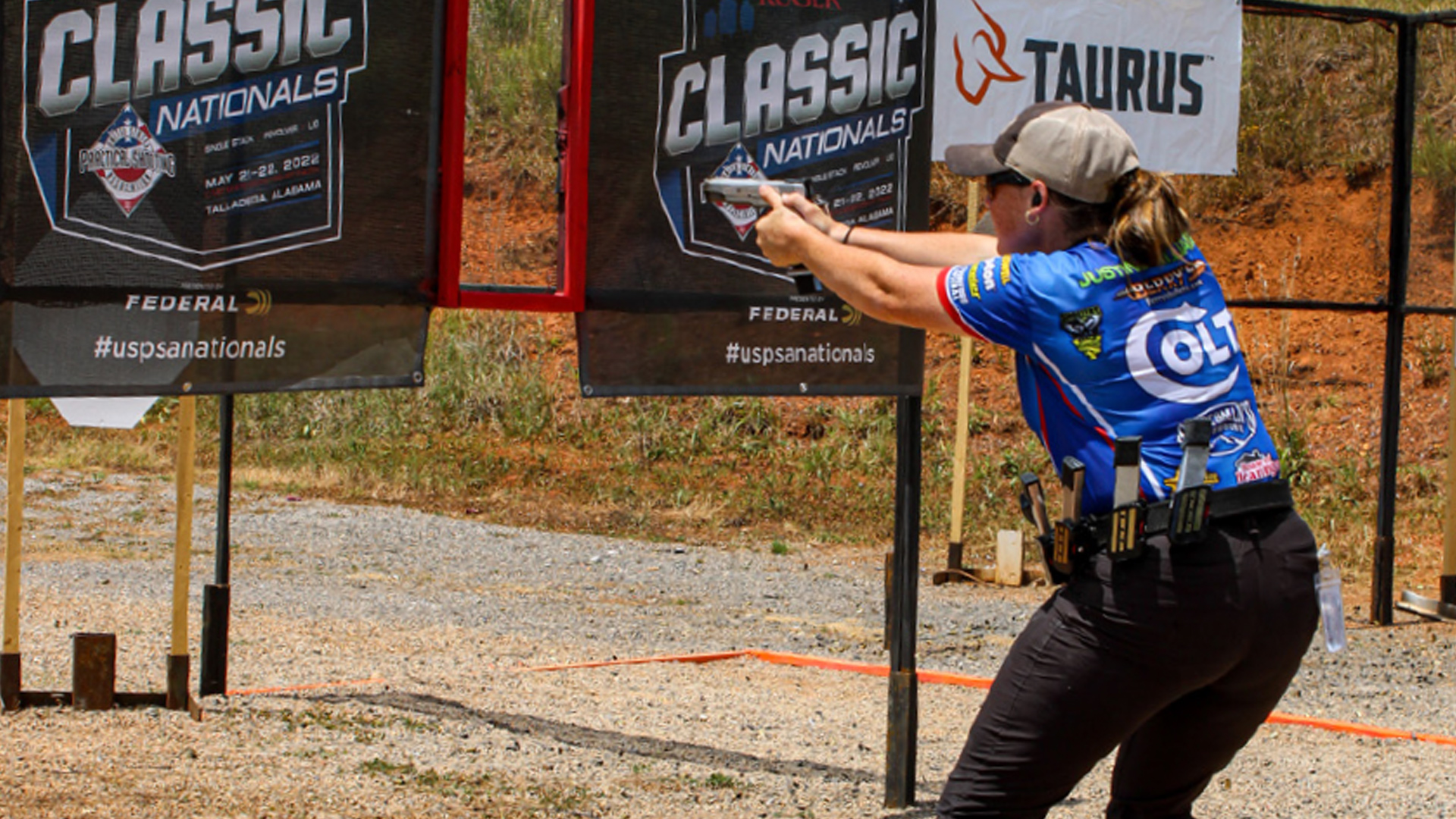 Do you ever get burnout?
So burnout is definitely a thing that I think everyone—no matter their level—gets at some point. I think breaks are so important, even though you don't feel the burnout during winter break, because there are no matches. You have to take a break because if you shoot through, you might have burnout in the middle of April, which is the worst time to have burnout.
How have you gotten involved in being a Match Director and Stage Designer?
I've been the Match Director at local matches at my home range, the Berry's Steel Open and the Red Rock Rumble. Working as a Match Director is fun, but it can be exhausting on top of trying to shoot matches. I love creating stages. It's one of my favorite things to do because I'm lucky enough that I get to travel all over the country, and sometimes the world, to see some amazing stage designs. I can take those ideas back to my home club and have fun with it.
Have you shot IPSC matches?
My sister and I have been to Jamaica four times, three of them were for the Jamaica Invitational. It's a USPSA match but it's in Jamaica, and then I've shot the Pan American Games in Jamaica as well, which is an IPSC match. That was the first big, epic match I've ever shot. It was 24 stages and had many competitors from other countries there. All the best shooters in the world were almost all in one place. I won gold in the Ladies division, earned a silver medal in the Men's division (I was on the men's team for that one), bronze in the shoot-off and I also received two Presidential medals.
Is your goal to represent the United States in a World Shoot?
One hundred percent—that's been my goal for a long time now. I qualified for an individual slot for World Shoot, which was supposed to be in 2020, but whenever they do decide to hold it, I want to go. I want to attend a World Rifle shoot just for the experience of it, and of course, try and win it.
Who inspires you?
here are people out there that blow my mind with their skill, such as Eric Grauffel, for example. Maria Gushchina is also impressive. She's a lady that inspires me that I'd love to compete against one day. Jessie Harrison is also fun to compete with. She's nice, humble and is a healthy competitor who will cheer for you after shooting a stage. Between Jessie, Maria and Lena, I started watching those ladies compete when I was nine and it's unreal to think that I'm at a level now where I can compete against them.
What do you want to say about the support that you have?
If you look at all the people who are the best in the world, they all had a support system that built them up. It takes a team, money, time and sacrifice to get there. I have my sister, mom, dad, Glen and sponsors that have helped me along the way. I would not be where I'm at today without them.
Article from the July/August 2022 issue of USPSA's magazine.