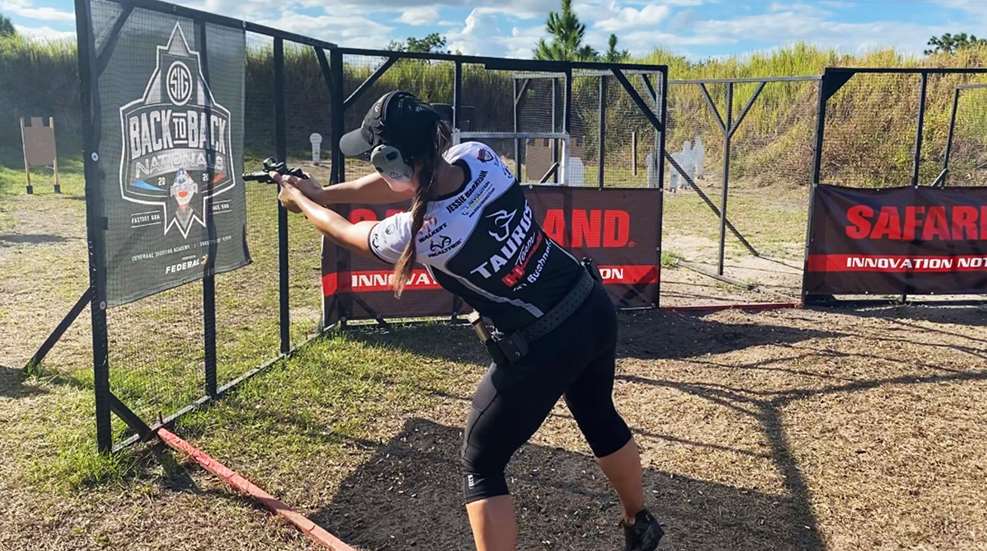 Pro shooter Jessie Harrison earned her 21st United States Practical Shooting Association (USPSA) title after winning the women's open championship at the 2020 Race Gun Nationals, held Oct. 23-25 at the Universal Shooting Academy in Frostproof, Fla.
Finishing the match with a final time of 282.14, Harrison scored 81.81 percent of all points available, also placing 38th overall in the championship standings. Her best stage was No. 18 with a time of 3.59.
Harrison was quick to praise her equipment for competition success, including her Bushnell First Strike 2.0 red-dot optic.
"The First Strike 2.0 optic gives me that additional level of confidence I need to perform at my peak," Harrison said. "There are enough variables to worry about on each stage already, so not having to worry about my optic's performance allows me to breathe a bit easier."
She also gave credit to maintaining her firearms with Hoppe's No. 9, Black Cleaner and Elite Gun Oils. Harrison elaborated on the key role they play for her winning performances on the firing line.
"Cleaning my guns before a major match is not only part of my routine and prep, it's actually somewhat therapeutic," said Harrison. "I find a sense of calmness and order in the details of cleaning and it gives me confidence in my equipment as I head into a match. I use Hoppes No. 9 every time, not only because it cleans so well, but also because the smell evokes so many wonderful memories."
Follow Jessie Harrison on Instagram: @jessielharrison.
---
Read more:
Top USPSA Production Handguns In 2019