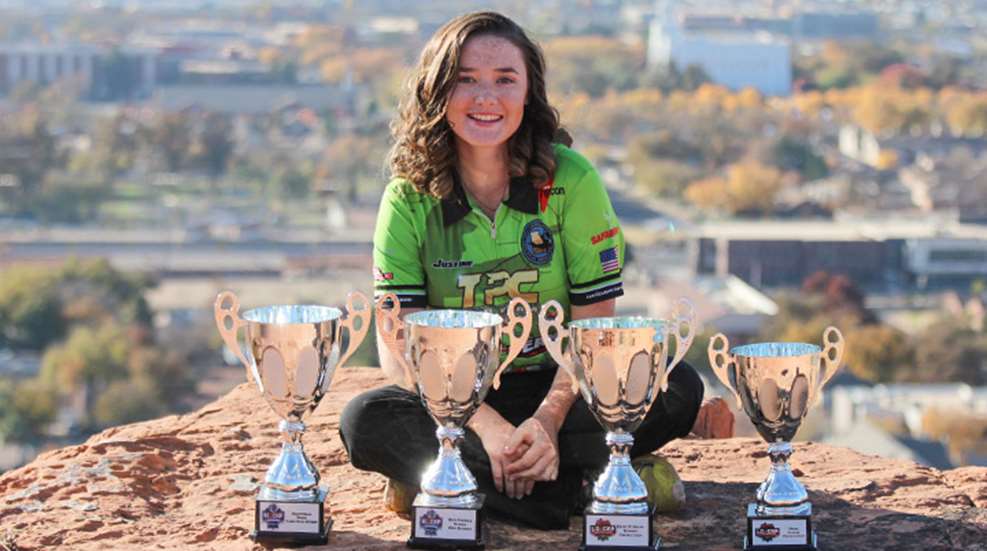 Instead of playing video games, 15-year-old competitive pistol shooter Justine Williams prefers to shoot actual guns. In her own words, "Shooting is epic." What's more is the fact she is the youngest shooter to earn Grand Master status in United States Practical Shooting Association (USPSA) history. Learn what she keeps in her range bag.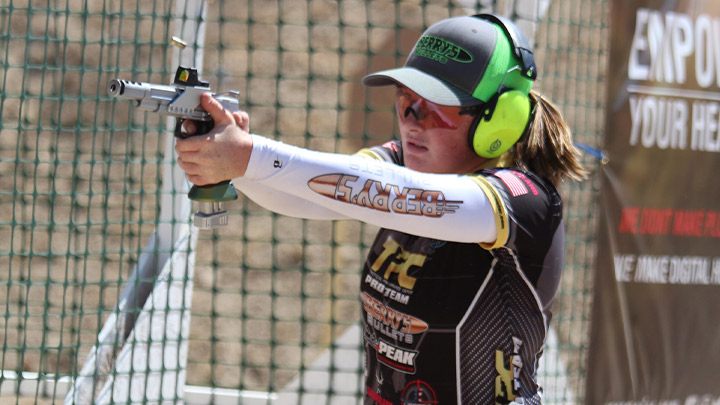 What are your first memories of handling a firearm?
When I was just 3 years old, I picked up a firearm for the first time. I always watched my dad hunt so I was super excited. Since he didn't own a .22 LR, the very first gun I ever shot was a .357 Marlin. Dad cut the stock down so I could shoot it properly. I had so much fun.
Tell us how you began in competitive shooting.
About 6 years ago I began competing. My mom went to a ladies night clinic with a friend and thought I would enjoy it. The rest is history. I remember watching this kind of shooting on television with my dad. Actually being able to do it was such a cool idea. My drive to improve my skills pushed me even further into the competitive shooting world.
Please share with us some of your major shooting accomplishments.
My major accomplishments include:
Youngest USPSA Grand Master in Production at the age of 13.
Four 2019 national titles in USPSA which included High Lady Open, High Lady Carry Optics, High Lady Production and High Junior Production.
Two IPSC National titles in Production, 2018 and 2019.
Gold, silver, bronze and two presidential medals in the 2018 Pan American Games in Jamaica.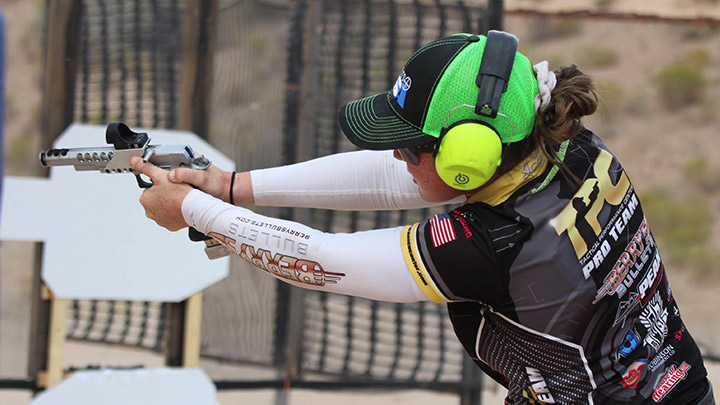 What firearms and other gear do you use for competition?
I shoot a variety of firearms. The Production and Carry Optics guns that I won my national titles with are both CZ Shadow 2s. For Open I shoot an Eddie Garcia Custom Gun. Both my Open gun and Carry Optics guns have Trijicon's SRO. I absolutely love it. I highly recommend this sweet optic. For ammunition I use Starline Brass and Berry's Bullets. In the past I've had trouble with other brass. However, since I started using Starline, I've had nothing but positive outcomes. Berry's has been with me from the start and they are not only the best bullets, but also some of the best people. I am extremely proud to be able to represent such great companies.
Tell us about your range bag and what you carry in it besides your firearms.
My range bag is Safariland's backpack. Since it's a backpack, it distributes the weight throughout my back instead of just on one side. There's a lot of space so I'm able to store everything I need, plus it has about a million pockets. In my bag I keep all the essentials, eye and ear protection, sunscreen, tools, magazines, headphones (to get in the zone) and oil. I also keep some other items inside:
Cotton swabs to keep my optics and guns clean.
Gun cover to keep all the rain and dust out of my guns so I can rely on them at matches, especially at the Nationals.
Extra rags and towels.
Advil—just in case me or someone else gets a headache or an injury.

What do you do in your free time?
The demands of shooting and school don't allow for much free time. Currently, I'm a sophomore enrolled in an online high school. This allows me to complete my classes while traveling. I also enjoy riding and training horses.
What would you tell someone interested in finding out more about your sport?
I would invite them to come out and watch a shoot. It's such a great way to learn more about the sport. The people there are some of the nicest people you will ever meet. If you have any questions or concerns they'll be happy to answer them. It doesn't matter if they are national champions or someone who just comes out to exercise their Second Amendment rights. The social media platforms are another great place to look, especially YouTube. Additionally, be sure to check out the Coming Events section of Shooting Sports USA.
Any tips for new shooters?
Don't be intimidated when you first visit a range. The people there will help you with gear, ammunition, guns and anything else that you may need. They are always willing to help you learn about this amazing sport in a comfortable environment. Just go out there, have a blast, and you will do great.
---
Read more Range Bag articles: